Banoffee Pie Pancakes
Flippin' good pancakes that taste just like the delicious British dessert, Banoffee Pie (aka Banana Toffee Pie). Pillowy pancakes drenched in an easy toffee sauce, topped with banana slices, dollops of whipped cream, chocolate curls and finished off with a sprinkling pie crust crumbs.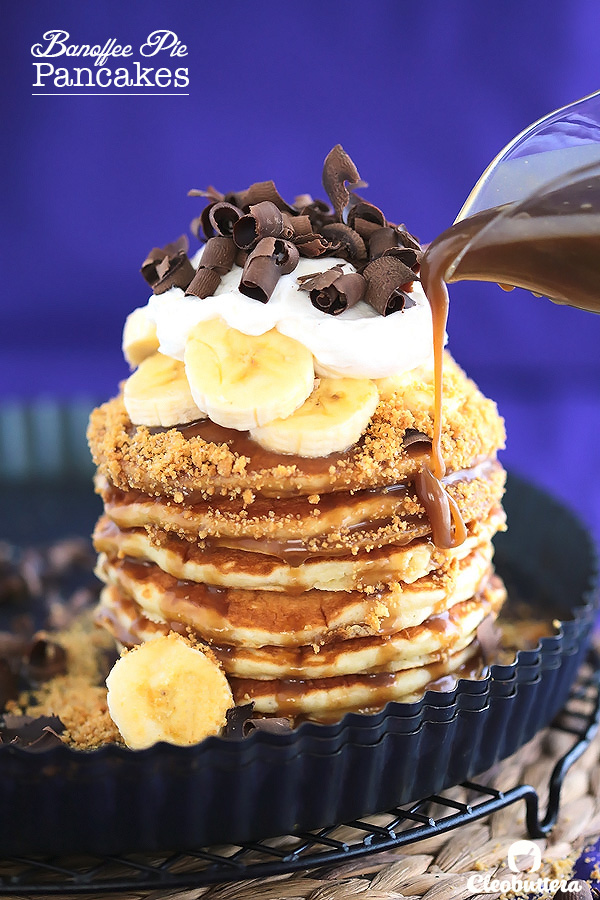 I mean…
Since we're kidding ourselves into feeling totally OK about eating cake for breakfast just because they are called "pancakes" and not just "cakes," might as well go all the way!
One could justify dessert for breakfast, with the fact that you have a whole day ahead of you to burn it off.
I would like support this argument by giving it several nods of the head.
Because this is "Dessert for Breakfast" in its purest sense and you have to find the justification to make it happen. Wait…there are bananas in this one! So FRUIT! Here you go! Gosh…I feel better already. Phew.
So…these pancakes? CRAZY GOOD! They are the breakfast version of the amazing Banoffee Pie.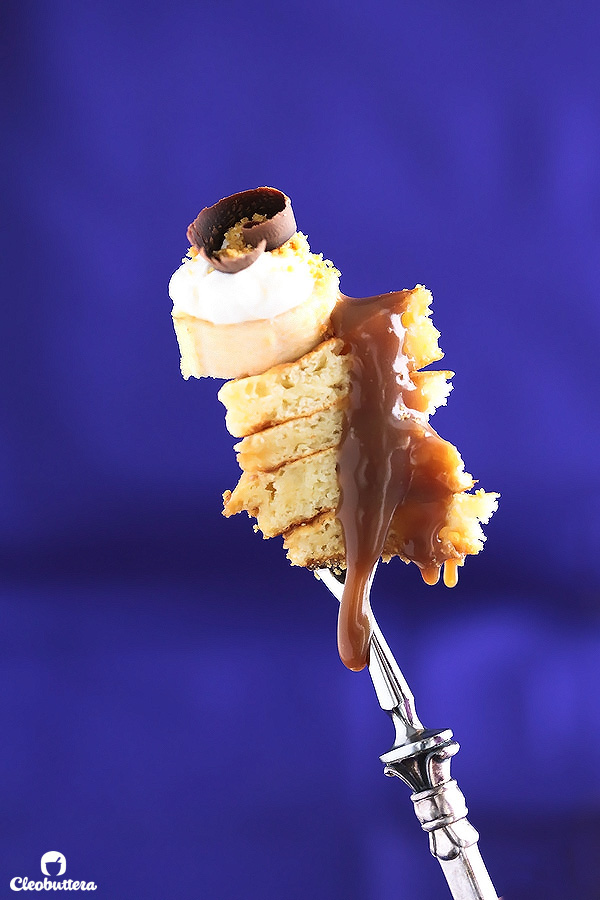 If you haven't already had the pleasure of meeting a banoffee pie, let me acquaint you. It's this delicious British pie made with a digestive biscuit crust that is topped with a silky toffee filling, then layered with slices of banana. All of that is then covered with luscious swoops of whipped cream then sprinkled with chocolate shavings or coffee granules. After the components get some time to chill and get happy together, the flavors meld and create one irresistible dessert.
These pancakes are the perfect translation of the banoffee pie in breakfast form. It has all the elements that makes it worthy of its name.
The pancakes are drenched with a toffee sauce that is looser than the pie's filling, making it perfect for drizzling, and the taste is spot on. Then comes the banana slices, the whipped cream, the chocolate curls but most importantly the pie crust crumbs, which add a lovely crunch in every bite.
You can't have great pancakes without having a perfect 'pancake' recipe and this one just happens to be it. This is my favorite pancake recipe and a staple at my house and will most likely become yours too. I know the recipe by heart and make it almost every weekend with eyes half asleep. These are THE perfect pancakes and I know this, because I've tried so many recipes before, that don't even start to compare. They are pillowy soft, super fluffy, perfectly moist, and just the right thickness. I loathe gummy, rubbery pancakes and thin ones don't even count, and these are the complete opposite of that. Further in the post I'll show you exactly how to make them.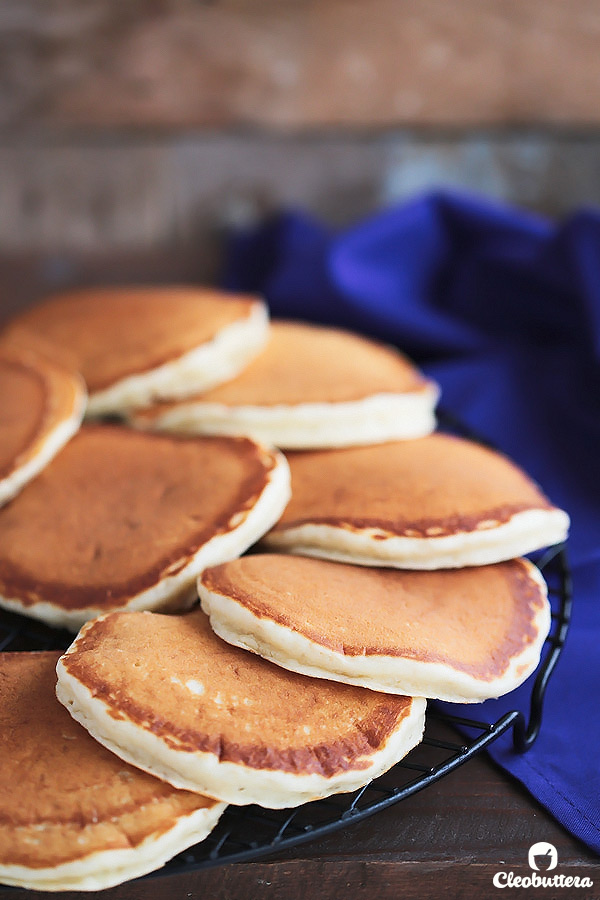 But for now, we'll begin by making the "pie crust" part of the pancakes. So easy! All you need to do, is toast some crushed digestive biscuits (or graham crackers) with some butter and a liiiiittle sugar. If you're too lazy, you can skip that and just crumble some biscuits on top of your pancakes, but I love that toasted taste; more like the real pie.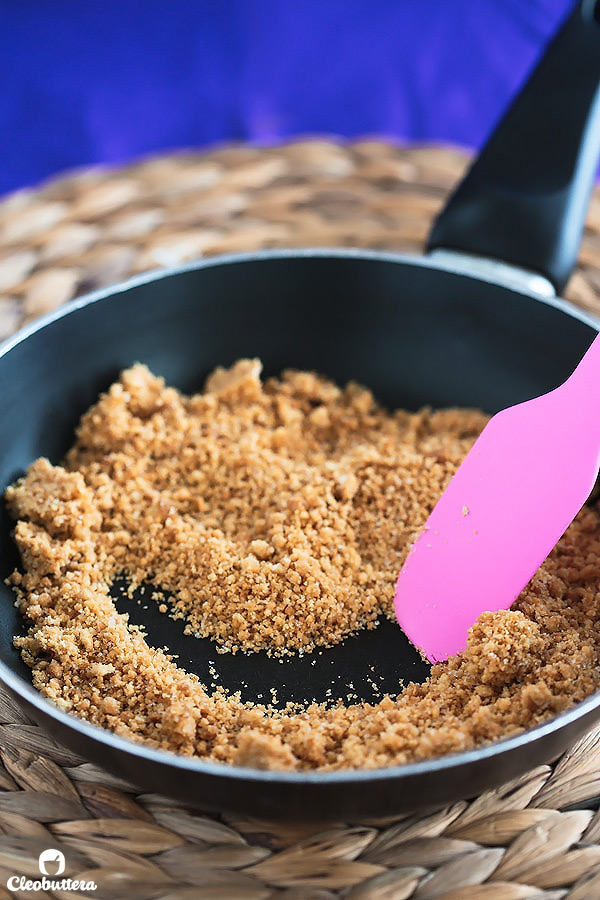 Then you'll get some whipped cream ready (cool whip, or that creamy spray we spray in our mouthes are good shortcuts), then you'll make an easy dump-and-stir toffee sauce that takes about 3 minutes to make. And the taste…is drinkable!
We'll then move on to making The Perfect Pancakes, which require ingredients you most probably have right now. Nothing special, not even buttermilk which goes bad in no time. Just regular good 'ol milk.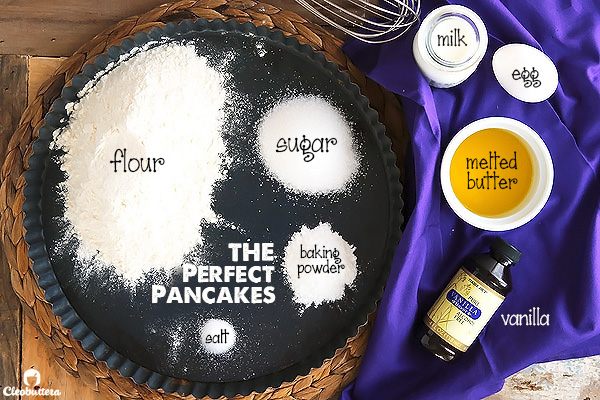 So you'll whisk all the dry ingredients together in a bowl (flour, sugar, baking powder and salt). Then in another bowl or measuring cup, whisk together the wet ingredients (milk, egg, melted butter and vanilla).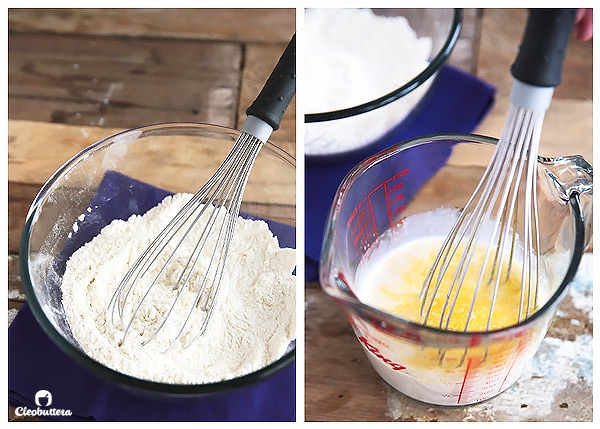 You'll then dump the wet into the dry. Whisk together just until combined. Do NOT whisk until completely smooth; the batter should be slightly lumpy. Yup! Lumpy batter ensures fluffy pancakes:)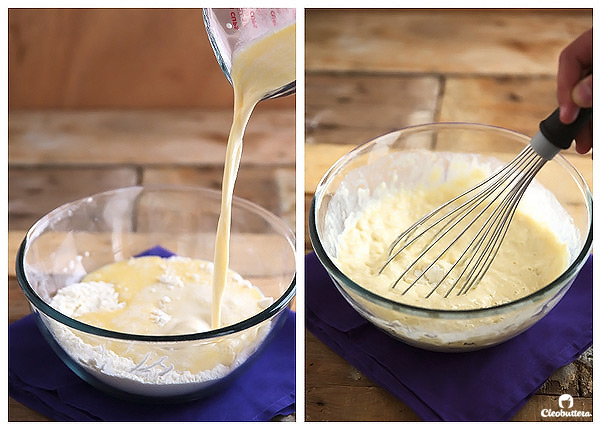 Then get ready for the worst food photos ever! My kitchen's natural lightening is just not the best. But you'll get the idea. So anyway, you'll pour in a 1/4 cup of the batter onto a hot nonstick skillet over medium heat. An ice cream scoop is perfect for this. Wait till you see bubbles surface on top of the pancake (which you can't really see here because of the lousy picture but I promise they're there), the batter should appear slightly set around the edges, about 1 1/2 to 2 minutes.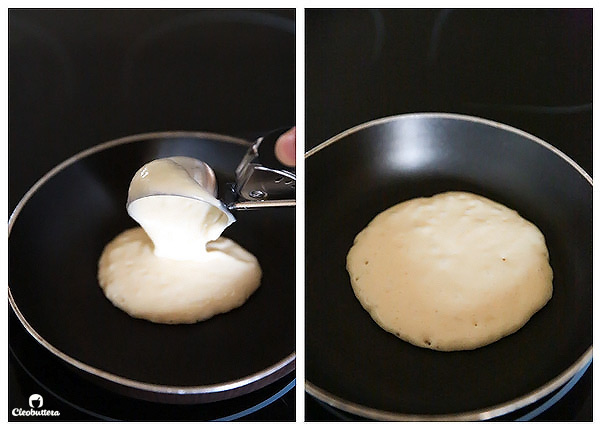 Slide in your spatula, take a peak and make sure that its well browned.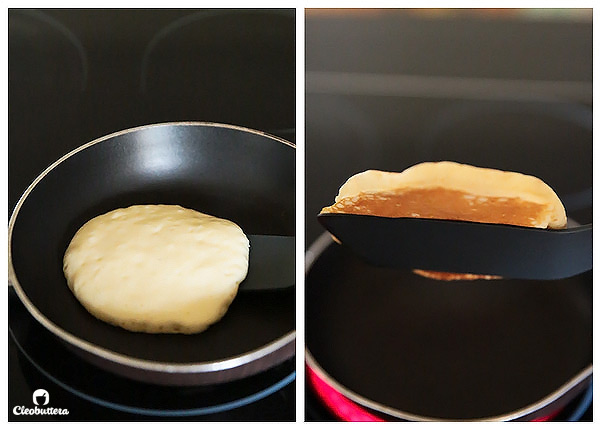 Then gather up your guts and flip that guy! Cook for another minute until browned as well.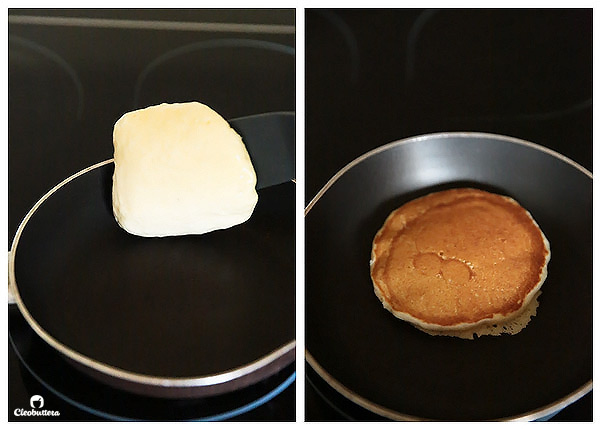 Now look at this fluffy stack of pillowy clouds. You'll wanna stop right here and rest your head on it and rest assure that all your worries will been be gone when you wake up.
By for now…let's banoff-ay this thing! Toffee sauce…Oh yeah! Pour it down.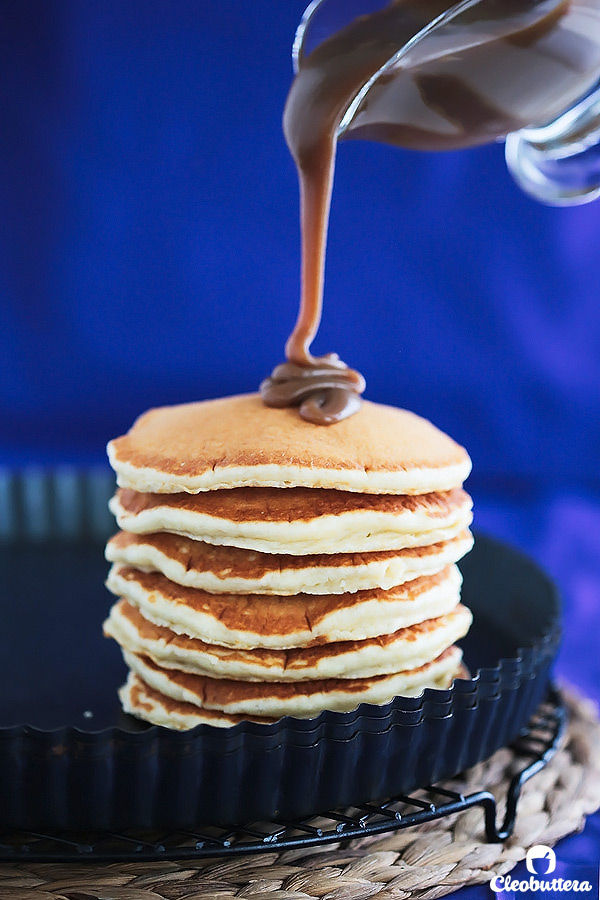 Then stare a little and enjoy this scenery….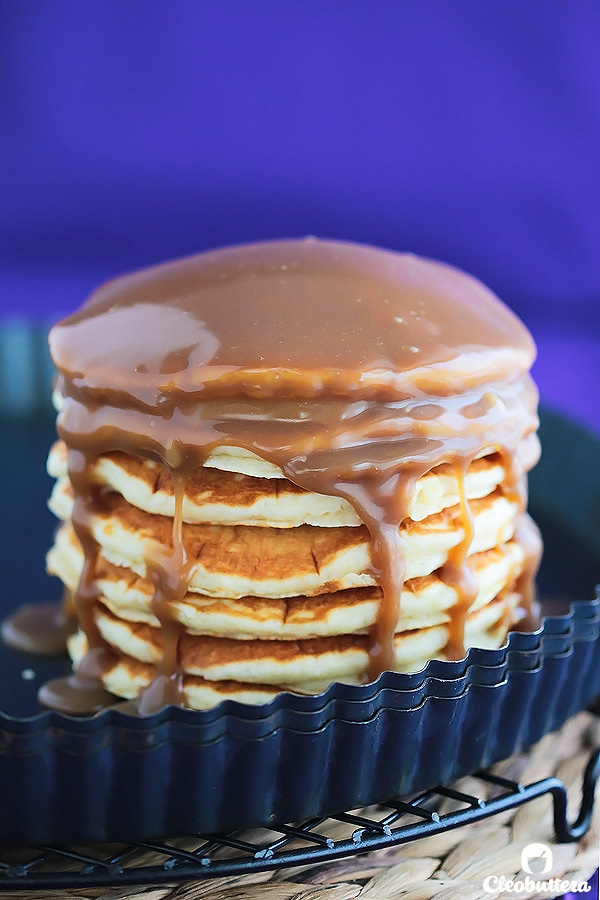 It's not banoffied just yet until you shingle on some bananas, dollop that whipped cream, top with those chocolate curls then sprinkle with that amazing pie crust crumbs.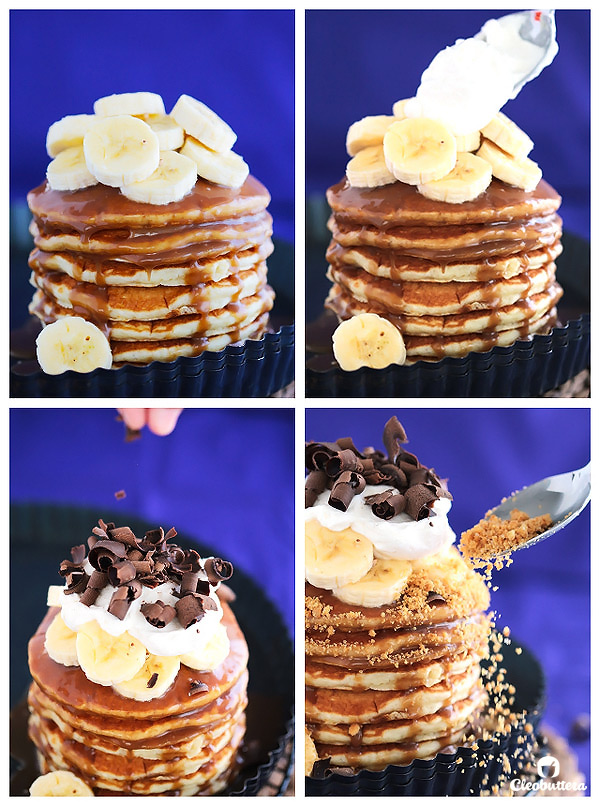 Go ahead…dig in.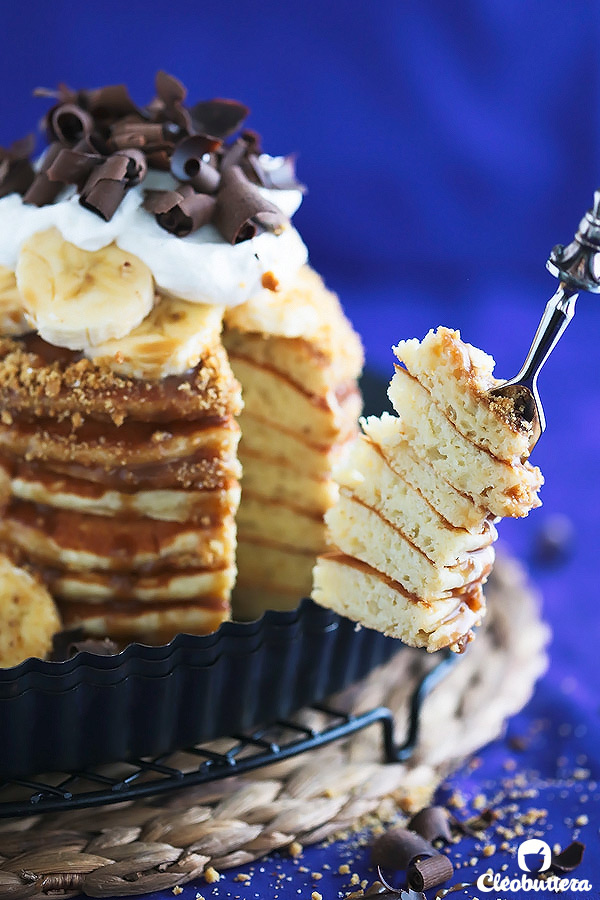 Mmmmm…my daughter said it best, "these pancake are too yummy to be true!"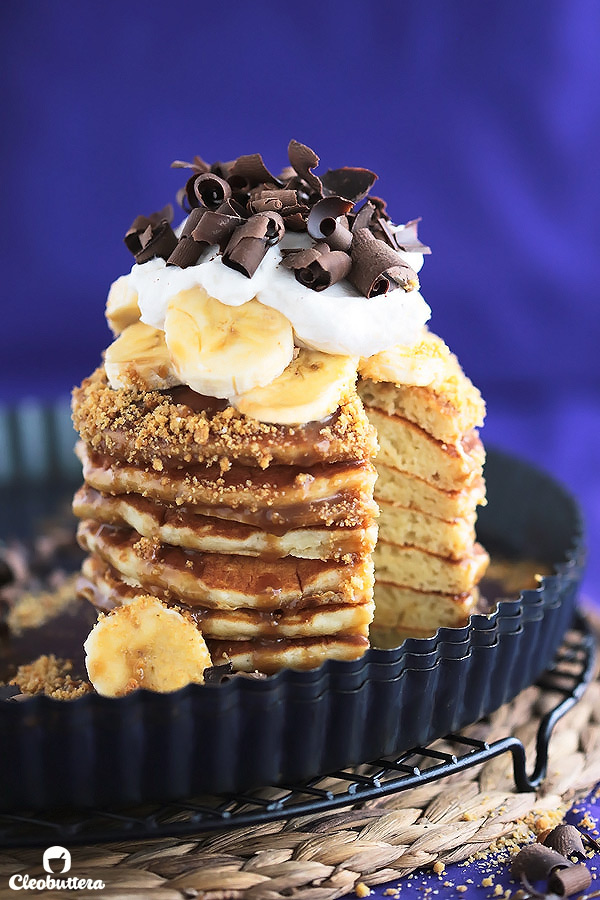 I'd say that girl has some fine-tuned tastebuds!
Yield: 10 to 11 pancakes
Banoffee Pie Pancakes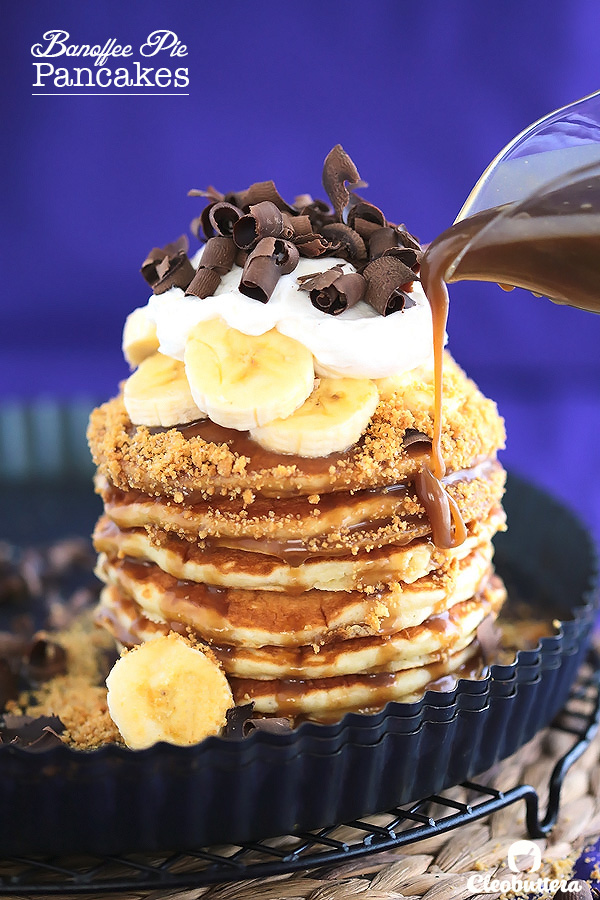 Flippin' good pancakes that taste just like the delicious British dessert, Banoffee Pie (aka Banana Toffee Pie). Pillowy pancakes drenched in an easy toffee sauce, topped with banana slices, dollops of whipped cream, chocolate curls and finished off with a sprinkling pie crust crumbs.
Prep Time 30 minutes
Cook Time 30 minutes
Total Time 1 hour
Ingredients
For the Pancakes:
1 1/2 cups (188g) all purpose flour
3 tablespoons (38g) sugar
3 1/2 teaspoons baking powder
1/4 teaspoon salt
1 1/4 cups milk, warmed slightly in the microwave (so it doesn't solidify the melted butter)
1 egg, at room temperature
1 teaspoon vanilla extract
3 tablespoons (43g) butter, melted
For the Pie Crust Crumbs: (could be prepared up to 3 days in advance)
4 Digestive biscuits, or 4 sheets graham crackers (crushed into 1/2 cup coarse crumbs)
1 teaspoon sugar
1 tablespoon (14g) butter
Toffee Sauce: (could be prepared up to 3 days in advance then reheated before serving)
1/4 cup (57g) unsalted butter
1/2 cup (100g) packed brown sugar, light or dark
1/4 cup heavy whipping cream
1/8 teaspoon salt
For topping:
2 to 3 bananas, peeled and sliced
Whipped cream
Chocolate curls or shavings
Instructions
Prepare the pie crust crumbs and toffee sauce as per the recipe below and set aside. Be ready with the bananas, whipped cream and chocolate shavings.
To make the Pancakes:
In a large bowl, whisk together the flour, sugar, baking powder and salt. Set aside.
In a liquid measuring cup or another medium bowl, whisk together the milk, egg, vanilla and melted butter.
Pour the milk mixture onto the flour mixture and whisk briefly, being careful not to overmix the batter. Batter should be slightly lumpy; do NOT smooth out completely or pancakes will be tough.
Heat a nonstick skillet over medium heat until hot. Put a drop of oil on the skillet, then wipe it with a paper towel while greasing the entire surface of the skillet.
Pour a 1/4 cup of the pancake batter over the skillet (I like to use an ice cream scoop). Cook for about 1 1/2 to 2 minutes until the surface of the pancake is bubbly and appears almost set around the edges. Take a peak and see if the bottom is well golden browned by lifting the pancake slightly with a flat spatula. If its looking good, then slide the spatula all the way under the pancake and carefully flip to the other side. (If the pancake is too flimsy to lift, then it needs to stay longer on the skillet) Cook for another minute or until the other side is golden brown. Repeat with the rest of the batter.
To serve, place desired amount of pancakes on a plate, then pour some warmed up toffee sauce over it. Top with banana slices, a dollop of whipped cream, some chocolate shavings then sprinkle with the pie crust crumbs.
To make the Pie Crust Crumbs:
Melt the butter on a skillet over medium high heat. Toss in the digestive biscuit crumbs and sugar. Cook, stirring constantly with a spatula until the biscuits toast, deepen in color and smells fragrant.
Transfer to a bowl to cool completely before using or storing for later use.
To make the Toffee Sauce:
In a saucepan, melt the butter, brown sugar, cream and salt over medium heat, stirring constantly with a whisk or heatproof rubber spatula.
Bring to boil and simmer for about 1 minute, stirring constantly.
Remove from the heat and use according to the recipe or store in an airtight container and chill in the fridge for later use. Heat before serving.
Recipe Notes
Pancakes can be frozen for up to a month. Prepare and cook pancakes as per instructions. Place on a wire rack to cool completely. Store in a zipper lock bag making sure there's some kind of divider between each pancake like parchment paper squares or plastic wrap, so they don't stick to each other after they've been frozen. To serve, thaw at room temperature or in the microwave, then warm in the microwave for a few seconds. Top as desired.
Pancake recipe heavily adapted from Whisk Kid
Measurements Note: All recipes of this site have been developed using weight measurements. Although US volume measurements have been included for your convenience, it is highly encouraged that you weigh your ingredients using a kitchen scale to get the best possible results. Due to the sensitive nature of baking, kitchen scales are proven to yield more accurate and consistent results than measuring cups. Enjoy!
This post may contain affiliate links.
All images and content are owned by Cleobuttera® and are copyright protected. Please do not use my images without prior permission. If you would like to republish a recipe, please rewrite it in your own words and link back to the recipe page on my site. Original recipes and creations of this site are intended for personal and home use. Commercial replication or media consumption are only allowed with a written consent and agreement with Cleobuttera owners. Otherwise it is considered a violation of intellectual property. Thank you for respecting and appreciating the amount of time and effort that goes into creating free, unique recipes that make people happy.