Heavenly Crescent Rolls (3 Ways)
The fluffiest and most tender rolls you could possibly eat, kicked up a few notches! One amazing dough, three different fillings. There's the creamy Nutella filled, the gooey mozzarella stuffed and the timeless classic good ol' butter.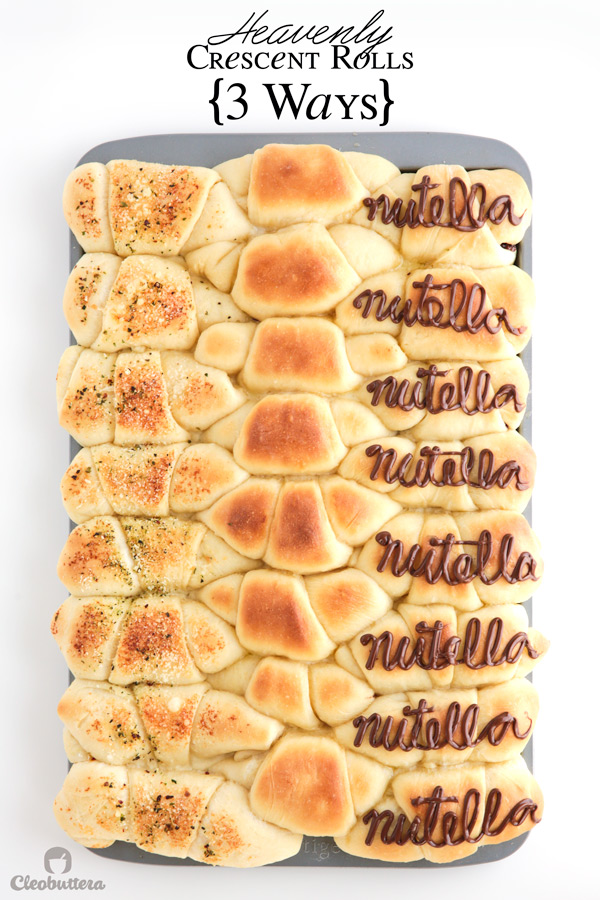 These rolls are the answer to four types of people:
The indecisive ones, who find it difficult to choose one thing over the other.
Those who have to have something sweet after their savory, and then something savory again because they couldn't tolerate the sweetness, and then back to sweet because they want the last flavor to leave their mouths to be something sweet, and the cycle goes on and on. C'mooooon…. you know who you are:)
The foodies who just want it ALL!
All of the above…like someone I know (ahem)
These rolls make everyone happy.
Not only because they offer something for everyone…but the rolls themselves, filling or not, are the best use of carb you could ever get.
If you make them, which I strongly urge you to, expect to receive some awkward hugs, a few marriage proposals and several requests for the recipe. They are that HEAVENLY.
They are the fluffiest, softest and most tender rolls I've ever tasted or baked, and as a carb-o-holic, I've really had my fair share. They just melt in the mouth…very little chewing activity is required. Just swallowing.
I'm not the only one who thinks so. Anyone who tries them, just go bonkers for them and couldn't stop at just one, and calls them "heavenly." And that's why I decided to name them that.
I tried so many roll recipes, both dinner and crescent, before landing on this favorite. All the others were great, but this one is EXCEPTIONAL.
I found the recipe over at Jacklyn from Cooking Classy, who's one of my most trusted sources when it comes to yeast baking. She had never steered me wrong.
I had nothing to tweak over the recipe (something I'm always guilty of) because really, there was no room for improvement here. The dough was already perfect. However, I decided to play with what goes in the rolls…because why have one type of roll when you can have three?! There's the good 'ol classic butter ones, ooey gooey cheesy mozzarella ones and Nutella lovers…I got you covered.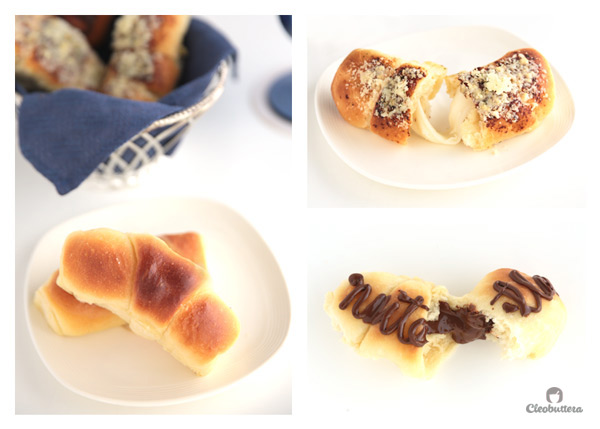 The butter ones may sound a bit boring, but trust me they are anything but. Warm out of the oven, they will fall apart in your hands and transport you to cloud number 9 after the first bite.. Obviously they're the perfect vehicle for soaking up gravies and sauces, or slathering with more butter. Or honey butter. Or cinnamon butter. Or peanut butter. Or…Ok I'll stop now with all the butters.
The cheesy ones are…I have no words really…because what can I say about melted cheese inside a little pocket of soft carb, sprinkled with parmesan and herbs. Its a given that they're gonna be delicious. Just make sure you eat them warm though, while the cheese is still all melty.
As for the Nutella ones…sooooo good!
So basically you get breakfast, lunch and dessert all on the same platter. 'Tis the platter of love, my friend.
Let's take a look on how you could make them.
Prepare the dough following the recipe below and leave it to rise until poofy and doubled in size. Then dump the dough on a floured counter, and at this point, you might decide to stop right here and use the dough as a pillow. If you'd rather eat it, then gently flatten the dough into a rectangle and divide it into three equal parts using a pizza cutter or sharp knife. Then shape each section into a smooth ball.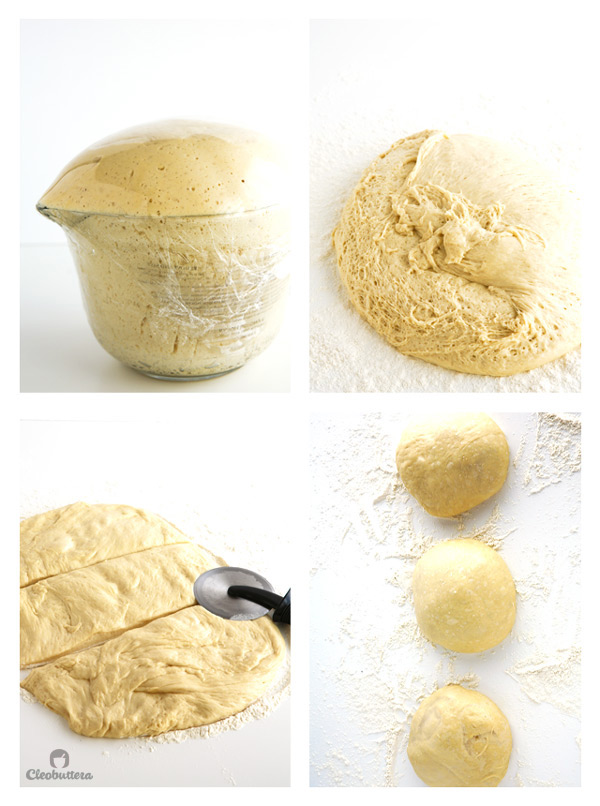 Take one of the balls, covering the rest with plastic wrap, and flatten into a 12 inch circle. Brush with butter then divide into 8 equal slices. Then roll away.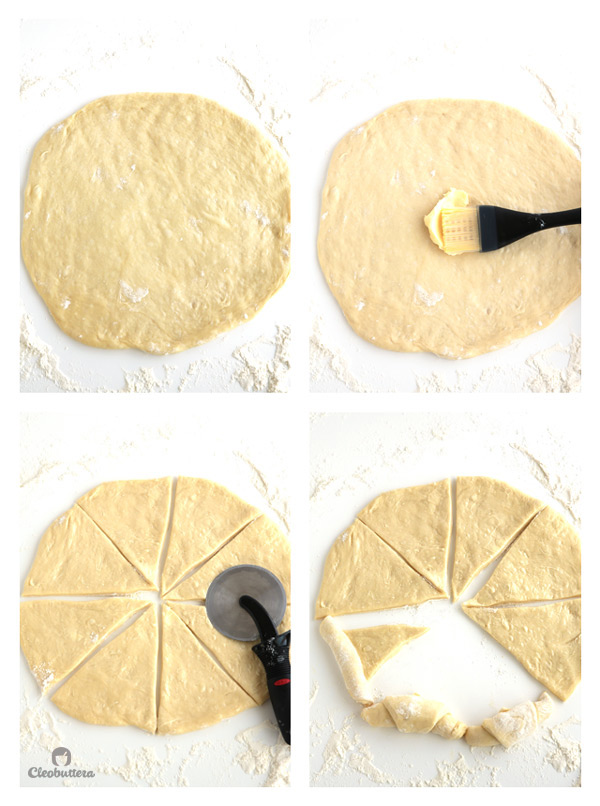 "This is how we roll":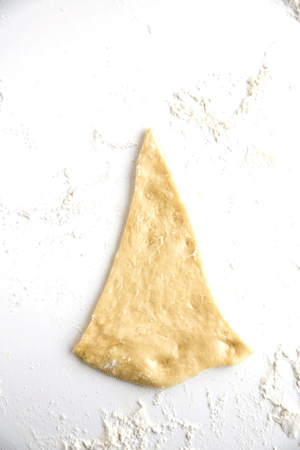 Now…the Nutellaaaaaaa
Repeat the steps above of flattening, buttering and slicing then scoop about a tablespoon of Nutella on each slice. You're gonna want to press the dough shut as you're rolling to seal the Nutella in. This will prevent it from oozing out during baking.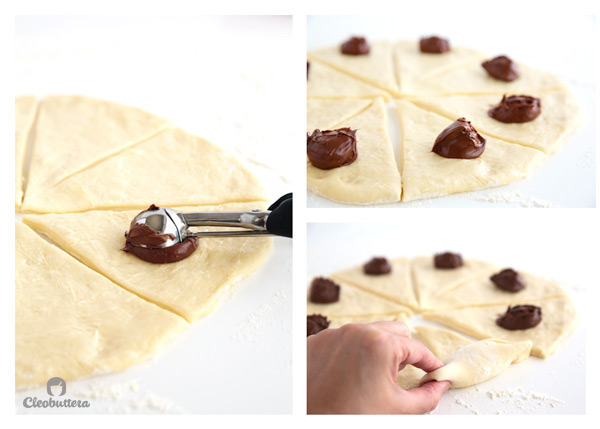 Like so…kinda looks like a clock doesn't it? Nutella clock…Is that a hidden message for its time for Nutella?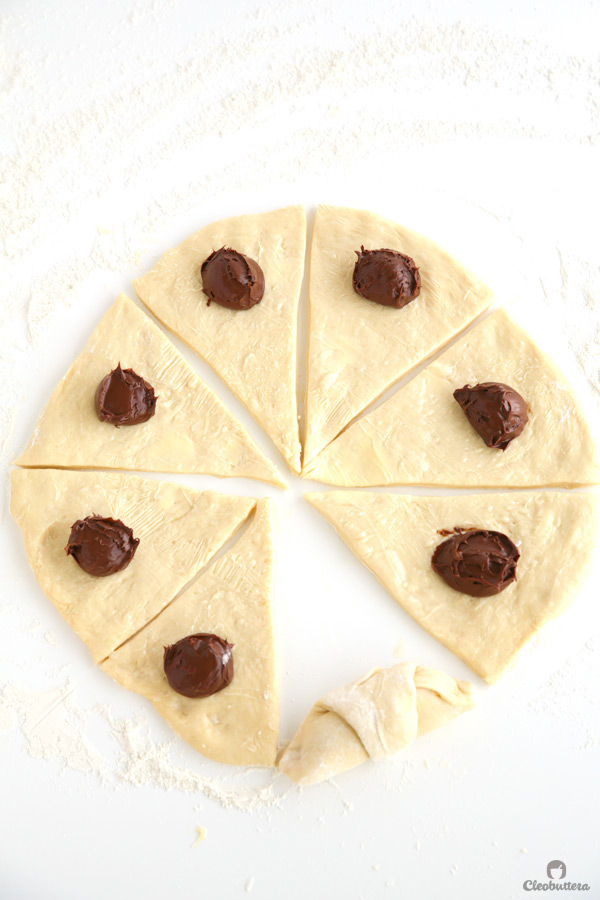 Now onto the cheesy one. Plop some mozzarella on, doesn't have to be shredded. And again, seal the dough as you roll.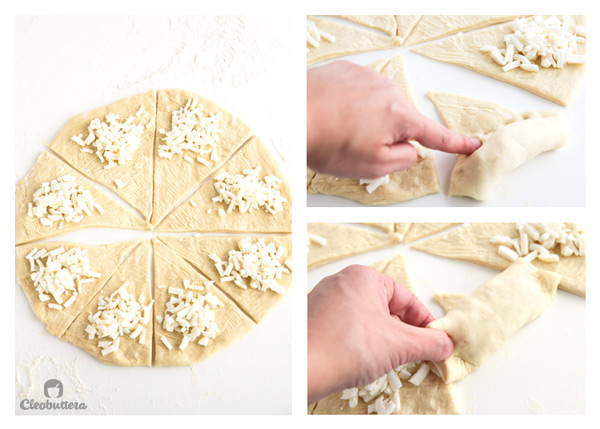 Make sure that when you arrange the rolls, you separate the Nutella ones from the cheese ones by placing the plain butter ones in the middle. You don't want your cheese to ooze on your chocolate.
Now JUST for the cheese ones, brush with olive oil, grate parmesan over it, then sprinkle with Itailan Seasoning. That just takes them over the top.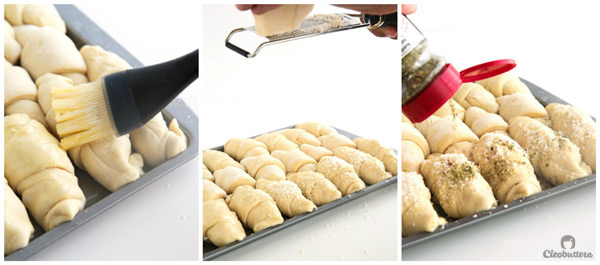 Cover and let them rise again until they puff up and feel like the softest marshmallows ever.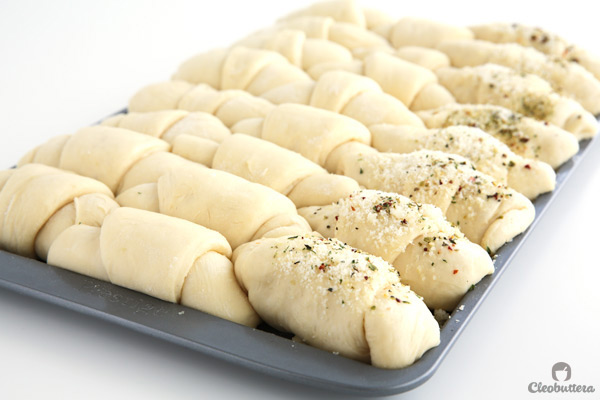 Bake until golden brown and enjoy as your house smells like a bakery in Paris.
Immediately brush the tops with butter except for the cheese ones. These already got a bath in olive oil.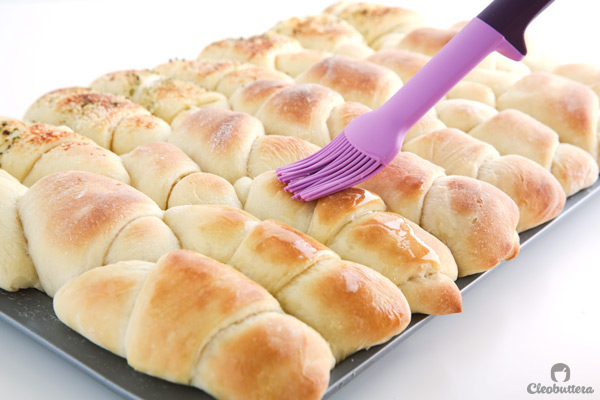 This is completely optional but just gives it that extra touch, pipe the word 'Nutella' with melted chocolate over the Nutella ones, obvi. Or just make random drizzles and scribbles.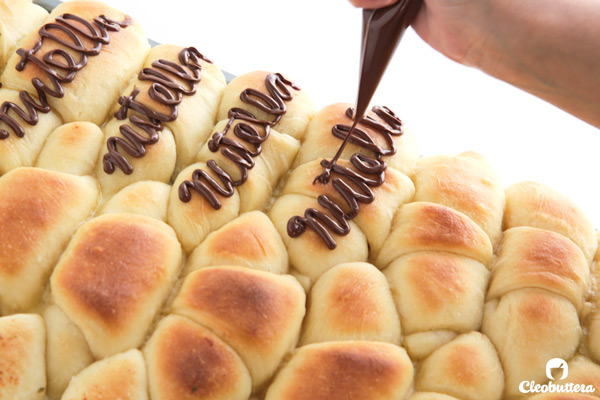 So…
Which one are you?
Plain Jane? Ooey gooey? Or Chocoholic?
Or ALL?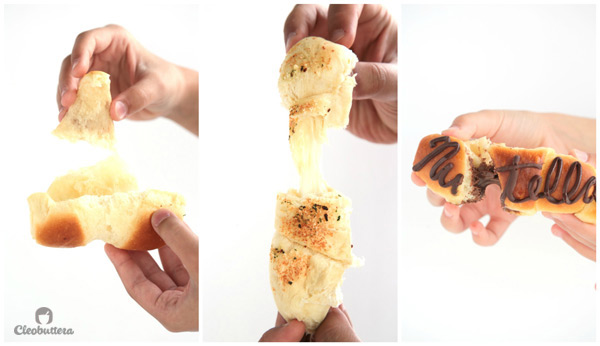 Yield: 24
Heavenly Crescent Rolls (3 Ways)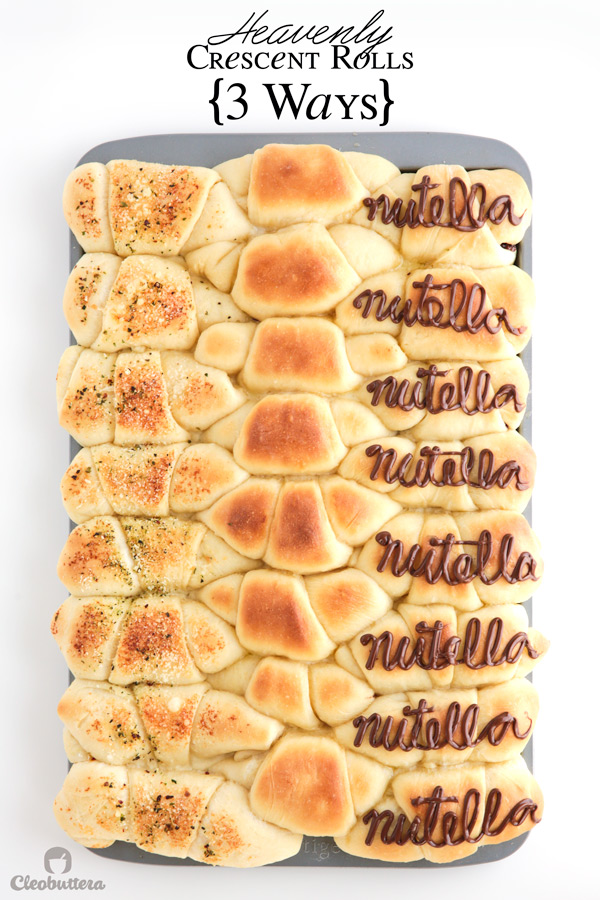 The fluffiest and most tender rolls you could possibly eat, kicked up a notch! One amazing dough, Three different fillings. There's the creamy Nutella filled, the gooey mozzarella stuffed and the timeless classic plain butter.
Prep Time 40 minutes
Cook Time 15 minutes
Additional Time 2 hours 30 minutes
Total Time 3 hours 25 minutes
Ingredients
For the Dough:
1/3 cup water, warmed to 110-115F (very warm to the touch)
1 1/3 cups whole milk, warmed to110-115F (very warm to the touch)
5 tablespoons (2 1/2oz/ 71g) unsalted butter, melted and cooled, plus 6 tablespoons (3oz/ 85g) (divided) softened for brushing
1 egg, at room temperature
1/3 cup (2 1/2oz/ 70g) sugar
2 1/4 teaspoon instant dry yeast (not active dry yeast)*
1 3/4 teaspoon salt
5 1/4 to 5 1/2 cups (656g-688g) all-purpose flour*
For the Nutella rolls:
8 tablespoons (4oz/ 114g) Nutella
1 oz (28g) milk chocolate, melted
For the cheese rolls:
4 to 6oz (114g to 170g) mozzarella cheese, shredded or cubed into 8 equal portions
1 tablespoon olive oil
1 oz (28g) grated parmesan cheese
Italian seasoning or any combination of dried herbs
Instructions
To make the dough:
Whisk the water, milk, 5 tablespoons (71g) of melted butter and egg in a small bowl or liquid measuring cup; set aside.
Whisk 2 cups (240g) of the flour, sugar, yeast and salt together in the bowl of a stand mixer.
Pour the milk mixture into the flour mixture and stir until combined.
Attach the dough hook to the stand mixer and on low speed, gradually add in the remaining 2 1/2 cups of flour.
Increase the speed to medium low and knead until the dough is smooth, elastic and slightly sticky or tacky, about 4-5 minutes. The dough should only stick to the bottom of the bowl but pulls away from the sides. If this is not the case and the dough is still very wet, then add more flour, 1 tablespoon at at time until the dough clears the side of the bowl.
Transfer the dough to a large oiled bowl and cover with plastic wrap. Allow the dough to rise in a warm place* until doubled in size, about 1 1/2 hours.
Butter a 10X15 inches baking sheet and set aside.
Transfer the dough to a well floured counter and shape into a rough rectangle. Cut into 3 equal portions. Shape each portion into a ball and cover with plastic wrap to prevent them from drying out.
For the plain butter rolls:
Take one of the balls and roll into a large circle, about 12 inches.
Spread evenly with 1 1/2 tablespoons of the softened butter then cut into 4 equal quarters. Cut each quarter in half to make 8 wedges altogether.
Roll up each wedge starting from the wide (outside) edge, tucking the narrow end underneath.
Arrange the rolls in the buttered baking sheet, fitting 8 in a row, making sure that the plain butter ones are in the middle.
For the Nutella rolls:
Follow steps 11 and 12, then scoop 1 tablespoon of Nutella on the wide (outside) edge of each wedge.
Roll each wedge starting with the wide (outside) edge, using your finger to press the dough over the Nutella to seal it in. Arrange on the baking sheet, tucking the thin end underneath.
For the cheese rolls:
Follow steps 11 and 12, then place about a tablespoon (1/2-3/4oz) of cheese on the wide (outside) edge of each wedge.
Roll each wedge starting with the wide (outside) edge, using your finger to press the dough over the cheese to seal it in. Arrange on the baking sheet, tucking the thin end underneath.
Brush with olive oil, sprinkle with grated parmesan and italian seasoning.
To finish the rolls:
Now you have 3 rows of 8. Cover loosely with plastic wrap and let rise in a warm place until doubled in size, about 1 hour.
During the last 15 minutes of rising, preheat the oven to 375F/190C.
Remove plastic wrap and bake the rolls for 15-19 minutes until golden brown. Remove from the oven and brush only the plain and Nutella rolls with the remaining 2 tablespoons of butter.
Let cool slightly before serving.
Optional: With the melted chocolate, pipe the word 'Nutella' on the Nutella stuffed rolls or make random drizzles or squiggles.
Enjoy warm or allow to cool and store in an airtight container. Fresh out of the oven, they just melt in the mouth.
Recipe Notes
Make sure you use 'instant' dry yeast here and not 'active.' Instant yeast is designed to get mixed right away with the dry ingredients without having to activate it in a warm liquid. If you follow the same directions using 'active' yeast, the dough won't rise and you'll end up with thin, dry rolls. If active dry yeast is all you could find, then you're gonna need to dissolve it first in the warm water with a 1/4 teaspoon of sugar, before proceeding with step 1 of the recipe.
I used Pakmaya brand for these rolls, but Venoise is another favorite of mine. Just look for the word 'instant.'
The amount of flour varies depending on many factors including humidity and altitude. So start with 4 1/2 cups and slowly add more, if needed, until the dough is slightly sticky or tacky. It should stick to a clean finger then pull away without leaving dough behind. It shouldn't be dry either or the rolls will turn out tough.
To create a warm environment for the dough to rise, adjust oven rack to middle position and place a loaf or cake pan in the bottom of the oven. Place the bowl of dough on the middle rack and pour boiling water into the pan. Close the oven door and allow the dough to rise as instructed. Alternatively, a warm, turned off oven may be used instead, just be sure that it's not hot, as that could kill the yeast. It should feel like a warm summer day.
You can most definitely make the dough completely by hand. You'll just get a little arm workout, which means you're allowed to eat more rolls:)
Heavily adapted from Cooking Classy
Measurements Note: All recipes of this site have been developed using weight measurements. Although US volume measurements have been included for your convenience, it is highly encouraged that you weigh your ingredients using a kitchen scale to get the best possible results. Due to the sensitive nature of baking, kitchen scales are proven to yield more accurate and consistent results than measuring cups. Enjoy!
This post may contain affiliate links.
All images and content are owned by Cleobuttera® and are copyright protected. Please do not use my images without prior permission. If you would like to republish a recipe, please rewrite it in your own words and link back to the recipe page on my site. Original recipes and creations of this site are intended for personal and home use. Commercial replication or media consumption are only allowed with a written consent and agreement with Cleobuttera owners. Otherwise it is considered a violation of intellectual property. Thank you for respecting and appreciating the amount of time and effort that goes into creating free, unique recipes that make people happy.