Caramelized Croissant French Toast
These French Toasts are amazing! Soft and creamy on the inside with a caramelized exterior like creme brûlée. Croissants just puts them way waaaaay over the top. Plus…recipe VIDEO at the end of the post!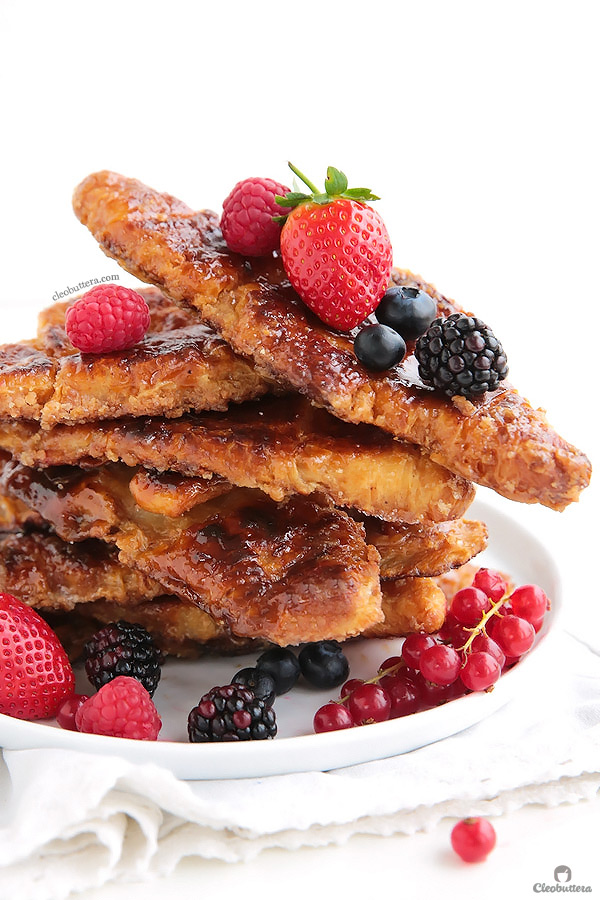 You know what they say that "a picture is worth a thousand words?"
Now this is one of those rare cases were the wise saying does not apply…
Because man oh man these French Toasts taste a thousand times better than they look. TIMES INFINITY AND A HALF!
They are so ridonculous, they don't even need syrup.
And the secret?
Some serious caramelization baby!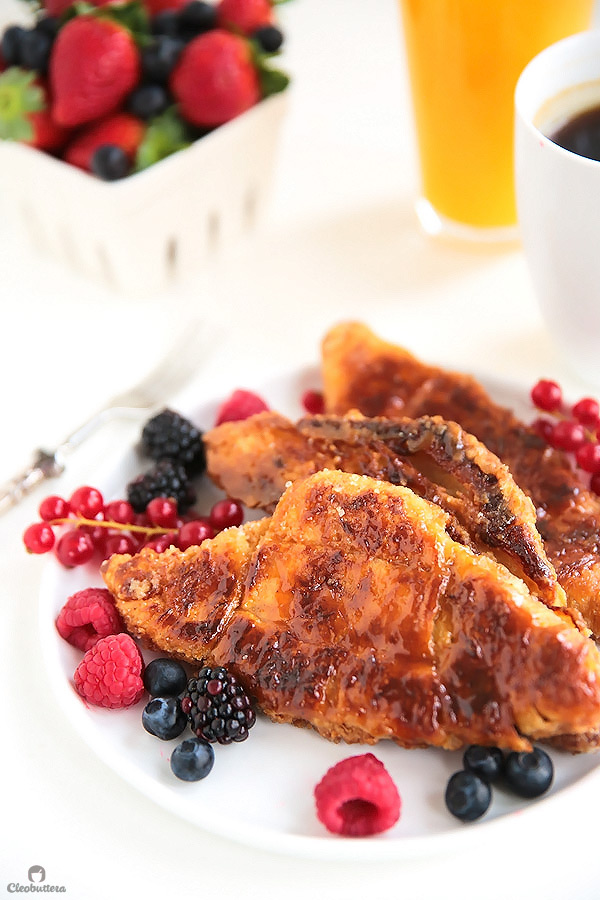 The surface of this golden confection is crunchy and caramelized on the outside, giving way to a perfectly soft and creamy inside.
One bite will make you question all your life-long French Toast decisions.
It is by far THE BEST French Toast I've ever EVER had! It's an eye opener. A revelation. A very very tasty discovery.
Because caramelization = EVERTHING!
It gives tons of texture and loads of flavor. I can't even…
I'm at loss of words to describe their amaziness, yet full of thoughts. Thoughts of a caramelized french toast marching in my mouth this instant!!!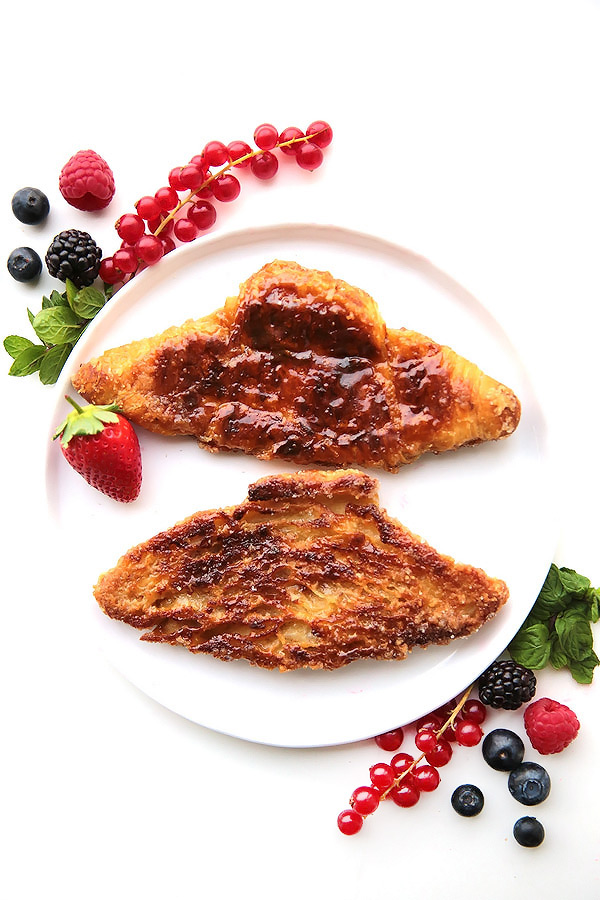 Inspiration to this life changing breakfast treat came to me as I was scrolling down my Instagram feed and hit a photo of The City Bakery's famous caramelized French Toast. I was immediately drawn to that handheld thick wedge of golden deliciousness. Apparently it's all the rage, with people claiming it to be "the best French Toast in the World!"
I mean…normally, like any foodie in their right mind and hungry stomach, I was dying to know what the hype is all about. Since I'm oceans apart from New York City's famous bakery, I had no choice but to figure it out on my own and recreate something similar. Mr. Google led me to this treasured article, where the author visits the actual kitchen of the bakery to see how their French Toasts are made. The secret recipe is surely not splurged, but she gives the scoop on the ingredients and technique. Just what I needed.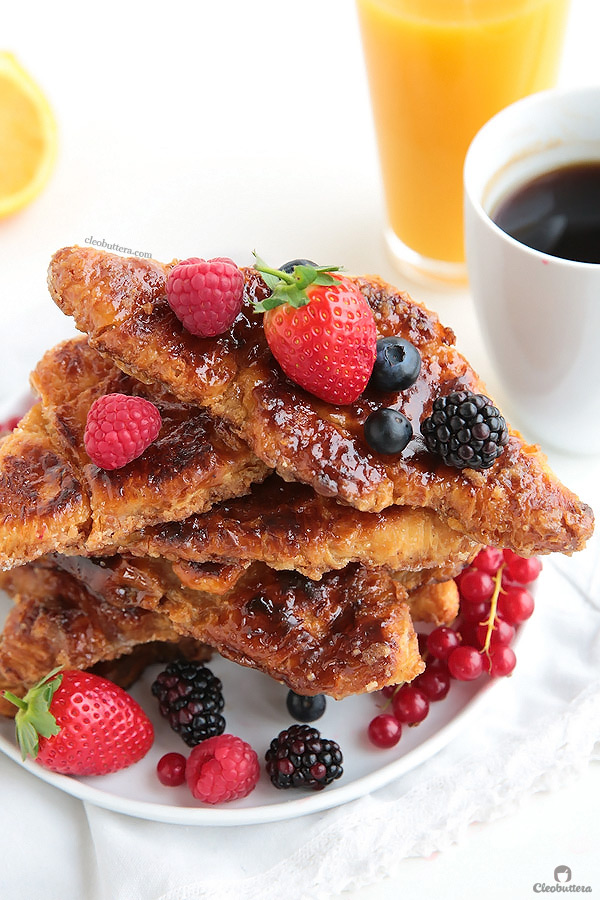 The famed bakery's version uses thick wedges of sourdough bread, a short soak in the custard, a lot of butter, an insane amount of sugar, and cooking the bread on all sides.
With these guidelines in mind I went to work, subbing extra thick slices of white bread instead of the sourdough as it wasn't available for me.
Tasting moment of truth: I was BLOWN AWAY with how good it was! Crazy CRAZY good! So good that I regretted all the lost time making regular French Toast, when such deliciousness exists in the real world.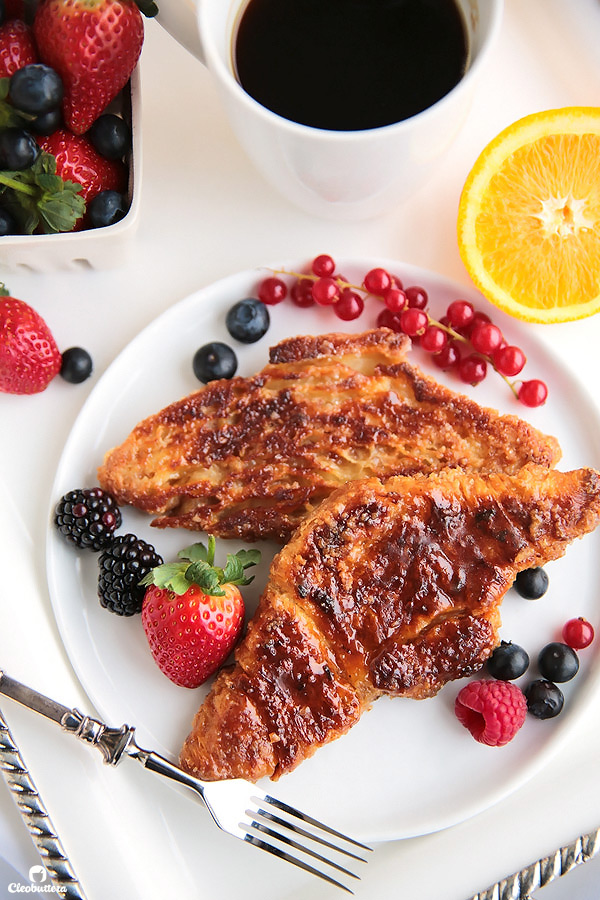 I couldn't be more satisfied with the recipe and my heart was set on it, except that I was curious at how different types bread will affect the results. So I made challah (from scratch!), bought brioche and then I remembered seeing on Pinterest versions of French Toasts made with croissants. I wasn't sold on the idea and was pretty doubtful but I thought, why not?! So I bought some.
So I tried all 4 carby vehicles side by side to compare. Guess which one won?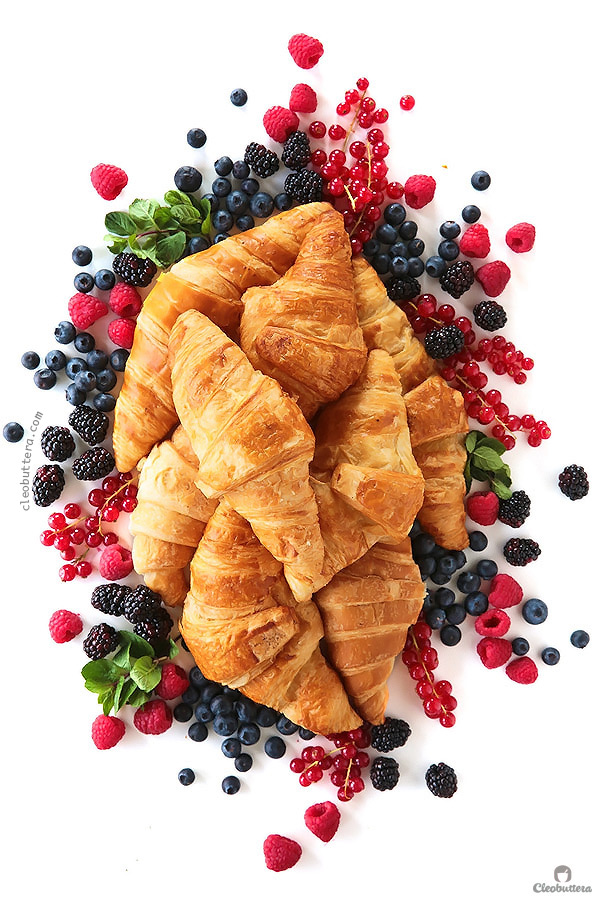 Yup! Hands down!
We loved loved loved the white bread, but croissants were a game changer.
I actually didn't want them to win because when cooked, they didn't look pretty enough for photography as the other candidates. My taste testers insisted that croissants are miles better though, and I was happy to oblige. We still love the white bread right after the croissants, so feel free to use it; you'll still get spectacular results.
This is a actually a great way to use leftover croissants, when they reach to the point were they are no longer a pleasure to eat. The croissants are sliced in half to give way for the custard to penetrate.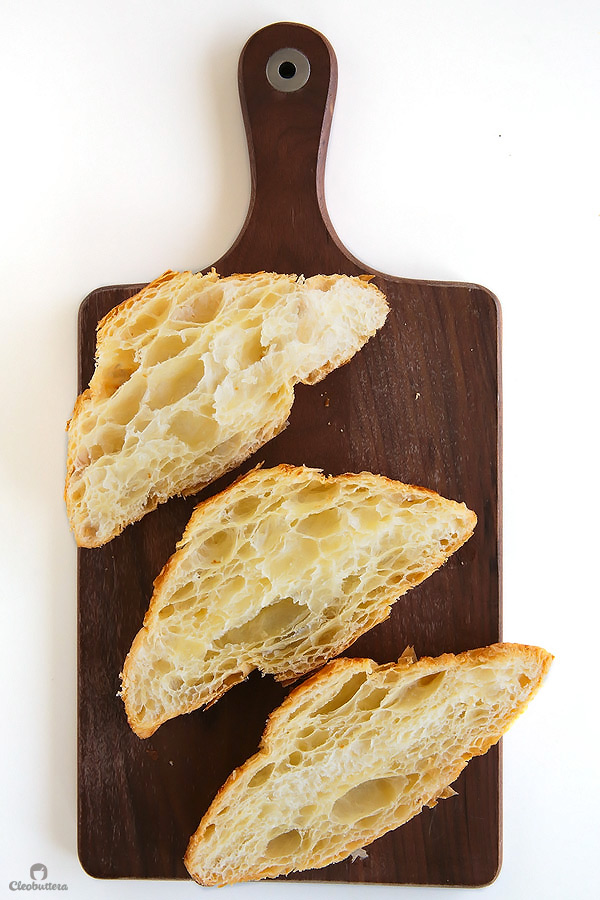 A simple custard is made by mixing together usual French Toast suspects like eggs, milk, a tiny bit of sugar (because MORE is yet to come), vanilla and cinnamon. Two special ingredients are added: heavy cream (hello richness and creaminess!) and flour. Flour thickens the custard, to prevent the croissant/bread from turning soggy; a culprit that most French Toasts fall in, but not this one. I like to whizz the mixture with a immersion blender to get it extra smooth.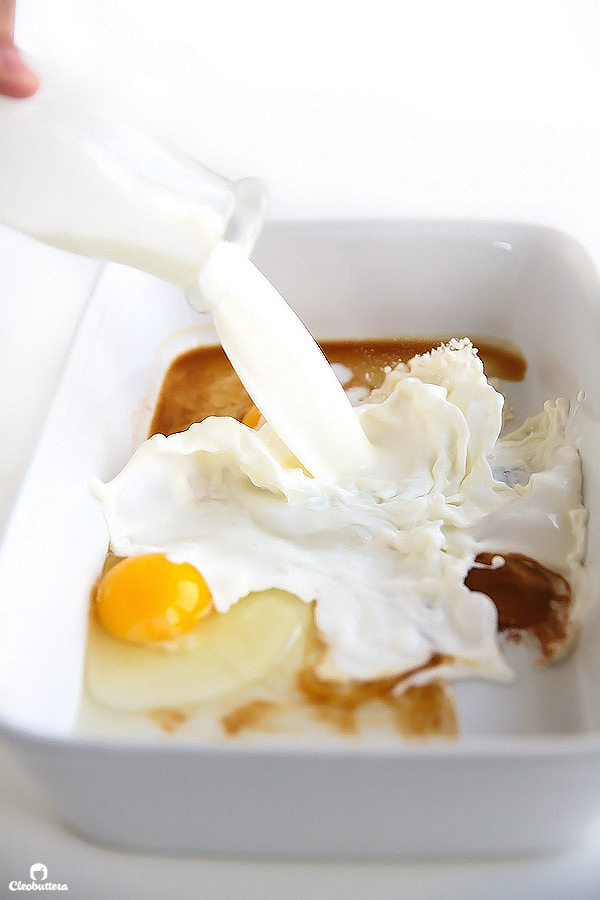 So you dip the croissants cut side down for about a minute.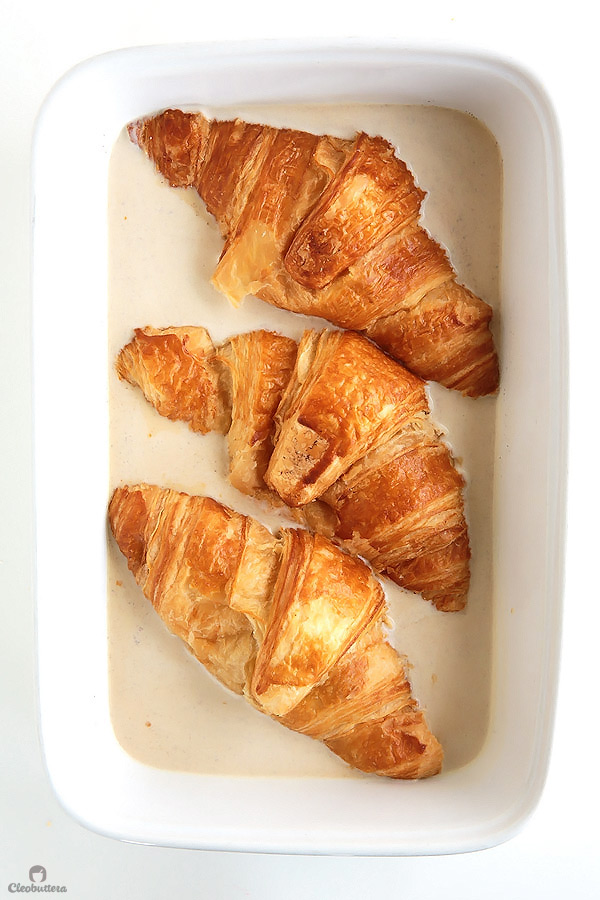 Turn it to the opposite side.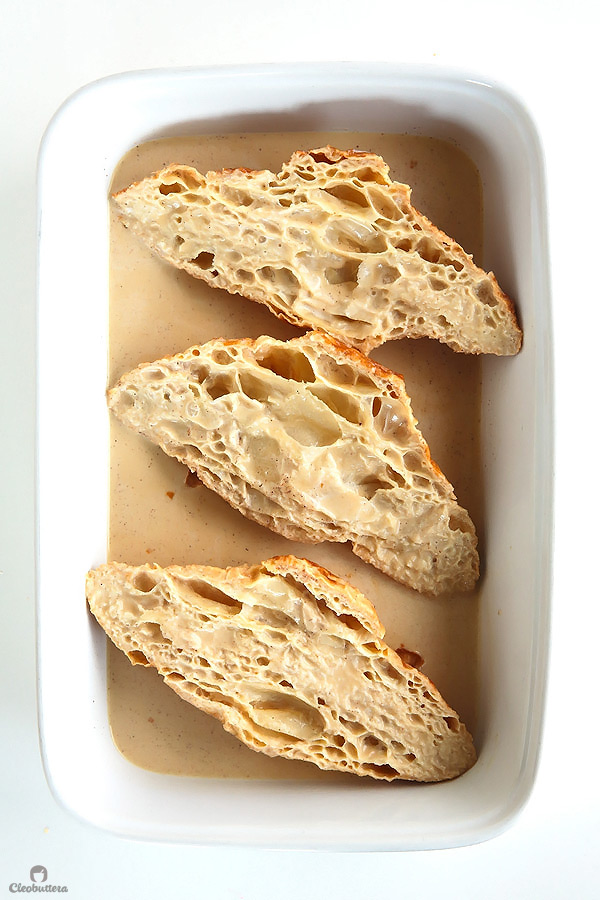 Then sprinkle on sugar. Yes its a lot but I promise the final thing is not too sweet. This is the secret to caramelization! Chef Rubin of The City Bakery said that this is "a don't be afraid of sugar moment," and I couldn't agree more.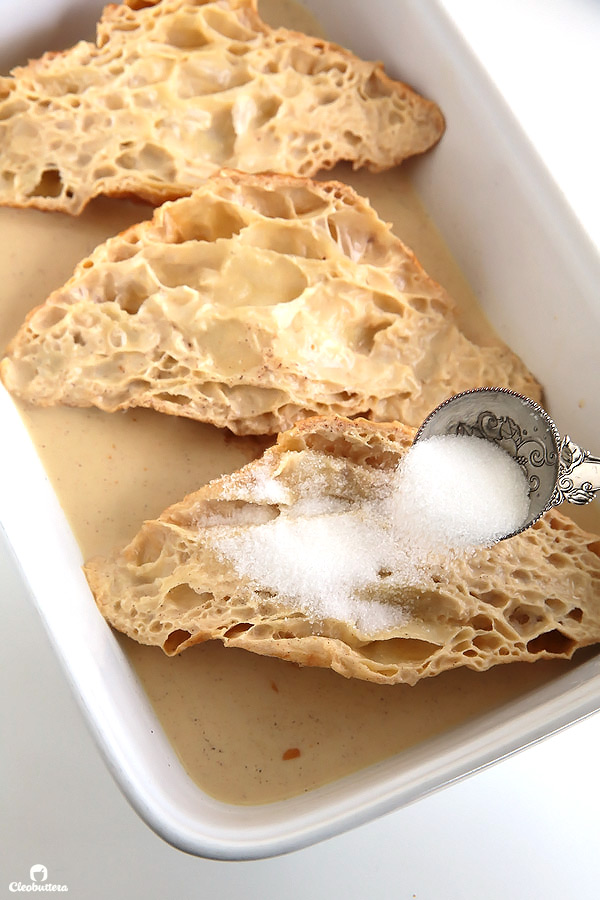 And probably a don't be afraid of butter moment too ?
So you cook them in the butter until the sugar caramelized and coats the bottom.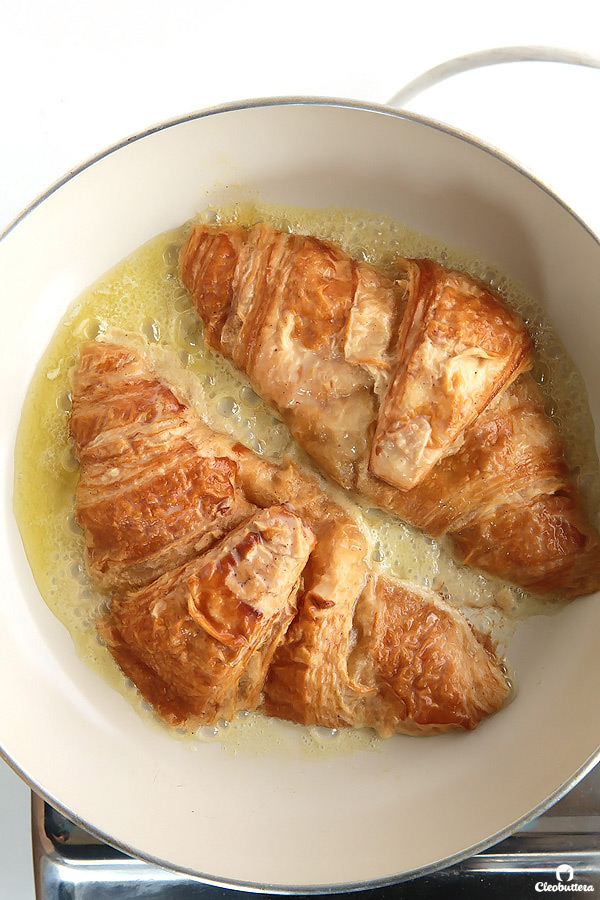 Sprinkle the tops with more sugar (I warned you), then flip to the other side and cook more until caramelized.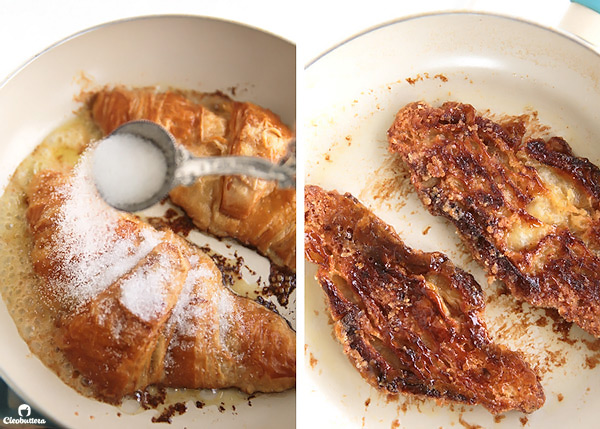 And voila! One unforgettable breakfast is served…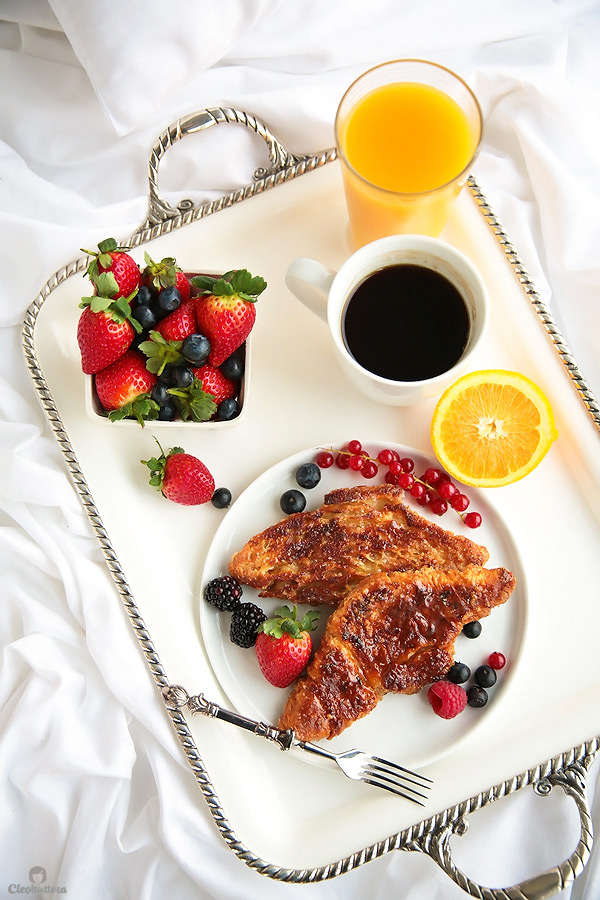 Here's a quick video of how its made!
Bon Appetite ?
Yield: 8 croissant halves
Caramelized Croissant French Toast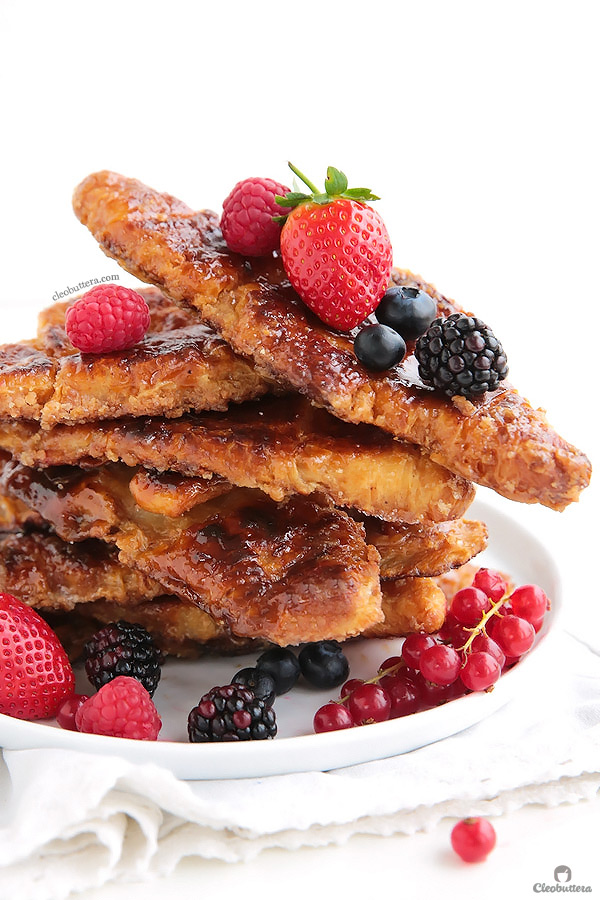 These French Toasts are amazing! Soft and creamy on the inside with a caramelized exterior like creme brûlée. Croissants just puts them way waaaaay over the top.
Cook Time 10 minutes
Prep Time 10 minutes
Additional Time 5 minutes
Total Time 25 minutes
Ingredients
4 large croissants or 6 medium (white bread such as hearty sandwich bread, challah or brioche cut into 1-inch thick slices may be substituted *see note)
2 eggs
1/4 cup plus 2 tablespoons (3oz/ 85g) milk
2 tablespoons (0.8oz/ 23g) heavy cream
2 tablespoons (1/2oz/ 14g) all-purpose flour
1 1/2 teaspoons (1/4oz/ 7g) granulated sugar
1 teaspoons pure vanilla extract or 2 teaspoon if using imitation vanilla flavoring
1/2 tsp ground cinnamon
For Caramelizing:
8 tablespoons (3 1/2oz/ 99g) granulated sugar (divided)
4 tablespoons (2oz/ 56.7g) unsalted butter
Fresh berries, whipped cream or ice cream for serving (optional)
Instructions
Using a serrated knife, slice each croissant in half, making 8 open slices.
In a blender, mix together the eggs, milk, cream, flour, sugar, vanilla and cinnamon on low speed until well combined; 5 to 10 seconds. Alternatively, a hand whisk may be used instead, just make sure to mix really well until no flour lumps remain. Pour the mixture into a shallow dish.
Working with 2 to 4 halves of croissants at a time (depending on how many you could fit in the dish), dunk cut side down into the egg mixture, and let sit for about 1 minute or until enough mixture is soaked into the croissants. Flip to the opposite side and soak for another minute.
Meanwhile, in a non-stick skillet or griddle set over MEDIUM heat, melt the butter (1 tablespoon/14 grams per 2 croissant halves); so if you're cooking 4 halves at a times, use 2 tablespoons/ 18grams of butter and so on.
Sprinkle 1 tablespoon/ 14 grams of sugar over each cut-side croissant half (a little less if using smaller croissants). Gently press the sugar in to adhere.
As soon as the butter starts to sizzle, carefully lift the croissant halves from the soak and transfer to the skillet/griddle, sugared side facing down.
Cook until the bottoms are golden brown and the sugar is caramelized and coats the bottoms. Make sure to maintain a medium heat all along, as cooking at high heat will burn the sugar without giving the interior enough time to cook through. Note that the caramelized sugar will want to escape from under the croissants, but just use the help of 2 forks to move the croissants around to capture all that caramelized goodness. Get it all!
Sprinkle the top sides with another tablespoon of sugar per each croissant half. Flip and cook the opposite side until golden brown and caramelized as well, being careful not to burn the sugar.
Repeat soaking, sprinkling and cooking/caramelizing with the remaining croissant halves. The French Toasts will be sticky from the caramel, so be sure to serve by placing the cooler side down on the plate. Serve warm, plain or with a side of fruits, whipped cream or ICE CREAM! No syrup needed as they are already sweet.
Recipe Notes
Feel free to halve, double, triple or quadruple the recipe.
I tried both mediocre supermarket croissants as well as fancy bakery ones and they taste equally fabulous, so use what's more convenient to you.
If substituting bread for the croissants, make sure you buy it unsliced then cut it into 1 inch/ 2.5cm thick slices. I tried white bread, challah and brioche for this recipe, and white bread was our favorite of the bunch.
Soaking liquid slightly adapted from Cooking Classy
Measurements Note: All recipes of this site have been developed using weight measurements. Although US volume measurements have been included for your convenience, it is highly encouraged that you weigh your ingredients using a kitchen scale to get the best possible results. Due to the sensitive nature of baking, kitchen scales are proven to yield more accurate and consistent results than measuring cups. Enjoy!
This post may contain affiliate links.
All images and content are owned by Cleobuttera® and are copyright protected. Please do not use my images without prior permission. If you would like to republish a recipe, please rewrite it in your own words and link back to the recipe page on my site. Original recipes and creations of this site are intended for personal and home use. Commercial replication or media consumption are only allowed with a written consent and agreement with Cleobuttera owners. Otherwise it is considered a violation of intellectual property. Thank you for respecting and appreciating the amount of time and effort that goes into creating free, unique recipes that make people happy.