Thick and Creamy Nutella Hot Chocolate
This comforting chocolatey decadence is as close as you could get to drinking NUTELLA in liquid form!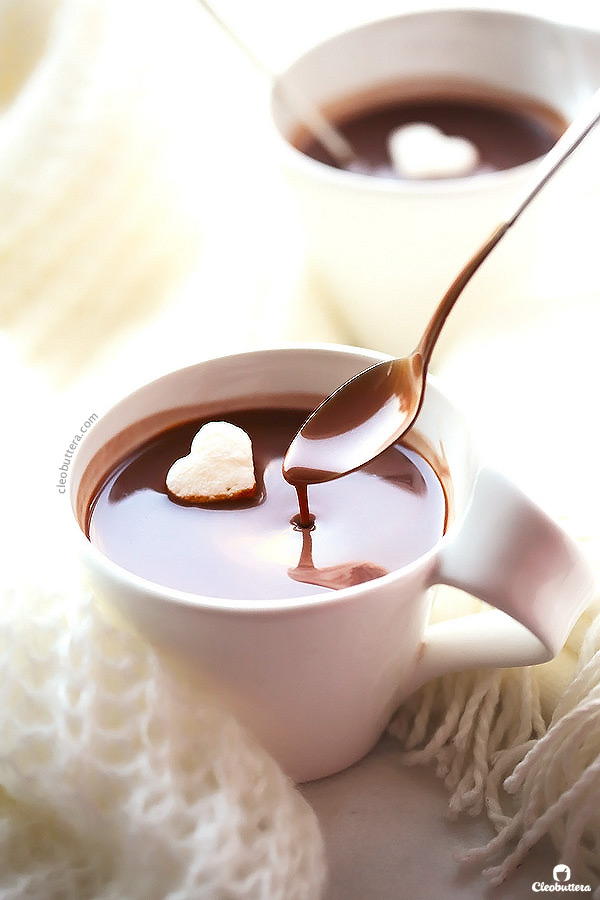 If you are a Nutella fanatic like I am, you're gonna fall hard for this one.
This luscious hot chocolate will cuddle you, warm your heart and give you one big Nutella hug.
Because sometimes, this is all we need.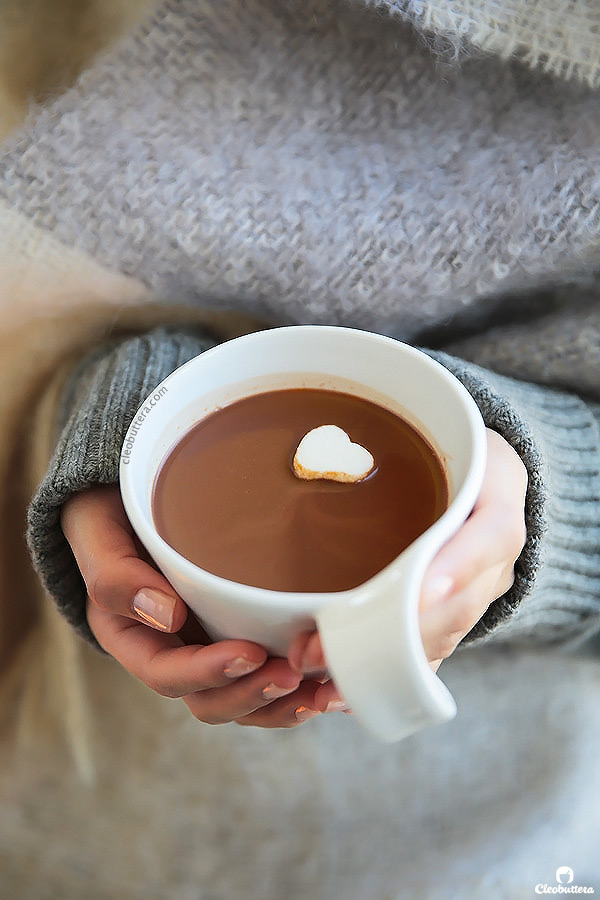 Ever dreamed of a Nutella, syrupy enough to be slurped through a straw?
Or a Nutella soup, creamy enough to be sipped by a spoon? I know I have.
If your answer is YES…then I love you already, and the feeling shall be mutual, because what I have for you right here is as close as it gets to drinkable Nutella. Ferrero…Take note!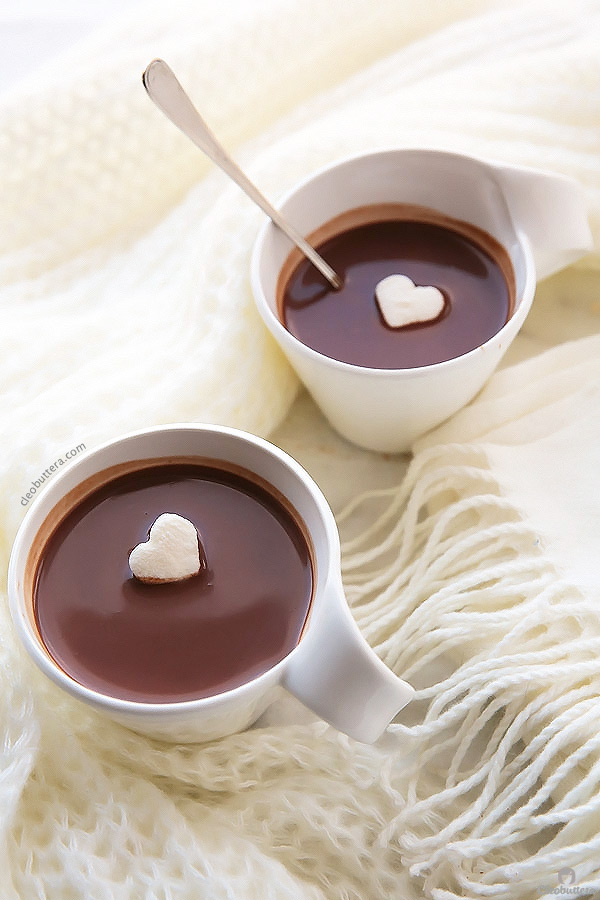 It's thick and velvety almost like soup! And the Nutella flavor…oh it's definitely not shy of it.
This hot chocolate wears the name 'Nutella' with pride and it's up to the title. It doesn't kid around with barely-there Nutella flavor. It tastes boldly of it and is not afraid to show it. Admittedly, it uses an obscene amount of Nutella, but how else could I get that perfect hit of chocolate/hazelnut goodness?! Trust me, I tried to dial it back, but nope…wasn't Nutella-y enough.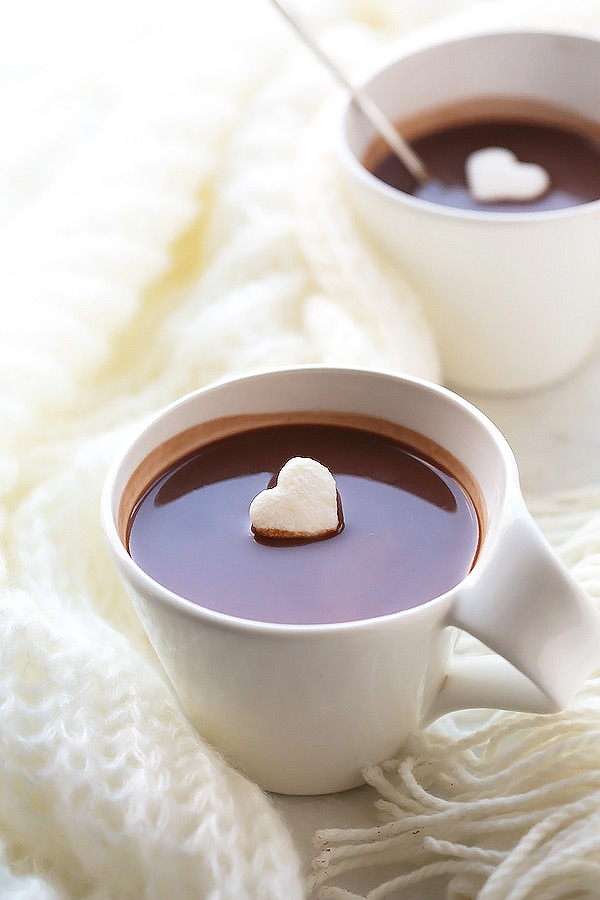 There's not a shortage of Nutella hot chocolate recipes out there, so I'm not inventing the wheel here, but what makes this one extra special, (other from the fact that it's the Nutella-ist of all Nutella hot chocolates out there!) is it's thick and creamy consistency.
You know those dreamy creamy European-style hot chocolates, that feel like liquid pudding or thin chocolate sauce and put good ol' hot cocoa to shame? Well, you could think of this one as its chocolate/hazelnut cousin. So it goes without saying, that this drink is RICH! I wouldn't dare suggest you replace your daily winter cup of hot cocoa with it, but if you're in the mood for something more dessert-like, this is definitely the ONE. The recipe makes one mug, but I have yet to meet a person who was able to finish it. We always divide it in 2 or 3 espresso or shot glasses and share the love. If you could resist, I recommend you do the same, but if you wanna drink it all up, I won't judge ?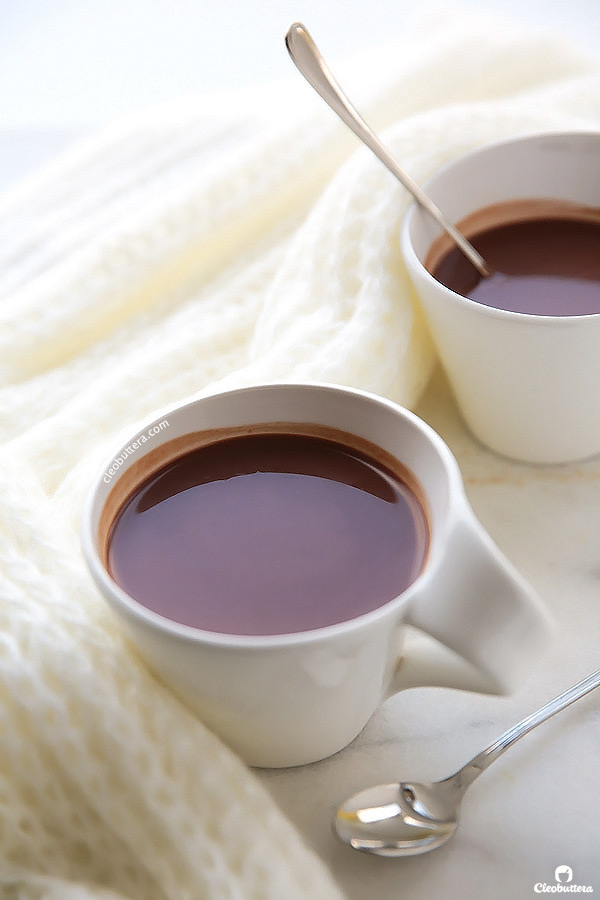 This luscious hot chocolate uses double the amount of Nutella as most other recipes, insert #sorrybutnotreally here, a little semisweet chocolate (I use chips because I'm too lazy to chop chocolate) to add depth of flavor and balance out the sweetness of Nutella, a pinch of salt to round out the flavors and milk. As for the secret to that thick and creamy texture it's cornstarch aka cornflour. In the recipe details below, I give you two options for the amount of cornstarch according to how thick you'd like it to be, so be sure to read the 'NOTES' section of the recipe for more details.
All you need to do is combine everything in a saucepan.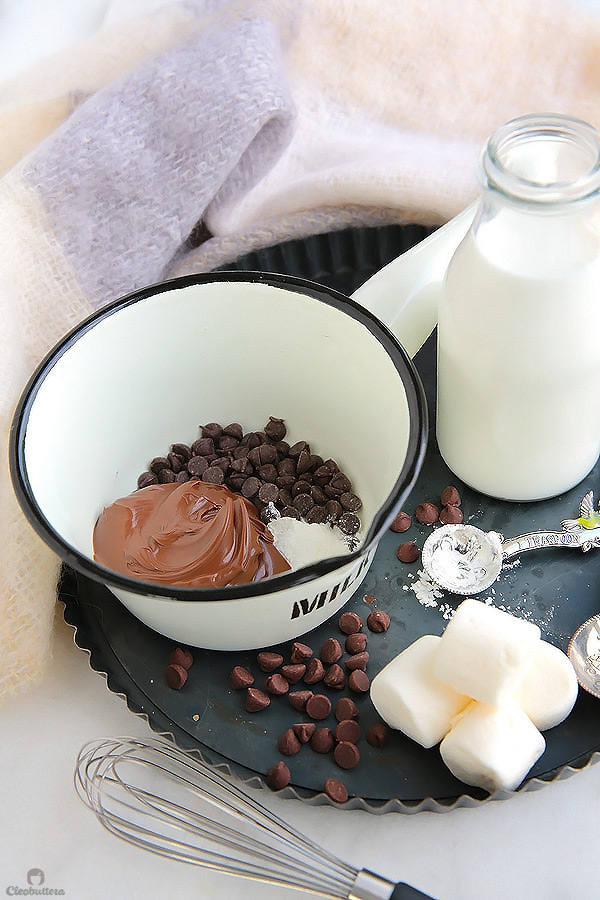 Pour over the milk.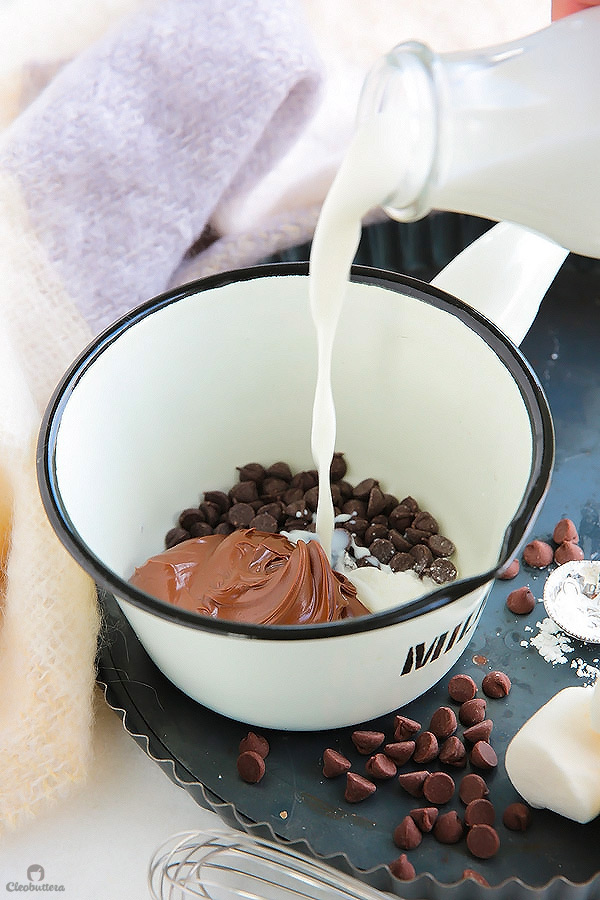 Then boil until everything is dissolved and the hot chocolate thickens.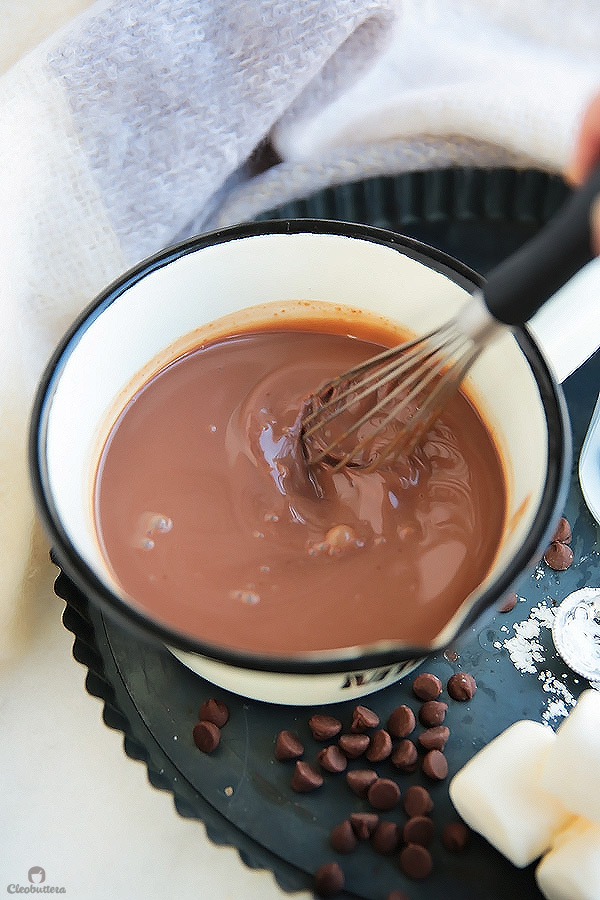 And VOILA!
Extra delicious, thick hot chocolate designed specifically for the Nutella lover in you.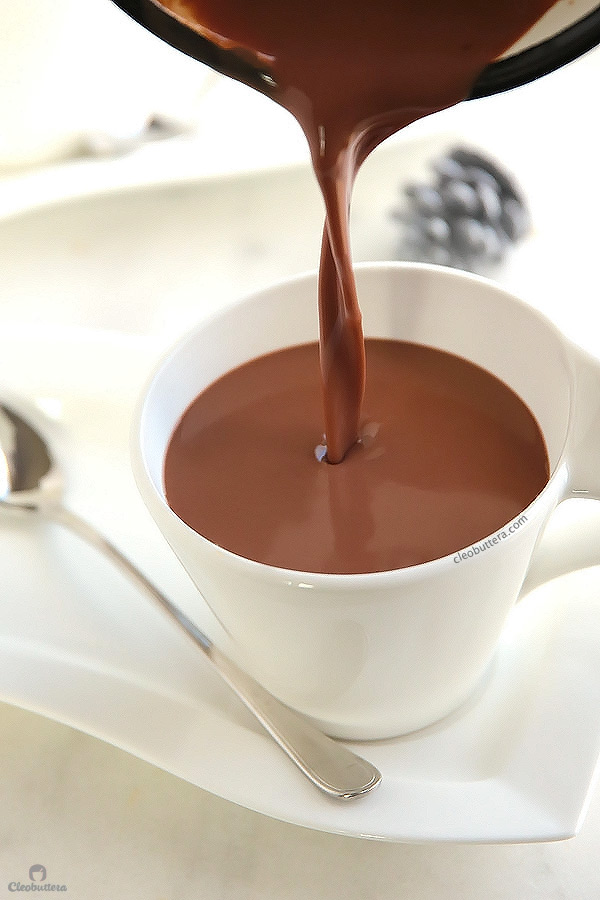 And since this is a chocolate relationship built around pure love, a squishy marshmallow heart feels right in place ❤️
Wanna make it? Use the smallest heart shaped cookie cutter you could find to cut into a large marshmallow.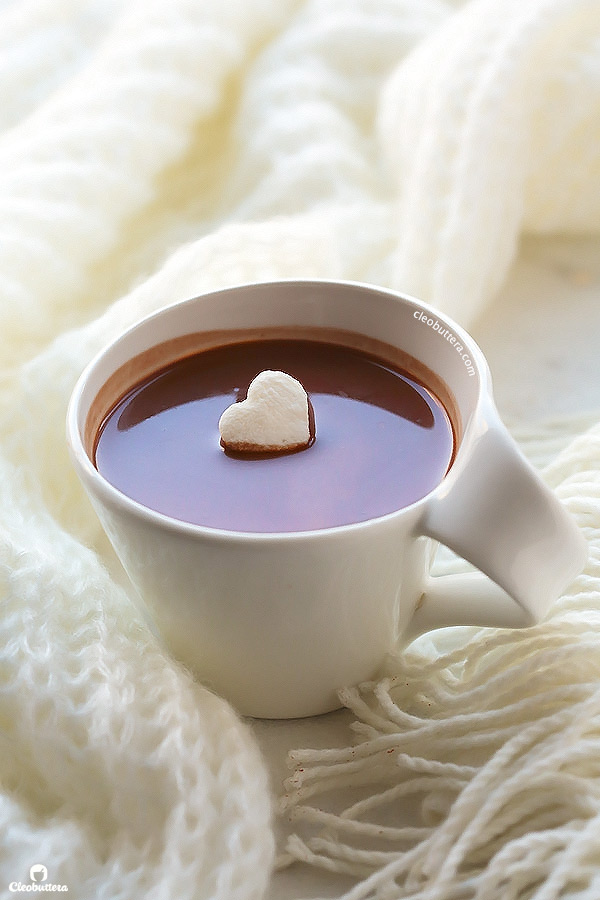 Now, start by eating your heart out…Eerrrrr! Not what I meant…sorry! I meant…ummm…oh you know what I mean.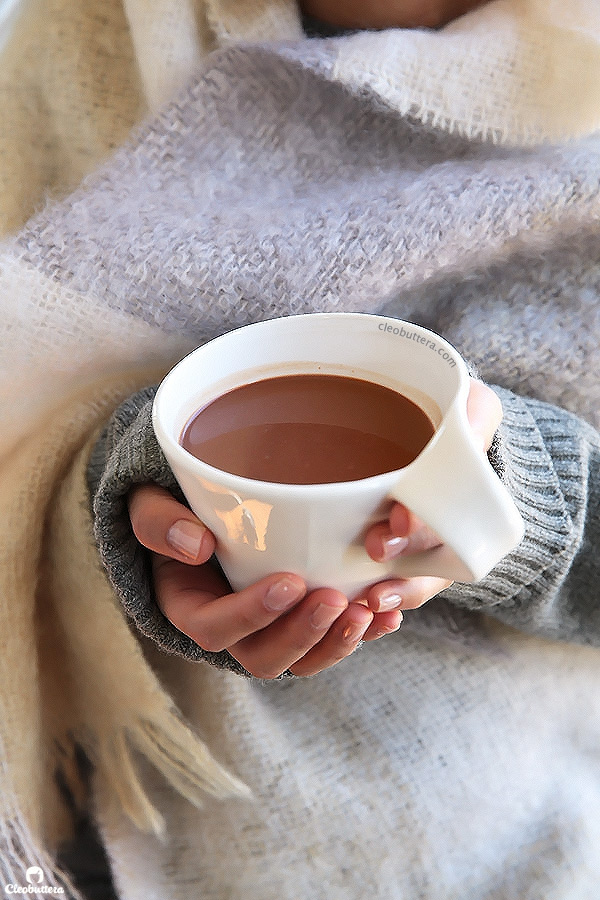 Just make it already because baby, its cold outside!
Hmmmm…I wonder how many times I said the word NUTELLA in this post?!
If you can't get enough of Nutella, be sure check these recipes out!
Yield: 1 mug (enough for 1 hungry person, or for 2 to share)
Thick and Creamy Nutella Hot Chocolate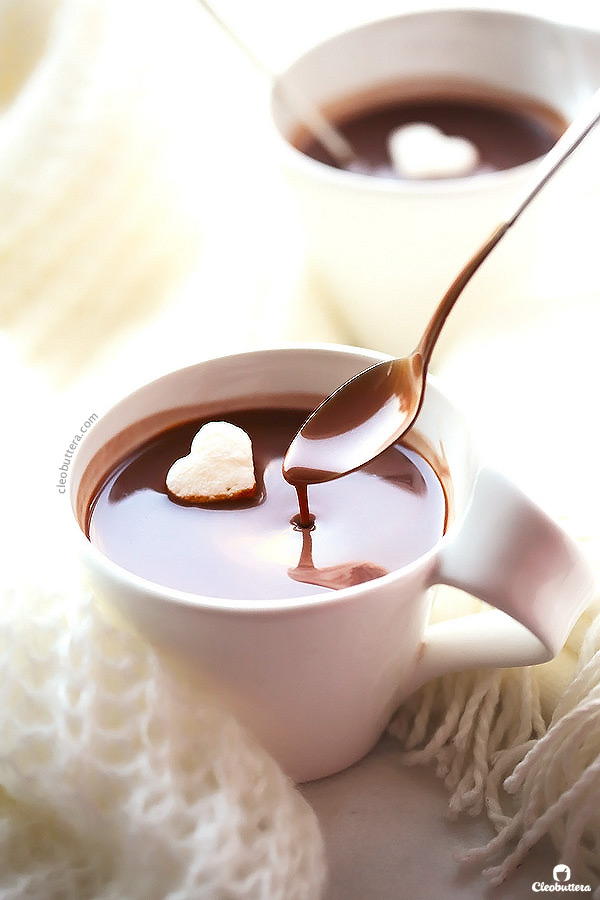 This warming chocolatey decadence is as close as you could get to drinking NUTELLA in liquid form! It's a pretty rich treat, so you might want to consider sharing. The recipe could also be doubled, tripled or quadrupled to accommodate for more people.
Prep Time 5 minutes
Cook Time 5 minutes
Total Time 10 minutes
Ingredients
1/4 cup plus 2 teaspoons (3oz/ 85g) Nutella
1 tablespoon (1/2oz/ 14g) semisweet chocolate chips or chopped chocolate
1/2 teaspoon (or 1 teaspoon if you like it extra thick) cornstarch (*see note)
Pinch of salt (optional)
1 cup milk (any fat content; I used whole)
Instructions
In a small saucepan, combine together the Nutella, semisweet chocolate/or chips, cornstarch, salt (if using) and milk.
Place over medium high heat. Bring to a simmer stirring continuously with a whisk, until the chocolate melts and everything dissolves. Allow the mixture to come to a full boil and continue whisking for a few more seconds until the hot chocolate thickens. It should be thick enough to coat a spoon.
Pour into a mug or 2 smaller cups to share (yes its that rich) and enjoy 🙂
Recipe Notes
Customize the thickness of your hot chocolate they way you like it! Adding 1/2 teaspoon cornstarch will give you an ever-so-slightly thick hot chocolate that perhaps feels less rich, while 1 teaspoon will produce a thicker, more decadent European-style hot chocolate, comparable to chocolate sauce. I personally prefer 1 teaspoon; your call though 🙂
Recipe is A Cleobuttera Original
Measurements Note: All recipes of this site have been developed using weight measurements. Although US volume measurements have been included for your convenience, it is highly encouraged that you weigh your ingredients using a kitchen scale to get the best possible results. Due to the sensitive nature of baking, kitchen scales are proven to yield more accurate and consistent results than measuring cups. Enjoy!
This post may contain affiliate links.
All images and content are owned by Cleobuttera® and are copyright protected. Please do not use my images without prior permission. If you would like to republish a recipe, please rewrite it in your own words and link back to the recipe page on my site. Original recipes and creations of this site are intended for personal and home use. Commercial replication or media consumption are only allowed with a written consent and agreement with Cleobuttera owners. Otherwise it is considered a violation of intellectual property. Thank you for respecting and appreciating the amount of time and effort that goes into creating free, unique recipes that make people happy.