Classic Qatayef with Nuts
Ramadan's most iconic treat of the Middle East! Made from yeasted pancakes stuffed with nuts, fried to crunchy, golden perfection, then doused in a thick sugar syrup. Plus…recipe VIDEO included!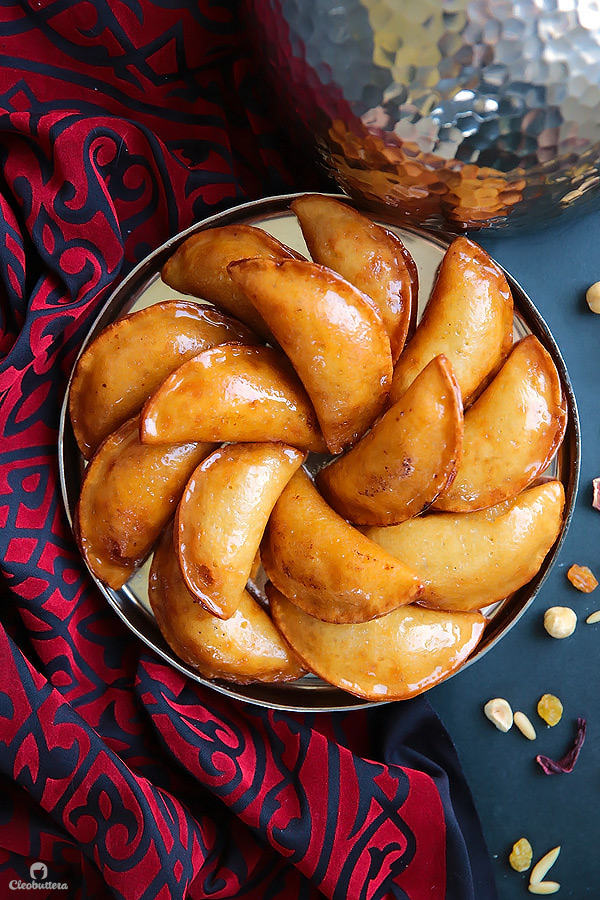 It's the first day of Ramadan!!! Hands down, my favorite time of the year!
I've talked so many times about why I love this month so much (like here and here), that I'm starting to sound like a broken record. So I'll spare you the chitchat this time and go straight to the first of many Middle Eastern desserts that I plan to share with you this month!
And boy is it a good one!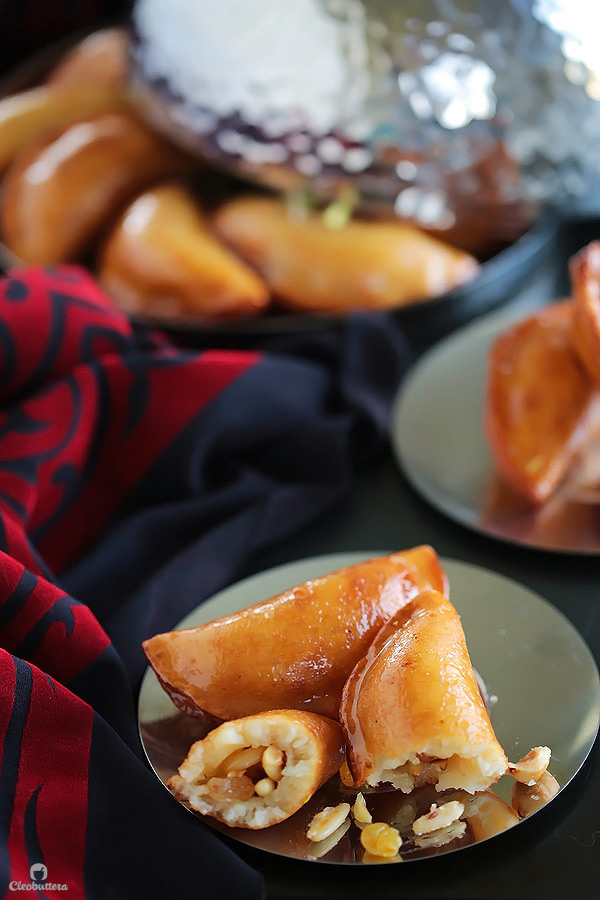 If the month of Ramadan had a food mascot, it surely has to be this…the glorious Qatayef.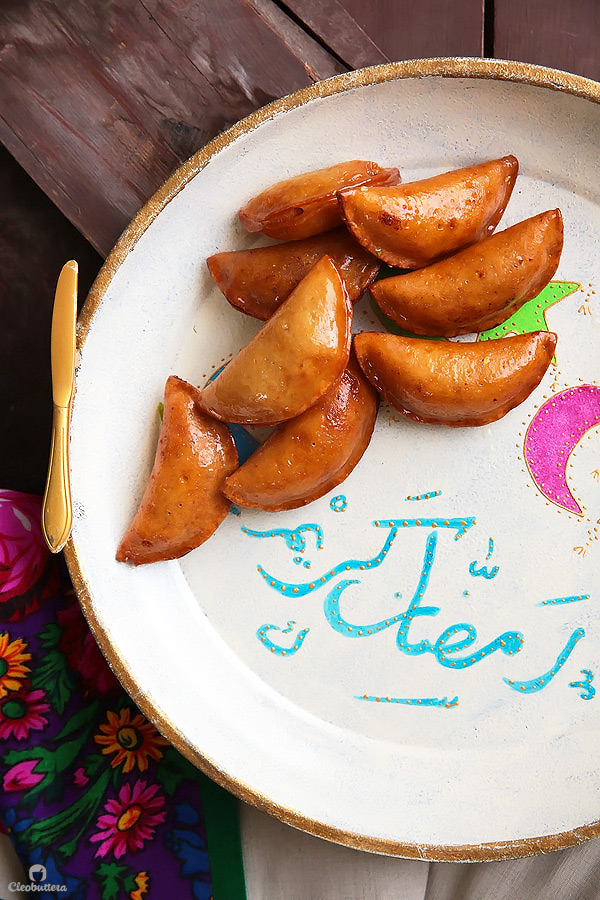 In Egypt, no other food says Ramadan more than Qatayef.
Sure, all Middle Eastern and Mediterranean foods, especially desserts, have their great significance and presence during the month, but Qatayef is the real star.
Or to be more accurate…the real "crescent." ?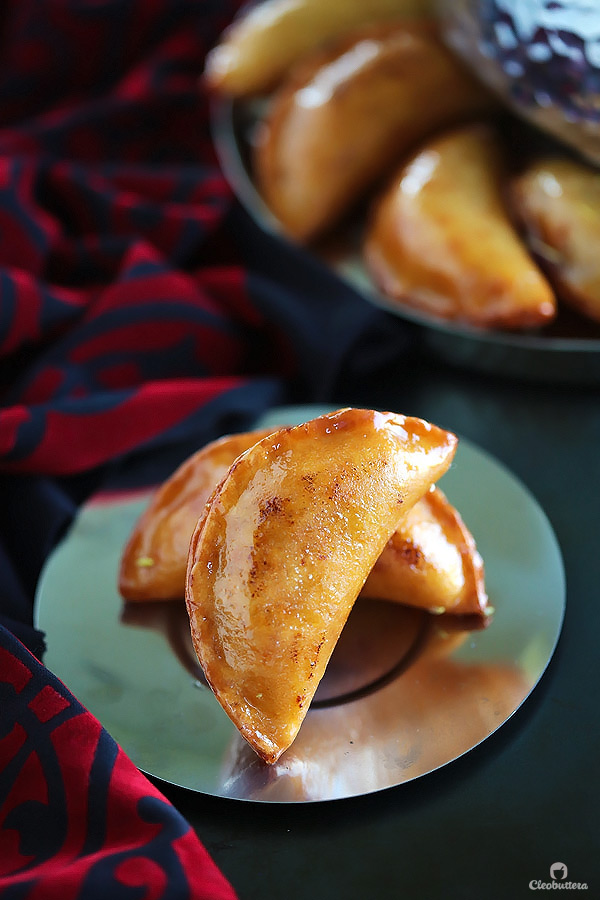 Konafas, baklavas, Om Alis and the rest of the Mediterranean bunch are thoroughly enjoyed throughout the year, but with more focus and celebration during Ramadan.
But I have never, ever seen a Qatayef in Egypt outside the realm of Ramadan. Not that I know of at least.
As soon as Ramadan rolls by though, chances are you're seeing it every. single. day.
No one's complaining here. With its dozens of variations, from sweet to savory, it's very hard to get bored of them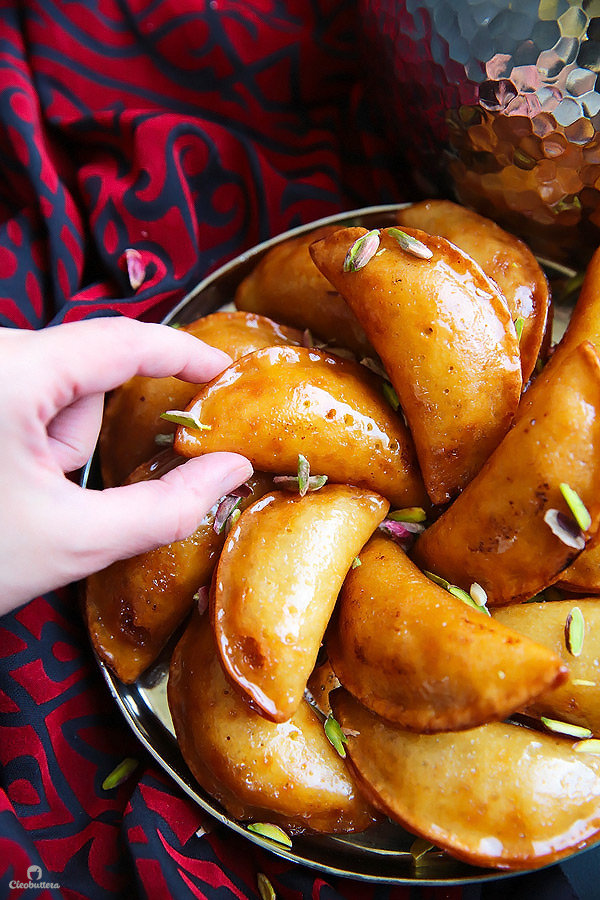 Qatayef (also spelled a dozen different ways from katayef to atayef) is a form of Arabic dumpling made from a type of yeasted pancake batter with a little surprise in the center. They can be soft or crunchy, baked or fried or left as is. They can be sweet or savory, half open or closed. They can be filled with cream, nuts, cheese, fruits or the newest twist, Nutella. But of course.
This variation right here, is the one I grew up eating every Ramadan and is perhaps the most traditional of them all; The Classic Nut-filled One. Ridiculously crunchy on the outside with a medley of fragrant nuts in the middle and bursting with sticky, syrupy sweetness with every bite.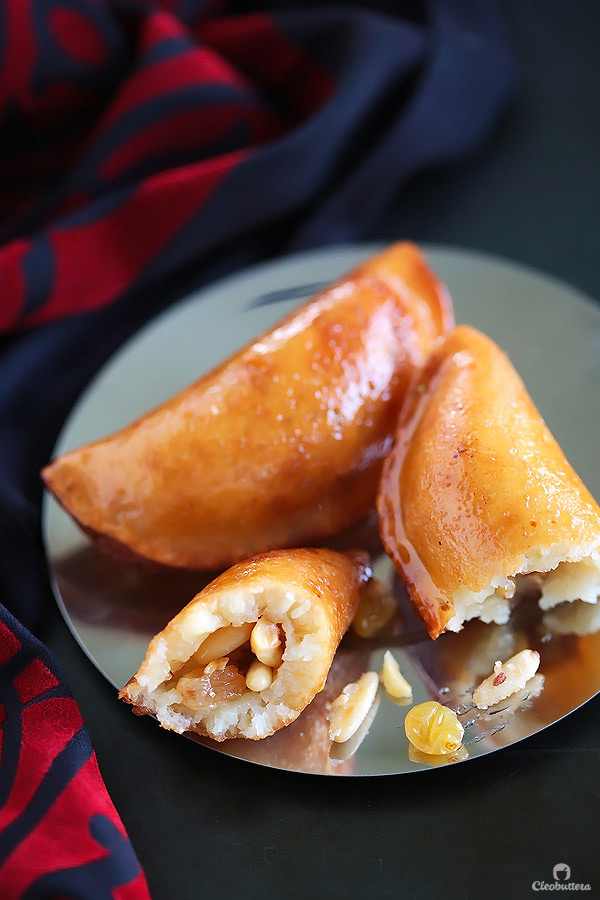 Ofcourse I didn't love it as much when I was younger because…NUTS! Kids tend to be weird about nuts y'all. My kids actually crack the qatayef open like a fortune cookie, empty its contents on a plate and eat it plain. Arrrrrrggggghhhh!
During Ramadan, ready-made pancakes (qatayef dough) are sold in oriental bakeries and supermarkets all over the Middle East. But due to their high demand, they tend to go out of stock so quickly; which can be very frustrating when everyone's expecting qatayef by iftar (breaking fast) time. So after trying my hands at making them from scratch, I'm never ever buying ready-made pancakes again. Not only are their cleanliness and availability guaranteed, but they are incredibly easy to make. If you can make regular pancakes, then you can make these with your eyes closed…because they are waaaaay easier. No flipping, no burnt surfaces and raw middle…none…nadaaa…zilch!
Here's a quick look at how they come together:
The batter comes together as easy as throwing together a bunch of ingredients in a bowl and stirring it around by hand. There's yeast in the dough, which gives the pancakes their distinctive taste and bubbly appearance, but don't let it scare. Just make sure that you use 'instant' yeast and you'll be fine.
The batter will need to rest for about 45 minutes before you're ready to cook it. As with almost everything I make, I LOVE using an ice cream scoop for portioning the batter here too! So convenient and makes them all the same size.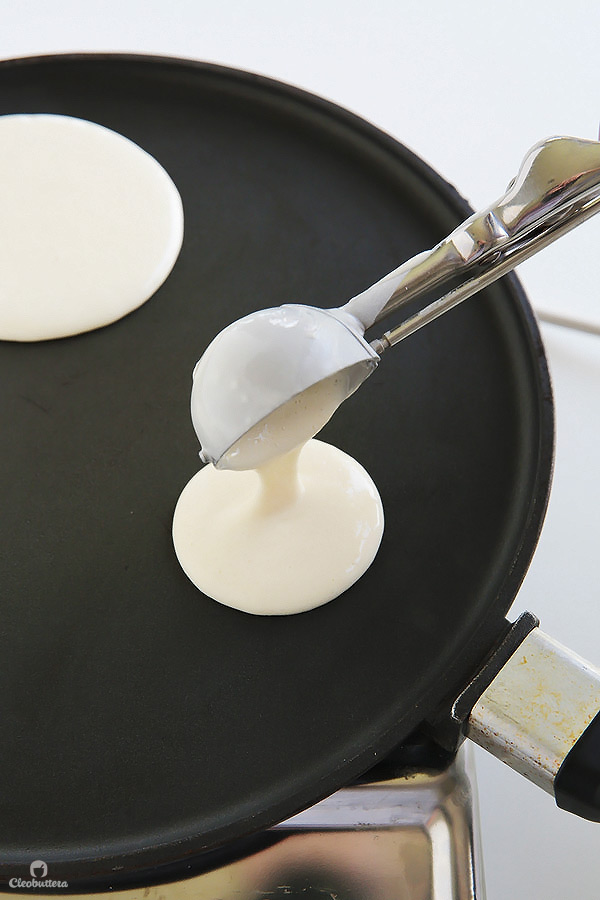 So as you scoop (or ladle) the batter on your skillet, you'll see a gazillion bubbles forming up. That's cool! It's the way its supposed to be. Once the surface is no longer wet, then its done. See? No flipping! These guys are cooked on only one side!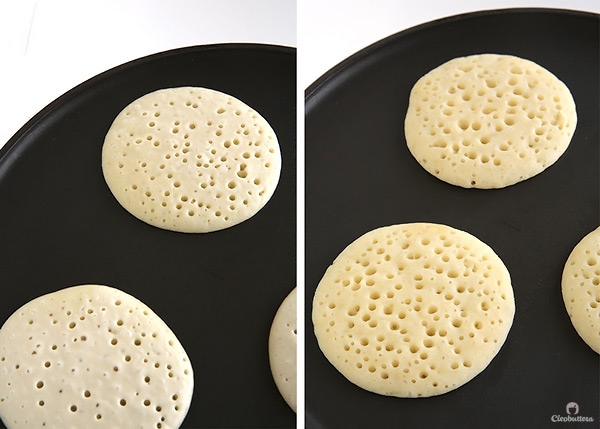 So they'll look all pancake-ish on one side, and like a paler, rounder Sponge Bob on the other. Once they cool, they're ready to fill. Feel free to use these pancakes as a vehicle to whatever filling your hearts desires. But today, let me show you my favorite!
Its a combination of hazelnuts, pine nuts and raisins, rubbed with a tiny bit of butter and a sprinkling of sugar. So simple but so good. Ofcourse, every Middle Easterner and their mother has their own special filling recipe that they swear by, but this in mother-in-law's and for me…its perfection. Ofcourse you could improvise all you want to suit your taste. I know lots of people who love adding coconut and cinnamon, so by all means go for it, if that's your thing.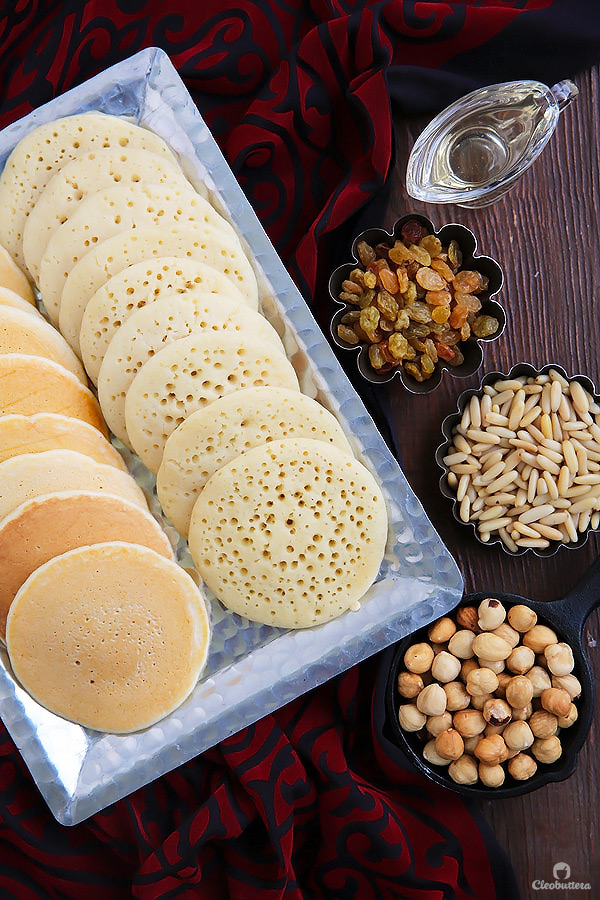 To fill them up, all you need to do is to put enough nuts in the center that would allow that pancakes to comfortably close without tearing; about a heaping teaspoon.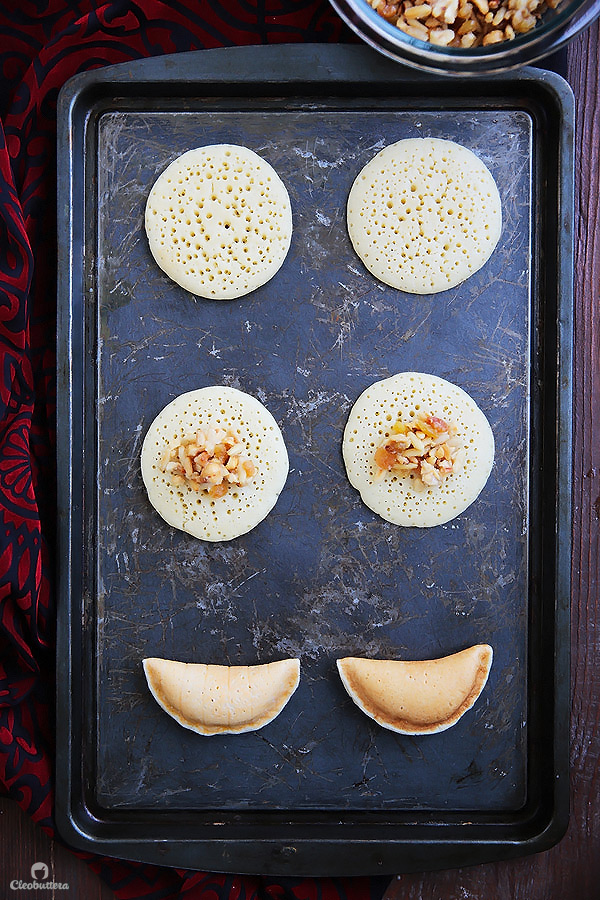 Then to close, you'll just fold the pancake in half and pinch the sides firmly with your fingertips to seal.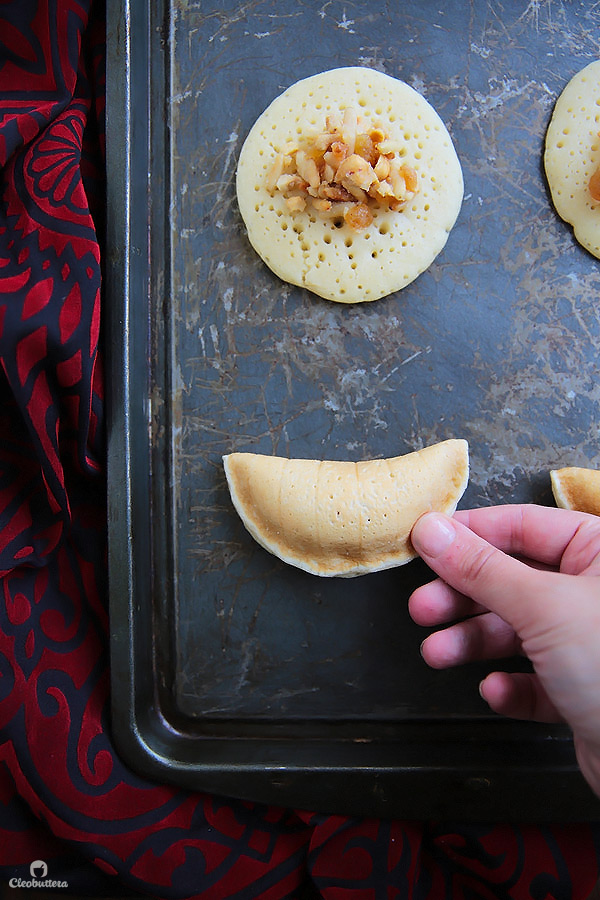 At this point, you could freeze them for up to a month and have yourself some Qatayef at a moment's notice.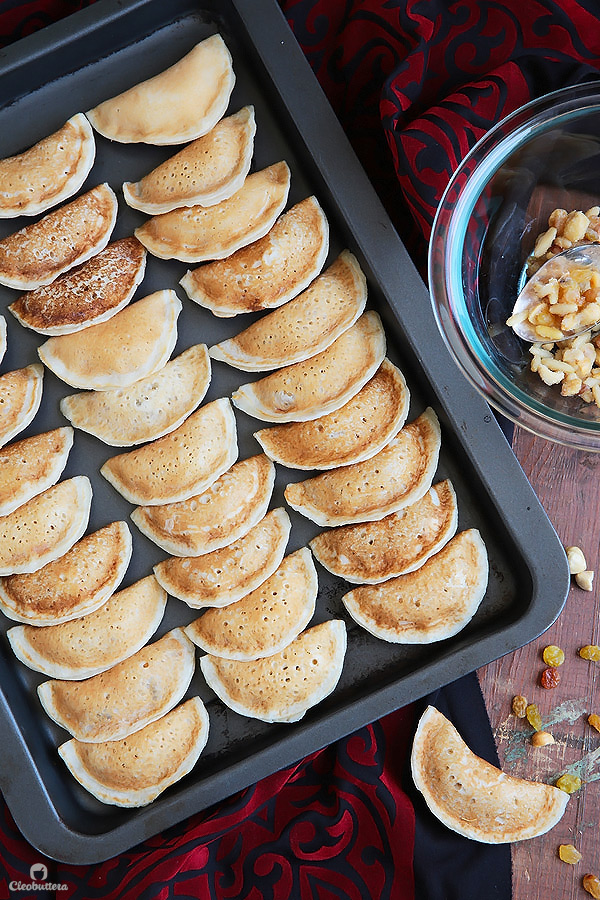 Or you could just go ahead and fry them to perfection. I like to go very deep golden brown, because I like them extra crunchy. If you like them softer, remove them from the fryer earlier when their lighter in color.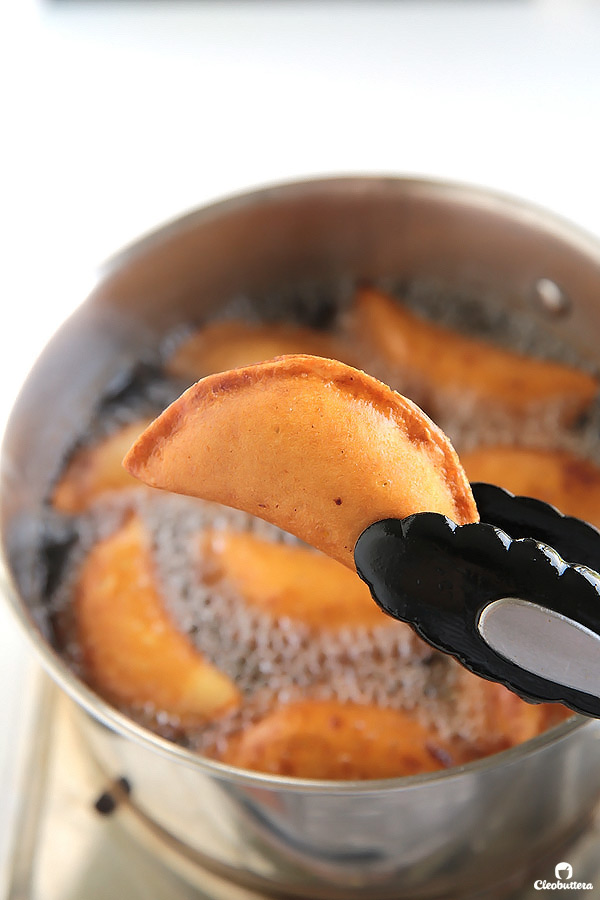 Then comes a good dive in sugar syrup.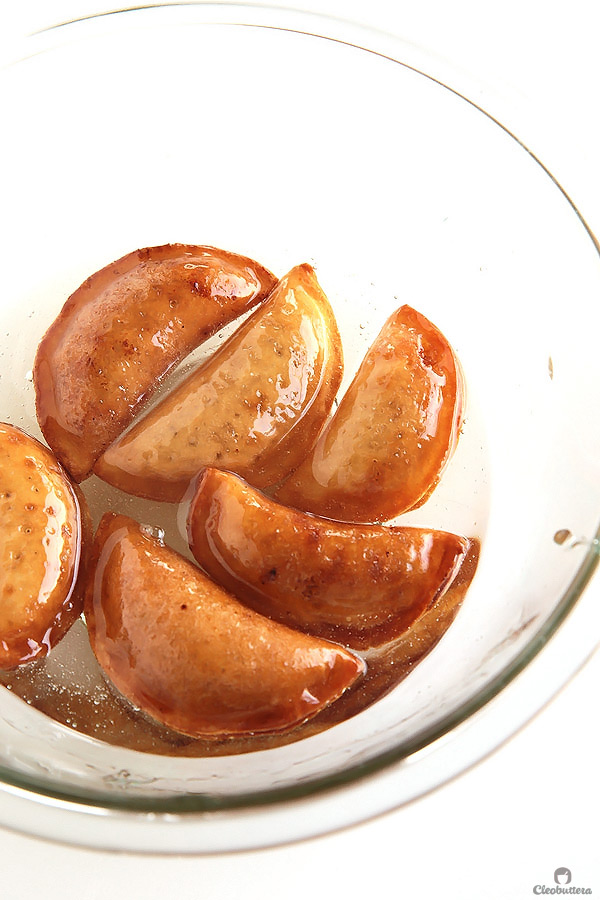 Followed by a brief rest on the wire rack to get rid of excess syrup.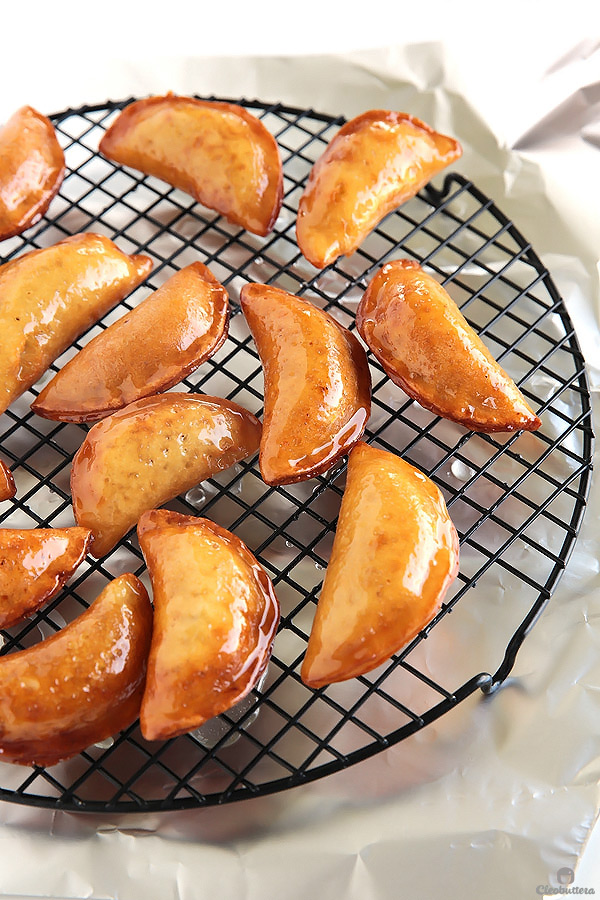 And your Qatayef is ready to be served!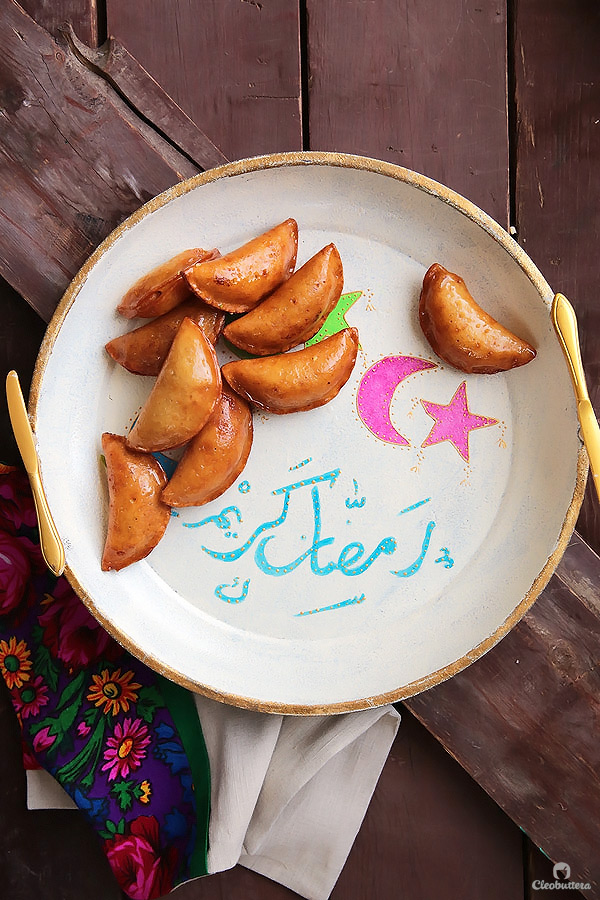 In case you're wondering, this plate says: "Ramadan Kareem" in Arabic. It literally translates to " Generous Ramadan" and its a popular greeting we use to wish people to have 'a very bountiful and blessed Ramadan showered by God's generosity.'
So Ramadan Kareem to ALL of you my amazing readers. I hope you enjoy my 2 cents about Middle East food and traditions throughout this month.
And eat Qatayef in moderation ?
Yield: About 32 medium sized Qatayef
Classic Qatayef with Nuts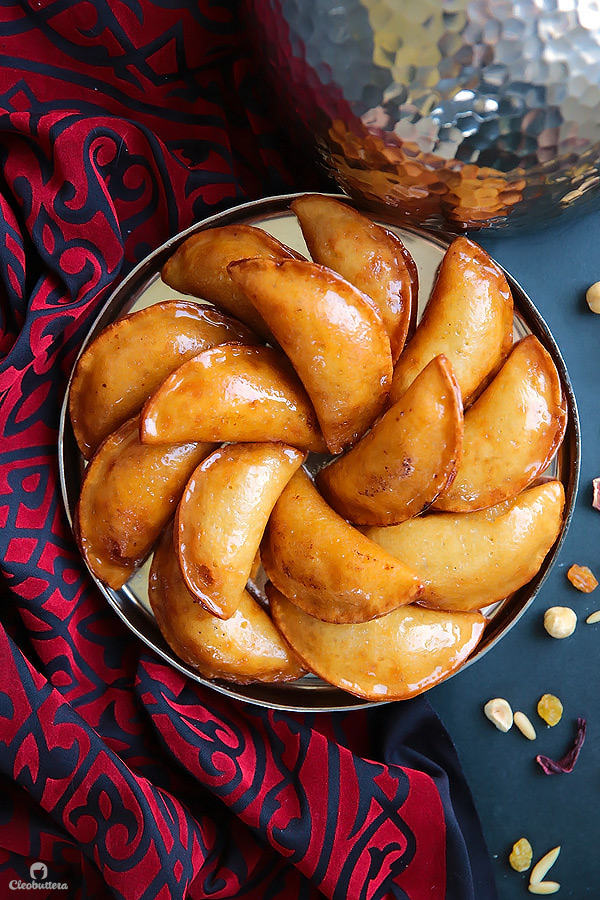 A Middle Eastern favorite and the ultimate Ramadan treat! Made from yeasted pancakes stuffed with nuts, fried to crunchy, golden perfection, then doused in a thick sugar syrup.
Prep Time 20 minutes
Cook Time 40 minutes
Additional Time 1 hour
Total Time 2 hours
Ingredients
For the Dipping Sugar Syrup:
2 cups (14oz/ 400g) granulated sugar
1 cup (237ml) water
Squeeze of fresh lemon juice, about 1 teaspoon
For the Pancakes (Qatayef batter): (1 lb/ 500g of readymade Arabic pancakes, Qatayef dough, may be substituted)
2 cups (8 1/2 oz/ 240g) all purpose flour
1 tablespoon (3/8oz/ 12g) granulated sugar
1 tablespoon (1/4oz/ 8g) powdered milk (dried milk powder)
1 teaspoons (4g) instant yeast
1/2 teaspoon baking powder
1/8 tsp salt
1 3/4 cups (425ml) warm water
For my Favorite Nut Filling: (Feel free to sub in your favorite nut, or add flavorings like cinnamon, rose water or shredded unsweetened coconut flakes)
1/3 cup (1 3/4oz/ 50g) skinned hazelnuts, coarsely chopped
1/3 cup (1 3/4oz/ 50g) pine nuts, lightly toasted on a dry skillet
1/3 cup (1 3/4oz/ 50g) golden raisins
1 1/2 tablespoons (18g/ 5/8oz) granulated sugar
1 tablespoon (14g/ 1/2oz) unsalted butter, softened
Oil, for frying
Instructions
To make the Dipping Simple Syrup: (can be made up to a week in advance)
In a medium saucepan, combine together the sugar, water and squeeze of lemon juice. Set on the stovetop over high heat. Try to avoid stirring it as it heats to prevent crystallization from happening, but if the sugar is not dissolving, then help it out with a few stirs. Once it comes to a boil, STOP stirring.
Bring to a rolling boil, then immediately reduce the heat to medium-low and let it simmer for 10 minutes. Set a timer! The syrup will thicken slightly, and have a consistency similar to pancake syrup. If it simmers for longer it could thicken too much and become candy-like.
Remove off the heat and transfer to a large bowl and allow to cool to room temperature before dipping the Qatayef.
To make the Pancakes (Qatayef dough):
In a large bowl, whisk together the flour, sugar, powdered milk, yeast, baking powder and salt.
Pour in about half the amount of warm water, whisking vigorously until no lumps remain. Gradually add in the remaining water, whisking after each addition, until well combined and a loose, pourable batter is formed. It should have the consistency of a classic pancake batter. If its thicker than that, then add a tablespoon or so of water to thin it out a bit.
Cover the bowl with plastic wrap and allow to rest for 45 minutes to 1 hour until bubbly and rises slightly.
Heat a large nonstick skillet or griddle over medium heat until hot. Put a drop of oil on the skillet, then use a paper towel to wipe it all over the skillet to lightly grease.
Give the batter a good stir to deflate. Using a small ladle or ice cream scoop with a release mechanism, drop about 2 tablespoons of batter over the skillet. The pancakes should be about 3 inches/ 8cm in diameter.
Allow to gently cook on one side, WITHOUT flipping on the other side, until lots of bubbles form around the surface of the pancake. Leave it to cook longer until the surface is no longer wet and the bottom is light golden brown. Adjust the heat if your pancakes are either too pale or too brown. Continue with the remaining batter. Lay the pancakes, bubbles side up on a large plate or baking sheet without stacking them on top of each other or they'll stick together, and keep them covered with a clean towel while you make the rest of the pancakes.
Allow to cool completely before filling. Cover with plastic wrap until ready to use, so they don't dry out.
To Fill and Fry the Pancakes (Qatayef):
In a small bowl, combine together the hazelnuts, pine nuts and raisins (or your favorite nuts). Stir in the sugar, then blend in the butter until all the nuts are coated with the butter.
With the bubbly side facing up, fill each pancake center with enough nuts that would allow that pancakes to comfortably close without tearing; about a heaping teaspoon.
Fold the pancake in half and pinch the sides firmly with your fingertips to seal. At this point, you could freeze them for up to a month for later use (*see note below for more details about freezing)
In a frying pan, pour enough oil to fill 2 inches/ 5 cm high and heat over medium-high until very hot (350F to 375C/ 175C to 190C).
Add the stuffed pancakes (Qatayef), and fry for 2 to 4 minutes per sides or until deep golden brown and crisp. If you prefer them softer, then take them out earlier, when they're still light golden brown. The longer you fry them and deeper the color, the crispier they're gonna be.
Transfer the Qatayef to drain on some paper towels for a few minutes. Then while still hot, dip the Qatayef into the cooled dipping sugar syrup, tossing and turning them to make sure they're well coated. Transfer Qatayef to a wire rack or sieve that has been placed over a piece of aluminum foil, and allow excess syrup to drip.
Arrange on a serving platter and sprinkle with pistachios or coconut flakes, if desired.
Enjoy warm or a room temperature. Best served within a few hours of frying to maintain its crunchy exterior. They will soften up slightly as they sit
Store covered with foil, that has been poked with holes, so they stay crunchier longer.
Recipe Notes
Qatayef freezes beautifully, which makes them a very convenient make ahead dessert. Once the pancakes are stuffed, they could be frozen for up to month. To freeze, lay the Qatayef in a single layer over a parchment lined baking sheet. Cover with plastic wrap and freeze for a few hours until they harden. Transfer to a zipper lock bag then store in the freezer, until ready to fry. Fry directly from frozen; no need to thaw.
Qatayef dough recipe adapted from Chef Mohamed Fawzy
Nut filling given to me by my mother-in-law
Measurements Note: All recipes of this site have been developed using weight measurements. Although US volume measurements have been included for your convenience, it is highly encouraged that you weigh your ingredients using a kitchen scale to get the best possible results. Due to the sensitive nature of baking, kitchen scales are proven to yield more accurate and consistent results than measuring cups. Enjoy!
This post may contain affiliate links.
All images and content are owned by Cleobuttera® and are copyright protected. Please do not use my images without prior permission. If you would like to republish a recipe, please rewrite it in your own words and link back to the recipe page on my site. Original recipes and creations of this site are intended for personal and home use. Commercial replication or media consumption are only allowed with a written consent and agreement with Cleobuttera owners. Otherwise it is considered a violation of intellectual property. Thank you for respecting and appreciating the amount of time and effort that goes into creating free, unique recipes that make people happy.