Zero Calorie Virgin Mojito
All the refreshing flavors of a mojito…non of the guilt! 3 ingredients and 1 minute are all you need to make this figure-friendly mocktail, that will cool you off during summer.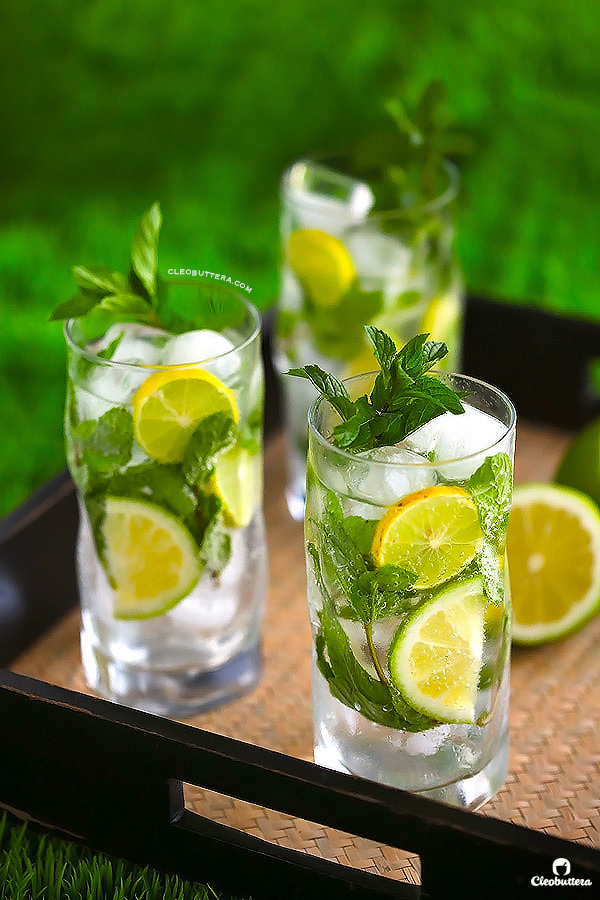 I never waste my calories on drinks.
They are so on-the-go, they don't count as a meal, they get slurped so fast and before you know it…BAM! 500 calories around your waist.
If I'm going to consume that much calories on an indulgence, then it better be in solid form.  I want to sit down for it, get a jaw workout from it, label it 'Dessert,' and feel the gulp down my throat.  So yeah, I'll ditch a milkshake any given day for a piece of this heavenly thing or a slice of this cake.  Oh and definitely a couple of those.
I know you wanna rub this Peanut Butter Hot Chocolate Float in my face, but in my defense, there are scoops of ice cream in it and you eat it with a spoon.  So yeah! Definitely counts as dessert.
So when I recently found out the ridiculous amounts of sugar that goes into my sister-in-law's famous Mint Lemonade, which I absolutely love, I decided it was time to give it up and find an alternative.
And found did I indeed.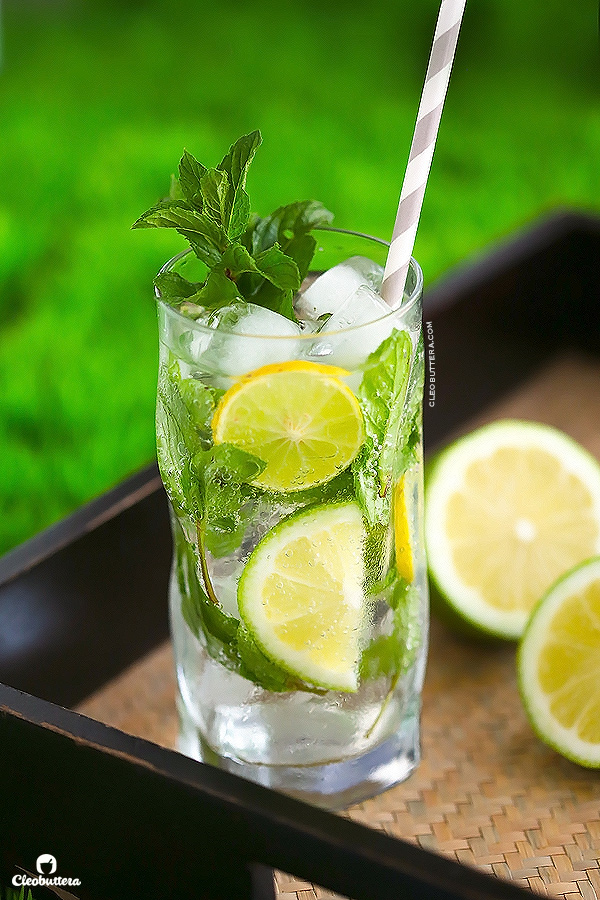 This has been my household's drink of obsession for the past 2 months!  Aaaaaand we even passed the obsession to my sister-in-law…Mwahahahahahaaaaa!
Can you tell we're trying to lose some weight around here?  Sob sob:(
Virgin Mojitos are nothing new…but ZERO calories?
I'm not quiet sure about that, and I did not consult Dr. Google because he always makes me feel like a complete dork who lacks all sorts of innovation.  Oh well, I'm sure it's out there anyway, but that's not the point.  The point is that this flavorful drink that tastes like summer in a cup has the same calories as water, and if that does not convince you to make it right now, I don't know what does!
Real Mojitos are made with mint, lime, simple syrup, club soda and rum.  This booze-free, calorie-free alternative is still made with limes. Or lemons. Mint…lots and lots of fresh mint….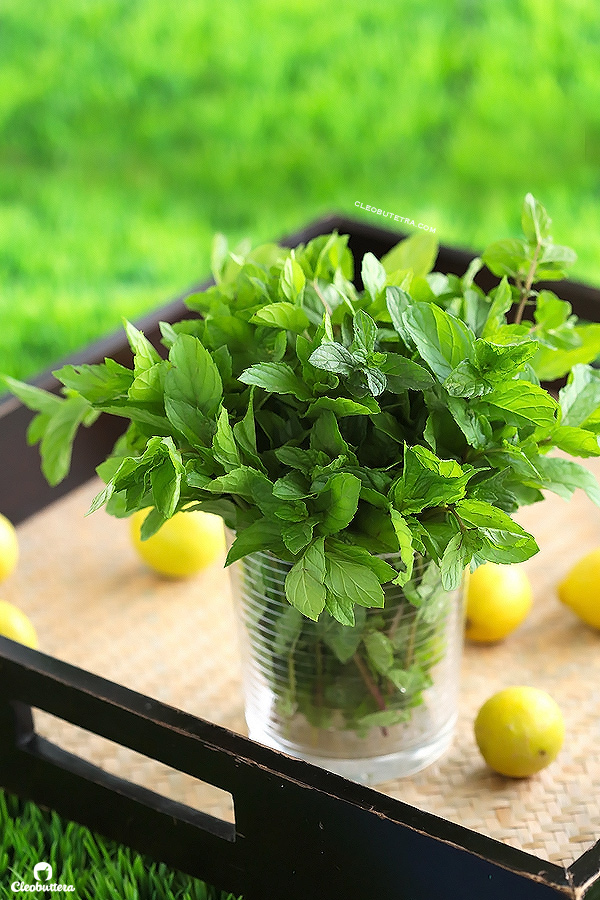 And the secret ingredient that replaces all the sugar, all the booze, adding flavor, sweetness, fizziness, and making this a calorie-free drink, is the humble diet lemon-flavored soda. Yup…just good 'ol Diet 7Up or Sprite Zero.
I checked and YES they're zero calories!  Check for yourself here and here.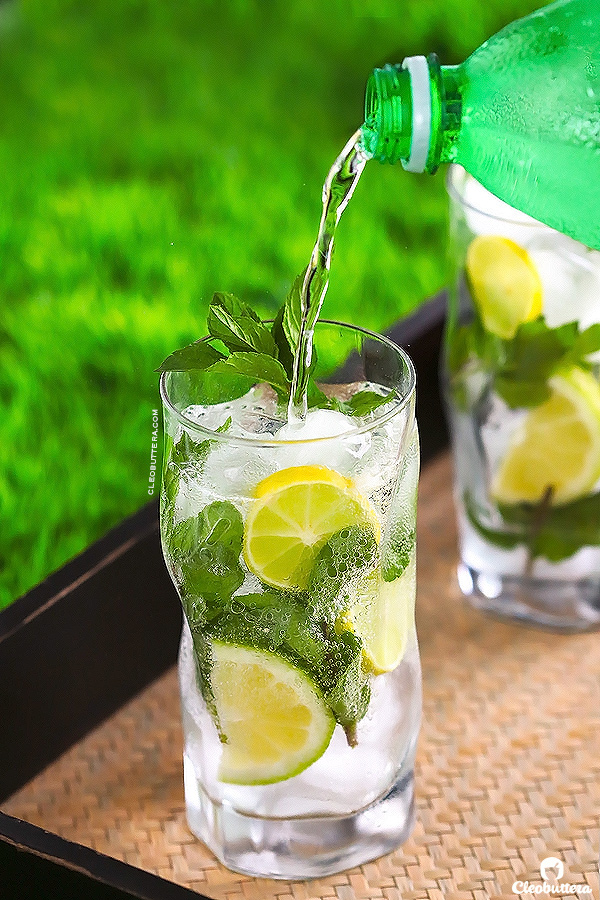 And did I mention how easy it is to make?  One minute. Two tops, is all you to you need to prepare this.  Keep the ingredients stashed in your fridge, so you could enjoy a drink whenever you're in the mood or when guests drop by.
You'll start by squeezing a lime.  Lemons are just as good.  I just use whatever I have on hand that day.  Then I drop in the squeezed peel into the cup as well.  This is optional, but I find that the rind has tons of flavor that I don't want to waste.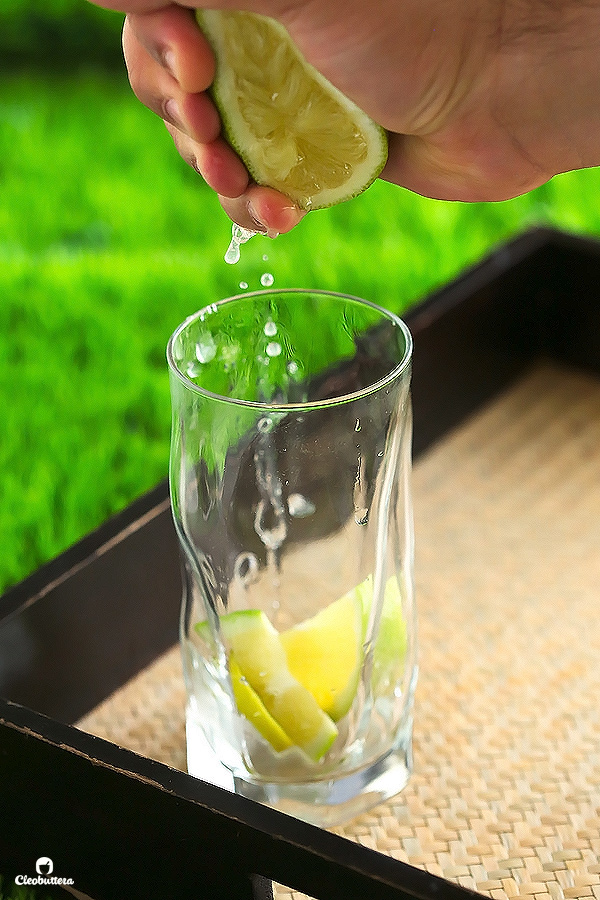 Then roughly tear up a CUP of fresh mint leaves and drop these in.  Yes I said a CUP and I'm not ashamed.  I like the mint to shine through, and I found that one cup is the magic number.  A large handful is just about the same.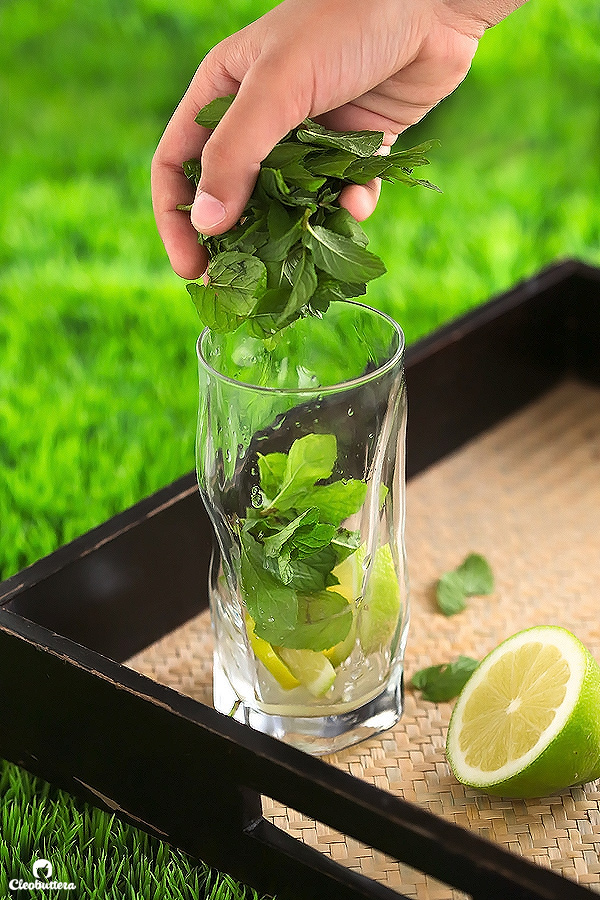 Then using a straw, or the back of a table knife or spoon or whatevs, smash the mint until they're bruised.  This will help release the mint flavor even further.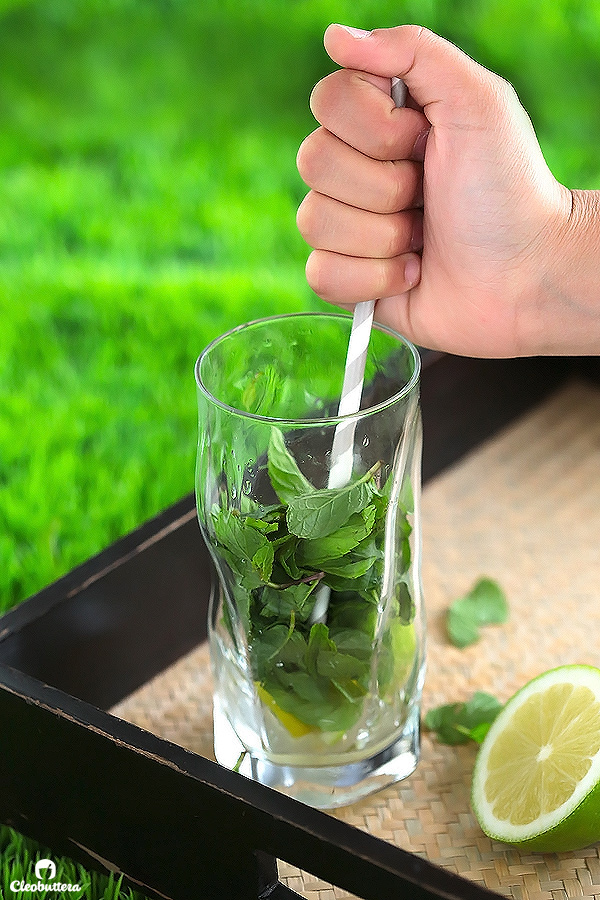 Then goes the ice.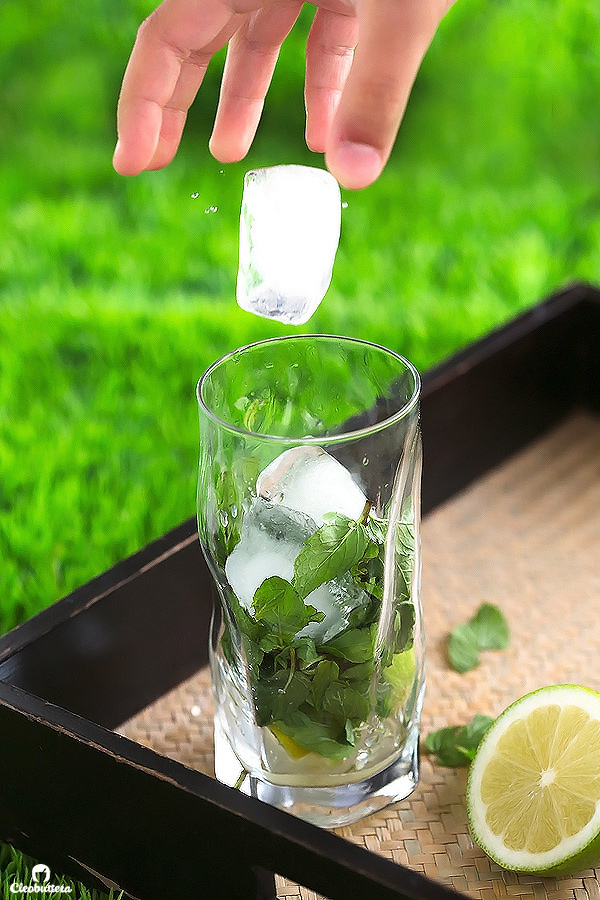 Followed by your diet soda.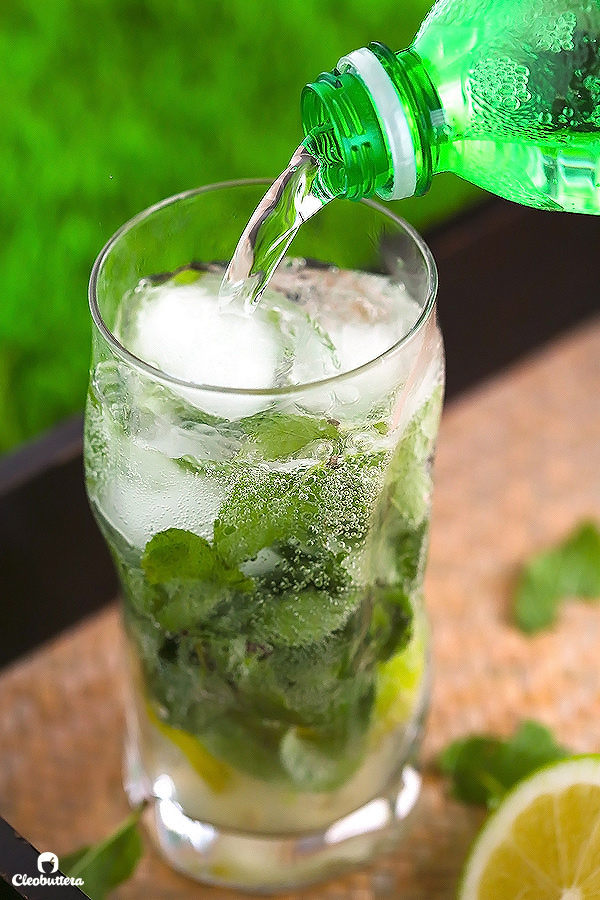 Aaaahhhhhhh!
Give it a gentle stir using your straw.  And don't skip the straw or the mint will keep getting in your mouth.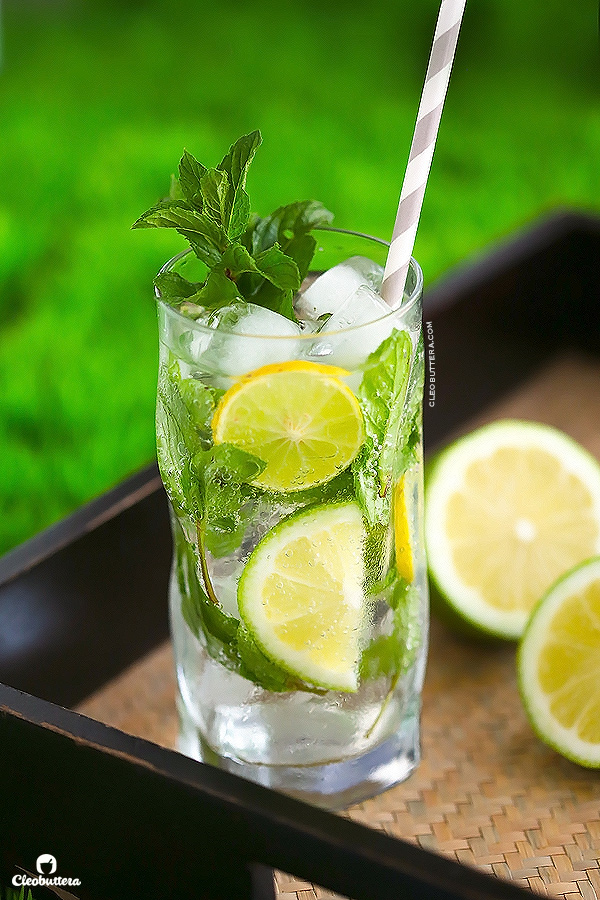 Then…
Drink it all up and have ZERO regrets.
Enjoy:)

Yield: one
Zero Calorie Virgin Mojito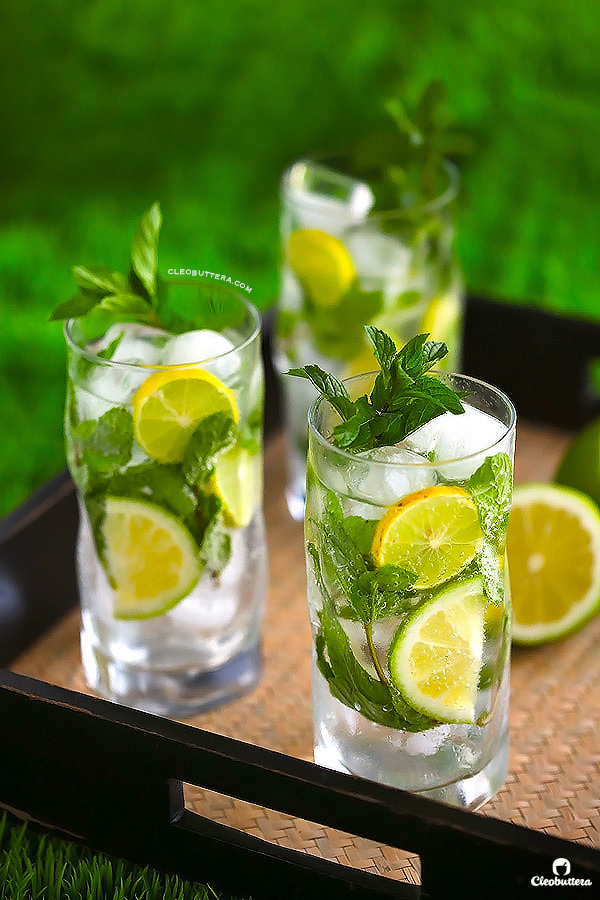 All the refreshing flavors of a mojito…non of the guilt! 3 ingredients and 1 minute are all you need to make this figure-friendly mocktail, that will cool you off during summer.
Prep Time 5 minutes
Total Time 5 minutes
Ingredients
1 medium or 1/2 large lemon or lime (1 to 1 1/2 tablespoons juice, depending on how citrusy you like it, plus the peel)
1 cup loosely packed fresh mint leaves (1 large handful)
1 (355ml/12 fl.oz) can diet lemon flavored soda, like diet 7UP or Sprite Zero (1 1/2 cups)*
Ice
Extra lemon or lime slices, for presentation
Instructions
In a large cup, squeeze the juice out of the lemon/lime; about 1 tablespoon to 1 1/2 tablespoons, depending on how citrusy you like it. Throw in the squeezed peel into the cup as well, optional, but adds more lemony flavor. Or for a prettier presentation, omit the squeezed peel and add slices of lemon/lime in the end.
Using your fingers, roughly tear the mint leaves into the cup. With a straw or back of a dinner knife or spoon, smash the mint leaves with the lemon/lime juice to bruise it. This helps release the flavor of the mint.
Add desired amount of ice into the cup.
Pour in the can of lemon flavored soda into the cup.
Gently stir the mixture together with a straw, further piercing the mint to extract more flavor.
Let stand for a few minutes to allow the flavors to meld. Serve with a straw, because otherwise the mint will keep getting in the mouth.
Recipe Notes
If you're not OK with drinking diet soda, regular lemon soda or ginger ale could be substituted, but note that it won't be zero calorie then.
Measurements Note: All recipes of this site have been developed using weight measurements. Although US volume measurements have been included for your convenience, it is highly encouraged that you weigh your ingredients using a kitchen scale to get the best possible results. Due to the sensitive nature of baking, kitchen scales are proven to yield more accurate and consistent results than measuring cups. Enjoy!
This post may contain affiliate links.
All images and content are owned by Cleobuttera® and are copyright protected. Please do not use my images without prior permission. If you would like to republish a recipe, please rewrite it in your own words and link back to the recipe page on my site. Original recipes and creations of this site are intended for personal and home use. Commercial replication or media consumption are only allowed with a written consent and agreement with Cleobuttera owners. Otherwise it is considered a violation of intellectual property. Thank you for respecting and appreciating the amount of time and effort that goes into creating free, unique recipes that make people happy.