Epic 12 Layer Chocolate Cake
Twelve layers of chocolate cake filled with alternating layers of silky chocolate pastry cream and rich fudgy chocolate frosting. This 6-inch tall mega cake might just be the best chocolate cake you'll ever taste.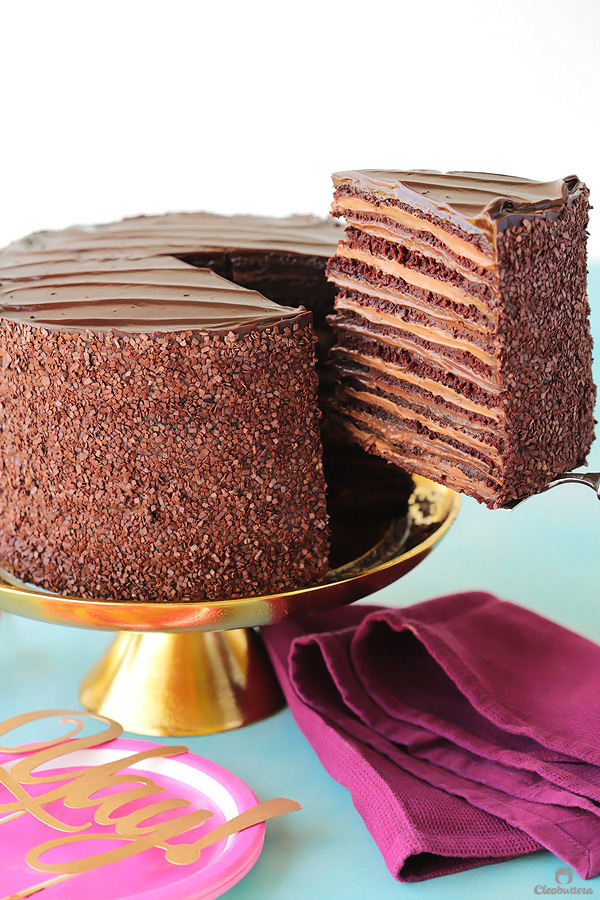 So where do we begin here?
With how much I've missed you and my immeasurable appreciation for you? or by how unbelievably delicious this cake is?
By thanking you for the love, support and patience you've given me during my year-long blogging break? Or get emotional at the excitement and encouragement you showed when you knew that I'm coming back with more?
I have so much to say to you right now, so much to express, that if I start…I'm afraid you won't hear the end of it.
I'm currently feeling all the feels, but can best sum it up by shouting so loudly: YAY!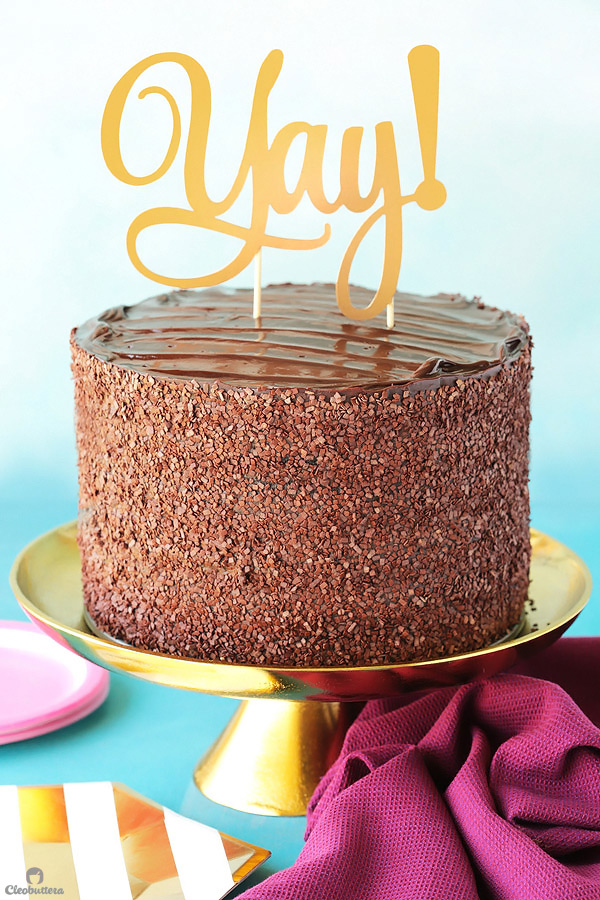 YAY! for being blessed with such incredible, understanding readers like yourself. YAY! for regained health and balance. YAY! for a new beginning and YAY! for coming back to this little corner of the internet that holds a special place in my heart. YAY! to you for visiting here again and YAY! for proof that love and empathy still exist in the world.
I don't know about you, but I say this calls for a celebration. And what's celebration without cake?!
So YAY! for cake!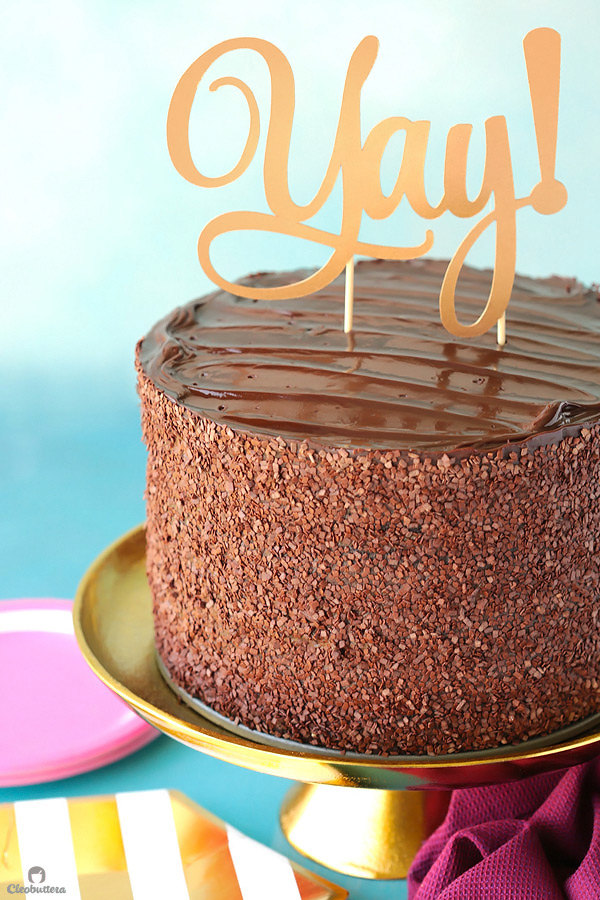 And not just any cake. Oooooh no…The real beauty of this cake, like so many things and people in life, does not come from the outside…but it is what's on the inside that counts.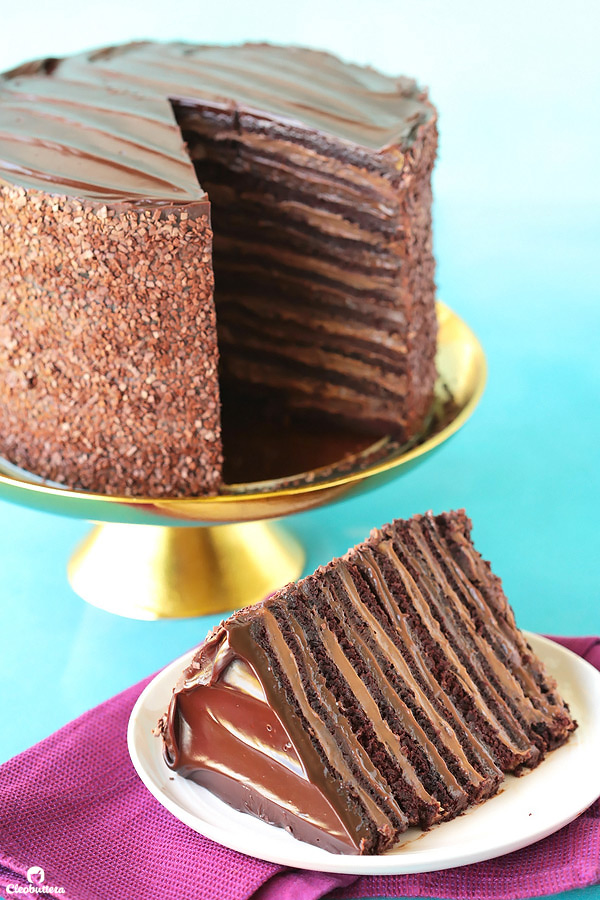 This beautiful monster is made up of 12 layers of chocolate cake and 12 layers of filling. YES! TWELVE! One layer for every month that I didn't post on the blog! I mean I had to make up for the lost time, right?
Well, technically it's a 24 layer cake; 12 cake and 12 filling, but I didn't wanna call it that because it wouldn't have been a fitting title for the situation.
It also took me all 12 months to make! LOL! Just kidding…way more actually ?
In all seriousness though, this cake is a lifetime of baking in the making. For years and years, I've been making, testing, eating, tweaking, and retesting chocolate layer cakes in search for that melt in the mouth chocolate bliss that we secretly dream about shoving in our mouths with our bare hands. You know…a tall chocolate cake as sinful looking as the one Bruce Bogtrotter from the movie Matilda devours in one sitting. A moist, multiple layered chocolate cake, slathered with heaps of creamy, glossy chocolate frosting, that doesn't require a tall glass of milk to slide it down the throat.
A dosage of inspiration from this one, coupled by a strong cheat day craving and this cake was born! The one I could deem ULTIMATE! The dream chocolate cake I've been searching for. THIS. IS. IT. for me. My favorite chocolate cake in all the land. And I have a feeling it will become yours too.
In all honesty though, how many of you had wished of being in Bruce's place?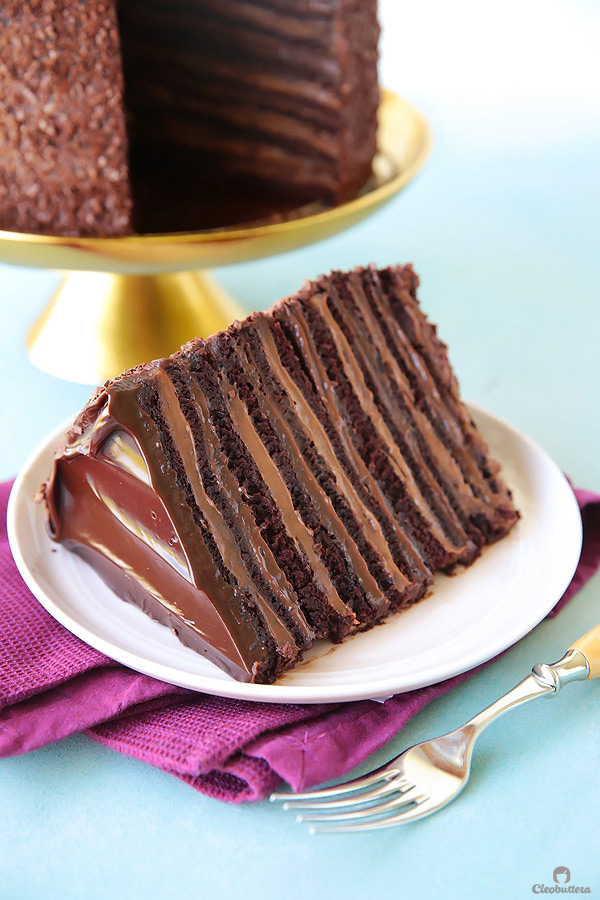 This cake does not look one bit like the one in the movie, but the taste and textural experience is exactly how I've always imagined it to be.
Super duper moist. I'm sorry for those who hate the word "moist" but there's really no better adjective to describe it. I mean the cake makes a moist sound when you slide the fork into it for God's sake, how I can possibly call it anything but. As a matter of fact, it is the moistest cake I've ever had, and those who have tasted it seem to agree. I have text messages that prove it.
Very Chocolatey without tasting like dark chocolate. When developing my dream chocolate cake, I wanted to be sure that it satisfies both adults and kids alike. That means it can't taste like dark chocolate, because 98.7% of children believe that dark chocolate comes from the devil. Yet, it can't be lacking in the chocolatiness department either, because what chocolate lover would want that? There's a very thin line between dark chocolate and serious chocolate flavor and more often they not, they tend to overlap. This cake however, manages to embody just the right balance that guarantees a serious chocolate punch without the bitterness associated with dark chocolate.
Perfectly sweet. As a person with a hankering sweet tooth, you might find it surprising that I cannot tolerate overly sweet frostings. So I made it made my mission, to keep the sweetness level under control, even if the sugar amount in the ingreditent list suggests otherwise. So it is pleasantly sweet, obviously..its cake, but just perfectly so.
Light yet rich. This is one tall cake; 6 inches to be exact! So no matter how thinly you try to slice the cake, the portion will still end up pretty big. With that in mind, I wanted to be sure that its not too rich, that one bite will put you in a food coma, yet not too light, that it feels too lean. And its just that! That rightful marriage between rich and light. Light enough that you'll be able to finish your slice and still have some room for air, yet rich enough, to taste like a guilty pleasure.
Let's take a better look at what makes this cake so divine.
First of, we have 4 layers of fluffy chocolate cake with the softest, most tender crumb. The cake use a trio of tenderizers that ensures a moist texture; oil, sour cream and water. I'm usually a huge proponent for cakes that use butter for its fat, because c'mon its BUTTER, but there's no denying that oil makes for the moistest cakes. And while if I'm going to eat a plain chocolate cake, I'd still prefer it to be butter based for the rich flavor it imparts, the oil based cake just works perfectly here because all the butter in the fillings make up for the lost richness in the cake. It's a real winner and my new go-to oil-based chocolate cake recipe.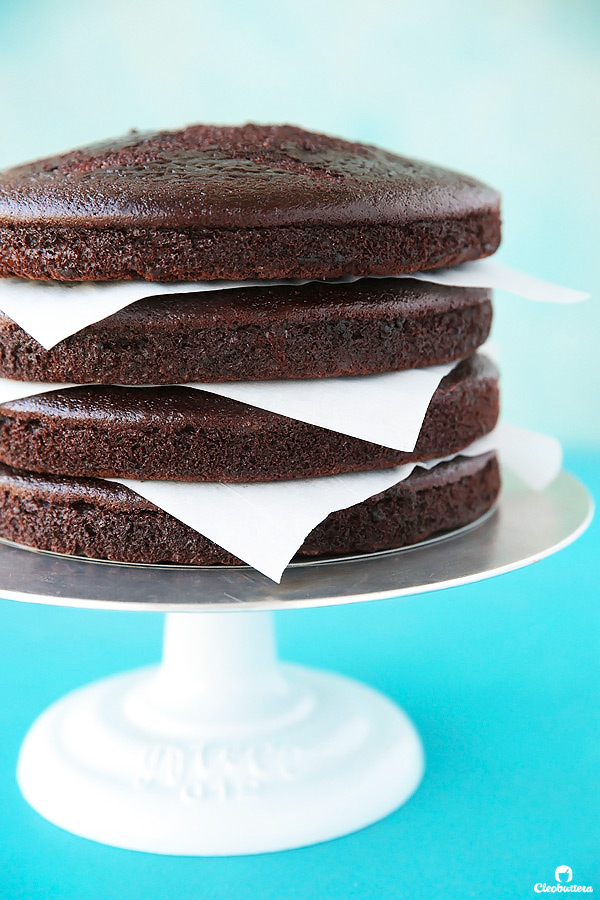 Next we have a Simple Syrup Soak. I promise, there's something in the cup.
Each layer of cake gets brushed with that liquid magic for another dimension of moisture. It's not that the cake needs it, as its pretty moist on its own, but it gives it that melt in the mouth quality that makes this cake so special.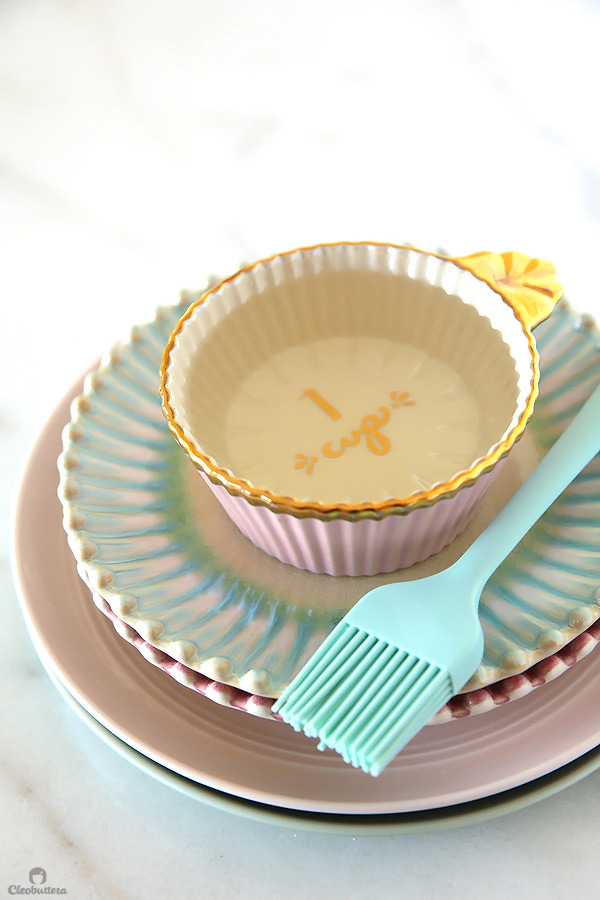 Next comes a filling of silky Chocolate Pastry Cream, or custard if you will. This is the "light" element of the cake. Its barely sweet, light in texture and flavor, and tastes more of milk chocolate. When you taste it on its own, you'll have doubts at how a filling this light in chocolate flavor can make a chocolate cake taste so chocolatey. The answer is because its balanced out with this: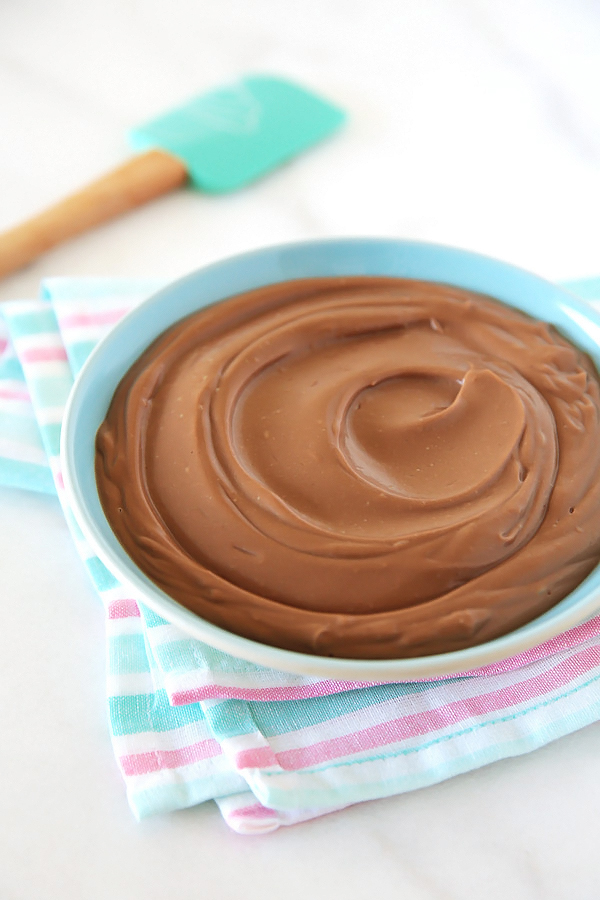 Fudgy Chocolate Frosting. This one is everything the pastry cream filling is not. Rich, super chocolatey, and very thick. The texture is smooth and velvety like chocolate ganache but the taste is exactly like hot fudge sauce. I've always wondered if hot fudge sauce could transform into a spreadable frosting, and the answer came to me in the form of this gloriousness.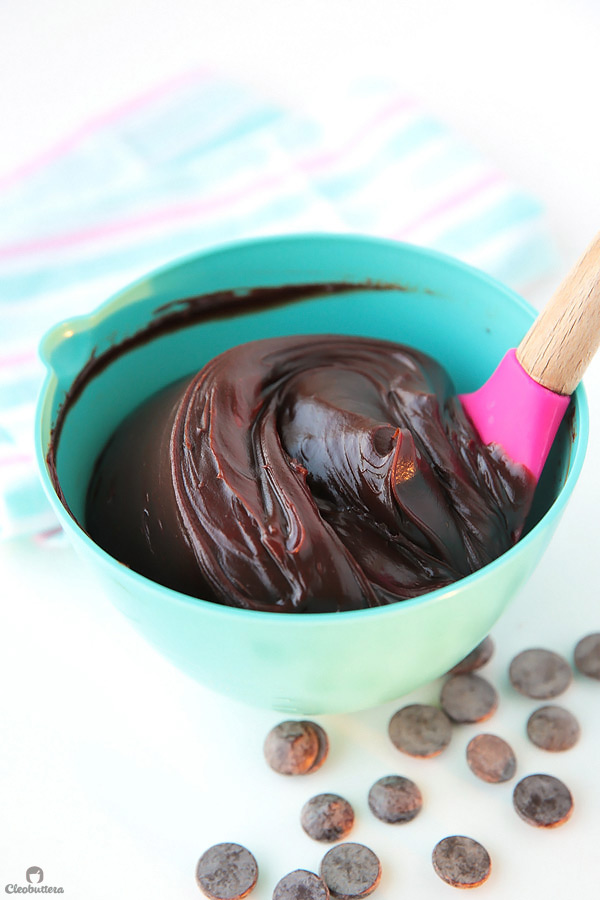 Together, the fluffy cake, the shower of syrup, the lightness of the pastry cream and richness of fudgy frosting, make up for one irresistible cake. Now let's take a look at how it all comes together in true Cleobuttera fashion. I hope you've missed the bajillion photos per post, because I can't go less even if I tried. And I tried. And tried. But just keep failing at making short and sweet posts. Oh well…this cake needs quite a bit of explanation anyways.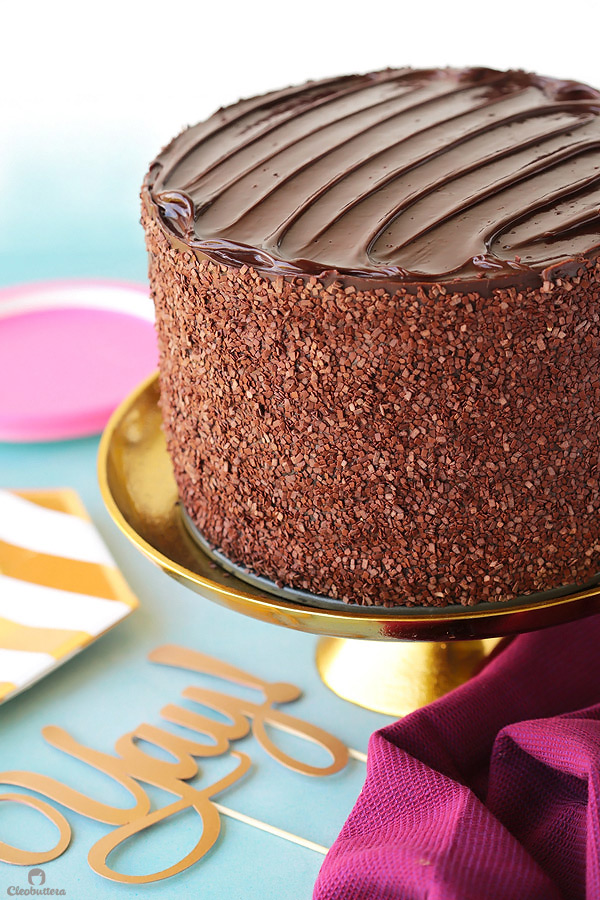 Let's me start by getting this out of the way so I don't get comments complaining that the cake is a ton of work and that I didn't warn you, because it is. This cake IS a project, will dirty many dishes, and if you don't space your work well, then you'll be standing in the kitchen all day. While difficulty is a relative thing, I'd say that this cake is not difficult but requires a fair amount of baking experience. It is a highly involved cake, but honestly, the results are well worth it. You just need to really really love whoever you're making it for. I hope I haven't scared you ?
For what its worth, the cake part is dead simple. It comes together in one bowl (just be sure its an extra large bowl, because it makes A LOT of batter). You dump everything in one go then mix and you're done.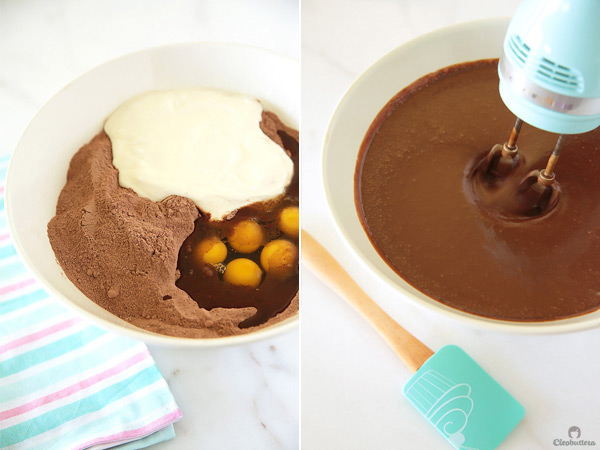 After that, you're gonna need to divide the batter equally over 4 pans. I've found the best way to do that is to weigh the batter and divide that number by 4. Then all you do is pour that amount in each of the pans.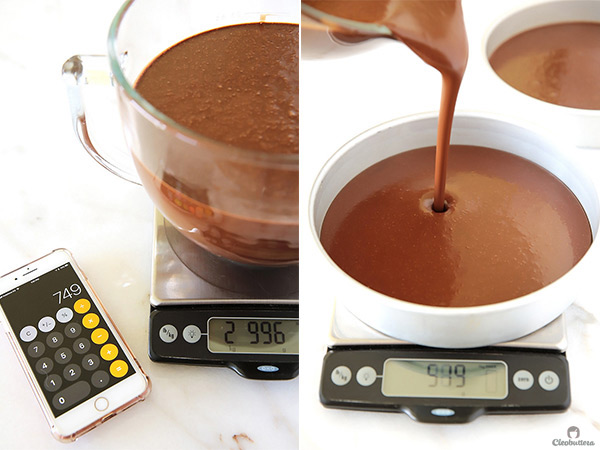 Also if don't have 4 pans of the same size (I only have 2), you can just bake in batches. I bake 2 pans by 2 pans. You can get more information regarding that in the 'notes' section of the recipe.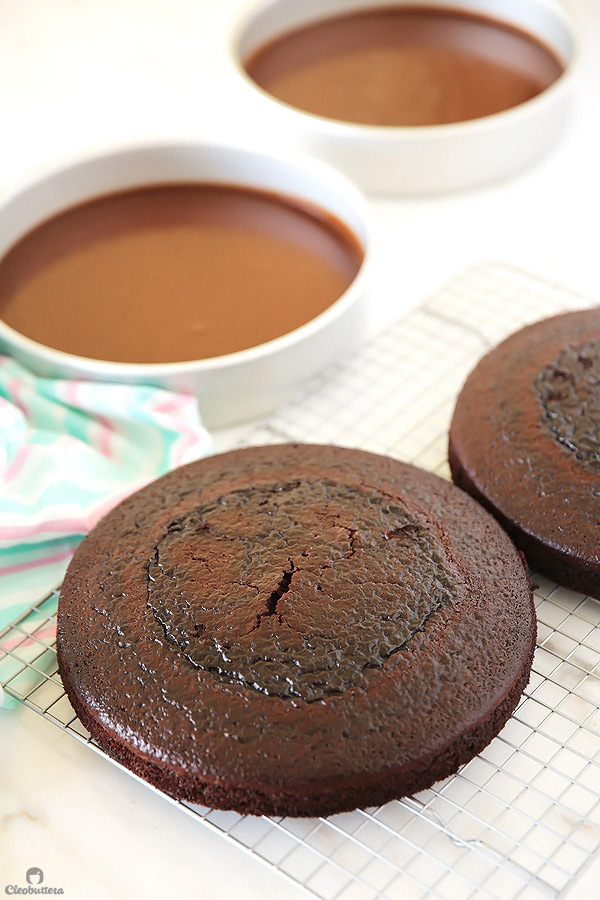 Don't be alarmed when you see that the cakes are not very high. They're supposed to be 3cm tall. After the cakes have nicely cooled (I actually like to pop them in the freezer to firm up a bit), slice away any domes that may have developed on top of the cake. They make for a great kitchen reward; a pat on the back for making it this far. You can now slice each cake into 3 thin (1 cm) layers. You wanna do that very carefully, so as to try and get them of even thickness as much as possible. A cake leveler like this one, makes the process much easier.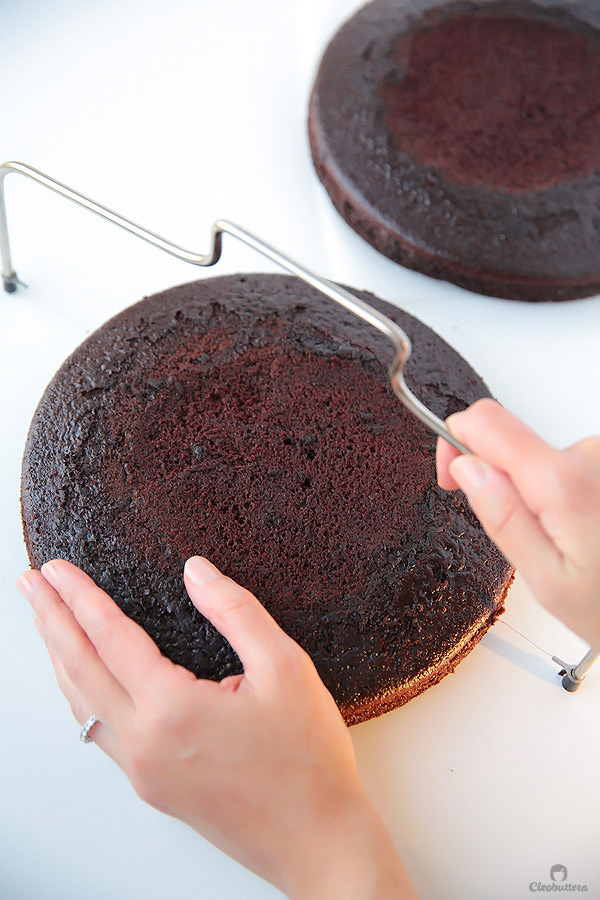 You'll then line a cake ring or the ring of springform pan with a cake board, and line the inside with a strip of acetate or parchment paper. This will later help release the finished cake from the pan easily. The ring's purpose is sturdy construction; I learned that trick from this video. If you're confident in your cake building skills, you can do without it, but I like to err on the side of caution.
Place the first cake layer in there…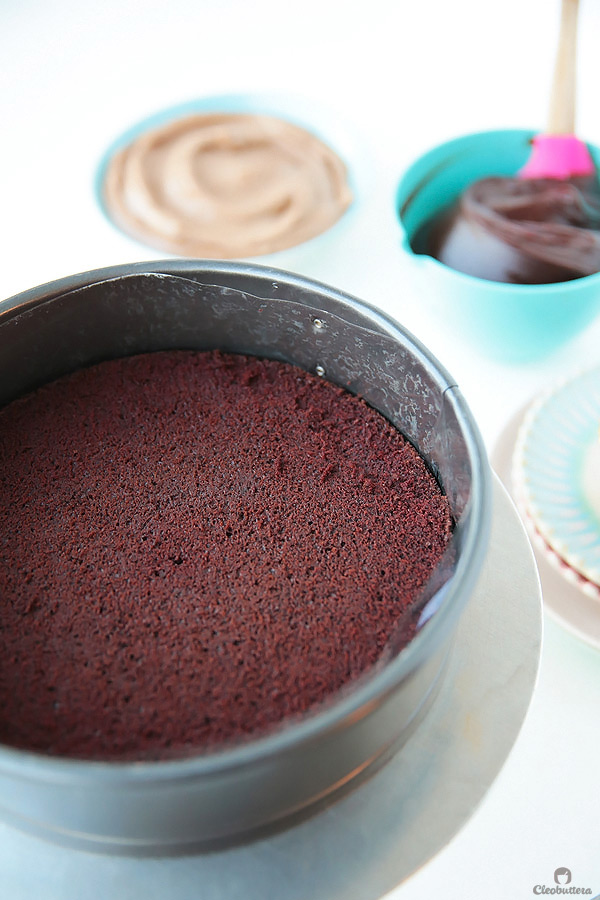 Give it a light soak of syrup…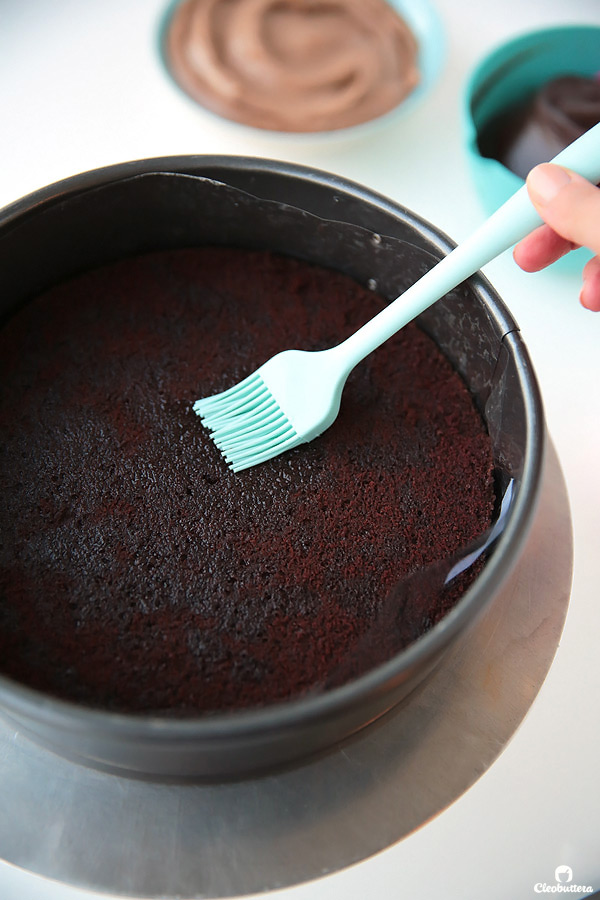 Followed by a thin layer of chocolate pastry cream…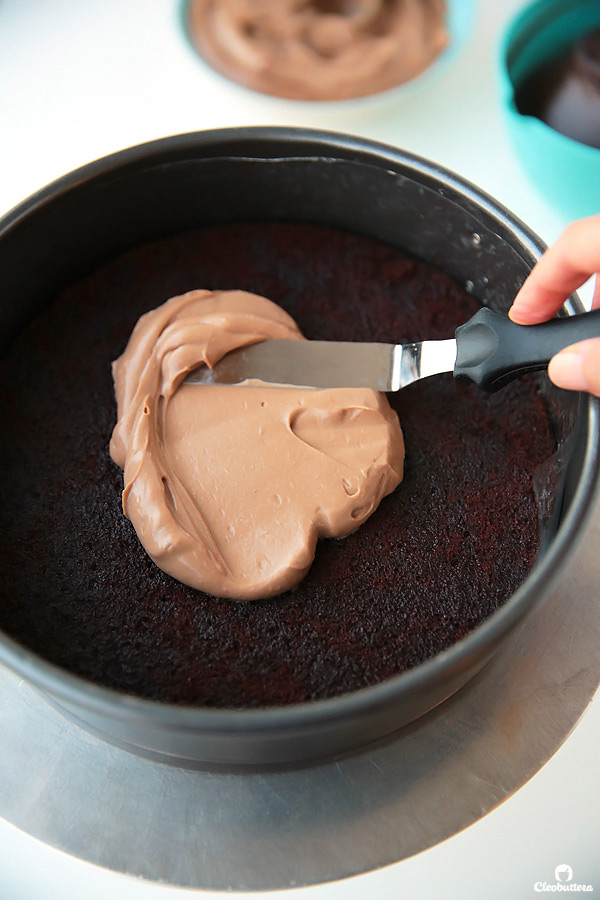 More cake, then soak (not pictured). Note that due to the fragile nature of the cake layers, it's advised to use a round flat surface to transfer them into the ring. I use a cake lifter but a cake board does the job just as well.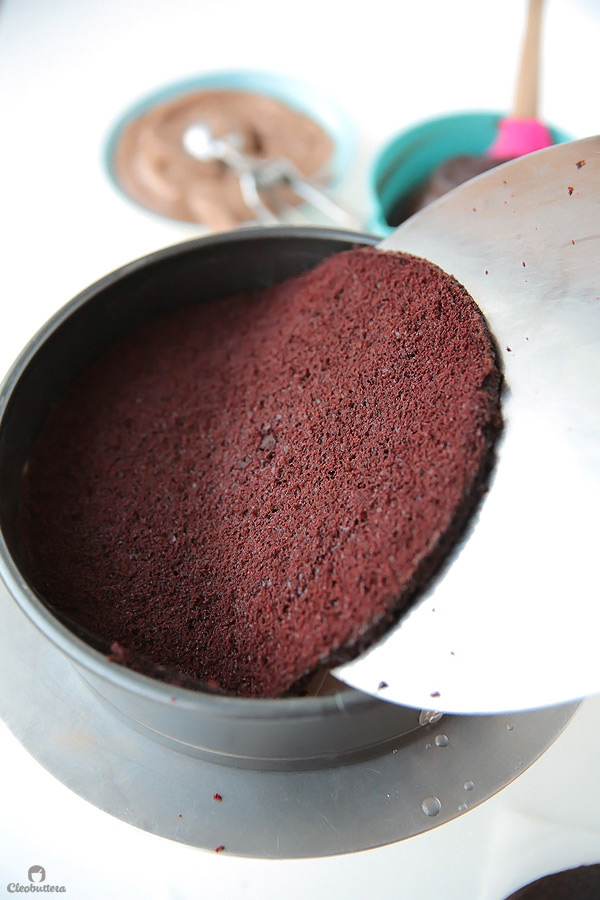 After that, comes a healthy slathering of the fudgy frosting.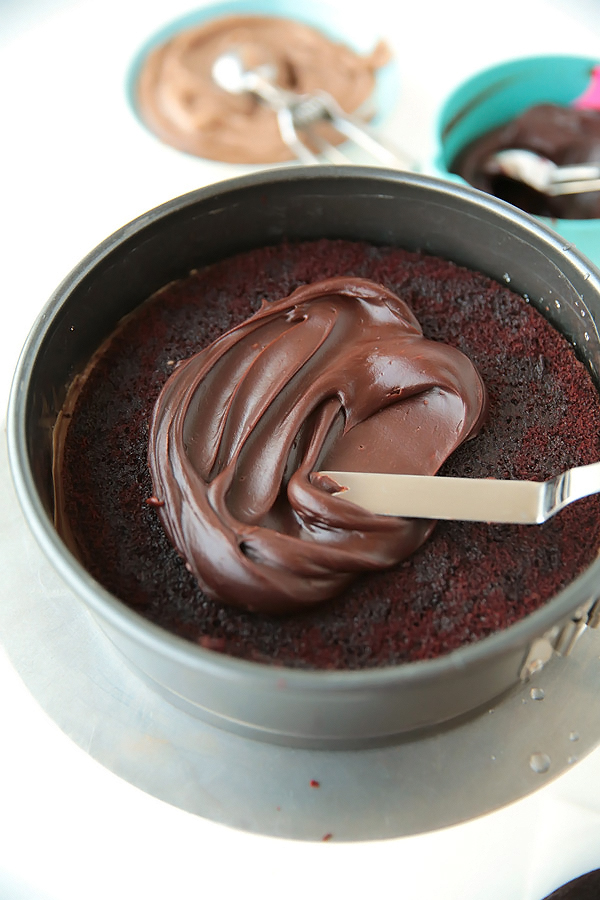 You're gonna keep repeating this layering process over and over until you end up with 2 separate cakes, each one comprised of 6 layers of cake and 6 layers of filling. Now choose the prettier one and play around with the last layer of frosting, because that's gonna be the top that crowns your final cake. Now off to the freezer they go, to set everything in place.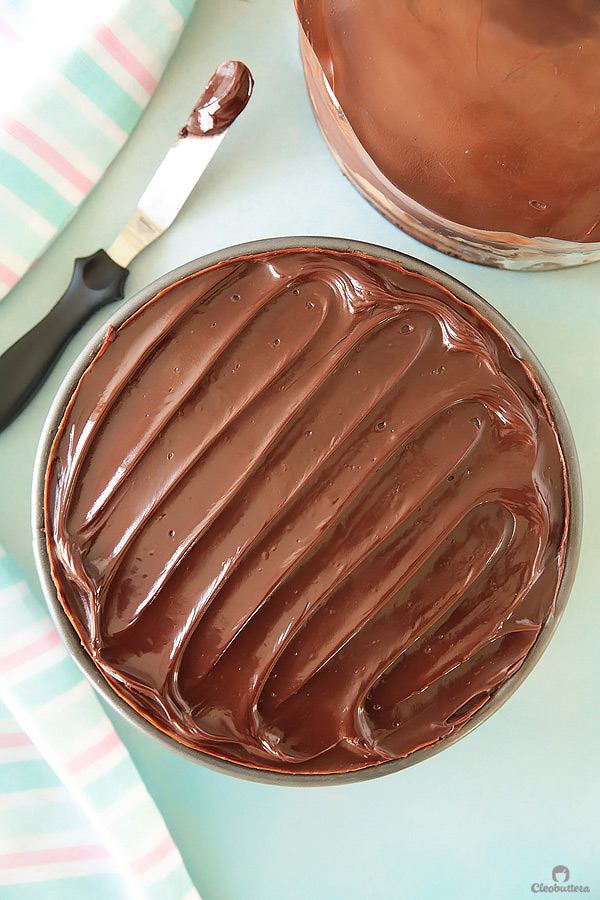 When the cakes are nice and firm, you'll get them out of the freezer, and stack the cake with the decorative swirls, on top of the smoothly frosted one. Carefully peel off the acetate.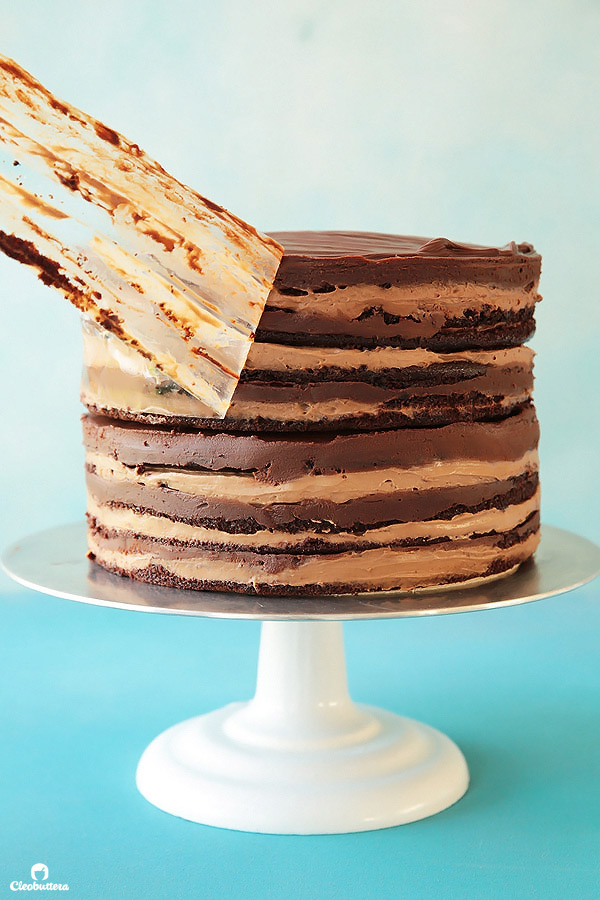 Take a moment to appreciate the different shades of chocolate, and contemplate whether you should leave it aux naturel like this and rock that trendy naked cake look, or…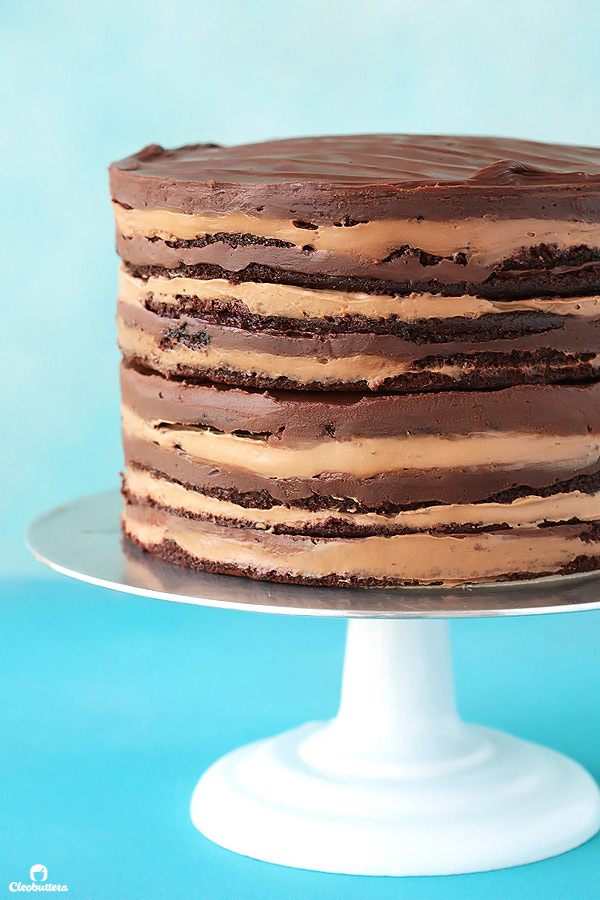 Go for a smooth finish.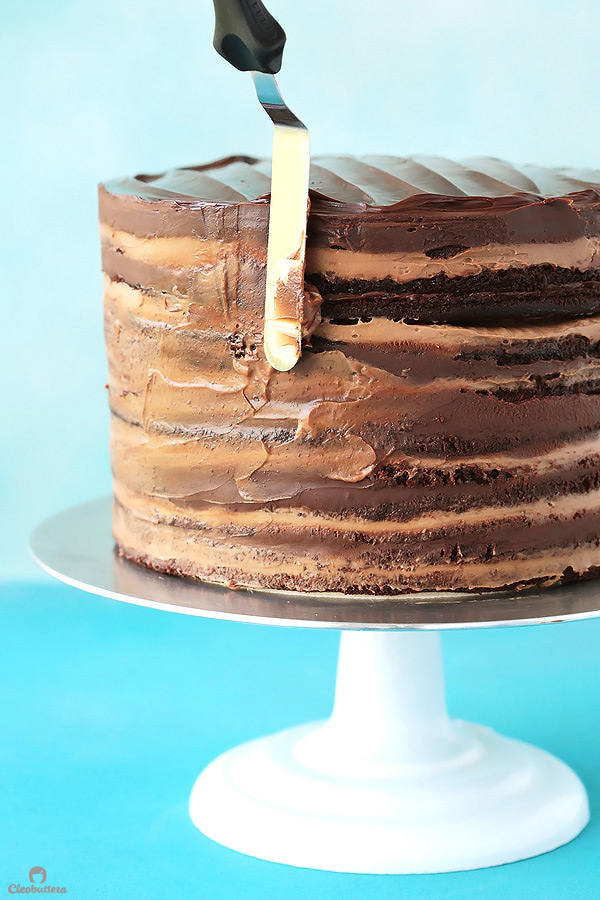 Smooth won it for me.
Then comes another big decision that you'll have to make…shall you leave it like that, embrace its natural ombre/watercolor effect and maybe add a chocolate drip on top, or cover up the sides to add an element of surprise and make people wonder whats inside?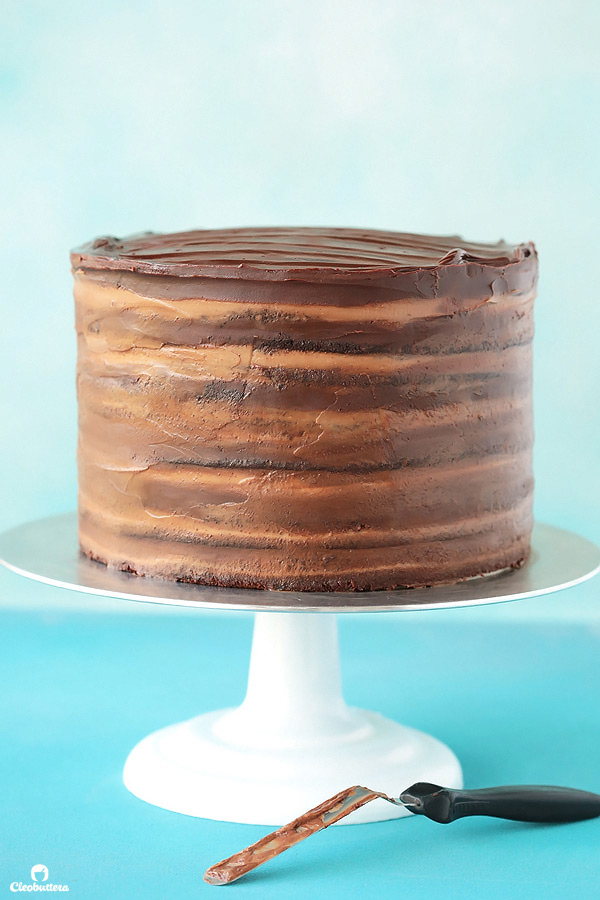 Cover it up it is! I opted for these chocolate flakes, aka French chocolate sprinkles that I love so much and had previously used on top of this cupcake and on the sides of these cupcakes.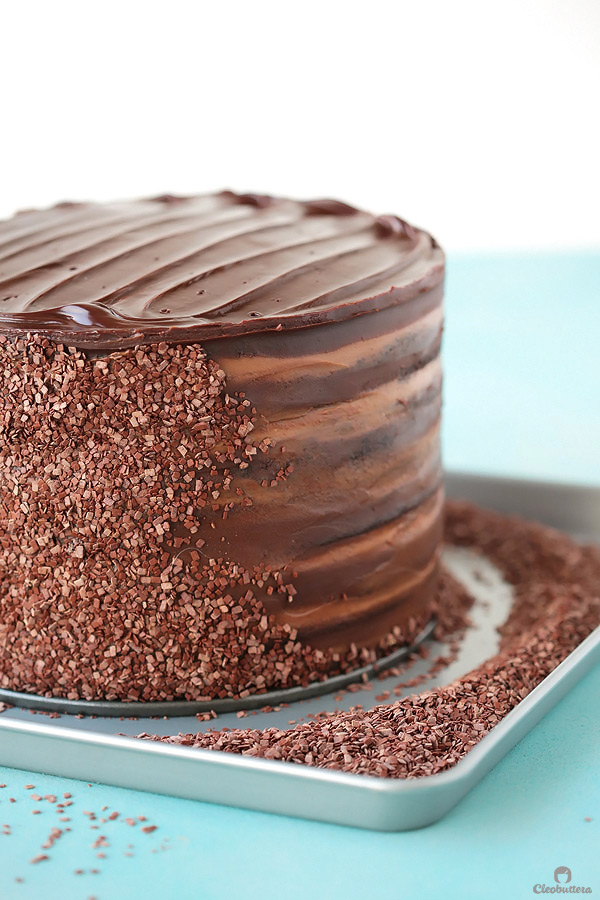 And there it is! My favorite chocolate on chocolate on chocolate cake!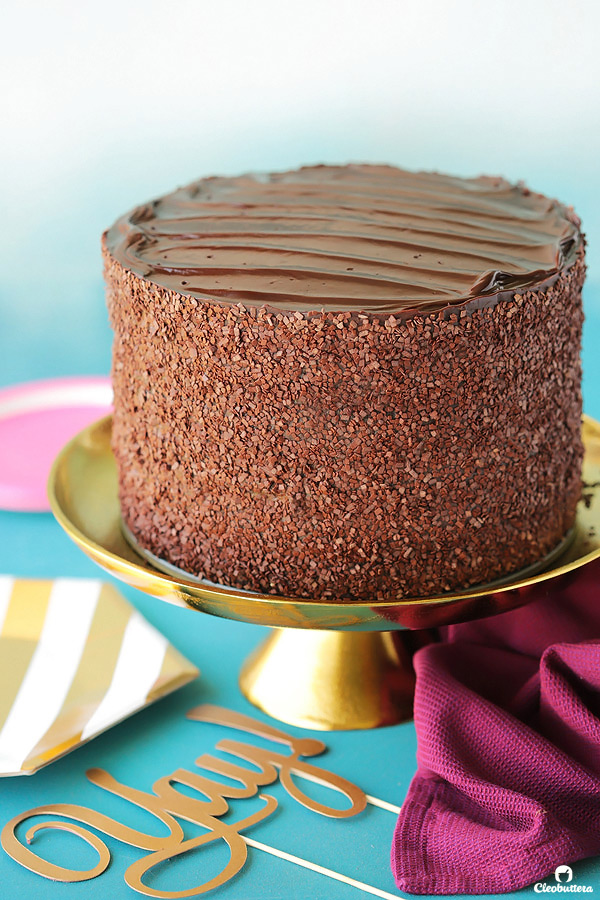 Ready to be sliced into…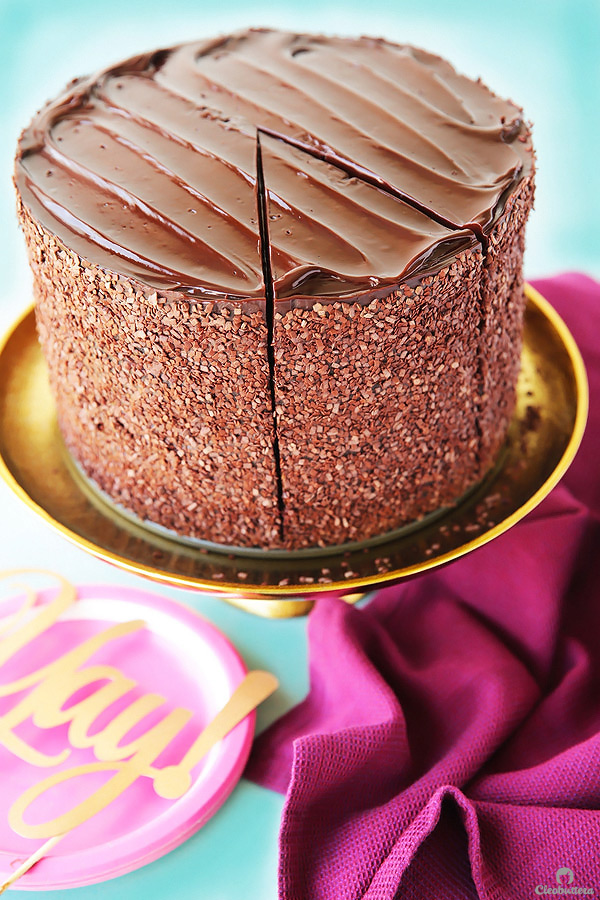 Stared at…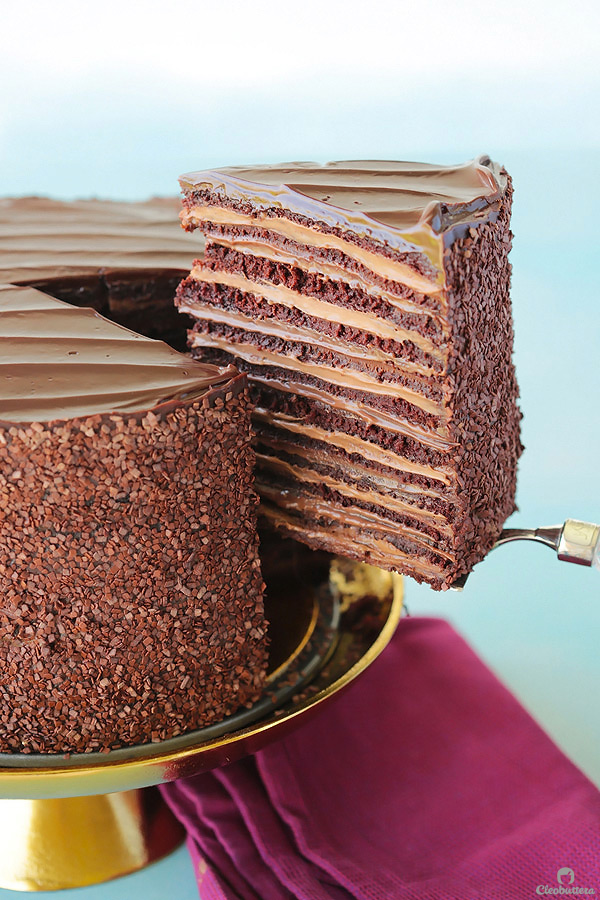 And make one chocolate cake lover, very very happy.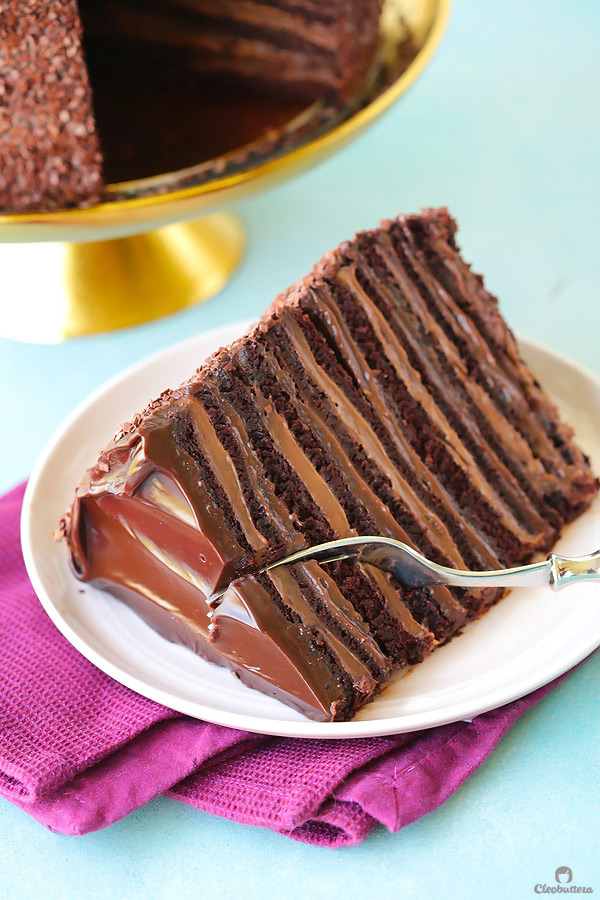 Except…that it actually feeds an army of chocolate cake lovers. Enlist me!
I hope you give this cake a try at least once, and not get intimidated by its several components and my long long instructions.
Until next time my dear friends…see you in 12 months!
Heheheeeee!
All joking aside…I promise to not disappear that long again. As I've opened up in this post, last year wasn't all rainbows and cupcakes, but a lot of great things came out of it, including my deep appreciation to you, my family, my health and my life. I'm grateful for the opportunity to be able to come back here again, talk food with you and find you still eager to listen. You guys are the best for hanging in there and not giving up on me. And for that, I owe you a BIG thanks and a virtual hug.
As much as I'm excited to be back to blogging, I'm equally keen at doing it in a pace that will not take over my life the way it did before. With that said, I hope you continue to enjoy my future recipe posts in a frequency that can be best described as "relaxed." I also hope that you stay as understanding as you've always been, if I go a little longer than expected without posting something new. As for me, I promise to make my sparingly spaced posts so special that it be will worth the wait, and give you only tried and true, obsessively tested recipes you could trust.
Lots of love and chocolate,
Tasbih
Yield: One (9-inch wide, 6-inch long) Mega 12 Layer Cake
Epic 12 Layer Chocolate Cake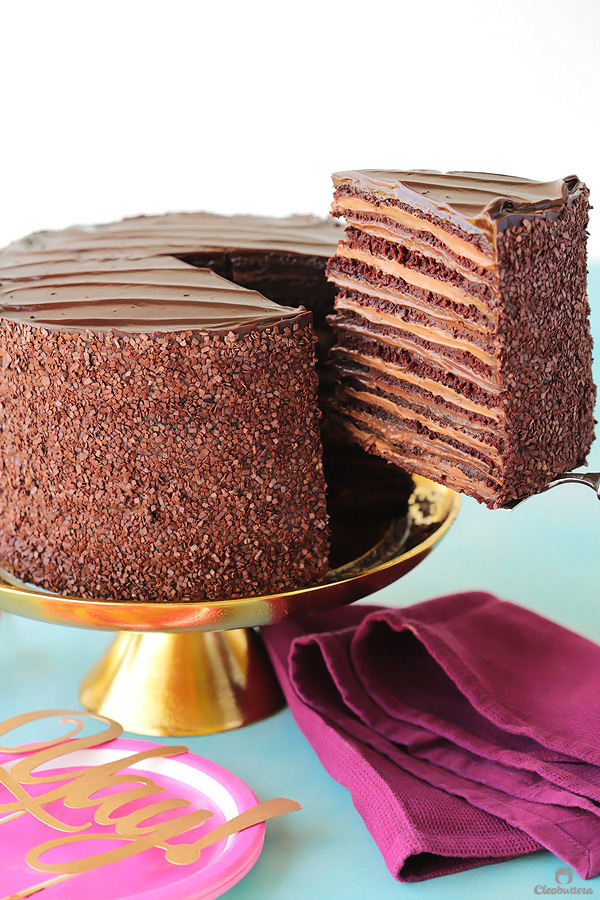 While not difficult to make, this is a multi-step, highly involved cake that requires planning ahead. Please read through the instructions and the notes in the bottom of the recipe before starting. Also check out this video to get a clearer vision of the assembly process before you begin. This is a HUGE cake that will feed a large crowd; to scale it down, please refer the notes in the bottom.
Prep Time 1 hour 30 minutes
Cook Time 40 minutes
Additional Time 5 hours
Total Time 7 hours 10 minutes
Ingredients
For the Chocolate Cake:
4 cups (500 grams) All-purpose flour
4 cups (800 grams) granulated sugar
2 cups (170 grams) unsweetened cocoa powder
4 teaspoons baking soda
2 teaspoons baking powder
2 teaspoons salt
5 large eggs, at room temperature
2 cups (452 grams) sour cream or Greek yogurt, at room temperature
2 2/3 cup water, at room temperature
2/3 cup neutral-tasting oil
4 teaspoons vanilla extract
For the Simple Syrup Soak:
1/2 cup (100 grams) granulated sugar
1/2 cup water
For the Chocolate Pastry Cream: (makes about 4 cups)
2 1/4 cup whole milk
3/4 cup heavy whipping cream
1/2 cup plus 3 tablespoons (137 grams) granulated sugar, divided
1/8 teaspoon salt
6 large egg yolks (freeze the whites for later use)
1/4 cup (32 grams) cornstarch
1/4 cup (57 grams) cold unsalted butter, cut into 4 pieces
4 ounces/ 114 grams finely chopped bittersweet chocolate (I used 66% dark chocolate callets)
1 teaspoon pure vanilla extract or 2 teaspoons imitation vanilla flavoring
For the Fudgy Frosting: (makes about 4 cups)
12 1/2 ounces/ 354 grams bittersweet or semisweet chocolate or a combination of both (I used 1/2 bittersweet, 1/2 semisweet)
1 1/4 cups heavy whipping cream
1 1/4 cups (250 grams) granulated sugar
Heaping 1/4 teaspoon salt
1/2 cup plus 2 tablespoons (142 grams) unsalted butter, softened to room temperature
For Garnish: (Optional)
Chocolate sprinkles, colored sprinkles, chocolate chips or chocolate curls/shavings
Instructions
For the Chocolate Cake: (Can be prepared several days in advance)
Adjust oven rack to middle position and preheat the oven to 350F/180C. Spray (or grease) four 9-inch round cake pans with non-stick cooking spray, line with parchment paper, then spray (or grease and flour) the parchment and pans. If you don't have four 9-inch pans, use whatever amount you have and bake in intervals. You just want to end up with four equal cake layers. (*For more details on that, please refer to the NOTES below)
In a very large bowl, sift together the flour, sugar, cocoa powder. baking soda, baking powder and salt.
To the dry ingredients, add the eggs, sour cream, water, oil, vanilla extract and mix together using an electric mixer until well combined and smooth. Batter will be very thin.
Divide the batter evenly among the prepared pans. A great way to do that, is to weigh the batter, and divide that number by the amount of pans used, which is 4 in the case of this recipe. Using a scale to measure, fill each pan with the resulted amount.
Bake until the center of the cakes spring back when pressed lightly with your fingers and a toothpick inserted into the center of each cake comes out clean (a few moist crumbs attached are ok); about 25 minutes.
Let the cakes cool in the pans on wire rack for 15 minutes. Invert cakes onto a cake board or plate and peel off parchment; reinvert cakes onto the wire rack. Allow to cool until slightly warm or at room temperature, then wrap in a double layer of plastic wrap and keep in the freezer until cold and firm but not frozen. This step is optional, but it makes the process of slicing the cakes into thin layers, cleaner and easier. Alternatively, you could keep the cakes in the freezer for up to several days. (*For make ahead details, please refer to the NOTES below)
Meanwhile, make the other cake components.
For the Simple Syrup Soak: (can be prepared up to a week in advance)
Combine the sugar and water in a small saucepan and heat over medium heat, stirring occasionally, until the sugar has dissolved; set aside to cool completely before using.
For the Chocolate Pastry Cream: (Can be prepared up to 2 days in advance)
Heat the milk, heavy whipping cream, 1/2 cup (100 grams) of the sugar, and the salt in a medium heavy-bottomed saucepan over medium heat until simmering, stirring occasionally to dissolve the sugar.
Meanwhile, whisk the egg yolks and the remaining 3 tablespoons (37 grams) of sugar in a medium bowl, until the sugar has begun to dissolve and the mixture is creamy, about 15 seconds. (IMPORTANT: Don't whisk the egg yolks and sugar together until the milk mixture is already heating, because if left together for too long, the sugar will start to cook the yolks). Whisk in the cornstarch vigorously until the mixture is pale yellow and thick, about 30 seconds.
When the milk mixture reaches a full simmer, gradually whisk the simmering milk into the yolk mixture to temper. Don't do it too fast, or you'll risk cooking the eggs. Return the mixture to the saucepan, scraping the bowl with a rubber spatula. Return to a simmer over medium heat, whisking constantly, until a few bubbles burst on the surface and the mixture is thickened and glossy, about 30 seconds. Be careful not to cook the mixture beyond the point of a few bubbles or the mixture can start to curdle and the yolks may scramble...not fun! Turn off the heat, whisk in the butter, chocolate, and vanilla.
Strain the pastry cream through a fine-mesh sieve set over a medium bowl. Press plastic wrap directly on the surface to prevent a skin from forming and refrigerate until cold and set, at least 3 hours or up to 2 days.
For the Fudgy Frosting: (can be prepared 1 day in advance)
Place the chocolate in a large bowl. Heat cream, sugar, and salt in saucepan over medium-low heat, stirring occasionally, until sugar dissolves and mixture begins to simmer. It is very important to make sure that the sugar has dissolved completely, so you don't end up with a gritty frosting.
Pour hot cream mixture over chocolate and whisk until smooth. Whisk in the butter until glossy. Cover and refrigerate until icing is firm but still spreadable, about 1 hour.
To Assemble the Cake:
Since this mega cake is a 6-inch tall beast, it is best to treat it as 2 separate cakes that we'll later fuse into one; it will make for a sturdier construction that way. Check out this video to get the picture. Start by lining the bottom of a 9-inch cake ring or the ring of springform pan with a 9-inch round cake board. Line the inside of the ring with a strip of acetate or parchment paper. This will later help release the finished cake from the ring easily.
If your cakes are domed, level them off by slicing away a thin layer from the top; you need the cakes to be as flat as possible. Using a serrated knife or cake leveler, as careful as you can, slice each of the 4 cakes into 3 layers of equal thickness, about 1cm each. You should end up with a total of 12 layers.
Using a round cake board or cake lifter, transfer the bottom layer of one of the cakes inside the ring. Using a pastry brush, lightly brush the surface of the cake layer with the Simple Syrup Soak.
Using an offset spatula or back of a spoon, spread a little over 1/2 cup of the Chocolate Pastry Cream evenly over the cake layer, all the way to the sides of the ring.
Top with a second cake layer, then brush with the Simple Syrup Soak. Spread a little over 1/2 cup of the Fudgy Frosting evenly over the cake layer, all the way to the sides of the ring. Using up 2 of the 4 cakes, repeat, alternating layers of cake, Chocolate Pastry Cream, cake, Fudgy Frosting, brushing each cake layer with the Simple Syrup Soak. End with a smooth layer of Fudgy Frosting. You should now have 6 layers of cake and 6 layers of filling. Cover the cake loosely with plastic wrap and place in the freezer to set.
Using another 9-inch cake ring or the ring of springform pan, repeat Steps 3 through 5, using the remaining 2 cakes and the remaining Chocolate Pastry Cream, Fudgy Frosting and Simple Syrup Soak. Top the final layer of cake, decoratively, with the last bit of Fudgy Frosting creating swoops and swirls, as this will be the top layer of the final cake. If you don't have an extra 9-inch cake ring (which I don't) carefully slide the first cake out of the ring, keeping the acetate intact, cover, freeze, and reuse the same ring to assemble the other cake.
Freeze the 2 assembled base cakes until very firm and sturdy; 1 to 2 hours. You could even freeze it for several days (*For make ahead details, please refer to the NOTES below).
Pop the cakes out of the cake ring(s). Gently peel off the acetate of the cake you plan to place on the bottom. Make sure the Fudgy Frosting topping on that cake, is soft enough to adhere to the top cake when placed on it. If its too cold and dry, warm through using a kitchen torch.
Top the bottom base cake with the top base cake (the one with the pretty swirls on top). Don't forget to remove its cake board before you do! Peel off its acetate. Use an offset spatula to smooth out the sides of the cakes, fusing them together as you go, and scrapping off any excess and filling the gaps with it.
Place the final cake on a rimmed baking sheet to catch any decoration fall outs. Cover the sides of the cake with the garnish of your choice. I used these Chocolate Flakes.
Place the cake under a cake dome and allow to come to room temperature before serving. Timing will vary depending on how long the cake was left in the freezer. Serve at room temperature, or slightly warmed in the microwave. Leftovers will keep well chilled in the fridge in an airtight container.
Recipe Notes
Make Ahead Tips:
It is highly recommended that you make the cake at least 1 day before serving, as it is time consuming and requires several chilling times.
The finished cake will keep well in the fridge for 1 day under a cake dome, but leftovers will taste great for up to 3 days given that they're stored in an airtight container in the fridge. Bring to room temperature before serving or warm individual slices slightly in the microwave.
The cake layers can be made up to several days in advance. Wrap in a double layer of plastic wrap, place in a freezer zipper-lock bag and store in the freezer until needed. Thaw slightly before slicing into thin layers.
The filled and frosted cake bases, can also be made several days in advance and stored in the freezer until needed. Be sure to wrap them well in a double layer of plastic wrap and place in a freezer zipper-lock bag. Note that if you freeze them for that long, condensation many occur on the surface of the cake. Allow the condensation to take its time to evaporate, then dap whatever may be leftover with a smooth paper napkin.
Useful Tips:
Don't need a cake that feeds an army? Cut the recipe in half and bake in four 6-inch pans. Alternatively, make a shorter (6-layer cake) version of the cake in the same 9-inch pans. Same delish taste. less work!
8-inch cake pans may also be used. It will actually slice easier because the layers are thicker, but know that your finished cake will be extra tall which may compromise stability.
Don't have FOUR 9-inch pans, no problem! I only have TWO and make this work! To do that, weigh your batter, divide that number by 4 (which is the number of pans/layers we need). Place your first pan on the scale and fill up with batter using the amount you got on the calculator as a guide. Repeat with your second pan. Bake those 2 pans, cool slightly, invert cakes, wash and dry pans, grease and line with new parchment rounds, fill up with the remaining batter using the scale, then off to the oven they go.
If available where you live, 3 cups of 'half-and-half' may be used instead of the heavy cream/ milk combination in the Chocolate Pastry Cream.
Cake idea inspired by Strip House's 24 Layer Cake
Cake recipe adapted from Pinch of Yum
Chocolate Pastry Cream recipe adapted from Cooks Illustrated
Fudgy Frosting recipe adapted from Cooks Country
'YAY!' Cake Topper from Favorite Things by Aya Assaf
Measurements Note: All recipes of this site have been developed using weight measurements. Although US volume measurements have been included for your convenience, it is highly encouraged that you weigh your ingredients using a kitchen scale to get the best possible results. Due to the sensitive nature of baking, kitchen scales are proven to yield more accurate and consistent results than measuring cups. Enjoy!
This post may contain affiliate links.
All images and content are owned by Cleobuttera® and are copyright protected. Please do not use my images without prior permission. If you would like to republish a recipe, please rewrite it in your own words and link back to the recipe page on my site. Original recipes and creations of this site are intended for personal and home use. Commercial replication or media consumption are only allowed with a written consent and agreement with Cleobuttera owners. Otherwise it is considered a violation of intellectual property. Thank you for respecting and appreciating the amount of time and effort that goes into creating free, unique recipes that make people happy.