Addictive Pecan Pie Bars
You won't be able to stop eating these! They are so EASY to make and too dangerous to have around. BEST EVER pecan bars!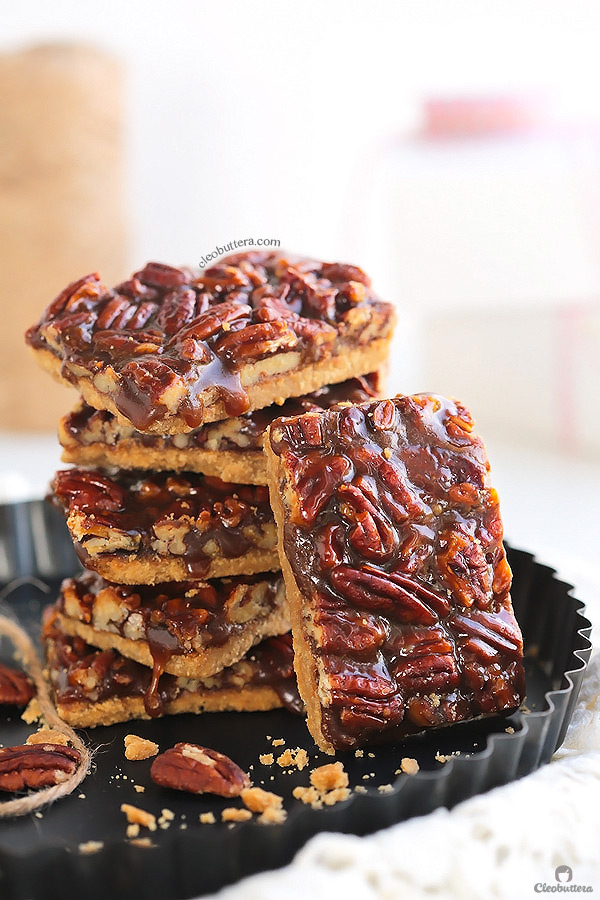 I'm NEVER making these bars again! EVER!
They need to get out of my life NOW!
They've been ruining my diet for the last 2 weeks and I'm so mad at them. (Yes…I'm dieting and I'm running a dessert blog. Go figure! Also…?)
I just. can't. stop. eating them. And this is coming from a person who's not even a big fan of nuts.
But when the nuts are cradled around something that does stuff like this…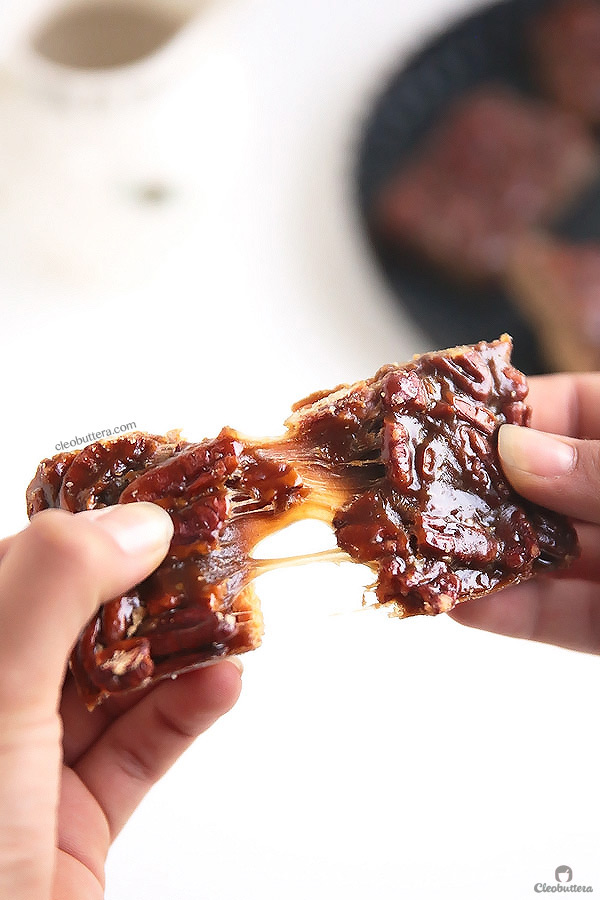 How could I resist?!!!
With a tender, buttery brown sugar shortbread crust and toasty, crunchy pecans sitting atop a soft honey-laced caramel filling, how could anyone resist?!
You'd think you can get away with a small bite because you have self-control and whatnot, so you naively cut a tiny sliver at first, but then you keep coming back for a sliver after sliver after sliver, until before you know it…you've inhaled 3 bars!
To make matters worse, they keep really well for several days! I KNOW!!! That's supposed to be a good thing, but you'll find yourself snacking on them each and every time you pass anywhere near that darned airtight container, everyday, until there's not a crumb left! Oh I'M MAD!
I think that pretty much explains my justifiable choice for the title…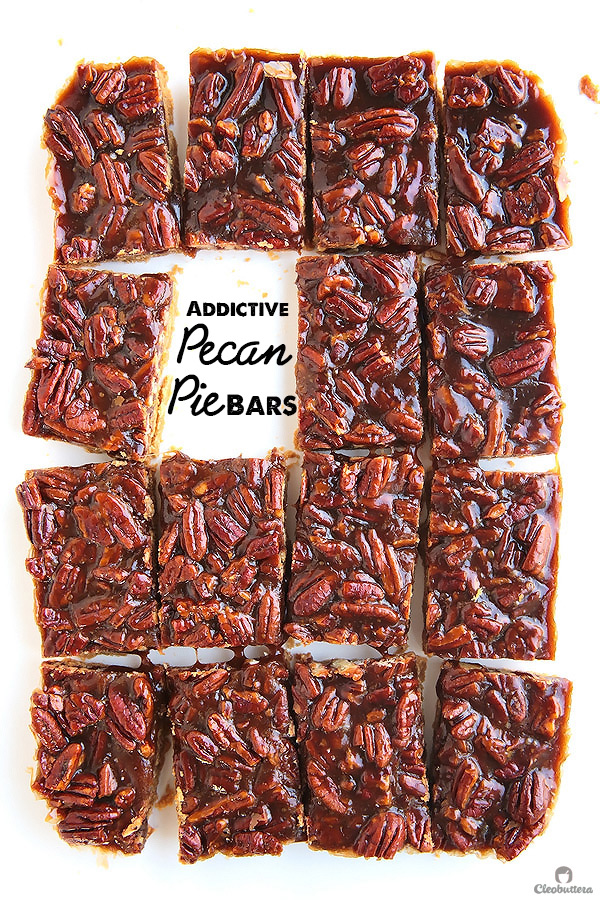 They are easily some of the best things that have emerged out of my oven. And just let me remind you again that I'm not a nuts person by any means. Oh I'm definitely NUTS, see ?, but I mean you'll never catch me snacking on some almonds, and walnuts better not touch my brownies and carrot cake.
But these…oh these…they are in a league of there own. They are chockfull of pecans but I couldn't be more in love.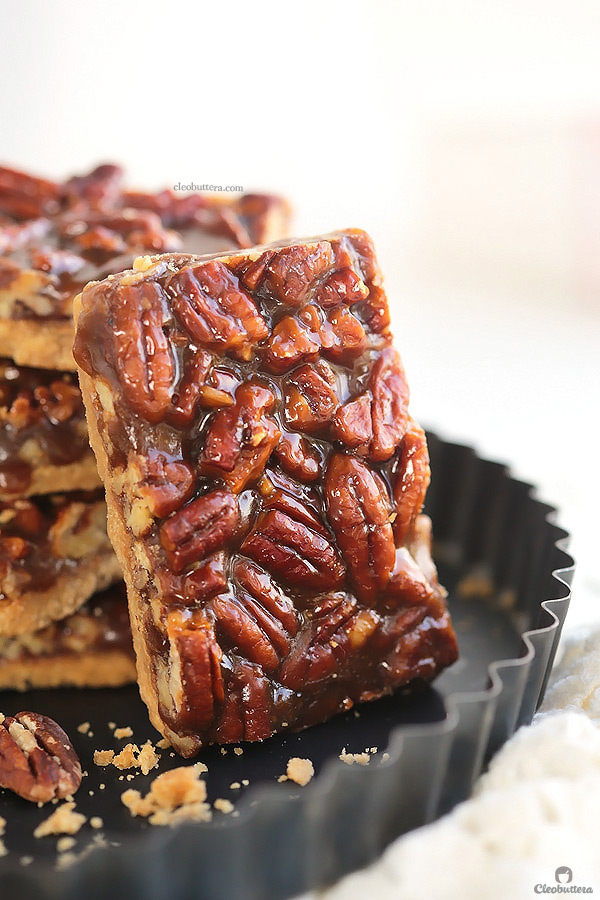 I would've never gotten anywhere near pie pecan of any sort if it wasn't for a dear reader, Nadine, who emailed me last summer, asking if I had a good pecan pie recipe. She grew up on the pecan pie from Loblaws supermarket in Canada, and having lived in Canada myself, she felt I would be able to relate. I told her that I've never had that specific one, but promised to try it during my next trip to Canada so I could come up with something similar. Well, I did go to Canada, but sadly never got the chance to pass by Loblaws. However, while I was waiting in line to pay for a chai tea latte at Second Cup, I spotted very gooey looking pecan bars. I thought to myself…BINGO! Now that would make a good compromise. So I bought it, and then I was fighting my daughter over it.
The bar was so gooey and sweet and crunchy and decadent…just really really good. Amazing actually. I loved it so much that I took pictures of it and immediately made a mental note to myself to attempt a copycat recipe as soon as I fly back to Egypt.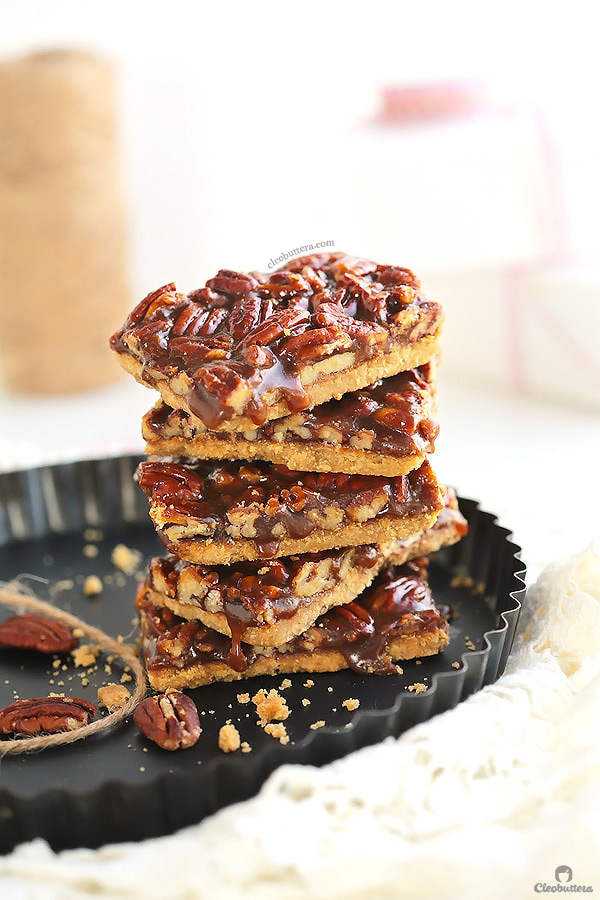 Baking Nerd Alert!
As I was researching recipes, I found 2 types of pecan bar fillings. Both types start with a mixture of brown sugar, melted butter and some kind of liquid sweetener like corn syrup, maple syrup or honey. 1) The first type of filling method, uses eggs, simply gets mixed in a bowl, doesn't get heated before pouring over the crust and more often than not goes with corn syrup for its liquid sweetener. 2) The second filling method, skips the eggs, gets briefly cooked over the stove and uses honey instead of corn syrup. I was wondering what kind of difference that will make in the final outcome…so I had to make both for delicious research purposes and test them side by side.
The filling made with eggs/corn syrup/no heat had a very gooey, pleasantly mushy texture similar to mashed dates. It tastes and feels like a classic pecan pie in bar form, and I suspect that this is the method that Second Cup uses for their bars. The ones made with heating the filling ingredients over the stove, has no eggs and uses honey, had a soft caramel-like texture that pulls and stretches and doesn't feel mushy at all. It tastes a lot more caramel-y with whisps of honey than the egg version and the pecans somehow taste more toasted and pronounced.
My taste testers and I first tried the egg mixture version and we were like: Oh yum! That's so good. Then we proceeded with trying the no-egg, caramel-like version and then we were like: OH MY GOD!!! These are flippin' incredible; the other ones suck! And then we ate some more of it and the other ones were tragically neglected for life.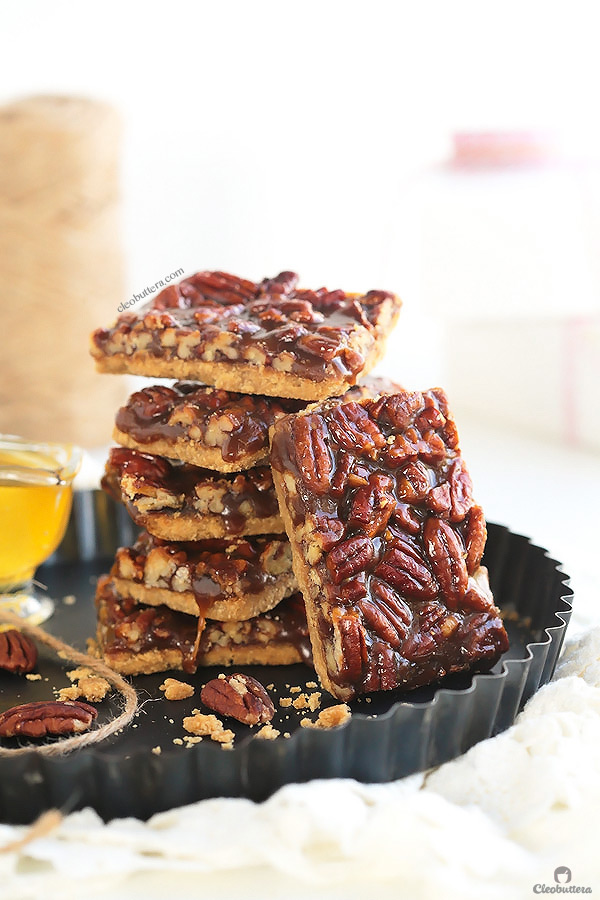 It took very little thought to conclude that the no eggs, honey-infused, caramel-y filling bars reign supreme. And while they might not have the texture of a classic pecan pie nor are they a copycat of Second Cup's, they are simply amazing in their own right. After sinking your teeth into one these, I assure you you'll convert to this type of filling, and you might just not make pecan pie ever again!
They are infinitely easier to make and less time consuming too. No rolling or chilling of pie dough or any of that process.
In fact, the crust starts with an easy brown sugar shortbread dough that you'll simply press in a foil-lined pan. You could use the back of a measuring cup to get it extra smooth, then bake it until golden brown, about 20 minutes.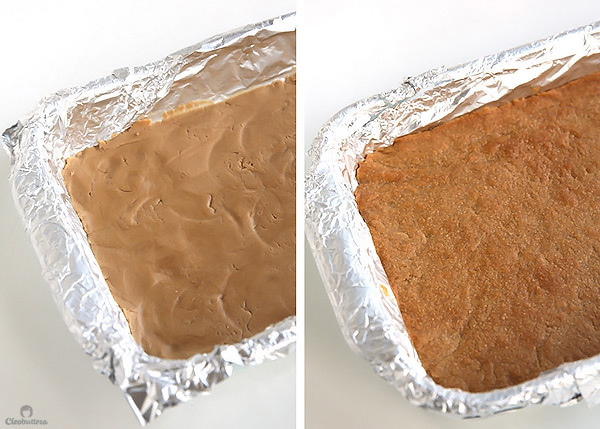 While the crust is in the oven, you'll make this super easy filling by melting together butter, soft brown sugar, honey, a touch of heavy cream and a little salt. Now the honey contributes hints of flavor to the filling which I personally love; it's subtle but detectable. Those who don't know there's honey, won't notice it though. If you don't like the taste of honey or allergic, you could swap it with light corn syrup, which is flavorless, or pure maple syrup.
You're then gonna let your mixture simmer for ONLY 1 minute. More than that and your filling could harden and be candy-like. Immediately after that, you'll stir in the pecans.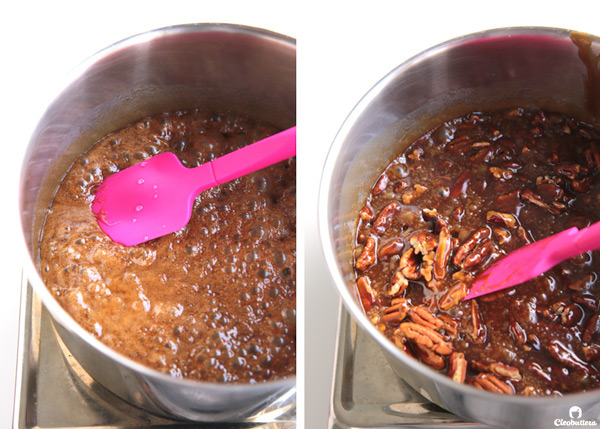 Then, spread it over the baked hot shortbread crust, then back into the oven for another 20 minutes. Don't overbake! You just want the surface to bubble. The filling will still look very liquidy, don't worry, it will set up upon cooling.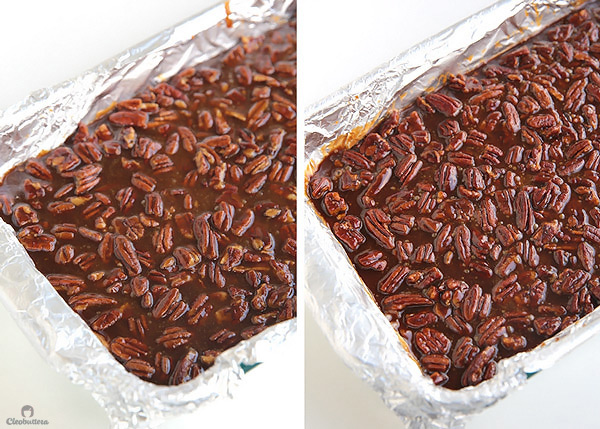 When it has cooled completely in the pan, you'll use the foil overhang to lift the bars out, then cut cut cut. Make them as big or as little as you like, but don't kid yourself you're gonna end up eating 3 little ones instead of 1 big one anyway, so just cut to the chase and make them BIG.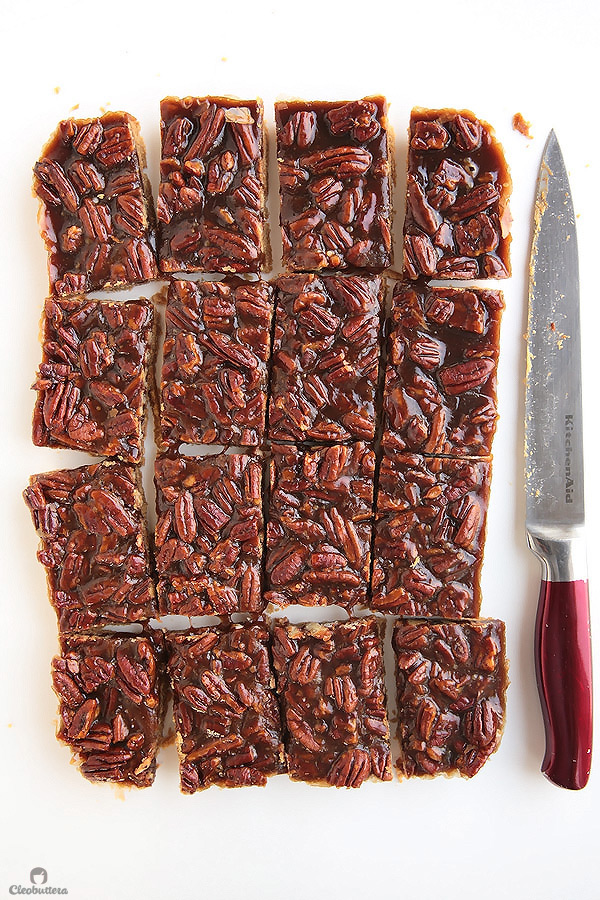 Oh forget it! I'm going for one last bar!!! I hope it stays just ONE.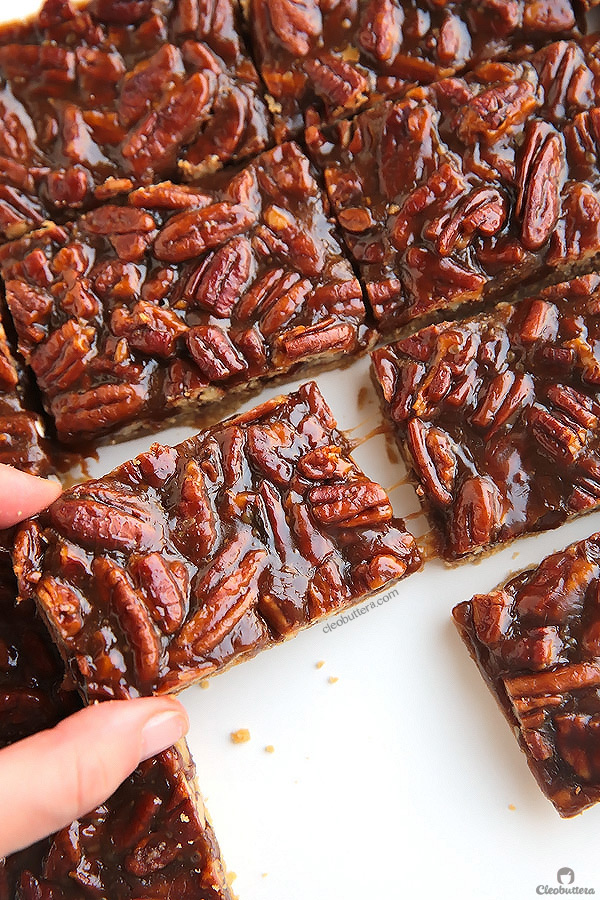 Ok…TWO!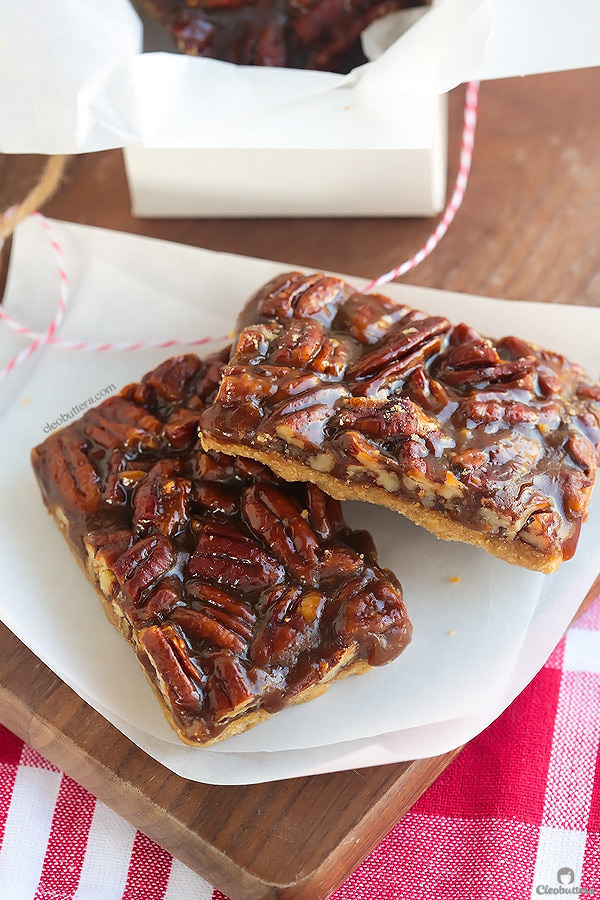 Warning: Get these out of your house fast…FAST!!!
And while you're at it, why don't you wrap 'em up in a cute little box and gift them to people you love, who don't mind living in their stretchy pants.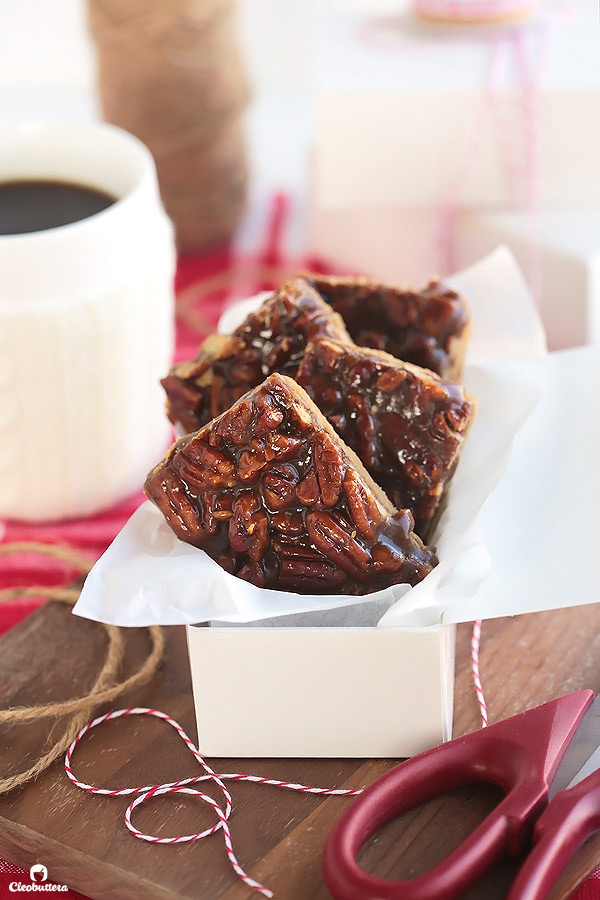 They'll love you even more, but their wardrobe won't.
Spread the Pecan Pie Bars LOVE.
P.S. I have a little video of these bars getting made on my Instagram account and a longer version on my Facebook page. Be sure to check them out.
Yield: 16
Addictive Pecan Pie Bars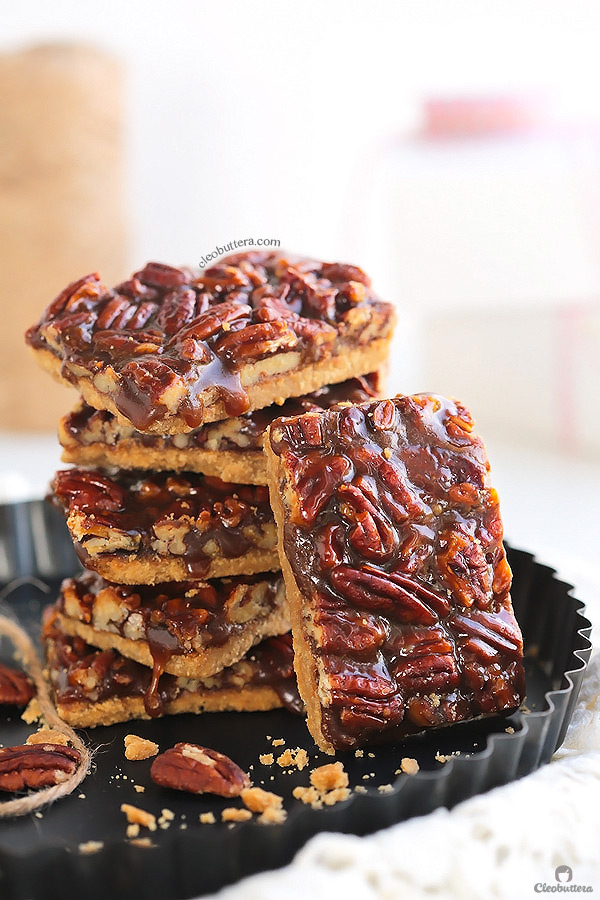 You won't be able to stop eating these! They are so EASY to make and too dangerous to have around. BEST EVER pecan bars!
Ingredients
For the shortbread crust:
3/4 cup (6oz/ 170g) unsalted butter, softened to room temperature
1/2 cup (3 1/2oz/ 99g) packed soft brown sugar (preferably light but dark is fine)
2 cups (8 1/2oz/ 240g) all purpose flour
1/4 teaspoon plus 1/8 teaspoon salt
For the pecan topping:
1/2 cup (4oz/113g) unsalted butter
1 cup (7oz/199g) packed brown sugar (preferably light but dark is fine)
1/3 cup honey (*see not for substitution)
2 tablespoons heavy whipping cream
1/8 teaspoon salt
2 cups (8oz/ 227g) coarsely chopped pecans
Instructions
To make the shortbread crust:
Adjust oven rack to middle position and preheat oven to 350F/180C.
Line a 13 X 9-inch baking dish with a large sheet foil, leaving a two-inch overhang on all sides. Spray foil with a non-stick cooking spray.
In the bowl of a stand mixer fitted with a paddle attachment (or a medium bowl and an electric hand mixer) beat the butter on medium-high speed until soft and ribbon-like; about 1 minute. Add in the brown sugar and salt and beat together until lightened in both texture and color; 3 to 5 minutes.
Turn down the mixer to lowest speed, then gradually add in the flour and mix until dough comes together in crumbles.
Press the dough into the prepared baking dish, then using the back of a measuring cup, smooth out into an even layer.
Bake for 20 minutes, or until golden brown. While the crust bakes, make the pecan filling.
To make the pecan filling:
In a medium saucepan set over medium heat, melt together the butter, brown sugar, honey, heavy cream and salt. Bring mixture to a simmer then allow to simmer for exactly 1 minute. Don't overcook or the filling will be harden and become candy-like instead of soft and stretchy. Stir in the pecans.
To finish:
Take the shortbread crust out of the oven, then pour the pecan mixture over the hot shortbread and spread into an even layer.
Return the baking dish to the oven and bake again until the top is bubbling; 12-18 minutes. Be sure to take it out of the oven as soon as the surface bubbles all over and no just around the edges. If you bake it beyond bubbling, the filling will not be as soft and chewy; so make sure not to overbake. The filling will still look liquidy, but will set up upon cooling.
Allow to cool completely in the pan. If you're in a rush, you could speed up the cooling process by placing the pan in the fridge or freezer. Then, using the foil overhang lift the bars out of the pan and place on a cutting board. Slide the foil from underneath the bars and discard, then cut into 16 bars; 4 rows by 4 rows. Store in an airtight container at room temperature for up to 5 days.
Recipe Notes
The honey contributes hints of flavor to the filling which I love. The honey flavor subtle but detectable. If you don't like the taste of honey, you could swap it with light corn syrup, which is flavorless, or pure maple syrup.
Filling recipe adapted from Just A Taste and Epicurious.
Shortbread recipe slightly adapted from Martha Stewart, reducing its amount to make a slightly thinner crust.
Measurements Note: All recipes of this site have been developed using weight measurements. Although US volume measurements have been included for your convenience, it is highly encouraged that you weigh your ingredients using a kitchen scale to get the best possible results. Due to the sensitive nature of baking, kitchen scales are proven to yield more accurate and consistent results than measuring cups. Enjoy!
This post may contain affiliate links.
All images and content are owned by Cleobuttera® and are copyright protected. Please do not use my images without prior permission. If you would like to republish a recipe, please rewrite it in your own words and link back to the recipe page on my site. Original recipes and creations of this site are intended for personal and home use. Commercial replication or media consumption are only allowed with a written consent and agreement with Cleobuttera owners. Otherwise it is considered a violation of intellectual property. Thank you for respecting and appreciating the amount of time and effort that goes into creating free, unique recipes that make people happy.