Exceptional Tiramisu (Raw Egg-Free, Alcohol-Free)
If you love Tiramisu but hate that it's made with raw eggs, you've hit the solution right here! A surprising addition makes this every bit as delicious as the classic Tiramisu, without any of the raw egg dilemma. It's exceptionally good!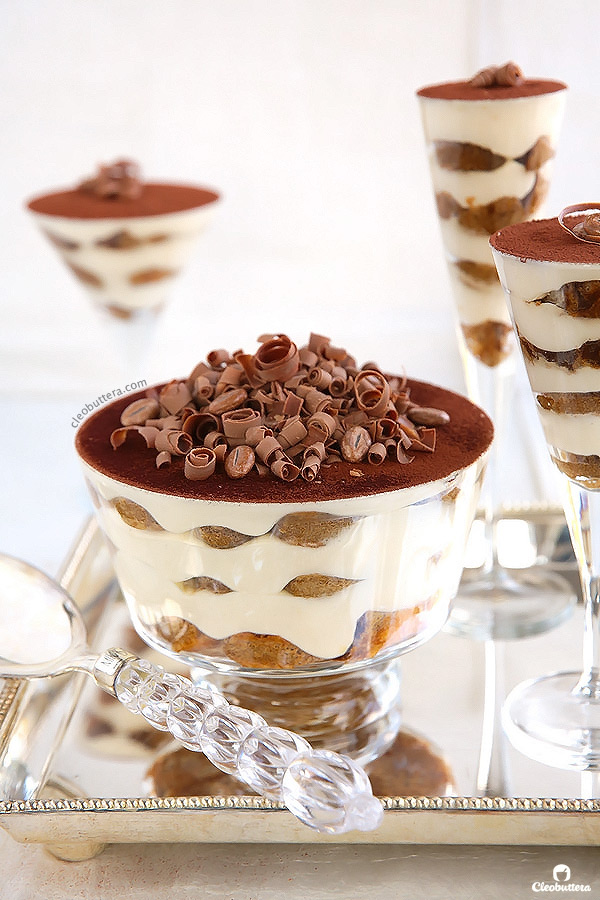 It took me 2 weeks of testing, a kilo of weight gain, a handful of pulled hairs, and an almost lost mind to come up with this recipe.
I had one mission and that is to create a great Tiramisu that is as good as, if not better, than those we find at Italian restaurants, ditching the raw eggs and booze without having to compromise on taste and texture…and boy was that hard!
But I did it! I miraculously nailed a melt-in-your-mouth, perfectly rich and flavorful Tiramisu that might just become your new favorite.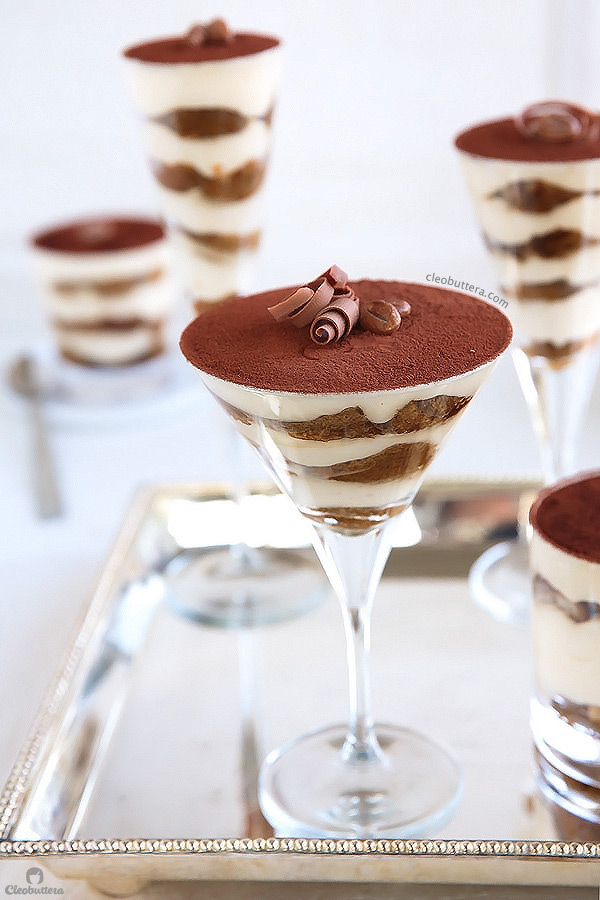 Here is a sample of the responses I got from my taste testers: "I am normally not a Tiramisu person, but after tasting this, I fell in love." "It's a masterpiece!" "It's perfect. I love it because it's not too sweet and the coffee flavor is not too overpowering." "It tastes so light, airy that I could eat half of it myself."
Ok I feel like a cheesy infomercial, rubbing in your face some fake testimonials, but it's true! Word for word. Pinky promise. They were actually texted, so…
To be honest I'm quite proud of this recipe, and yet want to hide in shame from Italians.
I used an unconventional, completely nontraditional, some would call crazy method here that puts me at high risk at getting shunned by Italians. Sorry amici Italiani…I really am. I hope my discovery doesn't offend your decades of Tiramsu-ing, but this method works (for me at least) and its amazing! Maybe even revolutionary.
I would never claim authenticity with my recipe, I wouldn't dare, but I will confidentially declare it darn delicious. And isn't this what matters in the end?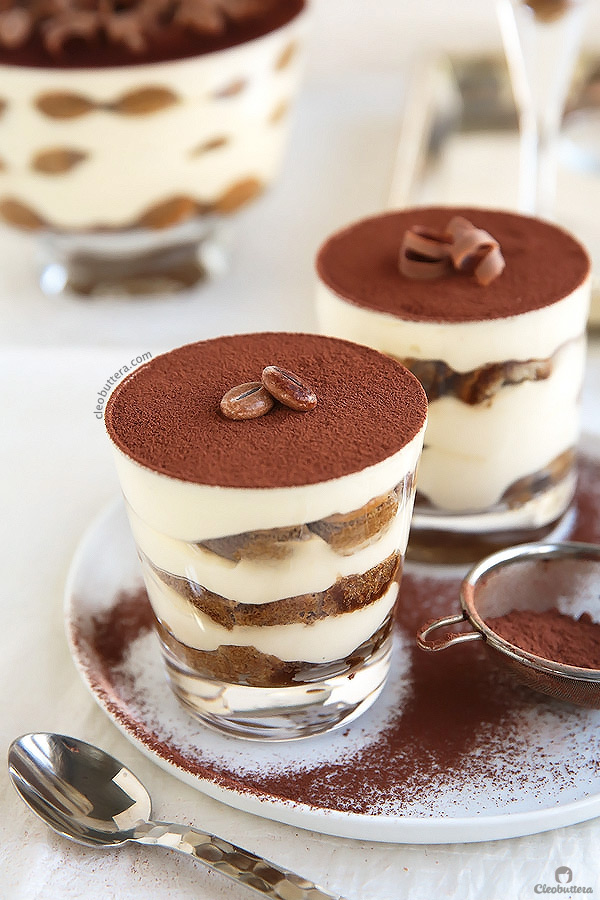 So what's that crazy method/surprising addition/blasphemous secret ingredient that replaces the raw eggs in this Tiramisu you ask?
It's…(gulp)…ok here goes…ahem…wait for it…wait for it…please don't hate meeeeeeee……..ENGLISH-STYLE CUSTARD! Or pudding or pastry cream, whatever you wanna call it; potato potah-to.
Wait!!! Please don't go! I promise I have a very convincing explanation. And it doesn't involve any potatos. Or potah-tos ?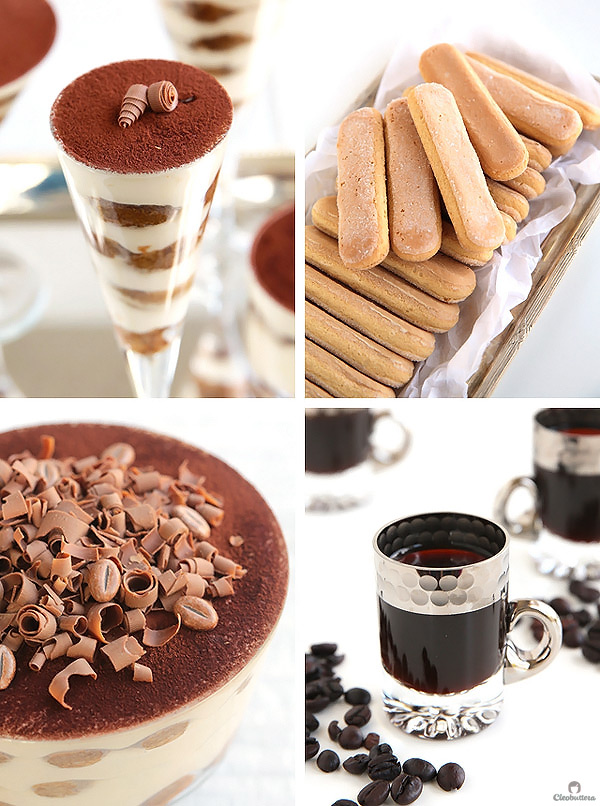 Baking Nerd Alert!
Let's back up a little bit though. Tiramisu is an Italian trifle so ethereal that its title means "pick me up." It consists of ladyfingers (savoiardi biscuits) dipped in espresso and topped with a cloud-like creamy filling made from egg yolks, mascarpone cheese and traditionally marsala, sometimes rum, then gets lightened up with either whipped cream or whipped egg whites, then dusted off with cocoa powder. After the dessert gets sometime to chill in the fridge, the ladyfingers turn into a lovely cake-y texture, the espresso mallows out and all the flavors mature and meld together in perfect harmony. It's truly exquisite when done right.
I had 2 reservations about all this though: the alcohol and raw eggs.
Alcohol, because I personally do not consume alcohol in any way, shape or form. Yup I'm sober 24/7 and would qualify as a designated driver anytime. I'm also pretty sure that alcohol is a concern for many others as well for different reasons, so it's for the greater good that we come up with a good alcohol-free version, amiright?
And raw eggs because they are simply EEEEEWWWWW! They just gross me out and I feel uneasy consuming anything that has it. Except for cookie dough of course; I mean that doesn't even count. Ok and cake batter. But that's just the tiniest lick.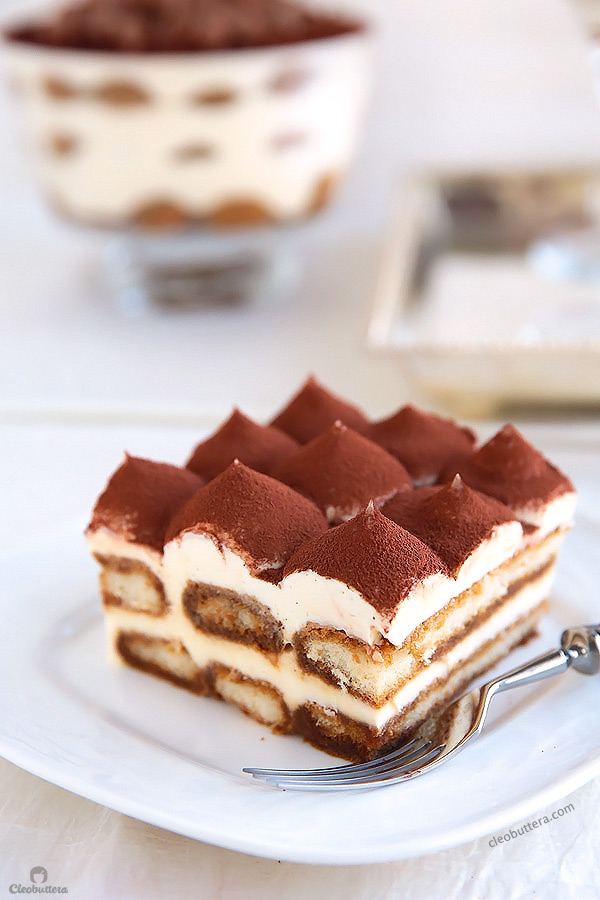 Ditching the booze was easy. I simply accommodated by adding more vanilla to the creamy mixture to add more dimension to it and sugar to the espresso to compensate for the lost sweetness of the marsala.
As for the raw eggs problem, oh my goodness don't even remind me.
First I tried omitting the eggs altogether as suggested by many recipes online, to make what you would call a cheaters Tiramisu. I tried different ratios of mascarpone to whipped cream in several trails. I'm not gonna lie, they were all quite delicious, but being the picky eater that I am, I felt like something was missing that I just can't put my finger on…they just didn't feel right. The Tiramisu tasted kinda flat and lacked depth of flavor. And the texture was creamy yes, but somewhat stiff. It was begging for the egg mixture.
So next I tried another version of a traditional method, using egg yolks and all, but this time the egg yolks and sugar mixture gets heated over a water bath to a temperature which makes them safe to eat. This custardy mixture is referred to as Zabaglione. Well thankfully I managed not to scramble the eggs, which is a problem one could face. Instead, my mascarpone curdled upon adding the cooled zabaglione to it and ended up with a soupy mess. I went with it anyway and folded in the cream, layered and chilled the whole thing and convinced myself, that it all comes down to the taste. The verdict: tasted so eggy and still very soupy. So while it might entirely be my fault, I felt that if it risks that many problems, then it doesn't qualify as a fool-proof recipe. So scratch that method.
At that point, I was so sick of Tiramisu and didn't want to see another one again. So I decided to put it on the back burner and forget about it for a while. Until…until a revelation came knocking on my door.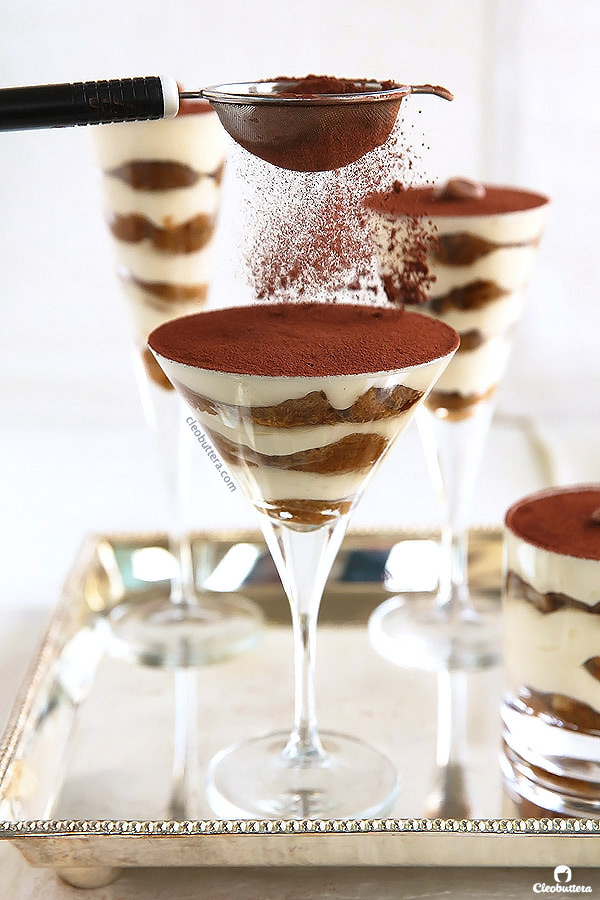 I was minding my own business preparing Magnolia Bakery's Famous Banana Pudding recipe for a get-together, when I had a light bulb moment.
You see the banana pudding is made using instant vanilla pudding mix, that gets lightened up with a ton of whipped cream. It feels so cloud-like and airy and melts in the mouth just like what a Tiramisu filling should be. As soon as I tasted it, I couldn't help but say OH MY GOD…THE ANSWER IS IN THE PUDDING!!!
You see, the eggy mixture of a Tiramisu, the Zabaglione, IS essentially a type of pudding or custard, a finicky one nonetheless. So why don't I substitute it with a British one?! I mean Britain and Italy are friends right? Aaaand it still uses the necessary Zabaglione ingredients like eggs and sugar. Then I'd reduce the whipped cream and sub in some mascarpone cheese instead. BINGO!
I quickly ran to my laptop and did some googling to see if anyone has ever tried it before. Turns out, I'm not the genius I hoped I was. Lady Stephanie of Joy of Baking, did it! Of course she did; she's amazing. And it felt like an extra assurance that I was on the right track. So I adapted her custard recipe as the base of the trifle, and built upon it to create my idea of a perfect Tiramisu.
I almost shed tears of joy when I had my first bite. Success never tasted SO delicious. It was everything I was hoping for. Creamy, rich yet airy, stable and sliceable with the perfect of amount of sweeteness and espresso flavor and just the right amount of cake-iness.
So before I make you fall asleep, and without further adieu, let me introduce you this "crazy" good Tiramisu…
First of, the pudding or custard/pastry cream…whatevs. Don't be scared of it…I promise it's so easy if you follow these simple steps.
You'll begin by heating some milk and sugar in a saucepan until simmering. Meanwhile, you'll combine egg yolks, flour, milk, and sugar and whisk them really well together until you can no longer see any lumps.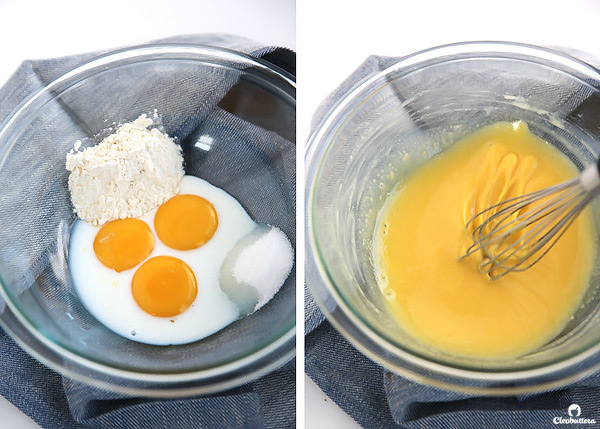 You'll then very slowly and gradually whisk in your hot milk into the egg mixture. Don't pour it all once or you'll get sweet scrambled eggs ?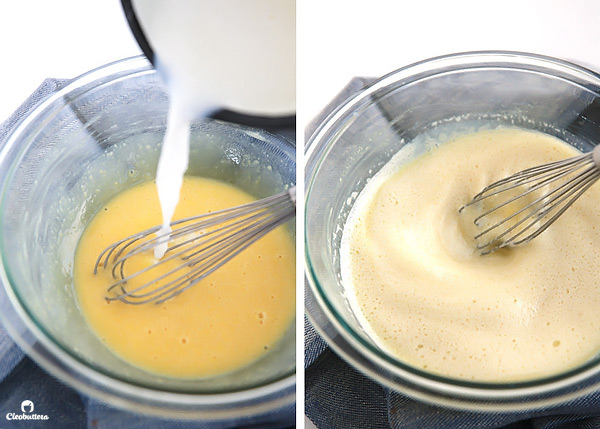 Then pour the mixture back into a clean saucepan and cook it, whisking continuously until bubbles appear over the surface. Continue to cook for a few more seconds until it thickens. Do not over do it though, or again…sweet scrambled eggs! Strain it through a sieve to catch any lumps.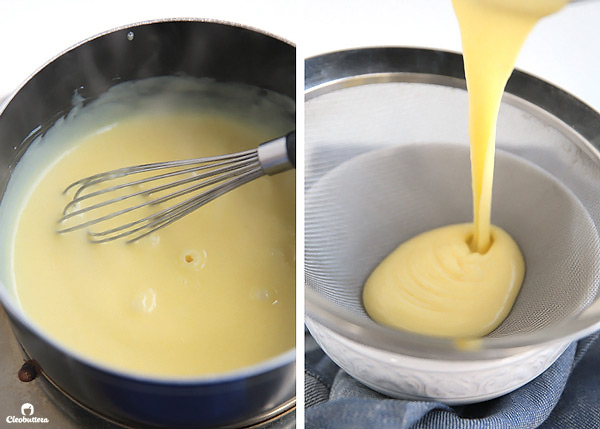 Then whisk in some butter and vanilla. I used a combination of alcohol-free vanilla extract and vanilla bean paste, because vanilla beans are my bae.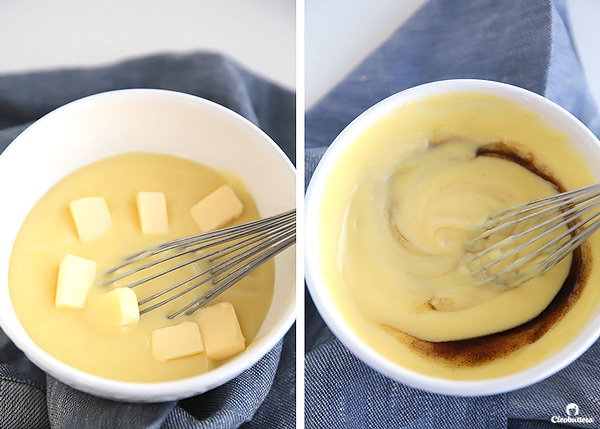 See that was easy! All there's left to do is to refrigerate it until it cools down and thickens some more. Just be sure to cover it with a piece of plastic wrap directly over the surface, to prevent a skin from forming.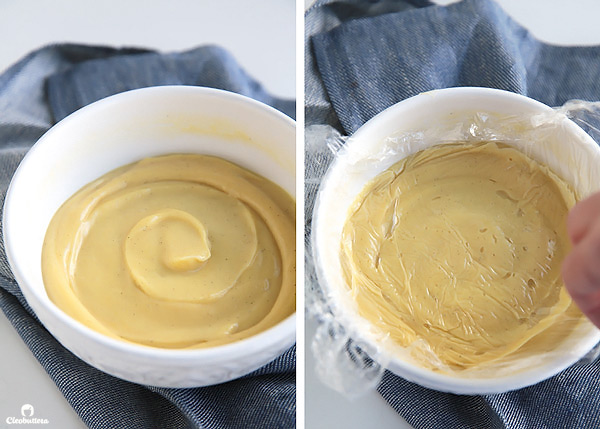 When ready to assemble, you'll whip up some heavy cream with a bit of sugar and more vanilla. Set it aside.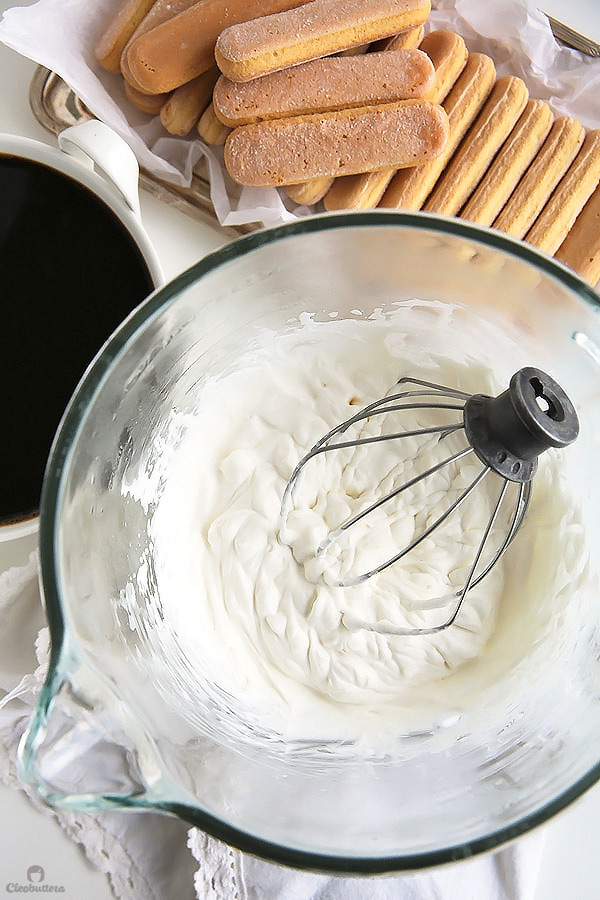 Then you'll take your cooled custard and whisk it in with the mascarpone until extra smooth.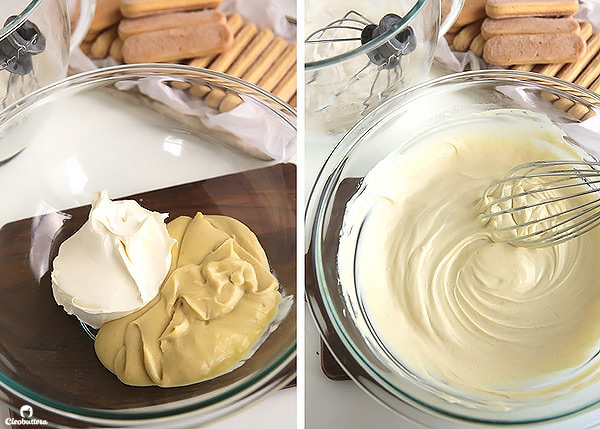 Now let's puff it up with some air in the form of delicious vanilla cream! You'll want to gently fold the whipped cream into the mascarpone/custard mixture until no white streaks remain.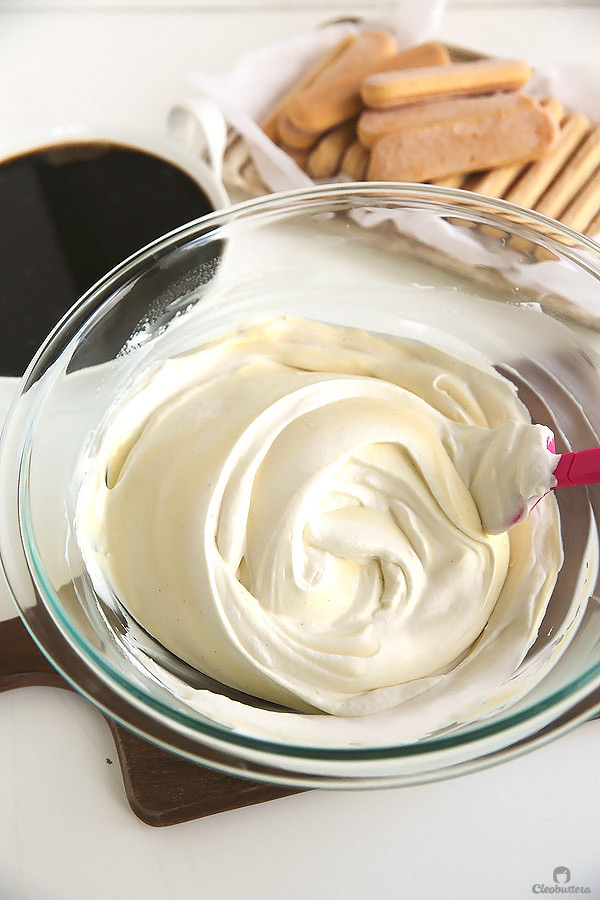 Now comes the part with all the caffeine. You'll give the ladyfingers a quick dip and flip into some cooled espresso, making sure not to submerge it. You'll want it to retain its shape and not turn into mush. If you break it in half, you should be able to see a white center.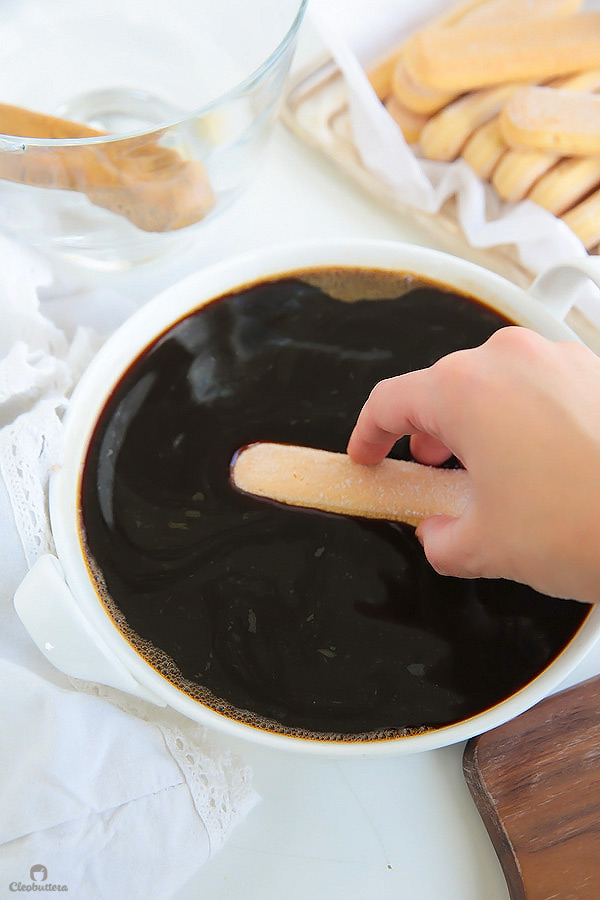 Allow any excess to drip.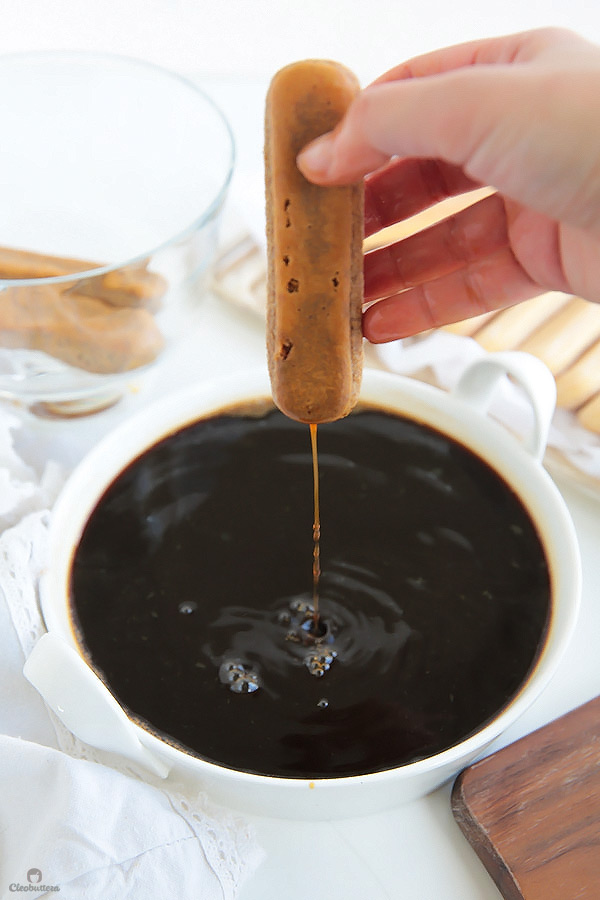 Then arrange in the bottom of your serving platter, breaking or trimming them as needed to fit neatly. Top off with some of that dreamy creamy mixture. See those vanilla bean specks??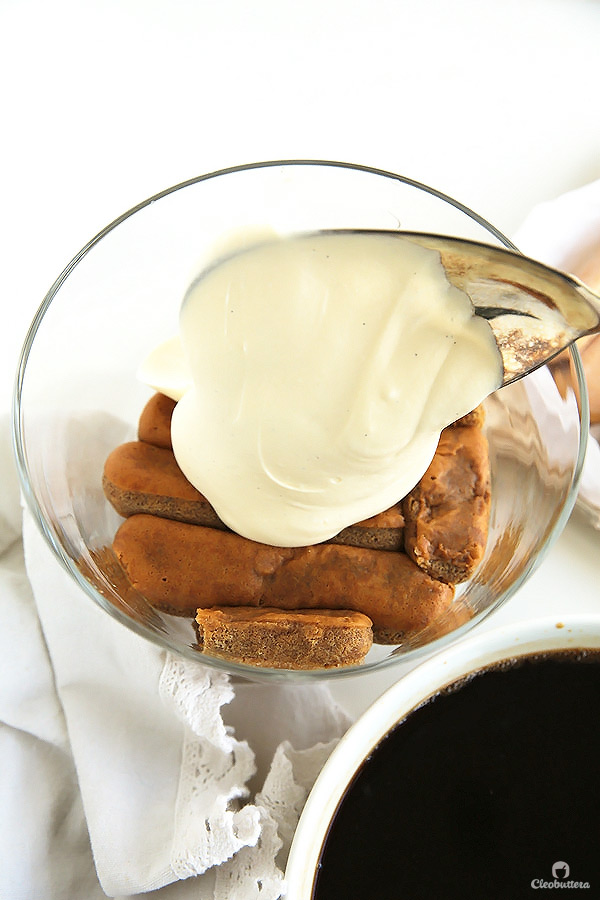 And repeat, alternating between layers of soaked ladyfingers and cream filling, ending with the cream filling.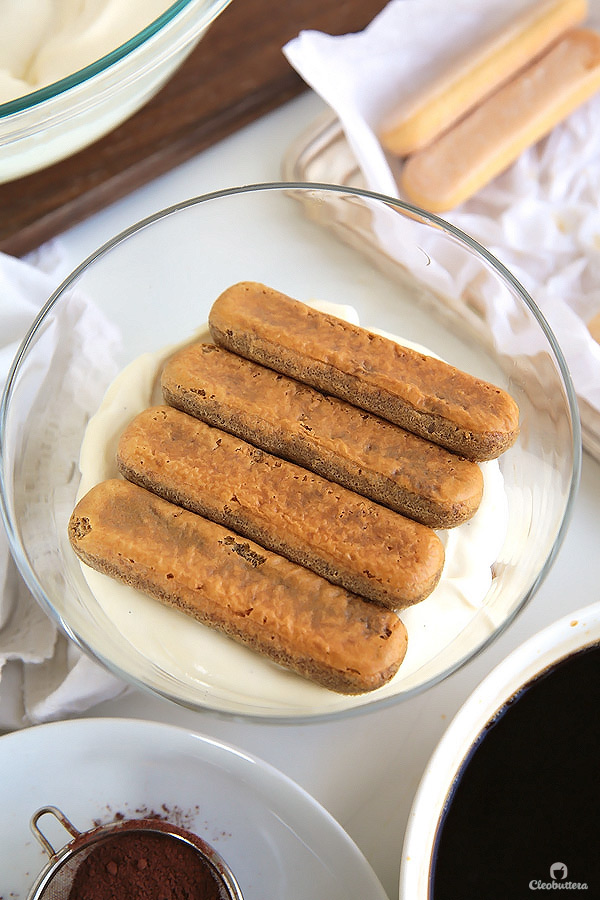 Smooth out the surface using an offset spatula or the back of knife, cover with plastic wrap and into the refrigerator it goes for at least 6 hours. Don't even try before that. Better yet, leave it overnight. This is the perfect make-ahead dessert!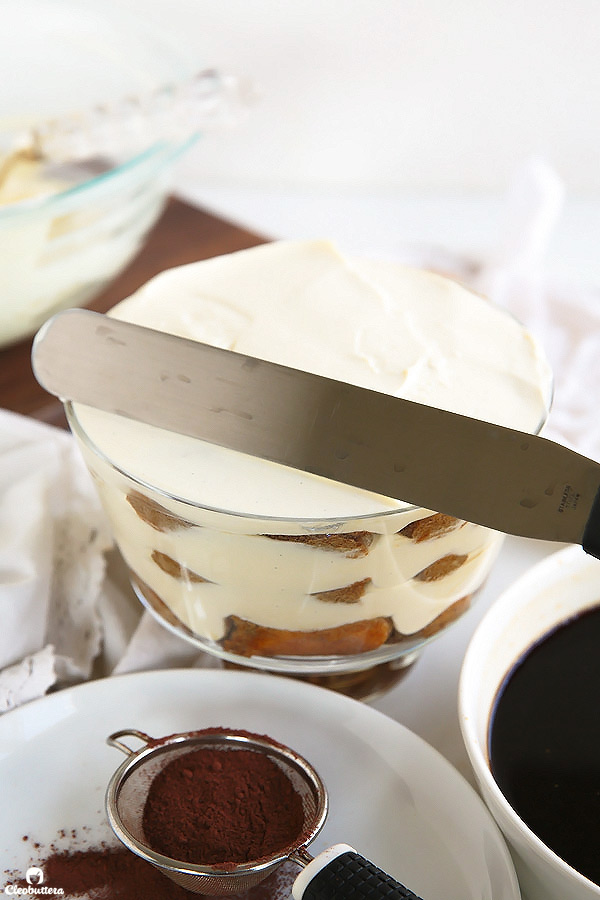 When ready to serve, puff puff puff with some cocoa powder.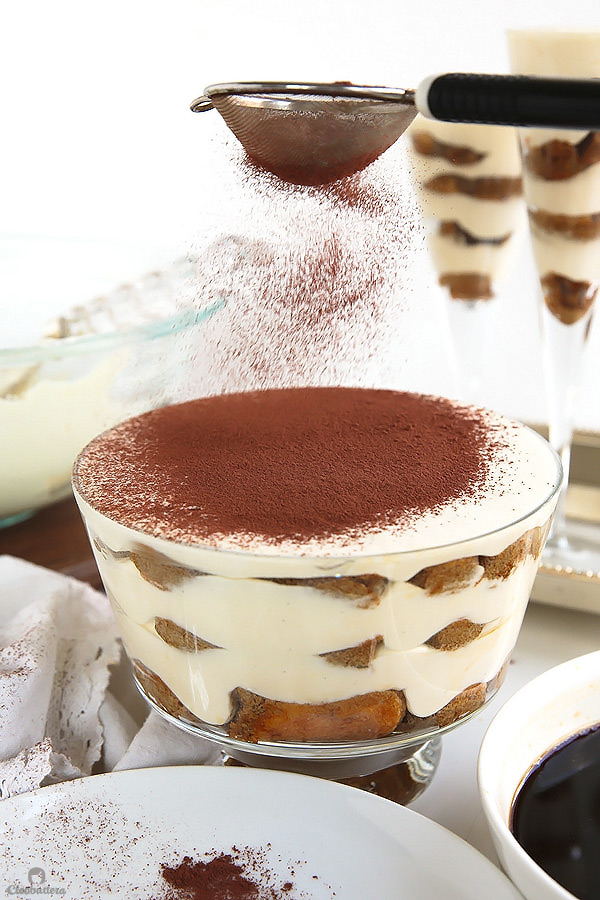 A few curls of the best kind…chocolate and some chocolate covered coffee beans, if you like.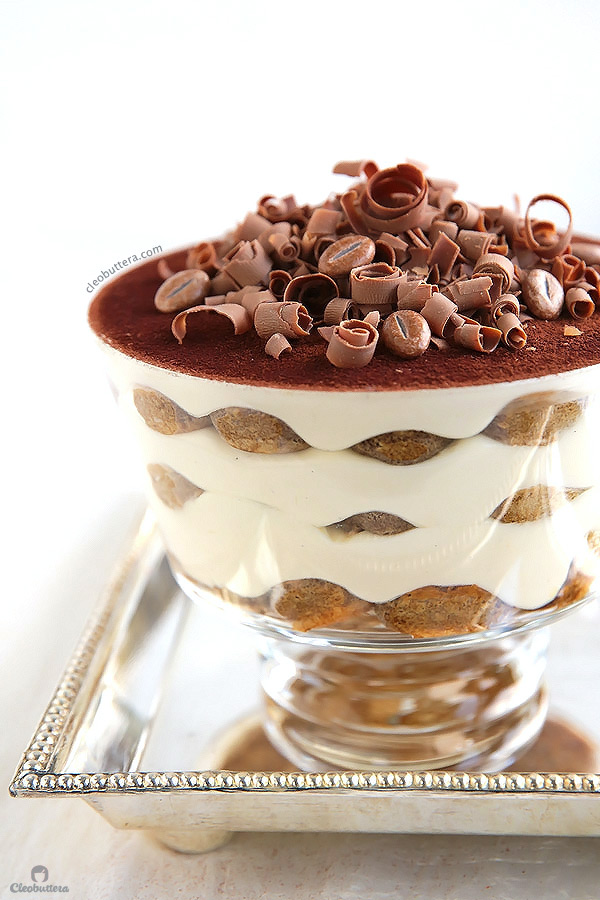 I used the smallest ever trifle bowl (1 quart!!) because I couldn't resist the cuteness, but also to be able to show you other serving suggestions with the leftover components. I had enough leftover for these 3 tall glasses. I might not drink alcohol, but that doesn't mean I can't have a fancy martini glass for my dessert ?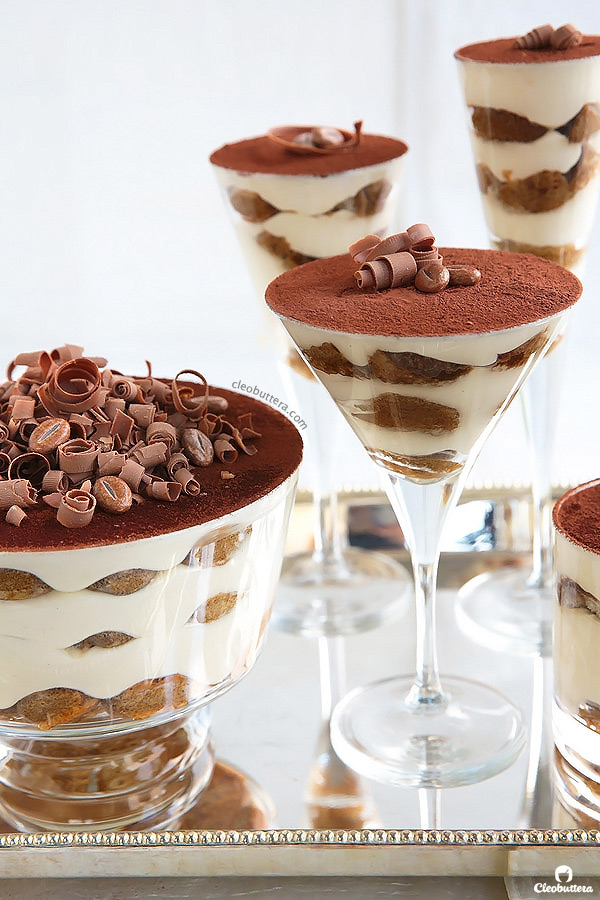 Or keep it nice and simple with a humble short cup. Still pretty.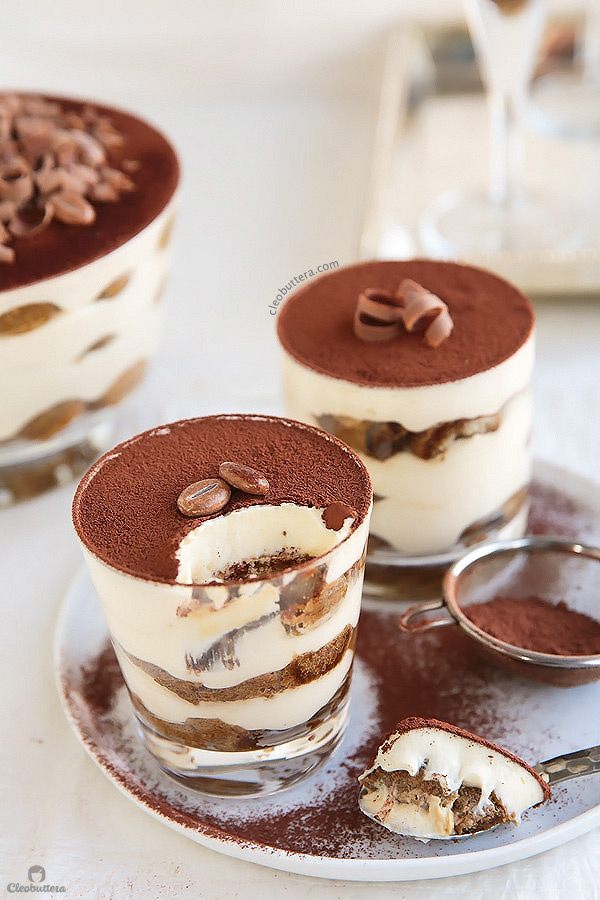 And this is what it will look like if you make it an 8X8 inch baking dish. Just pipe the cream filling into Hershey's Kiss shaped dollops and you have yourself a stunner.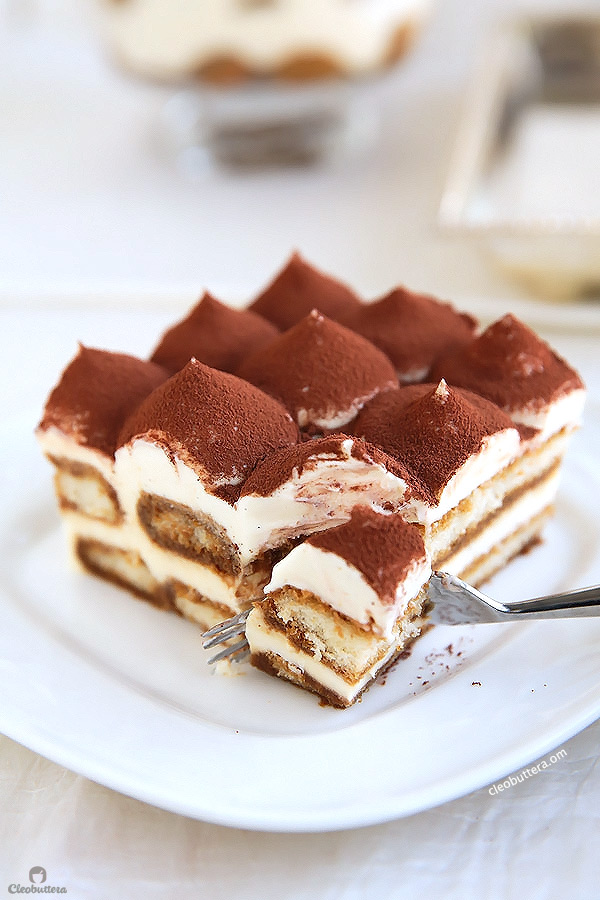 Creamy, stable, no eggy taste, full of flavor, kid, elderly and pregnant-safe…what more could you want from a Tiramisu?
It's truly exceptional.
Yield: 1 (8X8 inch) baking dish OR 2-quart trifle bowl OR about 8 individual glasses (*see note for doubling the recipe)
Exceptional Tiramisu (Raw Egg-Free, Alcohol-Free)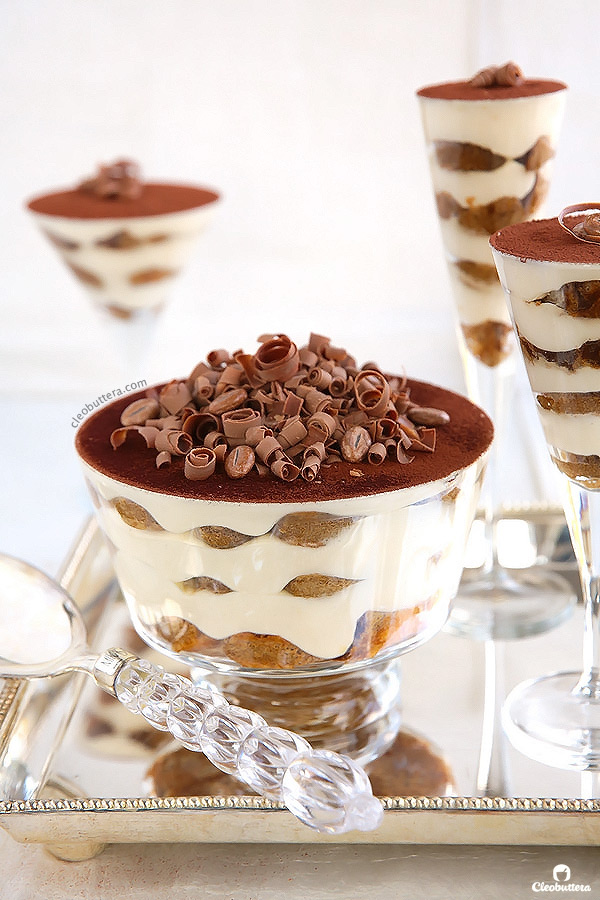 Please note that the Tiramisu needs at least 6 hours and up to 24 hours of refrigeration to allow enough time for the ladyfingers to soften into a cake-y layer and for the flavors to meld well together. It is recommended to make the dessert a day in advance.
Prep Time 40 minutes
Cook Time 5 minutes
Additional Time 6 hours
Total Time 6 hours 45 minutes
Ingredients
For the custard base:
1 cup milk, divided
1/4 cup plus 2 tablespoons (2 2/3oz/ 75g) granulated sugar, divided
2 tablespoons (2/3oz/ 17 1/2g) all purpose flour
3 large egg yolks
2 tablespoons (1oz/ 28g) unsalted butter, cut into small pieces
2 teaspoons vanilla extract (or 1 teaspoon vanilla extract plus 1 teaspoon vanilla bean paste)
For the cream filling:
1 recipe custard base (ingredients above & recipe below)
1 cup (8 3/4oz/ 250g) mascarpone cheese, cold
1 cup heavy whipping cream, cold
1/4 cup granulated sugar
1 teaspoon vanilla extract
For the espresso soaking syrup:
1 1/2 cups freshly brewed hot espresso (or 3 tablespoon instant espresso dissolved in 1 1/2 cups hot water) *see note for substitution
3 tablespoons granulated sugar
For the cake-y layer:
About 24 crisp Ladyfinger (Savoiardi biscuits) (7oz/ 200g), more or less depending on their size
For garnish:
1 to 2 tablespoon unsweetened cocoa powder, for dusting over surface
Plain chocolate of your choice, for making curls to garnish (optional)
Plain or chocolate covered coffee beans, for garnish (optional)
Instructions
To make the custard base: (could be prepared 1 day in advance)
In a small saucepan, combine together 3/4 cup plus 2 tablespoons of the milk and 1/4 cup (50 g) of the sugar. Place over medium heat and bring the mixture to a simmer, stirring occasionally. Remove from heat as soon as bubbles appear on the surface.
Meanwhile, in a heatproof medium bowl, whisk together the remaining 2 tablespoons of milk, 2 tablespoons (25 g) of sugar, flour, and egg yolks until very smooth and no lumps remain. When the milk mixture comes to a simmer, gradually whisk it into the egg yolk mixture, in a thin and steady stream, pouring with one hand and whisking with the other.
Transfer this mixture into a clean medium saucepan and cook over medium heat, whisking constantly, until bubbles appear at the surface. Continue cooking for about 10 more seconds until the mixture thickens. DO NOT OVERCOOK IT. Immediately remove from heat and strain into a medium bowl. (This will remove any lumps that may have formed.)
Whisk in the butter and vanilla extract and/or vanilla bean paste if using. Immediately cover the surface of the custard with plastic wrap to prevent a crust from forming. Refrigerate until thick and cold, about 1 hour or overnight. A freezer maybe used for quicker chilling. Meanwhile, prepare the espresso soaking liquid.
To make the espresso soaking liquid:
Whisk the sugar into the hot espresso until dissolved. Pour into a medium shallow bowl and set aside to cool to room temperature. You could refrigerate it to speed up the cooling process.
When both the custard base and espresso mixture have sufficiently cooled, it's time to prepare the cream filling.
To make the cream filling:
In a stand mixer bowl fitted with the whisk attachment (or a bowl and an electric hand mixer) (*preferably chilled; see note for tip!), combine the heavy whipping cream, 1/4 cup sugar and vanilla extract and beat at medium speed until frothy. Increase speed to high and continue to beat until cream holds stiff peaks. Set aside.
In a large bowl, using a hand whisk, combine together the cooled custard base and the mascarpone cheese until smooth, uniform and no lumps remain.
Using a rubber spatula, gently fold the whipped cream into the mascarpone mixture until no white streaks remain. Set mascarpone mixture aside.
To assemble the Tiramisu:
To make in an 8X8 inch baking pan: Working with one ladyfinger at a time, quickly dip, roll, remove 12 ladyfingers in the coffee mixture; letting excess drip. Place them, side by side, in a single layer onto the bottom of the pan. (Do not submerge ladyfingers into coffee mixture; entire process should take no longer than 2 seconds for each cookie. Cookies should be able to hold their shape well and NOT turn into mush) Arrange soaked cookies in a single layer in baking dish, breaking or trimming ladyfingers as needed to fit neatly into dish.
Spread half of the mascarpone mixture over the ladyfingers, and use a rubber spatula to spread mixture to sides and into corners of dish and smooth surface.
Repeat dipping and arrangement of ladyfingers; spread remaining mascarpone mixture over ladyfingers. Use an offset spatula or the back of a knife to smooth out surface. If you want, you could pipe some domes of cream, using a large round tip all over the surface.
Cover tightly with plastic wrap and refrigerate for at least 6 hours, preferably overnight.
To serve, remove plastic wrap and using a sieve dust the surface with cocoa powder. (*see note) If desired, used a vegetable peeler to grate the chocolate to make chocolate curls. Sprinkle them over the top of the Tiramisu. Add a few plain or chocolate covered coffee beans over the chocolate curls, if you like.
To make in a trifle bowl: Repeat steps 1 through 3 of dipping, arranging ladyfingers and topping with the mascarpone mixture, dividing the amounts over 3 alternating layers, instead of 2, ending with the cream filling. Proceed with steps 4 through 5 of refrigeration and garnishing.
To make in individual glasses: Break each ladyfinger into 2 to 4 pieces, dip into the espresso and place enough pieces to cover the bottom of the glass. Dollop about 2 to 3 tablespoons of the mascarpone mixture over the soaked ladyfinger pieces; more or less depending on how much cream you like. Repeat with layering ladyfingers and cream filling, ending with the cream, creating 2 to 4 layers in total, depending on how tall your glass is. For this type of serving, you might need fewer ladyfingers than what the recipe suggests. Smooth out the cream filling on the surface of the glass, then follow steps 4 through 5 of refrigeration and garnishing.
Recipe Notes
This recipe could be doubled to serve more people. It will fill either a 9X13 inch baking pan, 4-quart trifle bowl or about 16 individual glasses depending on their size.
Although espresso is preferred in this recipe, due to its strong yet rounded flavor that marries beautifully with the cream filling, coffee maybe be substituted if you must. Use freshly brewed strong coffee or 3 tablespoons instant coffee granules (like Nescafe) dissolved in 1 1/2 cups hot water instead of the espresso. I used Nescafe brand instant espresso powder (not coffee) and loved the results.
Italian mascarpone cheese is traditional to making a classic Tiramisu and actually doesn't taste like cheese at all. It is essentially not a cheese, but rather a type of clotted cream. It is highly recommend to stick to it for the most authentic taste and texture, but could be substituted with full fat cream cheese if you absolutely must. Taste will be different but still delicious. Mascarpone cheese could be found in the international cheese section of most supermarkets. I get mine from here, as well as the Ladyfingers.
For the fasted and most successful way to whip cream, freeze the bowl and whisk attachment for 10 minutes until very cold.
You could dust the cocoa powder over the cream filling before covering and refrigerating the Tiramisu instead of after. This allows the cocoa flavor to meld more into the dessert but it will look slightly damp. The other method of sprinkling after refrigerating (as shown in the photos), looks more appealing but won't have time for the flavors to meld. You call!
Recipe is a Cleobuttera Original.
Custard base slightly adapted from Joy of Baking.
Measurements Note: All recipes of this site have been developed using weight measurements. Although US volume measurements have been included for your convenience, it is highly encouraged that you weigh your ingredients using a kitchen scale to get the best possible results. Due to the sensitive nature of baking, kitchen scales are proven to yield more accurate and consistent results than measuring cups. Enjoy!
This post may contain affiliate links.
All images and content are owned by Cleobuttera® and are copyright protected. Please do not use my images without prior permission. If you would like to republish a recipe, please rewrite it in your own words and link back to the recipe page on my site. Original recipes and creations of this site are intended for personal and home use. Commercial replication or media consumption are only allowed with a written consent and agreement with Cleobuttera owners. Otherwise it is considered a violation of intellectual property. Thank you for respecting and appreciating the amount of time and effort that goes into creating free, unique recipes that make people happy.