A Great Red Velvet Cupcake…Finally!
This red velvet cupcake recipe took years to perfect & the result is everything you can hope for! Soft and tender with a velvety texture, and super flavorful with tangy notes and sweet vanilla that's been kissed with cocoa. A cloud of not too-sweet, whipped cream cheese frosting takes it over the top. It's a winner!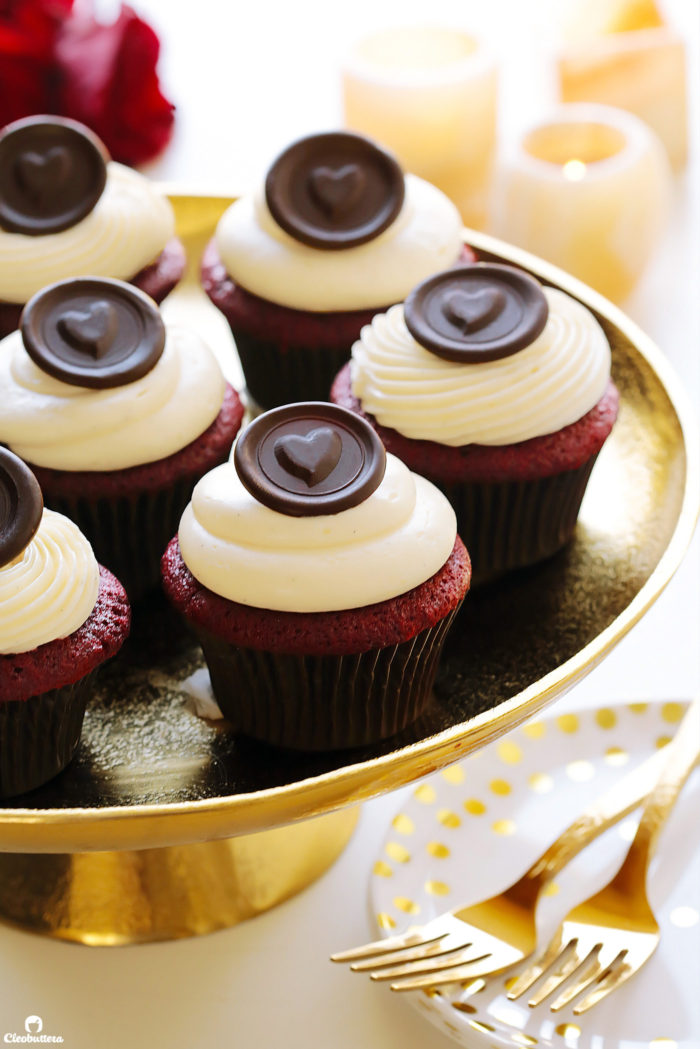 Four years.
Over 25 different recipes.
More than 50 trials.
At least 18oz (512g) of red food coloring.
Around 400 cupcake liners.
Two forever red-stained t-shirts, a few extra centimeters around the waist and a semi-fried brain, is what it took to come up with a red velvet cupcake recipe GREAT enough to share.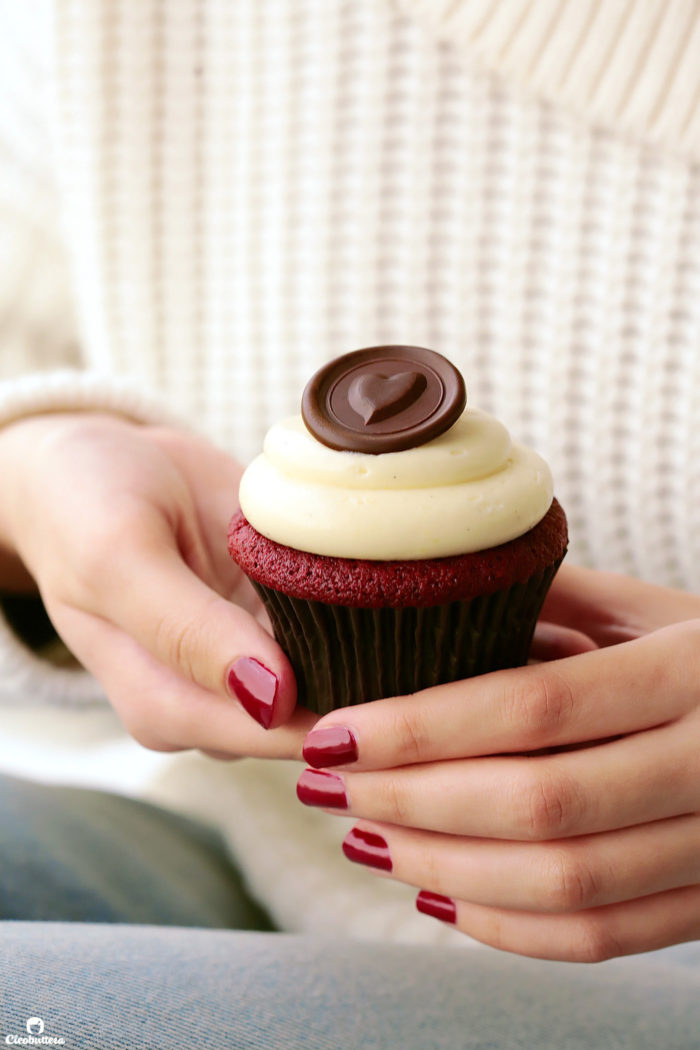 Every year for the past 4 years, around Valentine's Day, I strap on my apron, bust out my mixer, lay down the cookbooks, print out recipes and take a ton of notes, with one mission in mind: Finding the "best" red velvet cupcake/cake to ever exist. 'Tis the season of red velvet after all, and even with the high demand for a recipe, I knew I couldn't just give you an okay one.
So I'd keep testing until the 14th of Feb rolls by, then take the righteous decision to stop…move on, and revisit it the next year. And so the wait kept getting longer.
The perfect red velvet cupcake didn't just land in my hands as easy as I thought it would. I tested, retested, tweaked, and eaten more red velvets than is humanely possible. From famous bakeries' "secret" recipes, to the most popular and highest rated ones by celebrity chefs, bloggers and renowned websites. If it's out there, then I've most likely tried it.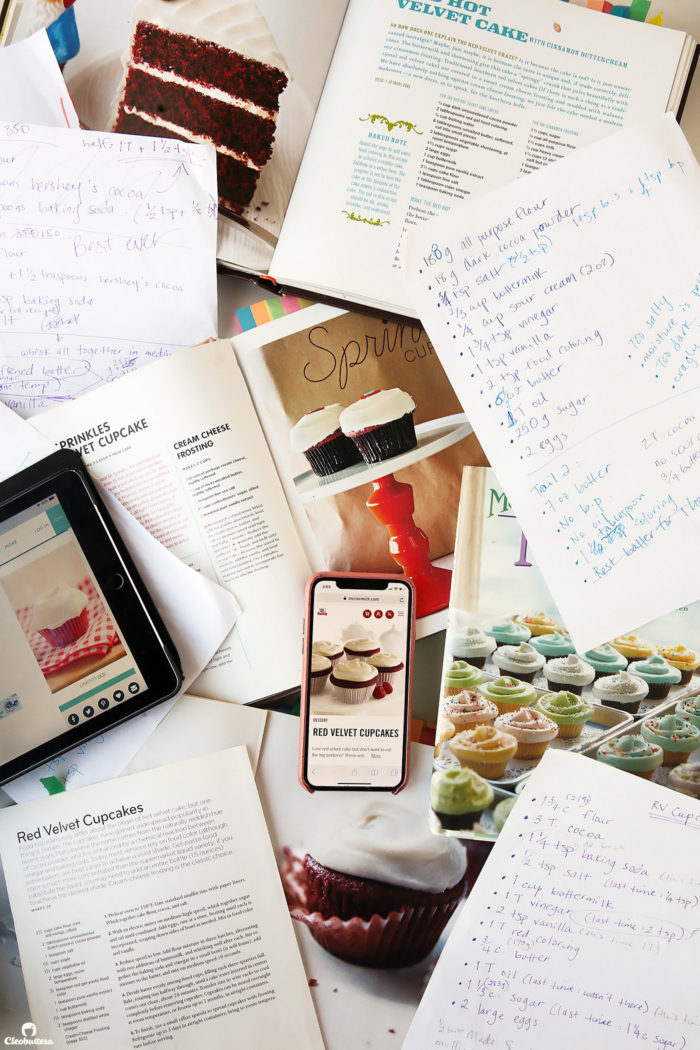 Some were pretty good, I must say. But between the good, bad, and ugly, most red velvets I've tried, had left me unimpressed and questioning the hype.
With issues ranging from dry texture to greasy crumbs, lacking flavor or tasting like…play-doh? I've came to the harsh realization that they're mostly just a vehicle for cream cheese frosting than anything else. So if someone doesn't like cream cheese frosting, chances are there's nothing this cake can do for them. Which is a disappointment since its such a pretty cake.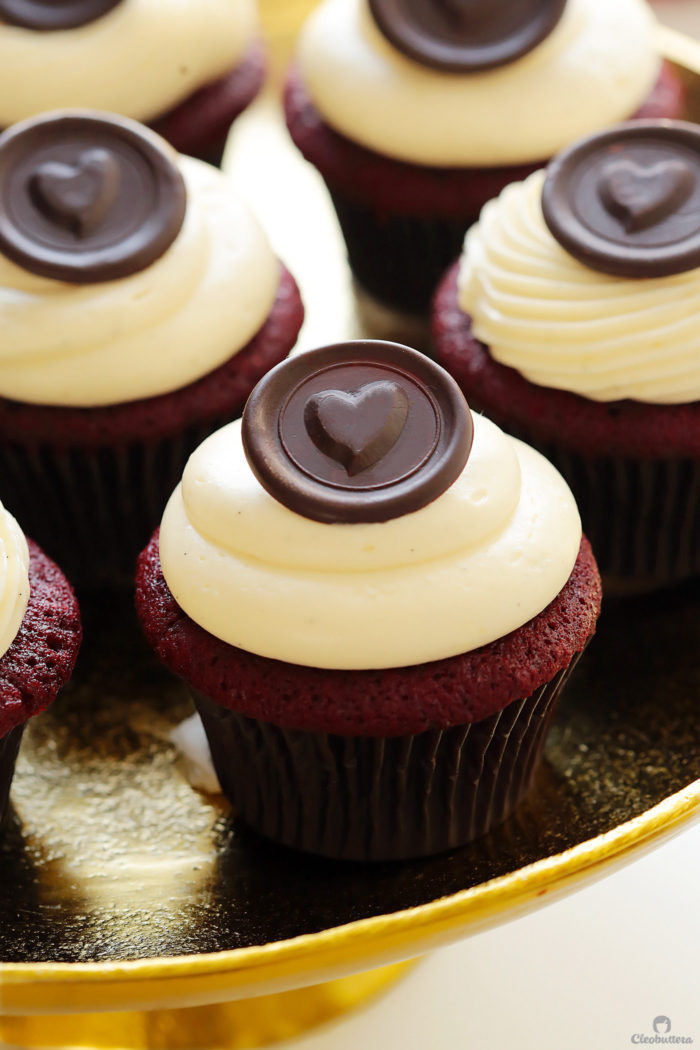 But I was convinced that there had to be more beyond that enchanting shade of lipstick red that people seem to gush over.
I mean…tangy buttermilk vanilla cake with a light kiss of cocoa and a velvety texture sounds pretty amazing, and if made correctly… dang delicious!
Like the one at Sprinkles! Have you had it before? If you know, you know.
Their red velvet is unparalleled and its not hard to see why it's their bestseller. The fact that it has actual flavor and not just sweet nothingness hiding behind a gorgeous color and a cap of frosting, restores my faith in red velvet cake. It is the only red velvet cupcake/cake I've came to love, and I've had so many from all over.
So with the reaffirmed conviction that red velvet can actually be tasty…I placed Sprinkles Red Velvet as a benchmark and went to work.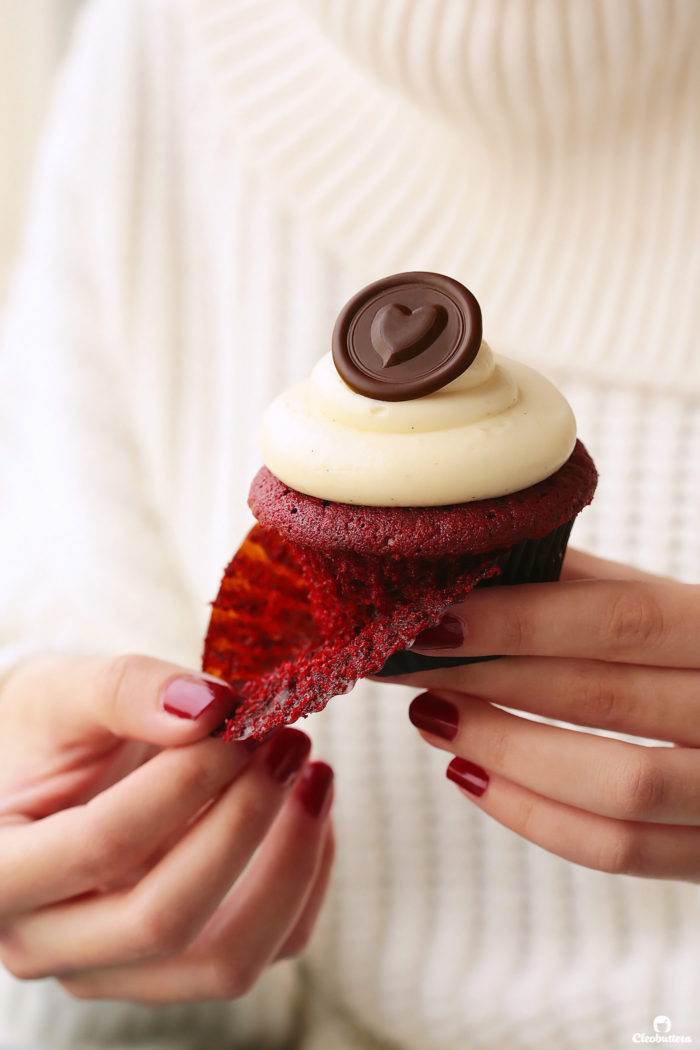 I even bought The Sprinkles Baking Book as soon as it was released just for the famed recipe, but was pretty bummed that it baked up no where near as good as the bakery's. It was drier and not quite the right flavor (reviewers would agree), but somewhat close, and a good starting point prone to tweaking.
I tinkered so much with the original recipe, that I ended up almost changing it into a completely new one that I feel pretty confident to say…is pretty darn incredible and the best I have come across. It's not a Sprinkles' clone, but one that can go head to head with it.
It is thee Red Velvet Cupcake recipe you'll want up your sleeve and one that is sure to wow even the non-fans!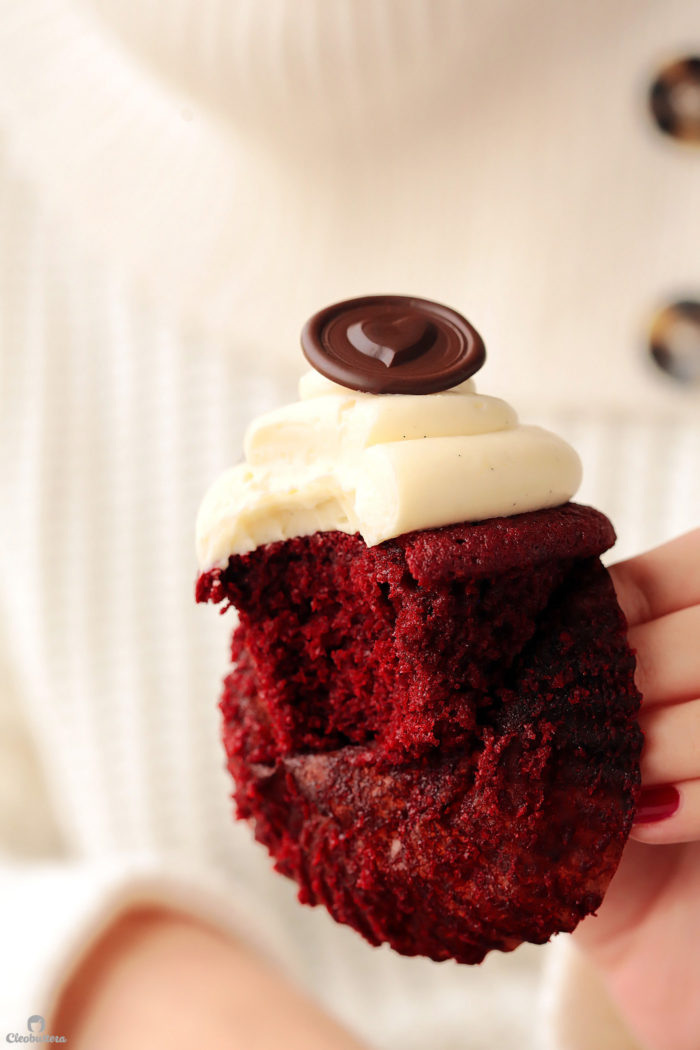 These red velvet cupcakes are…
Melt-in-the-mouth soft, with a tender, velvety crumb.
Insanely mmmmmoist (sorry if you hate this word, but there's no better way to describe it).
Impossibly buttery.
Super flavorful with noticeable tangy notes, a lovely light chocolate complexity and a sweet vanilla taste.
Crowned with a cloud-like, whipped vanilla cream cheese frosting, that is not overly sweet.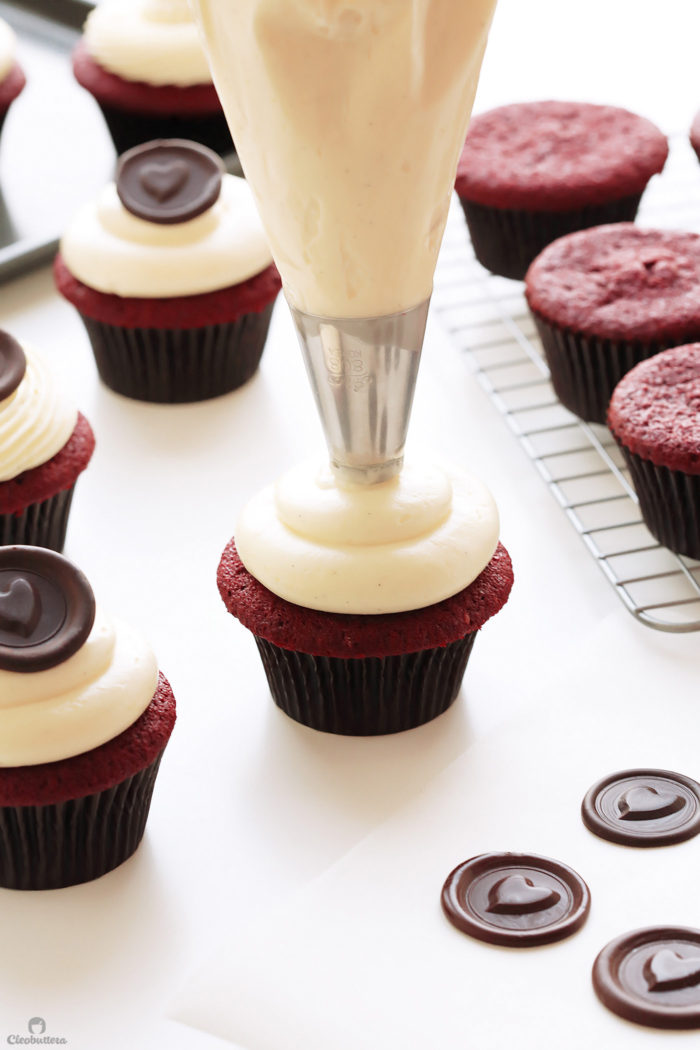 I'm typically more of a cake than frosting person, and I'm not necessarily a cream cheese frosting fan, but oh my goodness, this frosting is in a league of it's own. I could not have enough of it. It is undoubtfully the best cream cheese frosting I've ever had and I think you'll agree.
Whipping the heck out of it, makes it so airy and fluffy; it's almost like a richer version of whipped cream. Unlike most recipes out there, it's juuuust sweet enough, by keeping the sugar amount at bay.
A special mixing technique that I'll explain later, keeps it nice and stable, which makes it perfect for piping and garnishing with your favorite topper.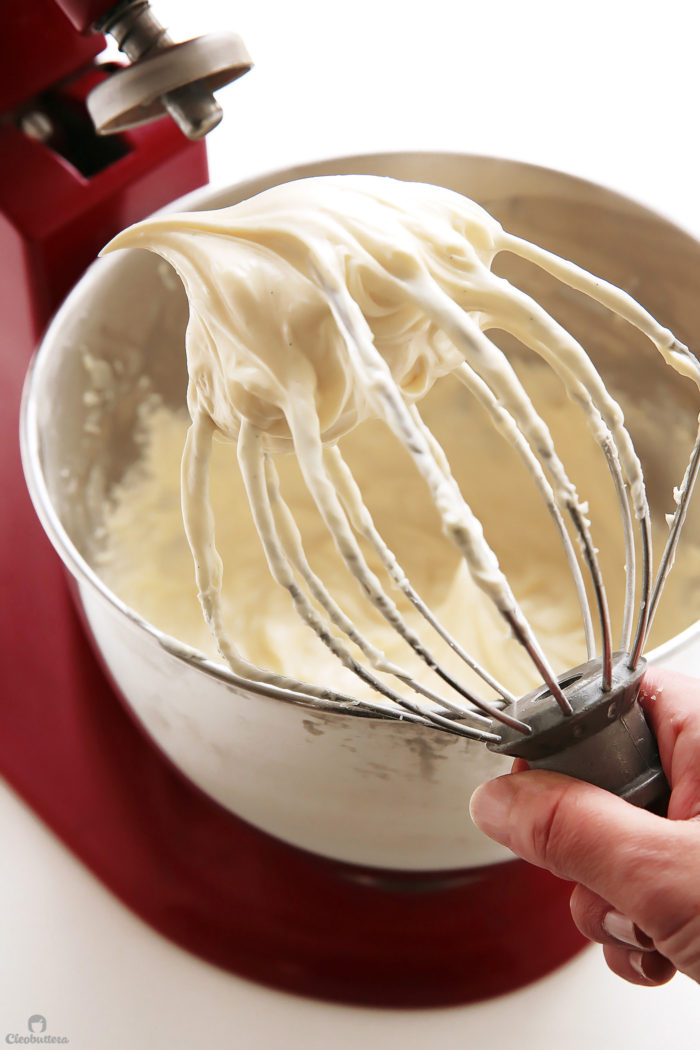 Speaking of toppers, the moment I remembered these gorgeous chocolate wax seals over at Sprinkle Bakes, I couldn't resist but ditch the red fondant hearts I had originally planned for, for heart stamped seals. They were somewhat tedious to make and require a special stamp, but they were definitely worth it in the end.
I'll go into detail on how to make them further in the post, but for now…let's discuss the cake portion of the recipe.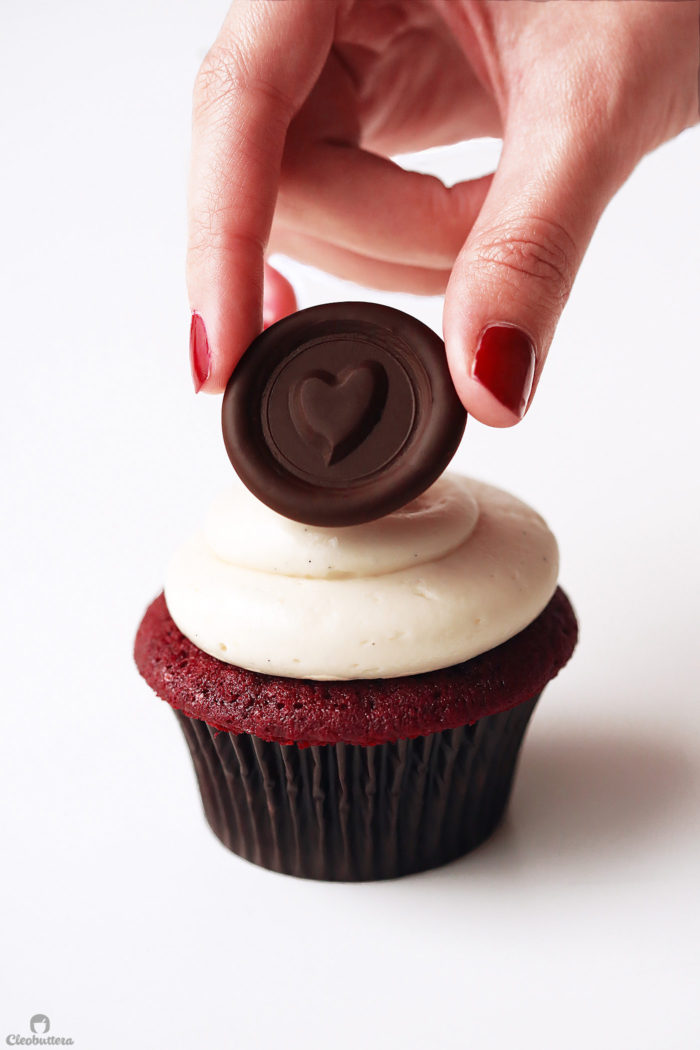 What makes these red velvet cupcakes so good?
A generous amount of butter. The ratio of butter to dry ingredients is out of wack here! This is no diet food. It not only keeps the cupcakes so soft and moist, but it adds a rich buttery flavor that oil-based recipes lack. There's no doubt that oil makes cakes so moist, but its flavor falls flat. It works wonderfully for heavily flavored cakes such as carrot and chocolate, but with delicately flavored cakes like vanilla and red velvet, you need the help of butter for superior taste and dimension.
A couple tablespoons of oil. Now that we have the butter for flavor, a smidge of oil does wonders in keeping the cupcakes moist for longer. While using all butter in this recipe made it taste amazing, it caused the crumb to dry out quicker. Swapping only 2 tablespoons of the butter with oil, really helped keep the texture moist without compromising the taste.
More cocoa powder than the usual. Upping the cocoa amount than most recipes, adds just enough depth to the flavor for you to know its there, without overpowering the tanginess and vanilla notes. Any less and the flavor falls short, any more and it starts tasting like a chocolate cake in disguise.
Buttermilk. A key ingredient for traditional red velvet cake and this recipe is no different. It adds that signature tanginess that red velvet is known for and its acidity tenderizes the crumb and reacts with the baking soda to make it rise. I played around with using a combination of sour cream and buttermilk, but the additional fat in sour cream, caused the cupcakes to sink in the center.
Vinegar. Again another acidic ingredient that heightens that tangy flavor. You won't taste it in the final cake…promise.
Bake at 170C/338F. Through trial and error, I found that low and slow bakes the cupcakes more gently, keeping the crumb softer than when baked at the more typical 180C/350F.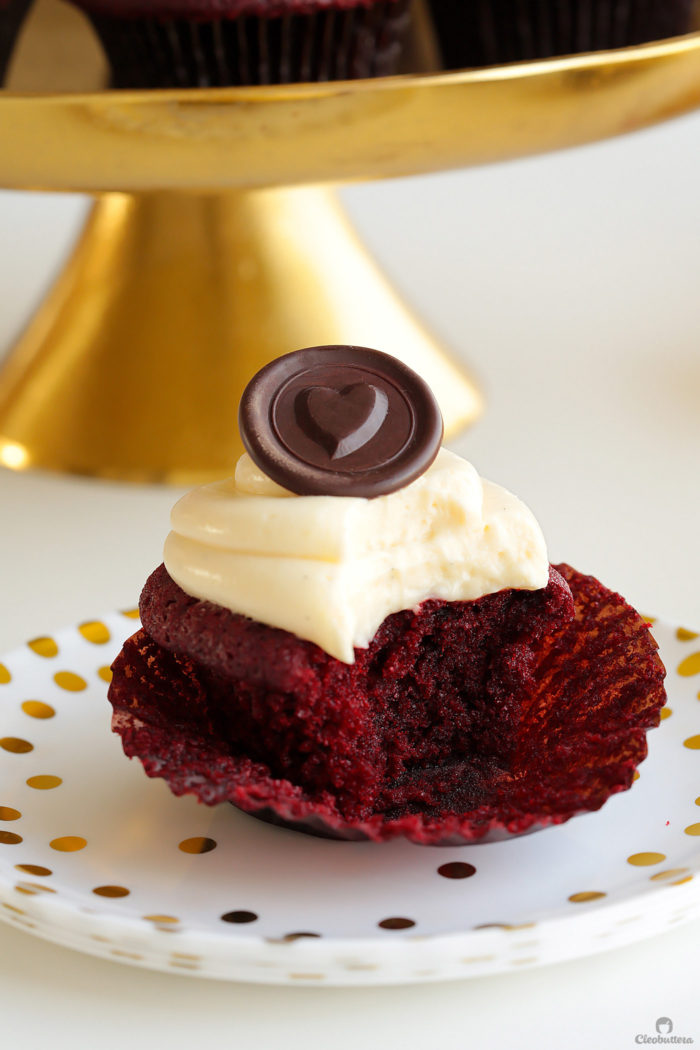 How to make great red velvet cupcakes?
Begin by whisking together the dry ingredients to combine: all purpose flour, unsweetened cocoa powder, baking soda and salt. Make sure to sift the cocoa powder beforehand if its lumpy, or you'll end up with undissolved cocoa pockets in the baked cupcakes. Alternatively, you can just sift everything together instead of whisking them.

Moving on to the wet ingredients…just whisk together the buttermilk, vinegar, vanilla and red food coloring. Try to get past its shockingly red color and set that aside.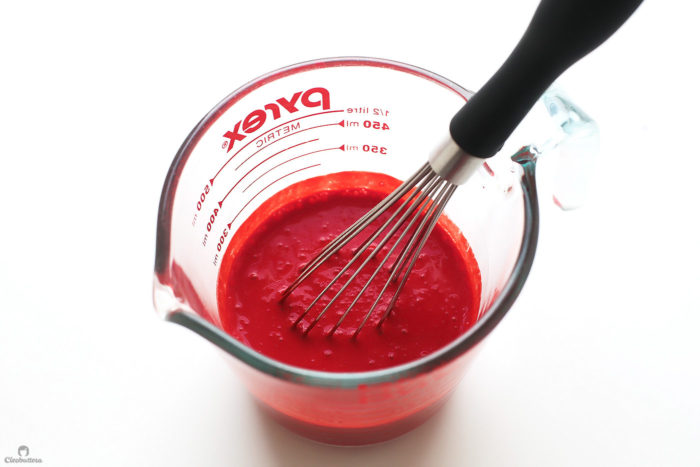 You'll then beat together the butter and sugar, and while the mixer is still running, slowly drizzle in that oil. Then beat the heck out of them until they're super light and fluffy and almost white in color. It's that step that aerates the batter, and makes the cupcakes so airy and fluffy, so make sure you don't skimp on it.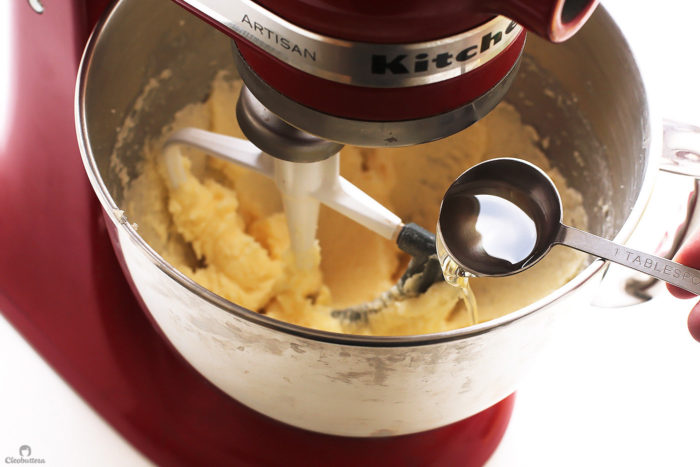 Then add the eggs, one at a time, mixing well between each addiction.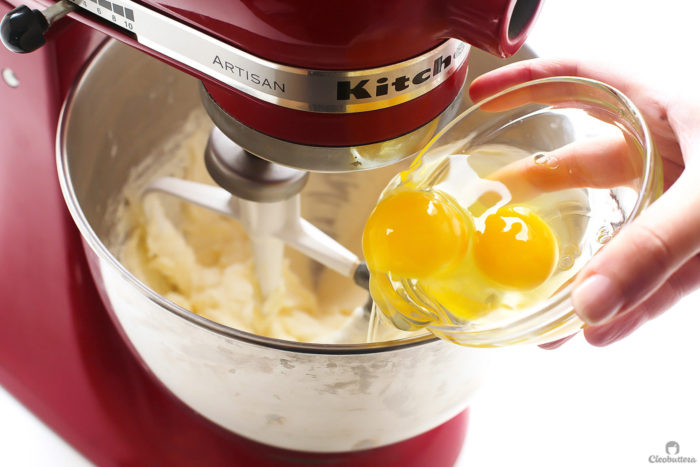 Now change into something you don't care about, because things are about to get messy!
Start by adding 1/3 of the flour mixture, followed by 1/2 of the scary red buttermilk mixture (mwahahahahaaaaah!), then another 1/3 of the flour mixture, the remaining buttermilk and ending with the flour mixture. At that point, it's important not to overmix the batter. So mix juuuuuust until smooth and well combined.
Scoop into your cupcake liners. And I know you'll hate me for this, but the batter makes an annoying amount of 16.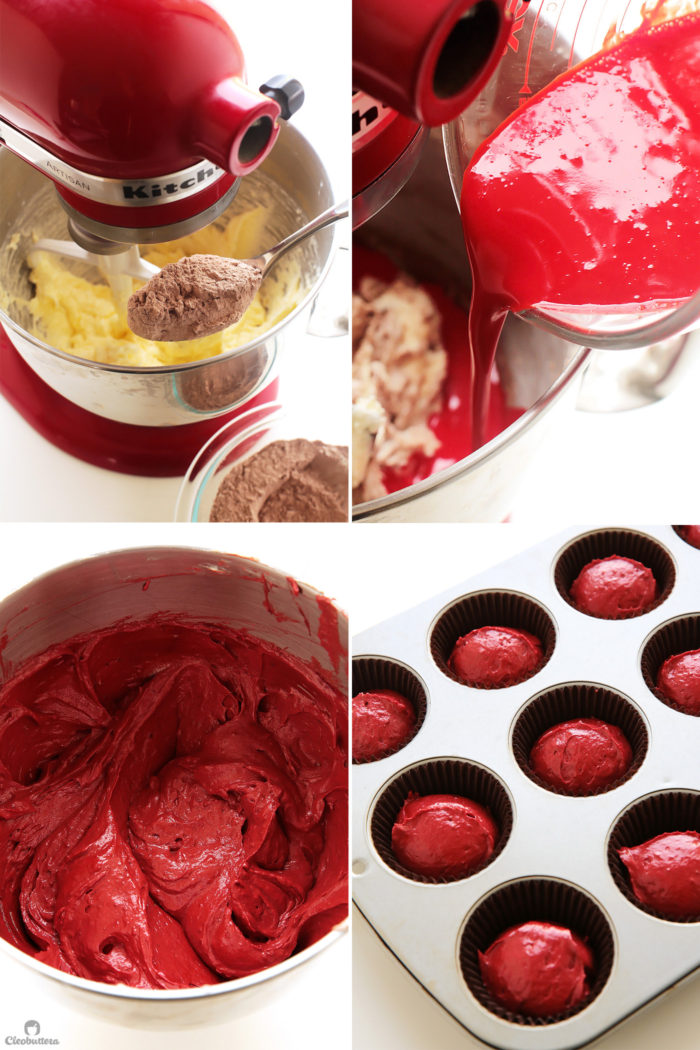 How to make the Whipped Cream Cheese Frosting?
While the cupcakes are baking, make that impossibly good Whipped Cream Cheese Frosting!
The trick to keeping the frosting so stable and pipeable without adding a ton of powdered sugar, is using COLD cream cheese instead of room temperature. I swear by it…It's magic!
We also mix things in a different order than the usual. So we first whip the butter and powdered sugar together until its as fluffy as possible, then we add in pieces of cold cream cheese, one piece at a time. It's important to make sure that each piece gets incorporated before adding the next, so the frosting doesn't ends up with clumps.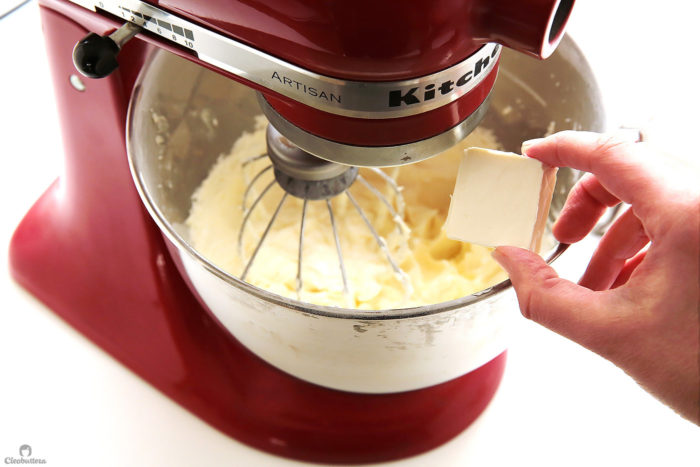 Now if you'd like the top your cupcakes with those elegant chocolate "wax" seals like I did, well you first need to know that they require some patience and a little digging around for metal wax seal stamps. I had my eyes set on this stamp, but since it was going to arrive later than I needed it, I decided to do a little DIYing and sort of make my own.
I picked my design and took it to a metal worker in the hustle of old Cairo, where he custom-made it for me! The quality was less than I had hoped for and the appearance was utterly un-photogenic, but it did the trick.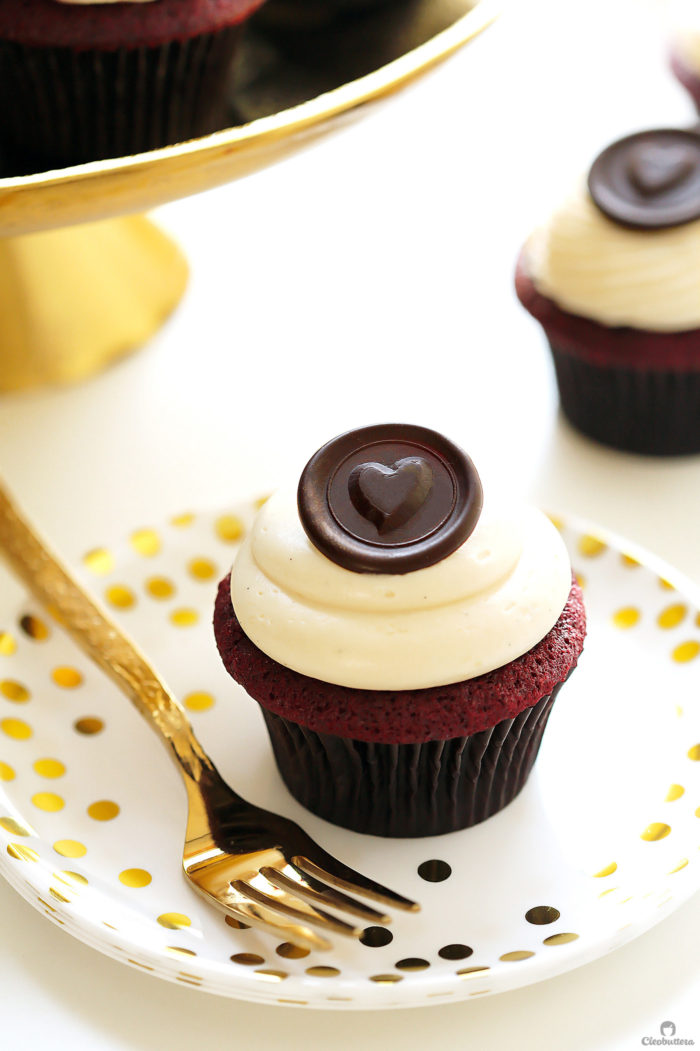 How to make Chocolate "Wax" Seal Toppers?
Before you begin to make them, I encourage you to check Sprinkle Bakes video for better visualization. But here's how it's done.
Basically you just pipe tempered, melted chocolate mounds unto a piece of parchment paper. The melted chocolate CANNOT be too warm or it will stick to the stamp. Similarly, the stamp needs to be ice cold. To thoroughly chill it, you can place it into a cup full of ice or over an ice pack. Just be sure to wipe the stamp off of any water droplets that may have formed.
Then you just press the stamp over the chocolate, let it stand for 10 seconds or until the sides of the chocolate look set. At that point, gently lift off the stamp and place the stamped chocolate in the fridge to fully set through. And viola!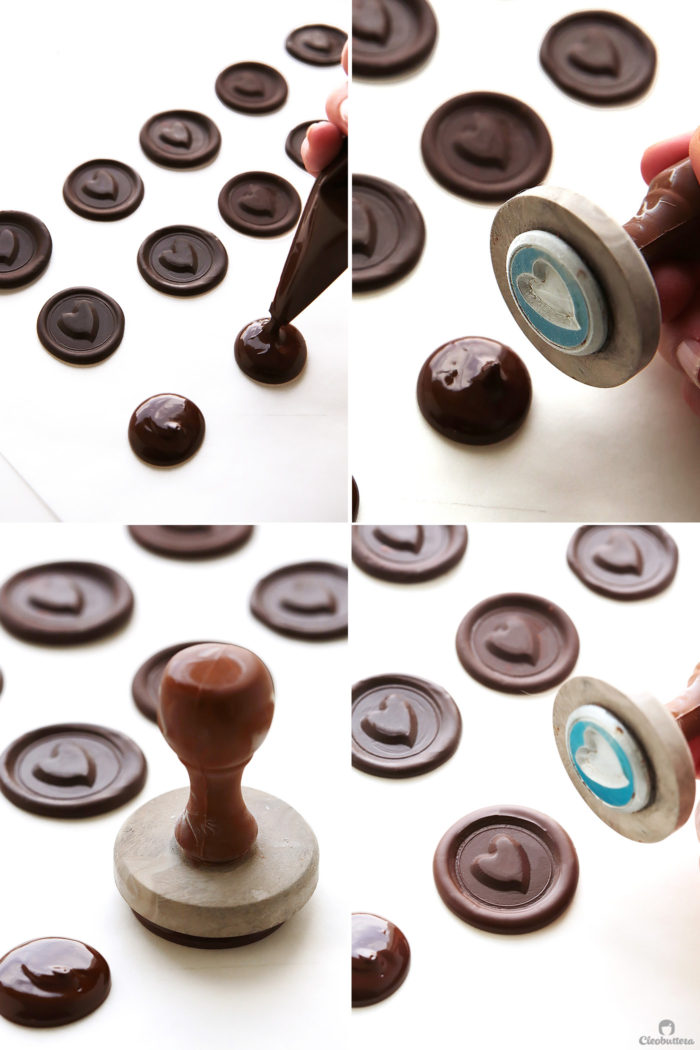 A gorgeous topper worthy of a stunner cupcake!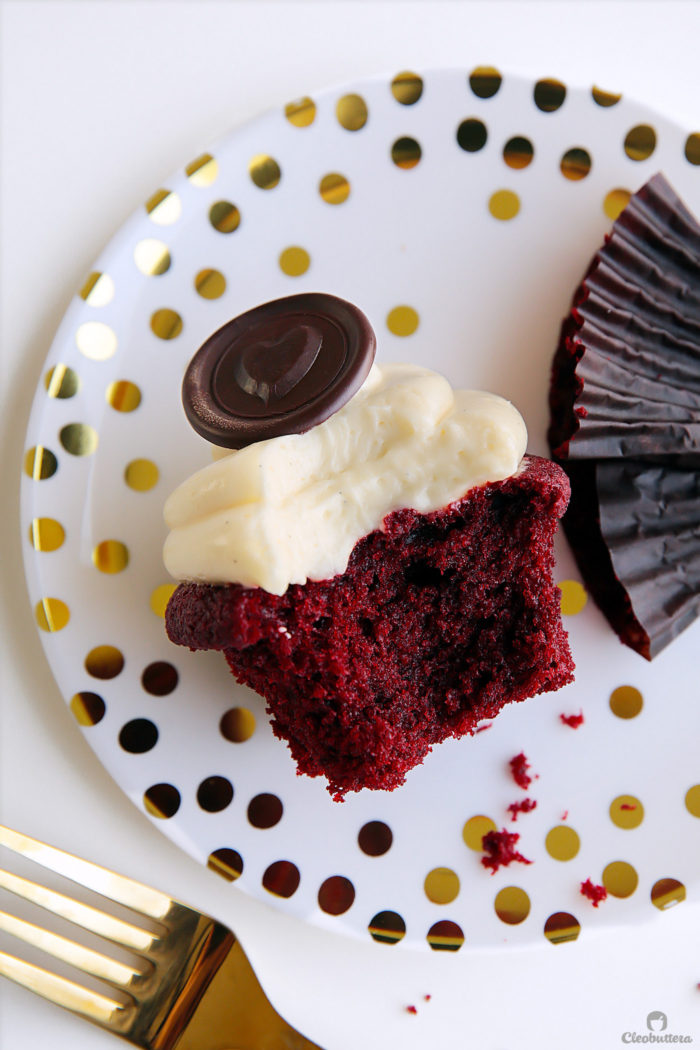 Light, fluffy, moist, flavorful and so much more than just a dazzling color.
So glad this Valentine's Day didn't slip without a red velvet cupcake to present you.
Now that I've done all the testing, it's your turn to make it! But before I go…here are some tips and tricks to help you get it as perfect as can be.
Tips for success:

Weigh your ingredients. I know I sound like a broken record with this one, but it really makes a huge difference. Mis-measuring ingredients is the biggest culprit of baking. Unlike cooking, an extra bit of this or little less of that, will affect the outcome. Baking really is a science. For the best possible results, I cannot recommend busting out the kitchen scale more. If you don't have a scale, please don't shy away from this recipe; it will still turn out great if you're careful to measure the flour, especially, correctly. Lightly spoon the flour into your measuring cup, then sweep off excess using the back of a knife.
Use room temperature ingredients. It's important to bring all your refrigerated ingredients to room temperature before using. That way they mix together more evenly without causing the batter to split or curdle, and produce a uniform texture.
Whip it good. Don't skimp on creaming the butter, oil and sugar together. It should transform from a dense yellow mixture, to a fluffy, almost white one. This step incorporates air into the batter, which make the cupcakes have that fluffy, open crumb you see here.
Don't overmix. Once you start adding the flour mixture, be careful not to overbeat the batter. Just mix until everything is combined and the batter is smooth after the last addition. Overbeating can cause the cupcakes to bake up tough and sometimes even sink in the middle
Don't open the oven door till the end. Due to large amount of fat and liquid in this recipe, it has a very delicate nature and can collapse if you open the oven before its done. Try to resist opening the oven door, until you can no longer see any shiny batter over the surface of the cupcake.
Do not overbake. No matter how much butter you add in the batter, overbaking a cupcake will cause it to dry out. Mine are done after 20 minutes, but each oven is different. So as soon as the cupcake has no wet batter on the surface, springs back when lightly touched and a toothpick inserted in the center comes out with a few moist crumbs attached, then its done!
Cool before frosting. Be sure that the cupcakes have cooled completely before piping on the frosting. The heat from the cupcakes will cause the frosting to melt if you add it before they cool.
FAQs:
What's the best way to store these?
I think the texture of these cupcakes are best on the same day they're baked, while they're nice and fresh. If you'd like to make them in advance, the cake portion of the cupcake (without the frosting) will keep well in an airtight container at room temperature for about 3 days. The frosted cupcakes can stay at cool room temperature for up to 24 hours. To avoid the cream cheese from spoiling, if storing longer than that, it is recommended to freeze the cupcakes (in an airtight container) as opposed to refrigerating them. The fridge will keep the frosting safe to eat, but unlike the freezer, it tends to dry out the crumb of butter cakes. It's no biggie if you decide to refrigerate the cupcakes, but just expect a slightly less moist product. Bring back to room temperature before serving.
What can I substitute buttermilk with?
I absolutely love the flavor that "real" buttermilk imparts, and believe it makes the cupcakes stand out more. However, in a pinch you can substitute it with the milk and vinegar/lemon juice combo. Just add 2 teaspoons of vinegar or lemon juice in a measuring cup and pour enough whole milk over it to reach the 3/4 cup mark. Whisk together and let the mixture stand for a few minutes until it thickens up. You'll still need to add the other 2 teaspoons vinegar called for in the recipe.
Can I leave out the red food coloring?
Yes! You won't get that iconic color that red velvet is known for, but it will taste exactly the same. You may also want to consider beet powder for a natural alternative.
Can I make this recipe into a layer cake?
I got so consumed into testing it out in cupcake form, that I never get around trying it as a cake. It will most probably work just fine, but since I haven't tried it myself I can't vouch for its success. Will update the post with a definitive answer, as soon as I get a chance to test it out in cake form.
Yield: 16 cupcakes
A Great Red Velvet Cupcake...Finally!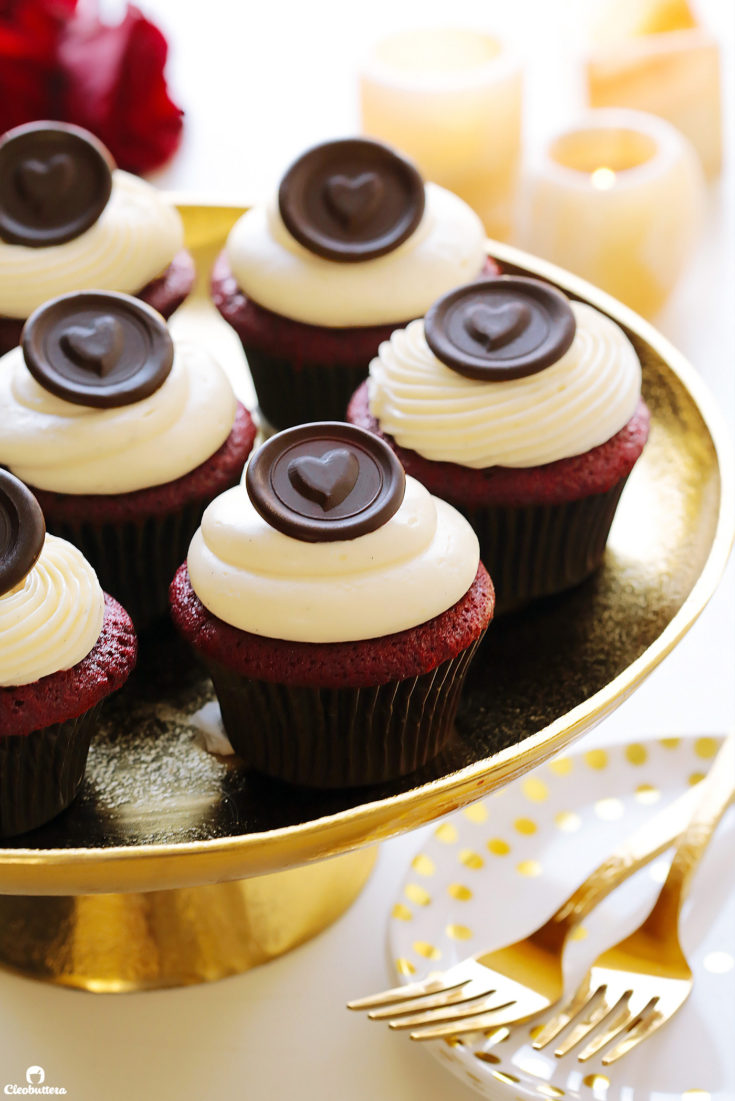 This red velvet cupcake recipe took years to perfect & the result is everything you can hope for! Soft and tender with a velvety texture, and super flavorful with tangy notes and sweet vanilla that's been kissed with cocoa.  A cloud of not too-sweet, whipped cream cheese frosting takes it over the top.  It's a winner! 
Prep Time 1 hour
Cook Time 20 minutes
Additional Time 1 hour
Total Time 2 hours 20 minutes
Ingredients
For the Cupcakes:
1 1/2 cups (180g) all purpose flour
2 1/2 tablespoons (15g) unsweetened cocoa powder (sift if lumpy)*
1 teaspoon baking soda
1/2 teaspoon salt
3/4 cup (187g) well shaken buttermilk, at room temperature*
2 teaspoons white vinegar
1 teaspoon pure vanilla extract (or 2 teaspoons if using imitation vanilla flavoring)
2 teaspoons red gel food coloring (or 1 1/2 tablespoons liquid red food coloring)*
3/4 cup (170g/ 6oz) unsalted butter, softened to room temperature
2 tablespoons (23g) neutral-tasting oil (such as vegetable, sunflower, or corn oil)
1 cup plus 3 tablespoons (238g) granulated sugar
2 large eggs, at room temperature
For the Whipped Cream Cheese Frosting:
1 cup (227g/ 8oz) unsalted butter, softened to room temperature
3 cups (340g) powdered sugar, sift if lumpy
1/8 teaspoon salt
12 ounces (340g) cream cheese, cold straight from the fridge (cut into 1-inch pieces)*
1/2 teaspoon pure vanilla extract (or 1 teaspoon vanilla bean paste or imitation vanilla flavoring)
2 tablespoons (28g) sour cream, optional*
For the Chocolate "wax" Seal Toppers: (optional)
50g (1 3/4oz) semisweet or dark chocolate
Cup filled with ice or ice pack
Metal wax seal stamps*
Instructions
To make the cupcakes:
Adjust oven rack to middle position and preheat the oven to 170C/338F. Line two 12-cup cupcake pans with 16 paper liners.
In a medium bowl, whisk together the flour, cocoa powder, baking soda and salt to combine. Set aside.
In a small bowl or a large liquid measuring cup, whisk together the buttermilk, vinegar, vanilla and food coloring. Set aside.
In the bowl of a stand mixer fitted with the paddle attachment (or in a large mixing bowl and an electric hand mixer), beat the butter on medium speed until creamy, about 1 minute. With the mixer running, gradually add in the sugar, then slowly drizzle the oil. Raise the speed to medium-high and continue beating together, scraping down the bowl as necessary, until lightened up in both color and texture; 4 to 5 minutes. The color should turn very pale (almost white) and texture should look soft and fluffy.
Add the eggs, one at a time, beating well after each addition.
Scrape down the bowl and beater with a spatula, then resume mixing on lowest speed. Add in one-third of the flour mixture and beat until just incorporated. Pour in half of the buttermilk mixture and beat lightly until combined. Repeat with half of the remaining flour mixture, remaining buttermilk mixture, and ending with the remaining flour mixture, scraping down the bowl as necessary. Mix until just combined and a smooth batter forms, being careful not overmix.
With a rubber spatula, give the batter one good, final stir to make sure that everything is well incorporated. Use an ice cream scoop to divide the batter evenly among the 16 cupcake liners, filling them up 3/4 of the way.
Bake until the cupcake's center springs back when lightly touched and a toothpick inserted in the center comes out clean or with a few moist crumbs attached, about 20 minutes. Resist the urge to open the oven's door while the surface is still looking wet, or the cupcakes might risk sinking in the middle.
Let cool in the pan for about 5 minutes then transfer to a wire rack to cool completely before frosting. While the cupcakes bake, make the Whipped Cream Cheese Frosting.
To make the frosting:
In the bowl of a stand mixer fitted with the whisk attachment (or in a large bowl and an electric handheld mixer), beat the butter until lightened up and creamy; 2 to 3 minutes.
With the mixer running on low speed, gradually add in the confectioners sugar, followed by the salt. Raise the speed to medium-high and whip until lightened in both color and texture; about 5 minutes.
With the mixer still on medium-high speed, add one piece of cream cheese at a time, one after the other, mixing well after each addition so there are no lumps. Continue whipping until light and fluffy, and air pockets have formed.
Beat in the vanilla and sour cream (if using) just until incorporated.
To assemble the cupcakes:
Fill a piping bag fitted with your favorite piping tip (I used Ateco 808 and Ateco 867) with the Whipped Cream Cheese Frosting. To frost, start piping in the center, going around once, then ending with a swift pull.
Top with the chocolate seal stamps (if using), red fondant hearts or sprinkles, if desired. The frosted cupcakes will keep well at room temperature in an airtight container for 24 hours. Please refer to the FAQs for longer storage.
To make the chocolate seal toppers: (if using)
Place the metal wax seal stamp in the cup filled with crushed ice or over an ice pack to thoroughly chill the bottoms. If you don't ice your seals, the chocolate will stick to the wax seal.
Grate 12g of the chocolate and set aside. In a small, microwave-safe bowl, microwave the remaining 38g os chocolate in 15 second intervals, stopping and stirring in between until mostly melted. Continue to stir the chocolate until it has completely melted and very smooth. Stir in reserved grated chocolate until fully melted. (This process of melting 3/4 the amount of chocolate first and then adding in the remaining grated 1/4, is a quick way to temper the chocolate, which will allow the toppers to set firmly without melting to the touch; so don't skip it).
Let the chocolate stand 3-5 minutes or until it's barely warm to the touch. It's important that the chocolate is not too warm when you make an impression with the stamp, or it will stick to the stamp.
Pour the melted chocolate into a piping or zipper lock bag with the end snipped off. Squeeze 3/4-inch round drops of the chocolate onto a parchment lined baking sheet. Make a row of 3 to 4 chocolate drops.
Remove the stamp from the ice and quickly wipe it off of any water droplets with a towel. Place the chilled stamp onto a chocolate round, press down gently, then let stand for 10 seconds or until the chocolate looks set around the edges. Gently lift the stamp and you should now have a chocolate seal. Place back the metal wax stamp into the ice to rechill and repeat with remaining melted chocolate. Refrigerate finished chocolate seals until firm.
Peel firmed seals from the parchment paper and place over the cupcakes.
Recipe Notes
For best flavor, use a high quality, dark, natural unsweetened cocoa powder. While light colored cocoa powder such as Hershey's, still works just fine, I've found that darker types yield a richer taste in this recipe. I prefer the brand Hintz, which is readily available where I live in Egypt, but use whatever high quality, dark cocoa available to you. Dutch-processed cocoa powder is not recommended here, as it affects the rise of the cupcakes.
Buttermilk, also known as 'laban rayeb' in Egypt, adds a wonderful tangy flavor, tenderizes the crumb and activates the baking soda, which makes the cupcakes rise. While its best to stick to real buttermilk here, it can be substituted with a combination of whole milk and vinegar or lemon juice, if you must. Add 2 teaspoons of vinegar or lemon juice in a measuring cup and pour enough whole milk over it to reach the 3/4 cup mark. Whisk together and let the mixture stand for a few minutes until it thickens up. You'll still need to add the other 2 teaspoons vinegar called for in the recipe.
The amount of red food coloring may vary depending on the type and brand used as well as the shade of red preferred. For that deep burgundy red you see here, I use 2 teaspoons of either Americolor Super Red or Chefmaster Christmas Red gel food coloring. If using a liquid food coloring such as McCormick, you'll need to increase the amount to around 1 1/2 tablespoons, since it's less concentrated than gel. If you favor a natural alternative, beet powder may be substituted. I'm unsure of the amount though, as I've never tried it myself. You may also omit the food coloring completely if you prefer; you won't get that iconic red color, but it will taste exactly the same.
For the cream cheese, I use Kiri squares which is easily accessible where I live. If using Philadelphia, be sure to use brick-style, not the spreadable type in the tub.
The sour cream in the frosting adds a tangier taste and creamier texture. Since the amount is only 2 tablespoons, you don't have to get out of your way to buy a new tub just for it. It's amazing with it, but you can easily skip if you don't have it on hand and still get great results.
The heart wax seal stamp I used here was custom-made by a metal worker in Old Cairo. Although it did the trick, I wasn't in love with the quality and for that reason, I'd suggest ordering one off of Amazon or Etsy. Alternatively, fondant heart cut outs or sprinkles would look really cute on top of these cupcakes.
Cupcake recipe is a Cleobuttera original loosely inspired by The Sprinkles Baking Book.
Frosting recipe is a Cleobuttera original.
Chocolate "wax" seals adapted from Sprinkle Bakes.
Measurements Note: All recipes of this site have been developed using weight measurements. Although US volume measurements have been included for your convenience, it is highly encouraged that you weigh your ingredients using a kitchen scale to get the best possible results. Due to the sensitive nature of baking, kitchen scales are proven to yield more accurate and consistent results than measuring cups. Enjoy!
This post may contain affiliate links.
All images and content are owned by Cleobuttera® and are copyright protected. Please do not use my images without prior permission. If you would like to republish a recipe, please rewrite it in your own words and link back to the recipe page on my site. Original recipes and creations of this site are intended for personal and home use. Commercial replication or media consumption are only allowed with a written consent and agreement with Cleobuttera owners. Otherwise it is considered a violation of intellectual property. Thank you for respecting and appreciating the amount of time and effort that goes into creating free, unique recipes that make people happy.