Lemony Lemon Bundt Cake
This quadruple lemon bundt cake is as lemony as it gets! A tender sour cream cake is filled with bursts of lemon zest, brushed with lemon syrup, glazed with lemon cream cheese icing and crowned with candied lemon slices. It is melt-in-the-mouth refreshing! (Poppy seeds are more than welcome here!)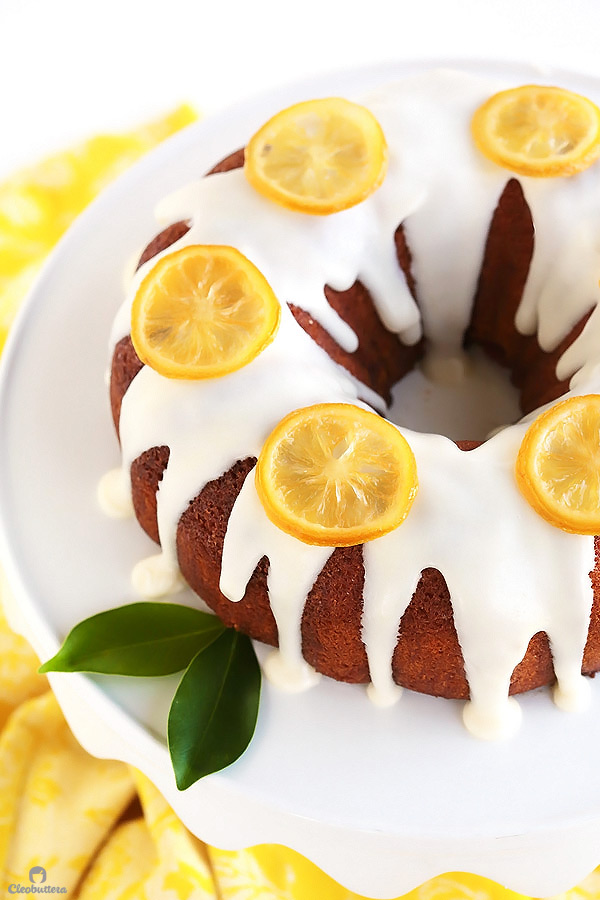 It's funny how life can often prove us wrong.
For the longest time, I thought I wasn't into lemon desserts.
With the exception of lemon sorbet and ice cream. I'm totally aware of how that makes zero sense and sounds totally wacko, but I'm just kinda weird about lemon.
Lemon is far and beyond my favorite ice cream flavor. Umm that and plain frozen yogurt. And salted caramel. And dulce de leche. Ugghhhhh…I just love them all ok?
But lemon baked goods? The ones that go in the oven? They just all seemed "meh" to me. It's not that I didn't like them, I was just neutral about them. Never craved them, never been tempted by them and never been impressed with them.
Until I tried this recipe. And discovered that I was wrong. SO wrong.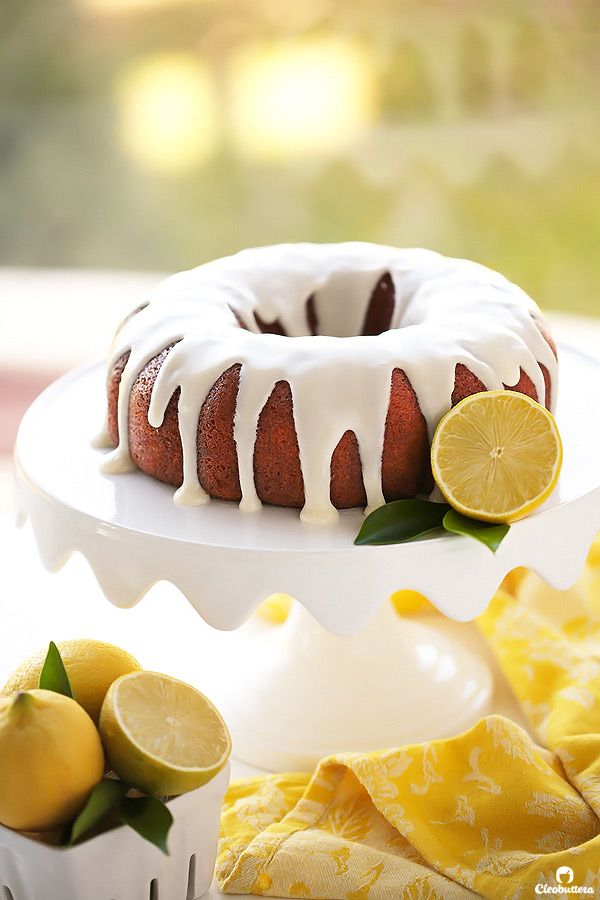 But then again, I had always believed that I'm not into cats. Again, never hated them, but was lukewarm about them, appreciated them from far and away and never wanted to have anything to do with them. Until I met this little guy.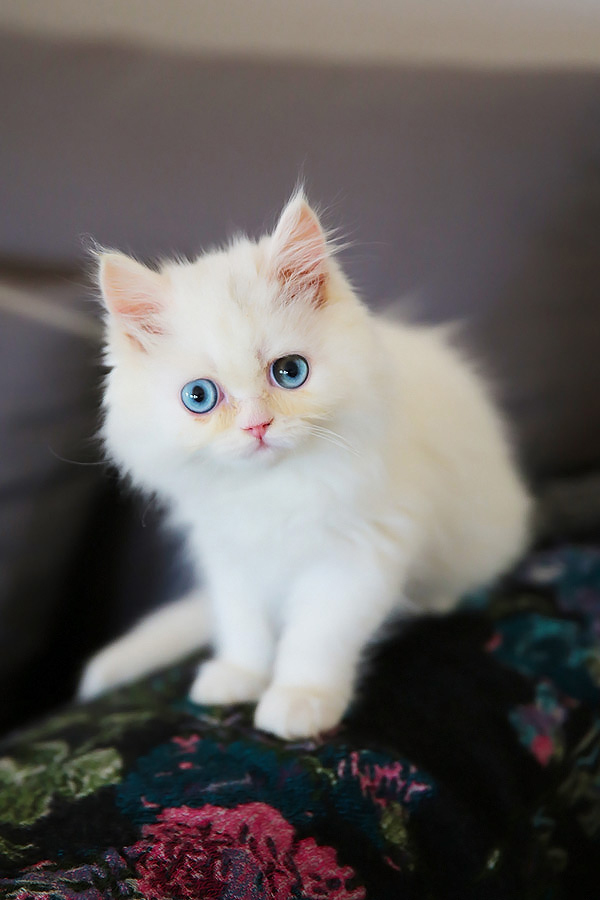 One look at these cartoonish round, blue eyes and I was a changed woman. I was drawn to him in a way I can't explain. He stole my heart. After running my fingers into that white fluff of a coat, I immediately knew that he had to come home with us. It took me exactly 2 minutes to decide that I needed to call my husband and start nagging. It wasn't easy, but he finally gave in and we welcomed this little fur ball to our house about a month ago. And now I'm officially obsessed and turning into a stereotypical cat mama who wants to do nothing but cuddle. I bore people with all my cat talk, treat him like a human baby and my heart dies a little when I have to go out and leave him. I'm still waiting from him to call me "Mama!" Totally normal right?
We named him…MAC! Yup…as in Apple Macintosh. The computer. It was my Apple obsessed husband's only condition if we wanted to keep him. I'll take it! Much better than iCat that he had originally insisted on. I'm actually now in love with the name as I came around it. He might be Mac  to my husband, be he'll always be my little mac 'n cheese, my sweet 'mac'aron, my pretty MAC?, and when he grows up, he'll definitely become my BIG MAC?.
So yeah…life can be funny this way, turning the things you dislike the most, into your absolute favorites. Now I must admit that I practiced every self restraint not to mix food and cat photos, but I failed miserably. Sorry if I turned you off if you don't like cats. Maybe you'll love them one day, the same way I came around loving cats …and lemon cake.
Oooooh Lemon Cake.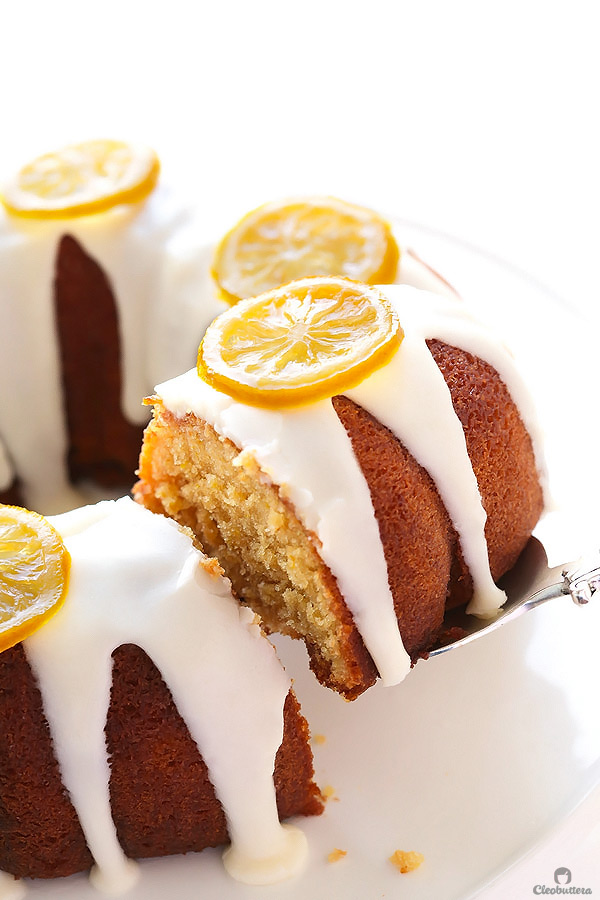 As it turns out, the reason I never cared for lemon baked goods is because they were never really lemony enough. The lemon flavor sort of disappears as it bakes, leaving only a hint of lemon behind. Now if I'm gonna eat a cake claiming to be 'Lemon,' then I expect a bold citrus punch that doesn't leave you hoping for more. Like lemon sorbet.
And this is exactly why I loved this cake so much. It reminded me of lemon sorbet. My fav?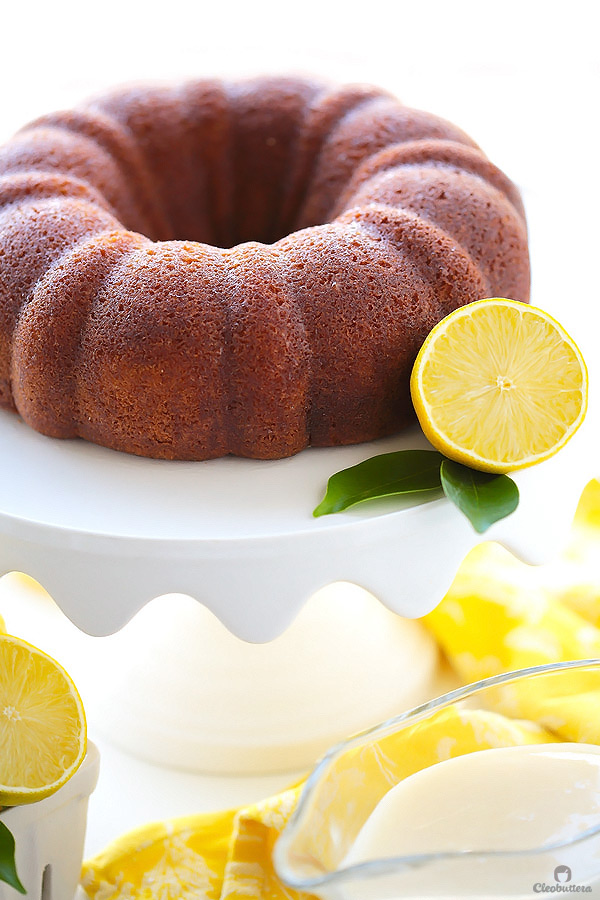 This cake is bathed in lemon flavor without tasting too sour or bitter. It has the perfect balance of sweet, tart and citrus. It is lemony enough to proudly carry the 'lemon' title, but not too much that it will make you pucker up and squint your eyes. The lemon flavor is just right without being overwhelming.
The cake is without a doubt moist, because we all hate dry cakes, with a super tender, buttery crumb that melts in the mouth…thanks to sour cream in the batter.
Another home run recipe from Rose's Heavenly Cakes by Rose Levy Beranbaum. When it comes to cake, you just can't go wrong with Mrs. Beranbaum, and this cake is proof. And this too!
The original recipe uses poppy seeds, which I had to omit this time around because I can't find them in Egypt. If you have access to poppy seeds, by all means add them in! I made this recipe with the poppy seeds back when I was in Canada and absolutely loved their crunch against that soft cake. Such a beautiful textural contrast. But that doesn't mean that the cake is any less delicious without them.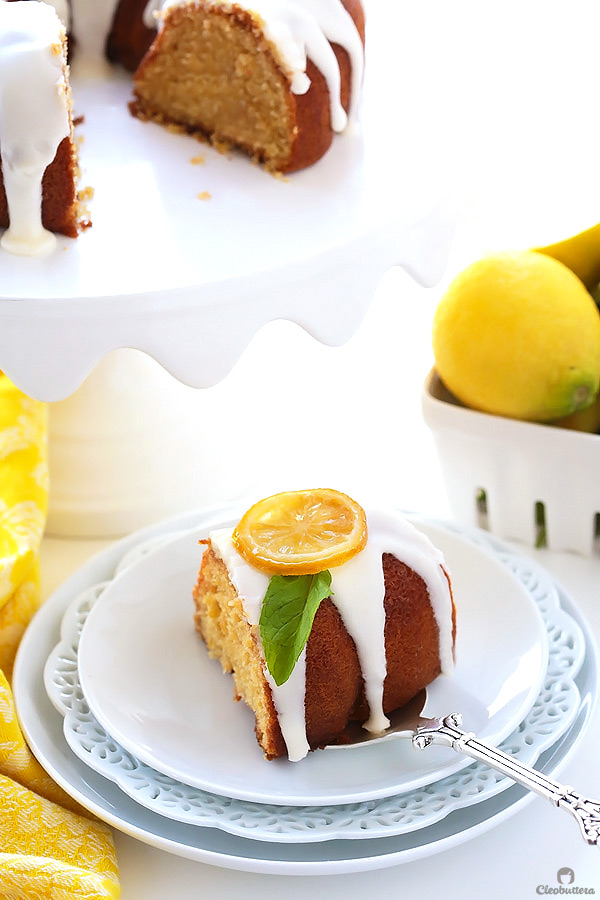 Lemon is worked in four different ways here, to ensure that you get a through and through lemon flavor in every bite.
Cake Batter. A buttery, sour cream batter is speckled with tons of lemon zest that enrobes each crumb with zesty flavor.
Lemon Syrup. As soon as the cake is baked, it gets a healthy bath of a super lemony syrup made by heating together freshly squeezed lemon juice and sugar. Tastes like a lemonade concentrate only a bajillion times better because its fresh and all natural.
Lemon Cream Cheese Glaze. Adds another dimension of tangy lemon flavor and a lovely drippy finishing touch. Literally the icing on the cake.
Candied Lemon Slices. Now that's the cherry on the top here. It is candy disguised as garnish. It's super duper lemony that only die hard lemaniacs will enjoy chewing on.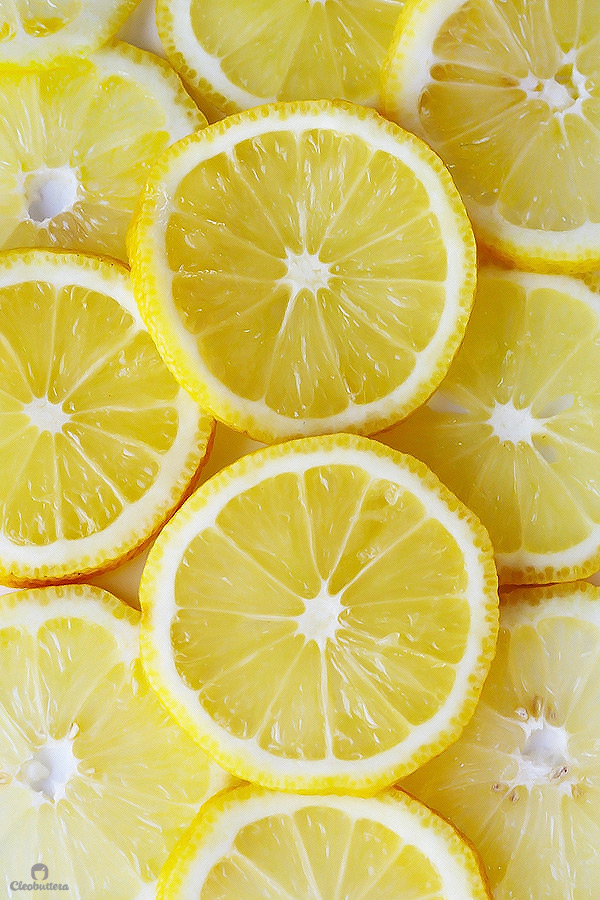 Now let's squeeze out all the details.
So…lemon zest. The batter gets all its flavor from heaps and heaps of lemon zest and no juice at all. Actually, the hardest part of this recipe is zesting AAALLLL the lemons. I think I zested about 5!!! Arm workout…done??
The thing is, as far as baked goods are concerned, lemon zest is the best source of flavor. Lemon juice is acidic and tart, but that brightness is lost when exposed to heat, so we save it for the post baking step. Make sure you only use the thin, yellow zest layer, which contains the lemon oils, and avoid the white layer which tastes very bitter.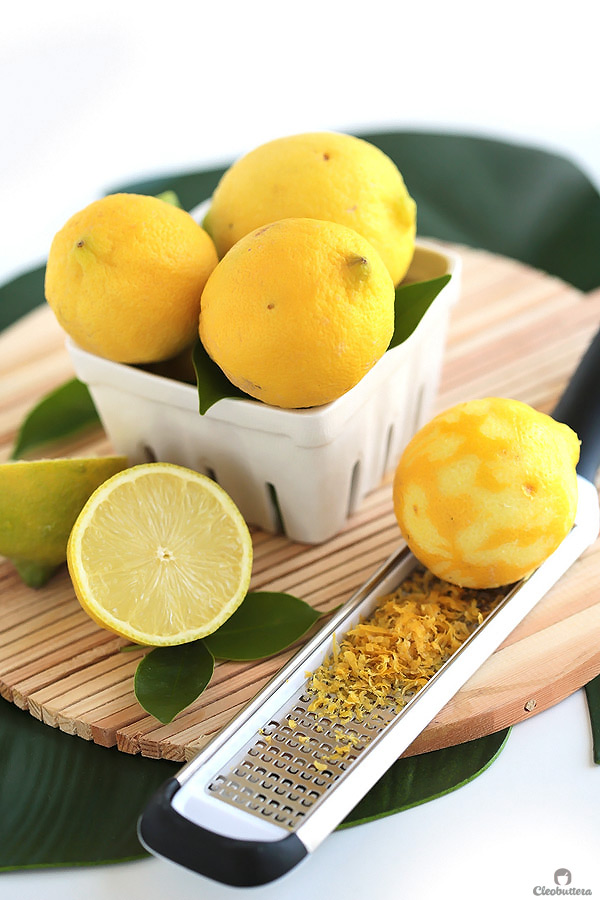 Other than that, the cake is as easy as dumping everything in one bowl and mixing. No creaming of butter and sugar until light and fluffy here. This cake uses the reverse creaming method, which is the signature mixing style of Rose Levy Beranbaum. In this method, the fats (butter and sour cream in this case) coats the flour particles, before adding the liquid ingredients. This technique sort of makes the flour waterproof, which in return reduces gluten development and results in a tender cake.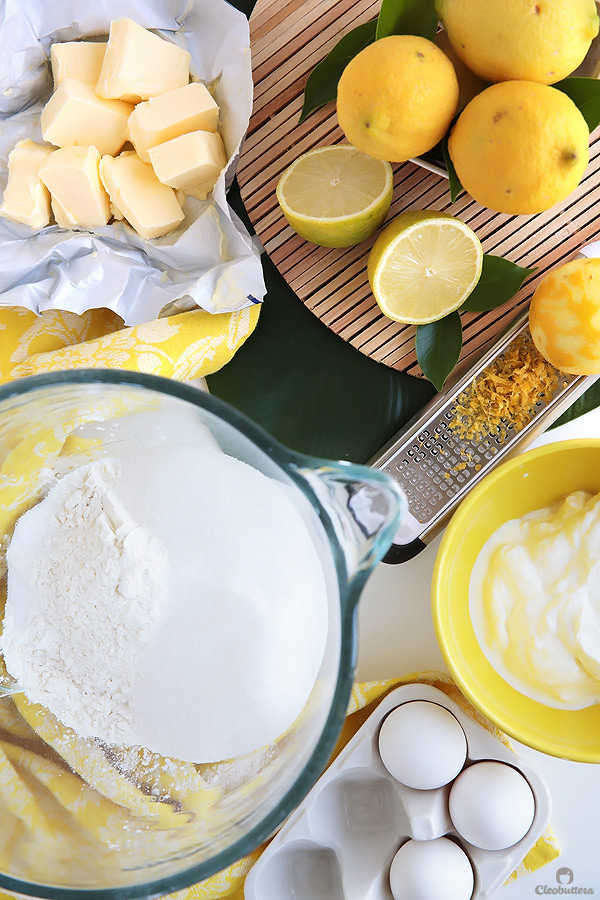 So here we just mix all the dry ingredients together: Flour, sugar, leaveners and salt along with the lemon zest. Then we mix in the butter and some of sour cream until the dry ingredients are well coated.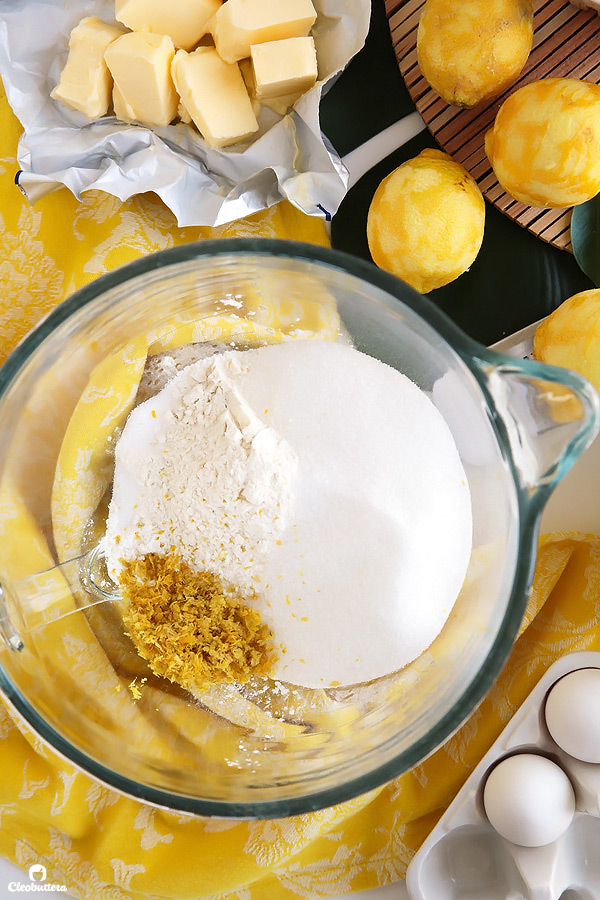 After that we just dump in the our wet ingredients: Eggs, vanilla and remaining sour cream and mix until a thick, luscious batter comes together. Easy peasy, lemon squeezy.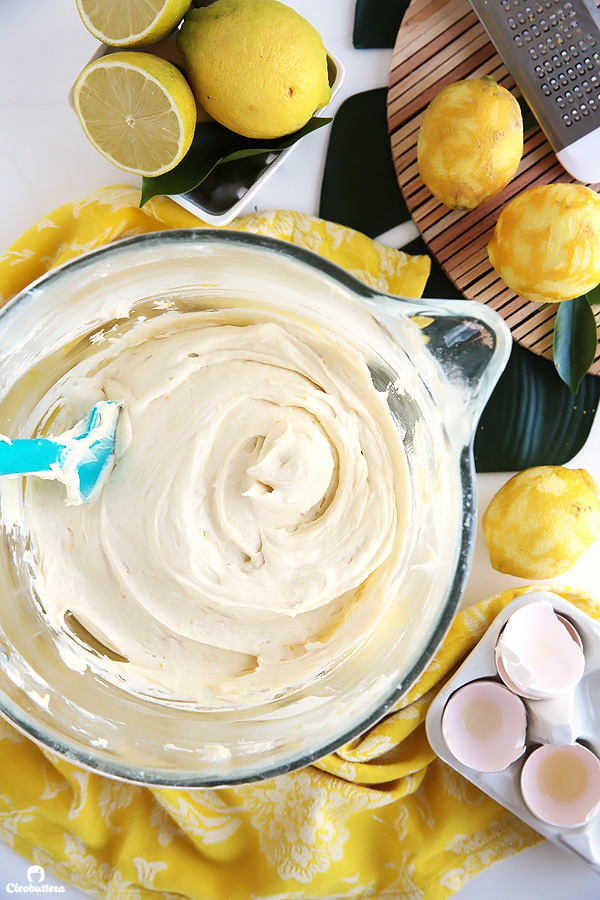 We then transfer the lemon zest speckled batter into a bundt pan and smooth it out. Then get it baking for 45 to 55 minutes.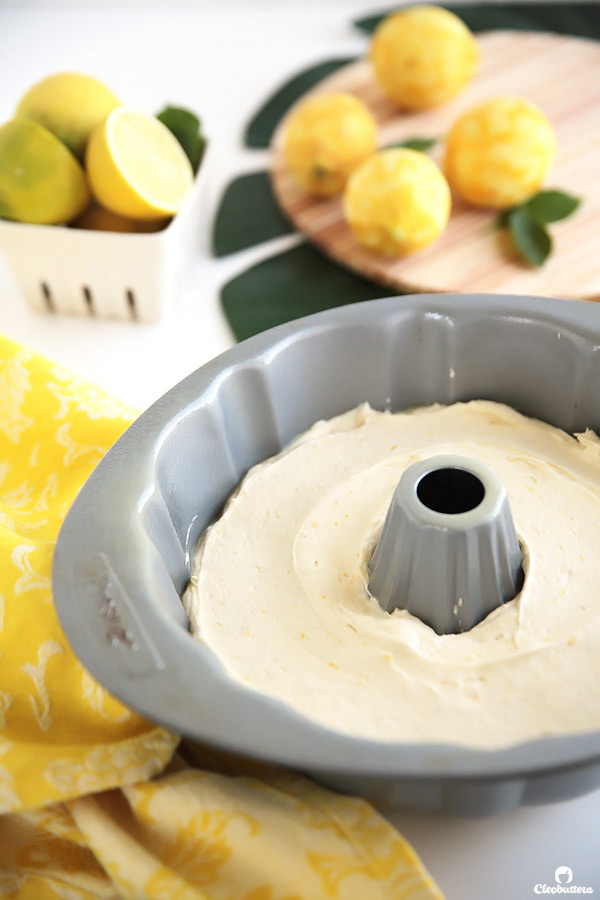 Shortly before the cake is finished baking, we'll make the lemon syrup. Remember we didn't put any juice in the cake batter, so we're adding it all now so it stays bright and fresh as can be. This is the secret to that lemon sorbet-ish flavor and melt-in-your-mouth moistness, so don't even think about skipping it.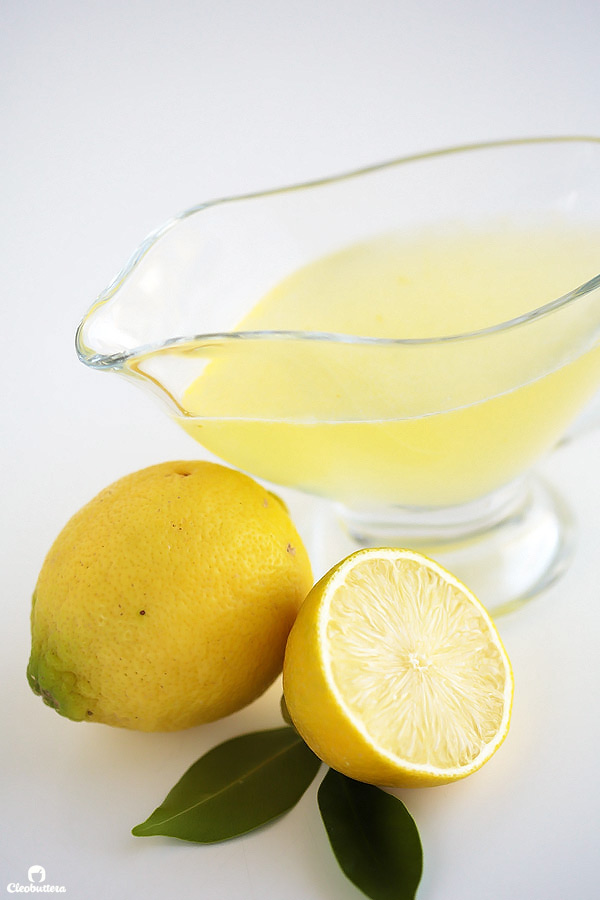 As soon as the cake comes out of the oven, we'll poke holes all over it using a skewer so the the syrup can seep in.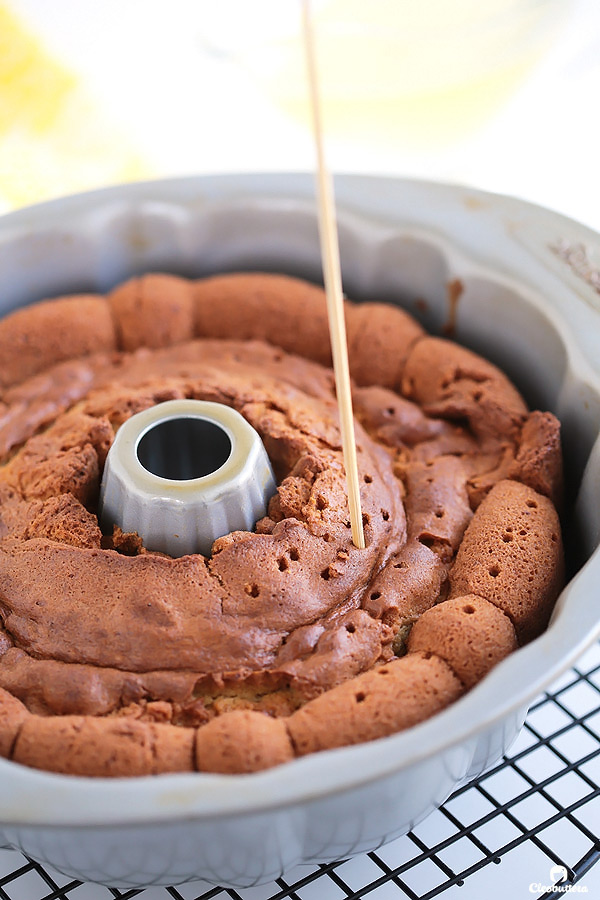 We'll then brush it with two-third of the syrup. Let it soak for 10 minutes…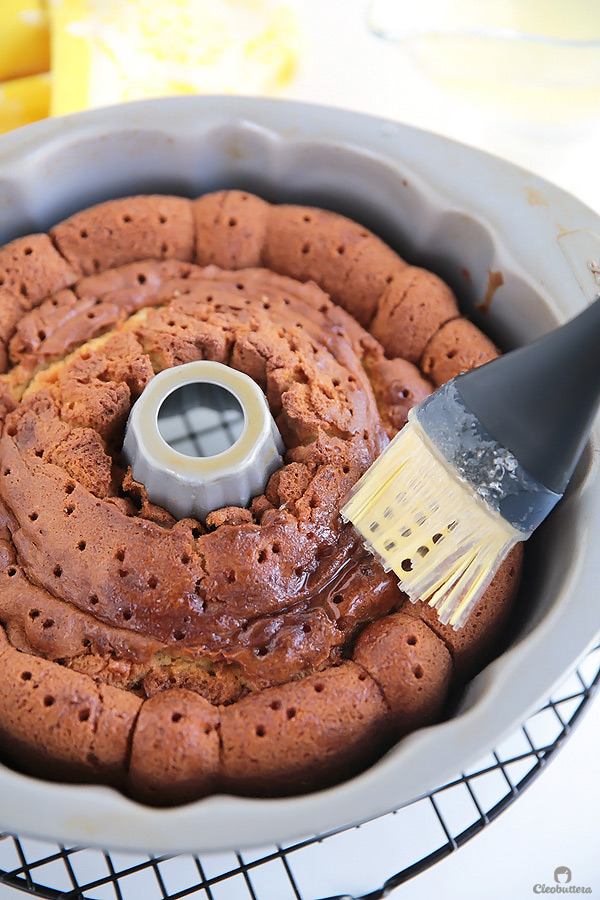 Flip the cake over, then brush the surface with the rest. Make sure not leave a drop behind.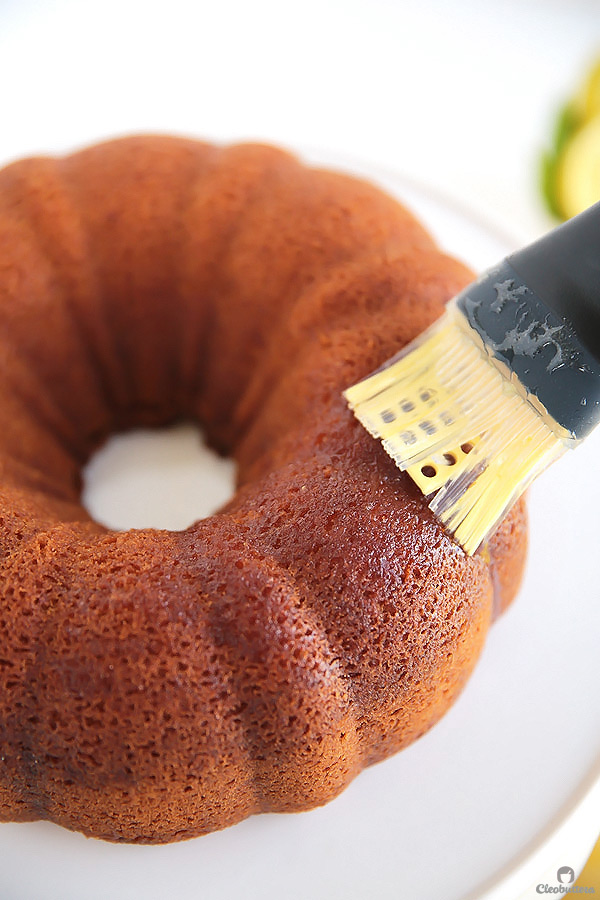 The syrup will seep into the cake as it cools and create that irresistible soft texture and added moisture, not to mention the sweet lemony flavor.
You could leave it as it is, nice and simple. That's cool.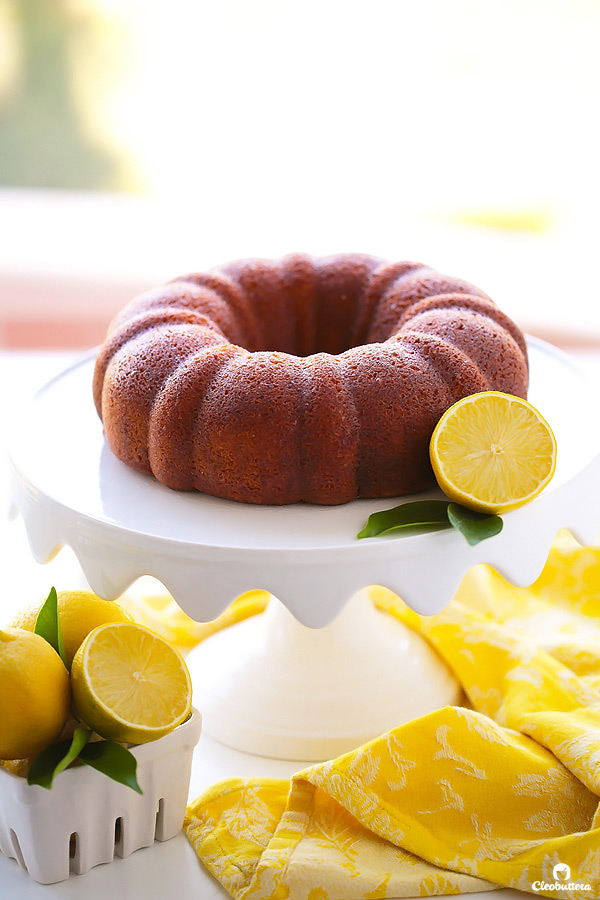 Or you could take it to the next level and drizzle it with the lemon cream cheese glaze. Your call. I love it both ways; it just depends on my mood.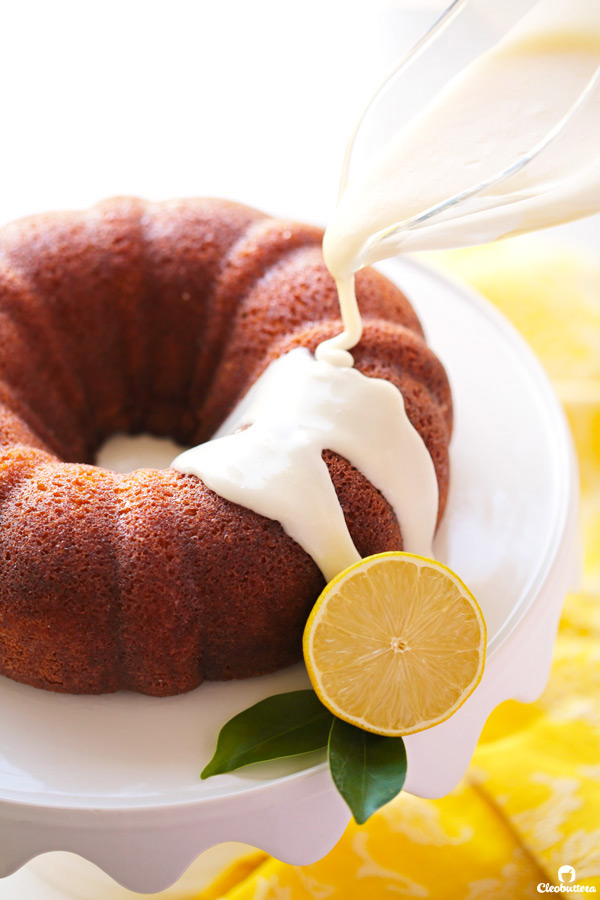 But then if you want to impress, may I suggest these candied lemon slices. I gasped the moment I saw the idea on The Cake Blog, and immediately knew that I wanted them on my cake too. Mind you, I probably won't be making them every time I bake this cake, but they're just the perfect garnish for when its for a special occasion.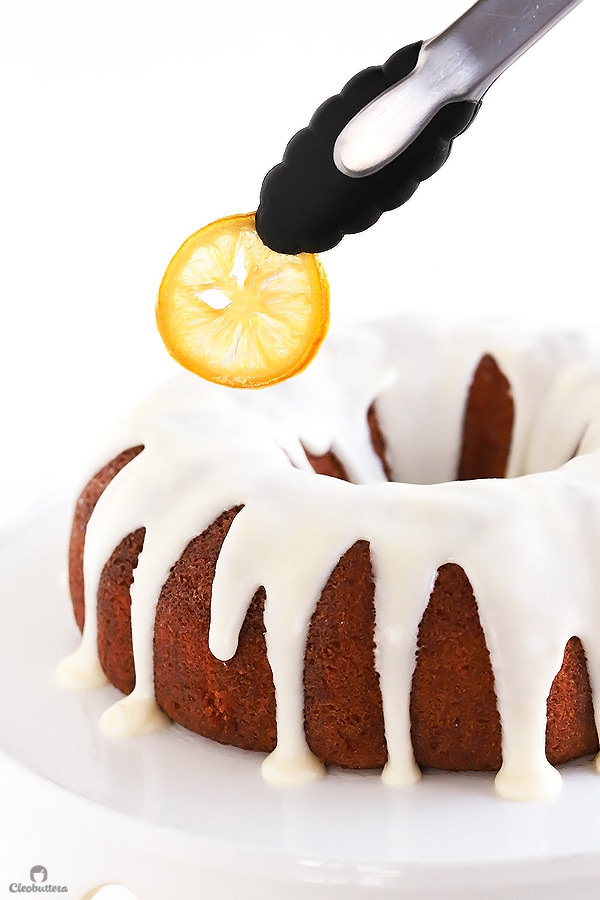 And if you're worried that all this syrup will turn your cake into a soggy wet mess…fear not my friend…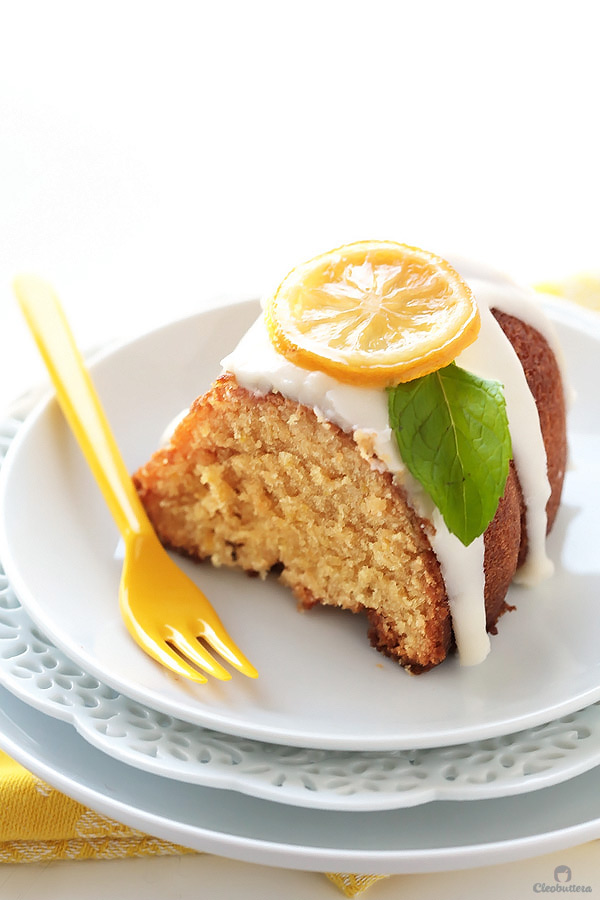 It's nothing but sweet lemony, cake-y tenderness.
You'll LOVE it! Even if you're not a lemaniac. Take my word on that one ?
Yield: serves 12 to 14
Lemony Lemon Bundt Cake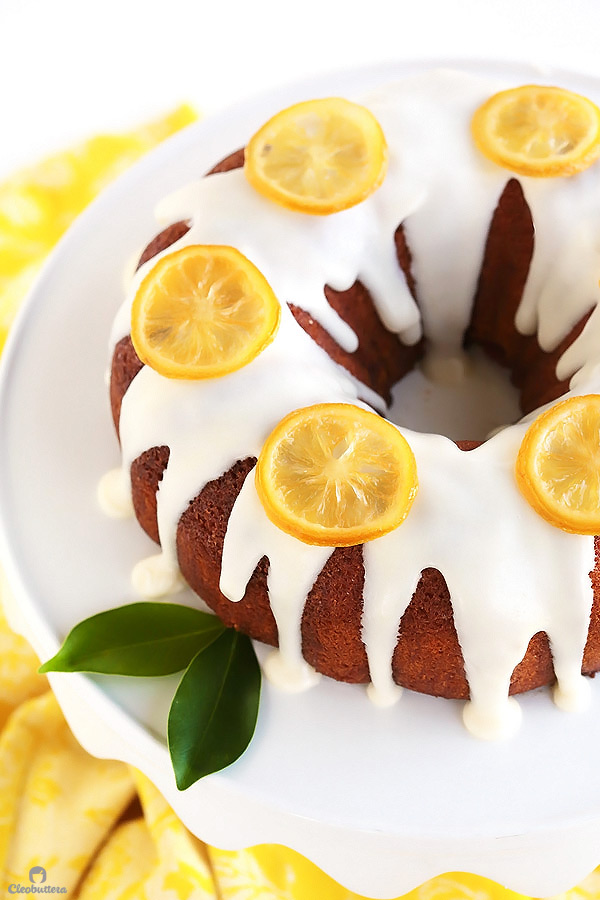 This quadruple lemon bundt cake is as lemony as it gets! A tender sour cream cake is filled with bursts of lemon zest, brushed with lemon syrup, glazed with lemon cream cheese icing and crowned with candied lemon slices. It is melt-in-the-mouth refreshing! (Poppy seeds are more than welcome here!)
Prep Time 30 minutes
Cook Time 1 hour
Additional Time 40 minutes
Total Time 2 hours 10 minutes
Ingredients
For the Cake Batter:
2 large eggs, at room temperature
1 large egg yolk, at room temperature
3/4 cup plus 1 tablespoon (7oz/ 200g) sour cream (divided), at room temperature
1 3/4 teaspoons vanilla extract
2 1/2 cups (8.7oz/ 250g) cake flour (*see note below for making your own cake flour)
1 1/4 cups (8.7oz/ 250) granulated sugar (preferably superfine)
1 1/2 teaspoons baking powder
1/2 teaspoon baking soda
1/2 teaspoon salt
5 teaspoons (1/2oz/ 10g) lemon zest, loosely packed
1/3 cups (1.7oz/ 50g) poppy seeds, optional
14 tablespoons (7oz/ 200g) unsalted butter, at cool room temperature
For the Lemon Syrup: (makes 2/3cup/ 7oz/ 200g)
1/2 cup plus 1 tablespoon (4oz/ 112g) granulated sugar
6 tablespoons (3.3oz/ 94g) freshly squeezed lemon juice
For the Lemon Cream Cheese Glaze: (optional, but recommended)
4 tablespoons (2oz/ 57g) cream cheese, softened (I used 4 squares of Kiri)
1 1/2 cups (6oz/ 170g) powdered sugar
2 to 3 tablespoons freshly squeezed lemon juice
For the Candied Lemon Slices: (optional for garnish)
1 cup (7oz/ 200g) granulated sugar
1 cup (237ml) water
2 organic lemons
Instructions
To Make the Cake Batter:
Adjust oven rack to the lower third of the oven and preheat the oven to 350F/180C (325F/160C if using a dark pan).
Generously spray a 10-cup bundt pan with non-stick cooking spray with flour. Set aside.
In a medium bowl, whisk together the eggs, egg yolk, 1/4 cup (2oz/ 57g) of the sour cream and the vanilla, until well combined.
In the bowl of a stand mixer fitted with the paddle attachment, mix the flour, sugar, baking powder, baking soda, salt, lemon zest, and poppy seeds (if using) on low speed until well incorporated, about 30 seconds.
Add the butter and the remaining sour cream, then mix on low speed until the dry ingredients are moistened. Raise the speed to medium and beat for 1 1/2 minutes. The mixture will lighten in both color and texture. Scrape down the sides of the bowl.
Starting on low speed, gradually add the egg mixture in two parts, beating on medium speed for 30 seconds after each addition to incorporate the ingredients and strengthen the structure.
Scrape the batter into the prepared pan and smooth the surface into an even layer.
Bake fro 45 to 55 minutes, or until the center of the cake springs back when lightly touched, and a wooden skewer inserted between the tube and sides comes out clean or with a few cooked crumbs attached. The cake will shrink slightly from the side of the pan, upon removal from the oven.
Shortly before the cake is finished baking, make the lemon syrup.
To Make the Lemon Syrup:
In a 1-cup or larger microwave-safe glass measuring cup (or in small saucepan over medium heat), heat the sugar and lemon juice, stirring often, until the sugar is dissolved. Do NOT let it come to a boil. Cover it tightly to prevent evaporation until ready to use.
As soon as the cake comes out of the oven, place the pan on a wire rack, then using a thin skewer, poke tiny holes all over the cake. Brush the surface of the cake with about one-third of the syrup. Let the cake cool in the pan for 10 minutes, then invert onto a serving platter. Brush the top and sides of the cake with the remaining syrup. Allow the cake to cool until barely warm before glazing; at least 40 more minutes.
To make the Lemon Cream Cheese Glaze:
In a medium bowl, whisk the cream cheese until smooth. Add in the powdered sugar, and whisk together until no longer lumpy. Whisk in enough lemon juice to get the mixture to a thick, yet pourable consistency.
Pour the glaze all over the cake then give it enough time to set. Garnish with candied lemon slices (recipe below), if desired. Allow the cake to cool completely before serving.
Cut into slices and serve. Store leftovers in an airtight cake dome at room temperature. This cake can be made one day ahead.
To make the Candied Lemon Slices:
Throughly wash the lemon until very clean then pat dry.
Using a sharp knife, thinly slice the lemons into 1/8 inch slices, then remove the seeds.
In a medium bowl, bring the water and sugar to a boil, stirring occasionally to help dissolve the sugar.
Add the lemon slices to the syrup, then reduce heat to medium low to maintain a gentle simmer. Continue cooking the lemons, stirring every now and then, until completely see-through; about 35 minutes. Thicker slices will take longer to cook.
Using tongs, remove the lemon slices and place onto a baking sheet lined with parchment paper. Allow to cool slightly at room temperature, then transfer to the refrigerator to cool completely.
Once lemon slices are completely cool, peel away from parchment paper. Arrange in an airtight container, lined with parchment paper, then store in the refrigerator until ready to use.
Recipe Notes
This cake can be made one day in advance.
If you don't have cake flour, then you can make your own for this recipe by mixing together 2 cups plus 3 tablespoons (7 3/8oz/ 210g) all purpose flour with 1/4 cup plus 1 tablespoon (1 3/8oz/ 40g) cornstarch.
Cake recipe adapted from Rose's Heavenly Cakes by Rose Levy Beranbaum, omitting the poppy seeds, because they're not available where I live, and adding the lemon cream cheese glaze and candied lemon slices.
Candied Lemon Slices adapted from The Cake Blog.
Measurements Note: All recipes of this site have been developed using weight measurements. Although US volume measurements have been included for your convenience, it is highly encouraged that you weigh your ingredients using a kitchen scale to get the best possible results. Due to the sensitive nature of baking, kitchen scales are proven to yield more accurate and consistent results than measuring cups. Enjoy!
This post may contain affiliate links.
All images and content are owned by Cleobuttera® and are copyright protected. Please do not use my images without prior permission. If you would like to republish a recipe, please rewrite it in your own words and link back to the recipe page on my site. Original recipes and creations of this site are intended for personal and home use. Commercial replication or media consumption are only allowed with a written consent and agreement with Cleobuttera owners. Otherwise it is considered a violation of intellectual property. Thank you for respecting and appreciating the amount of time and effort that goes into creating free, unique recipes that make people happy.