Your search for the perfect baked cheesecake ends here!  Incomparably creamy and velvety with just the right amount of tang, sweetness and density.  A wonderful contrast to a crunchy crust that doesn't turn soggy.  Serve plain for the ultimate classic or give it an Eton Mess twist with strawberry topping, meringue kisses and whipped cream!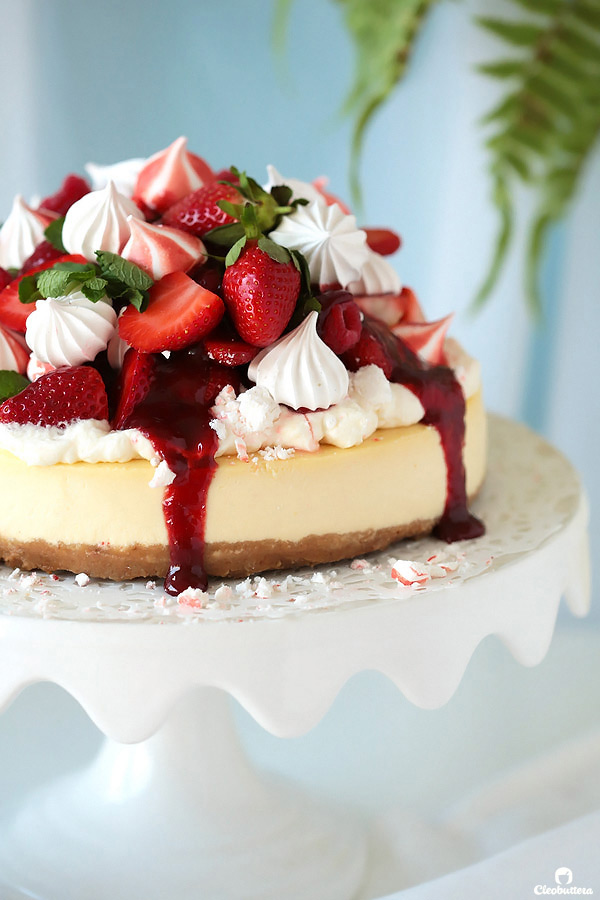 It's Cleobuttera's 3rd birthday!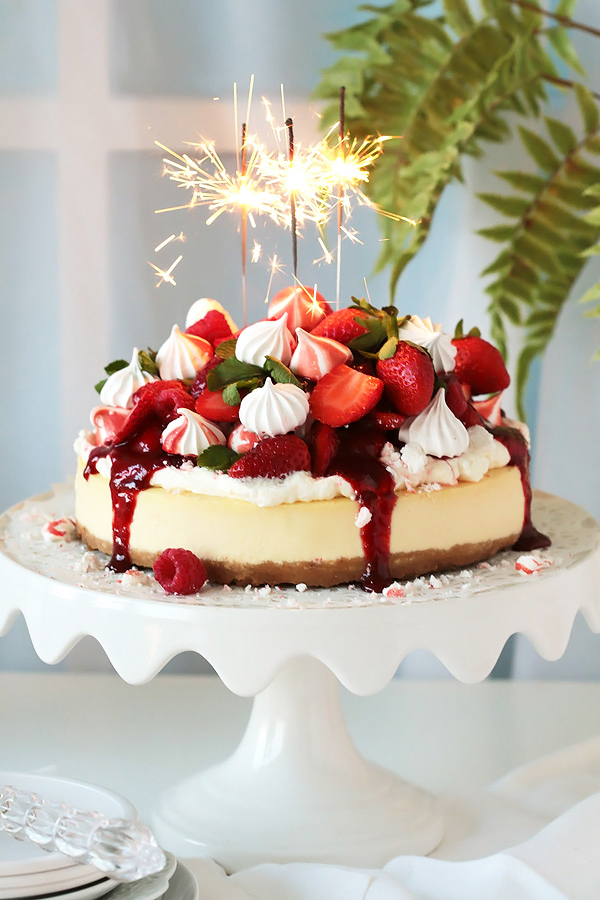 This baby blog of mine has been LIVE on the BIG World Wide Web for 3 whole years!
Just thinking about that gives me butterflies in my stomach.
I entered the internet world with great hostility and clueless expectations, but with a bigger passion that drove it.
I didn't know if I was gonna love it or hate it.  Would want to expand it or quit it.
So much happened around that blog in the past 3 years, including a much needed 1 year break, which I don't regret taking.
If anything, it made me realize how lucky I am to have a humble little space that unites bakers, beginners and professionals alike, from all over the world.  Breaking cultural barriers and shattering stereotypes.  Building life-long friendships and sharing common interests.
Yes…baking does that!  Food brings people together.  Especially cake!
And for that occasion, I decided to celebrate with the cake that started it all…
Cheesecake!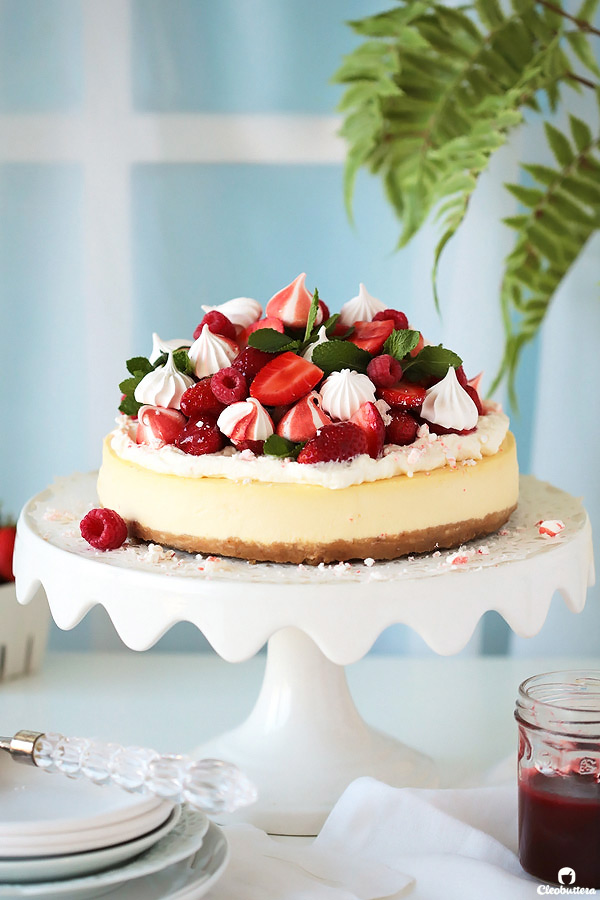 Cheesecake is one of the very first things I learned how to make from scratch.  I was only in my early teens when my parents gifted me a beautifully photographed cheesecake baking booklet, that I just couldn't put down.
I wanted to make everything in it.  I remember dog-earing almost every page and salivating at the sight of each photo.
Cheesecake wasn't that popular in Egypt back in the 90's, which intrigued me even more to try my hands on it.  I wanted to make something, different from what was commonly available.
So I began by choosing the simplest and most basic of flavors;  the classic, plain, vanilla-kissed cheesecake.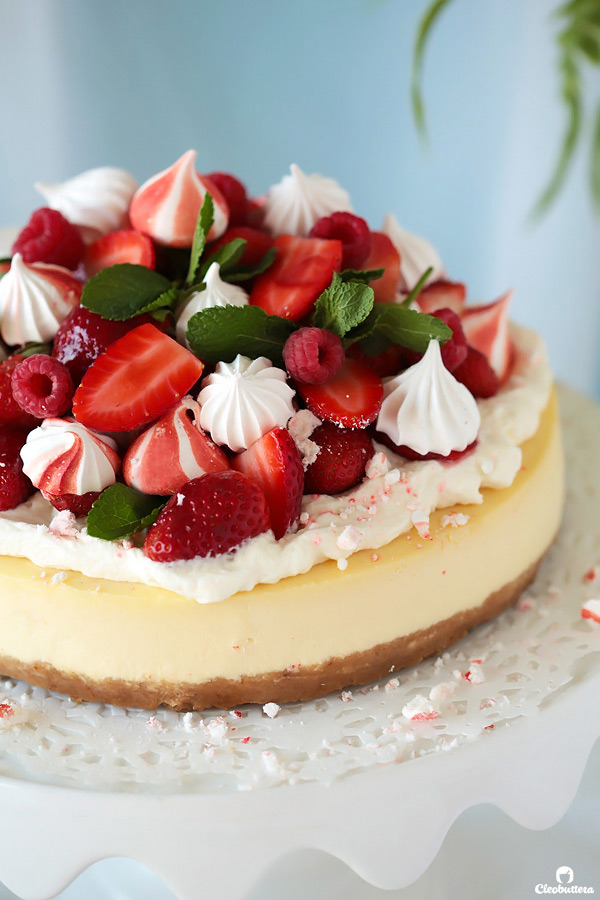 The recipe was simple and straight forward; no water baths, no fussy instructions, but for some reason I was still pretty sure that I screwed it up.  The huge crack down its middle, the overly browned surface and the fact that it looked nothing like the picture in the book, gave away that feeling I guess.  I mean, it was CHEESECAKE after all…something much bigger than what a beginner could take, or so I thought.
Thinking it was a fail, I shoved it in the fridge and went to bed earlier than usual, washed down by disappointment.
When I woke up, I was met with raving comments from my mother and brother who had sneaked in several slices in the middle of the night.  I was like: "You must be kidding me?!"  until I had my first bite, and all my doubts started fading away.
Proud baby baker moment right here!
I started cranking cheesecake after cheesecake from that book, like this one.  I took them to gatherings, potlucks, trips and even to my school!  They were so well received and always the hit of any table, even in all their cracked, burnt, curdled, less than prefect glory. I actually became known as "The Cheesecake Girl."
It was around that moment when I felt a deep connection with baking, and realized that it's becoming "my thing"…and it has really been ever since.
Cheesecake may not be my favorite dessert in the world (surprisingly), but its the one with the most meaning to me.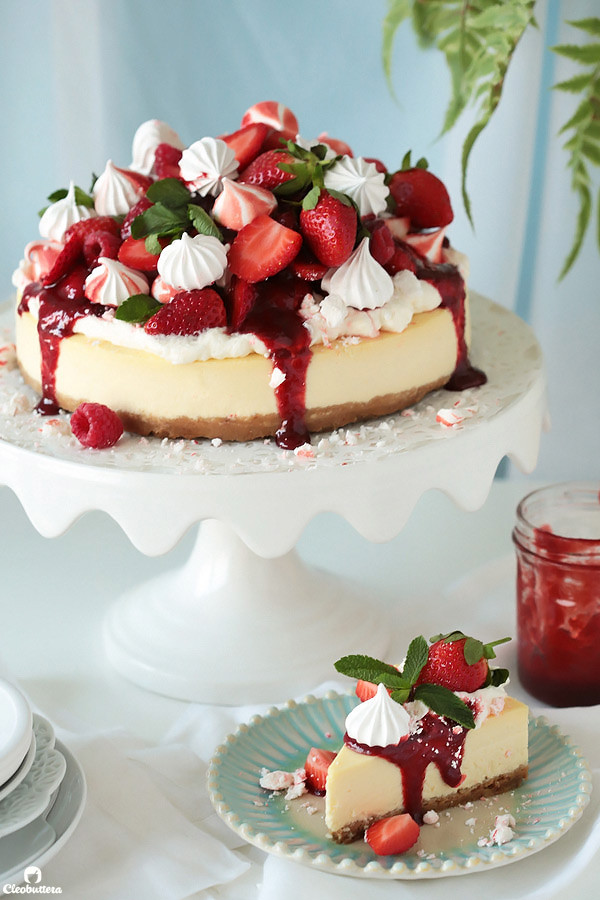 Today, in celebration of my 3rd blogiversay, I'm going back in time, and sharing with you a perfected version of the very cake that exploded a life-long love for baking.
This time…with no cracks, no burnt surfaces, no curdled filling, no screw ups.
Just cheesecake perfection.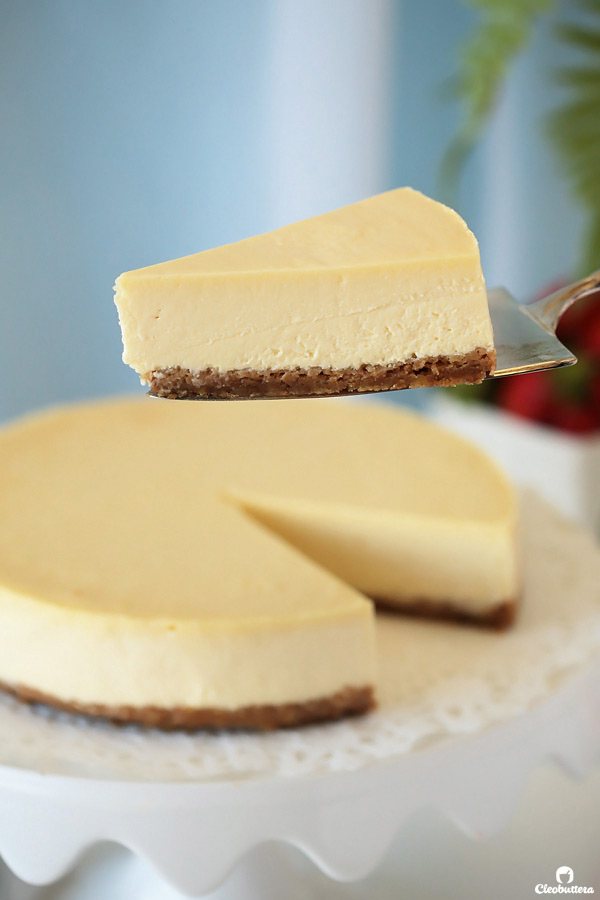 Creamy beyond imagination, luscious, perfectly tangy, with just the right amount of sweetness and density.  And that crust…so crisp!  It is the recipe you and I have been searching for.
Decadent enough to be enjoyed alone, yet light enough to be piled with your favorite toppings.
Either way, its gonna become your go-to cheesecake blank canvas.
But today, because its a special occasion, I couldn't leave things alone.  So I gave it the royal treatment.
Piled high with ruby red strawberry topping, delicate meringue kisses and clouds of whipped cream.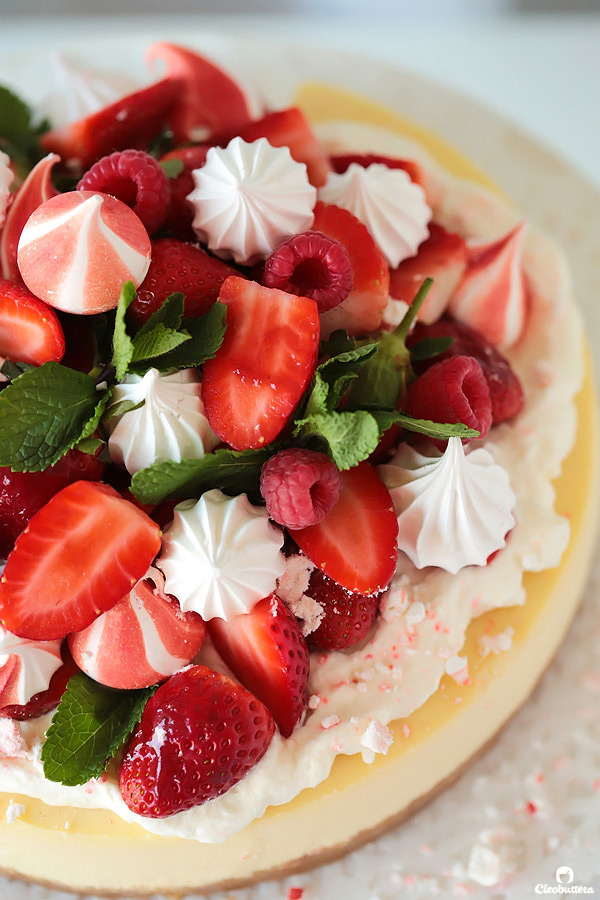 It's basically an Eton Mess on top of a cheesecake.  A dessert twofer!
Who doesn't love a good two-in-one dessert?!  And I'm telling you, this one is really really good.
Eton mess, if you don't know already, is a classic English dessert made with a mixture of broken meringues, strawberries and whipped cream.  It's such a simple concoction to throw together but the taste is dynamite!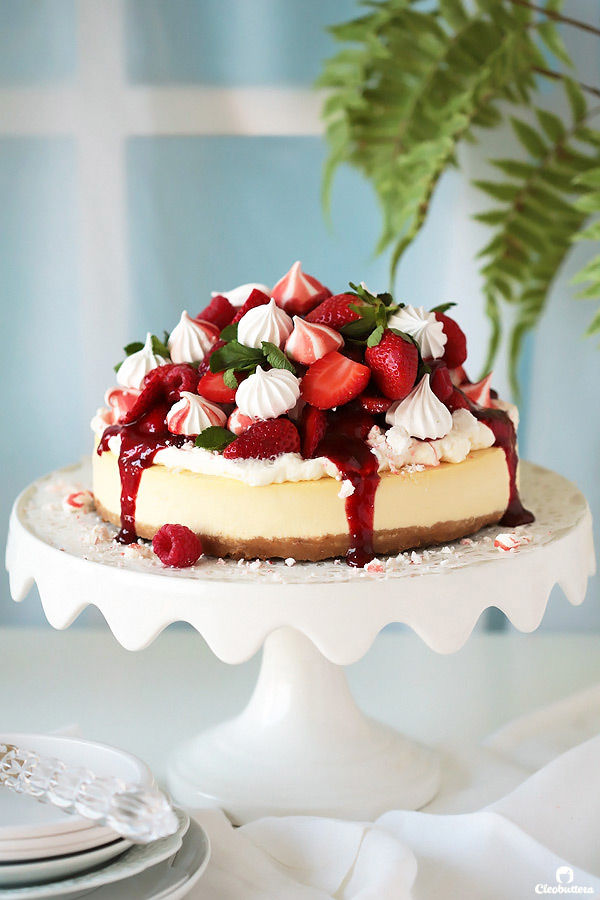 Skip it if you're craving the classic, but keep it if you're looking for something screaming with festivity!
Funnily, I did not have the winter holidays on the brain while making this, but as soon as I was done, I couldn't help but realize how much it resembles it.
So there you go, the perfect showstopper for the holiday season if you will, but really, just as good any time of the year.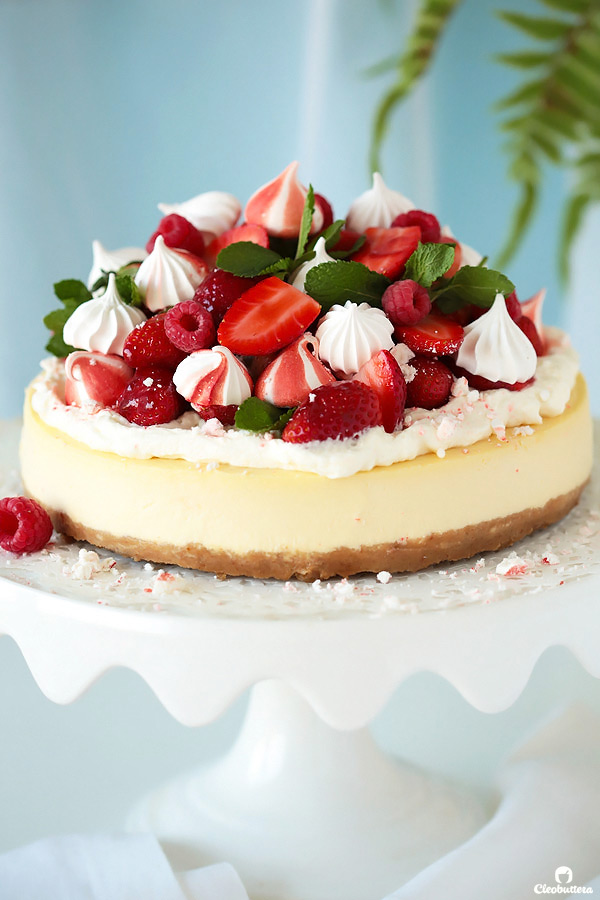 As for me, I just wanted to take advantage of the beautiful strawberries, spurting around Cairo's markets this time of the year.  Did you know that winter is THE strawberry season in Egypt?!  #fact #ytho #iwillneverknow
When the rest of the world is enjoying their berries during summer, we got none!  Oh well…at least we have us some dang good mangoes in summer.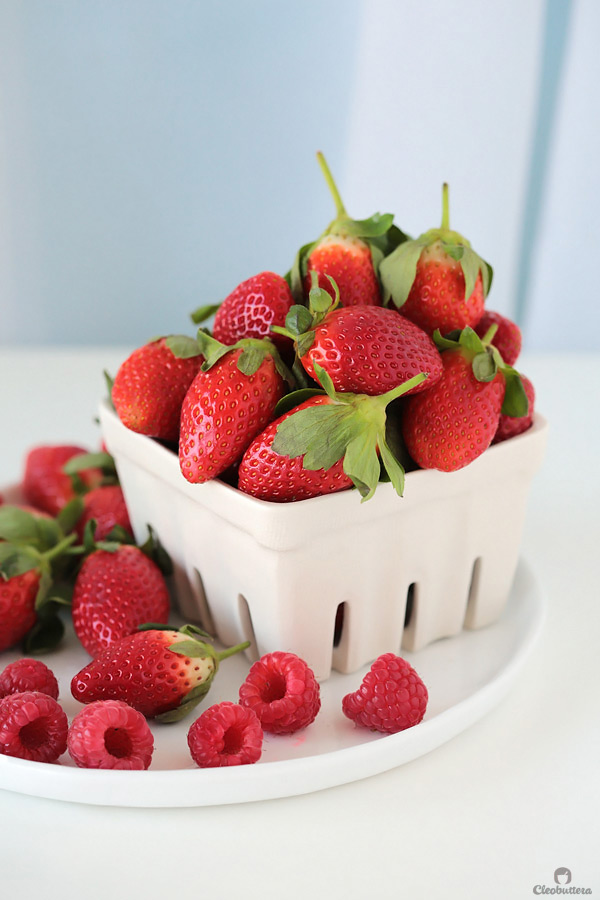 And if its not enough that the strawberries are a thing of beauty on their own, they get lacquered with a glossy strawberry sauce made with only 3 ingredients.   Strawberries, sugar and a touch of lemon juice get cooked together for a few minutes to make what can be best described as a cross between a coulis and a jam.
Its not overly sweet like jam, but just right. It is also thin enough to be poured over aaaaalllll the things, yet thick enough to coat fruit.  And spoons.  And fingers.  It's that good!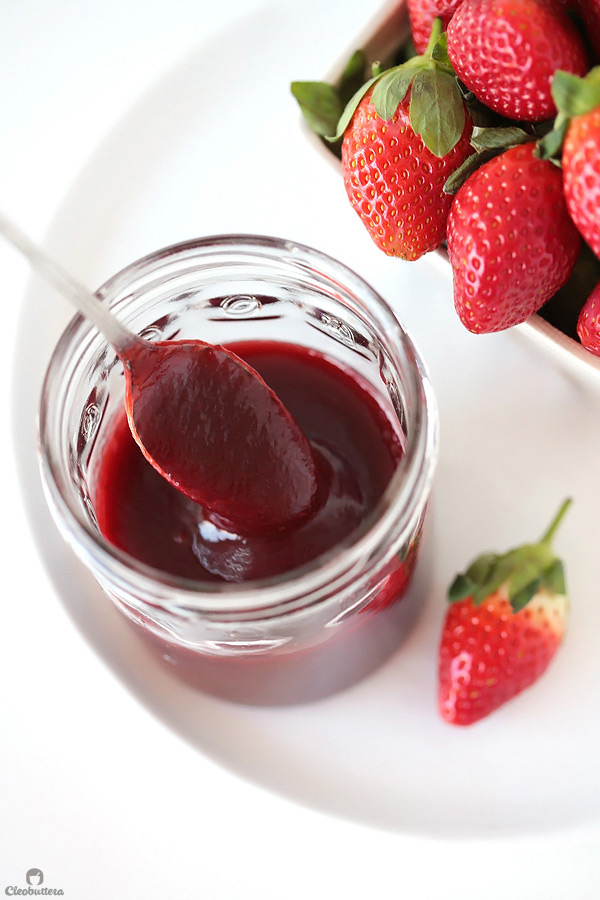 We also have some light and airy meringues, that offer a welcomed play in textures against all the creaminess going on.  Some of it will stay crunchy, some will turn chewy, while others will dissolve into the whipped cream.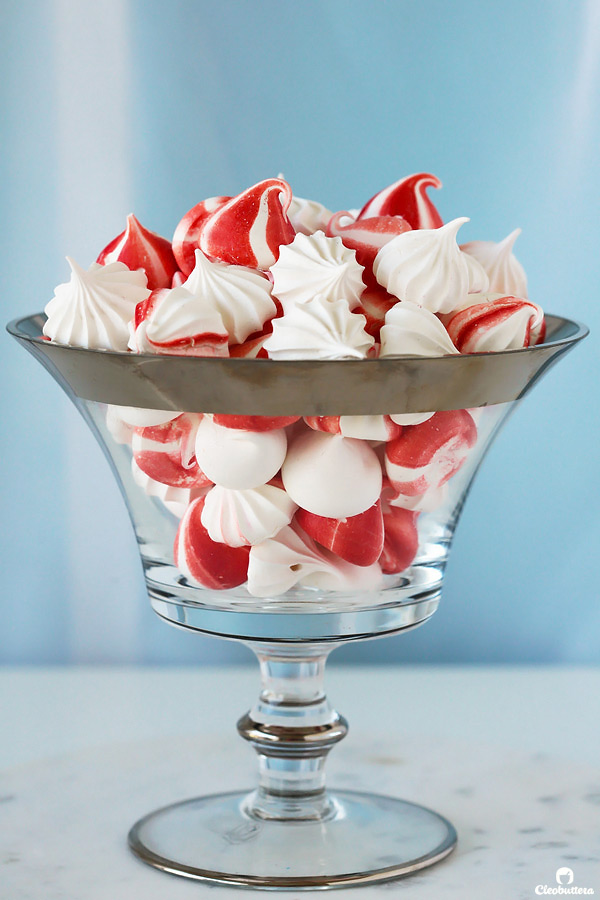 Speaking of, the whipped cream we use here is of a stabilized kind.  A tiny bit of cornstarch is cooked down with some of the cream, then added to the rest of the cream as it whips.  This trick makes the whipped cream last longer without deflating or watering down.  It ensures that its sturdy enough to withstand the heavy weight of all the toppings without losing its airy consistency.  If you're looking for a pipe-able whipped cream that keeps its shape, this is the recipe you need.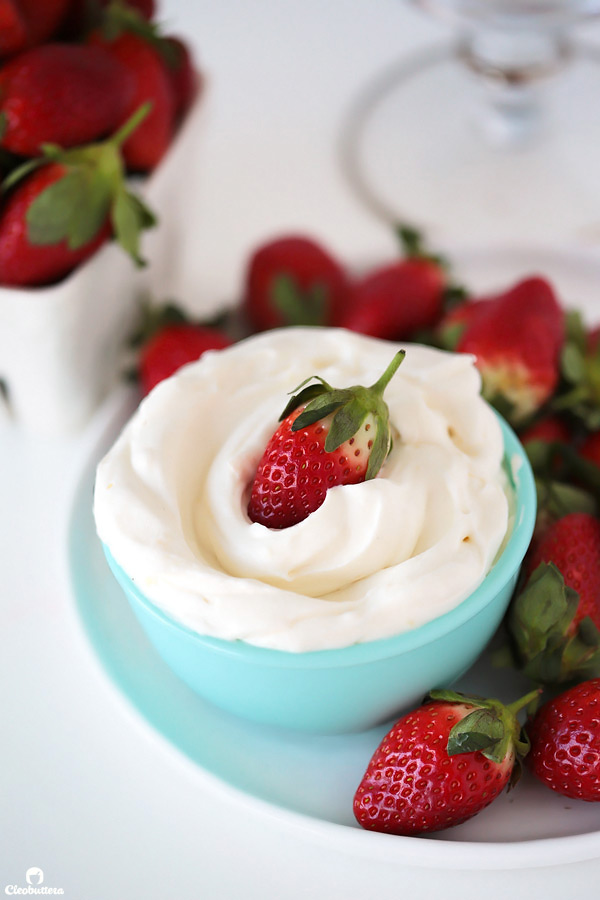 Now let's take a closer look at what makes this cheesecake base a winner.
Raise your hand if you can't count the times you ended up with a sad, soggy crust under that cheesecake.
Me, me, me, me, meeeeeee ✋🏼
Turns out, according to Cooks Illustrated, a typical graham cracker/digestive biscuit crust turns soggy, because the crushed cracker base is loose and porous. As a result, moisture from the heavy, wet cream cheese filling seeps into its nocks and sogs out the crumbs.
To solve that problem, the crumbs needs to be "water proofed."  That is done here by working a pastry dough, which has a much less porous structure than crackers, into it.  Making that kind of hybrid cracker/shortbread crust, is as simple as adding a bit of flour to the mixture.  That's it!  That's the secret ingredient that gives the crust the structure it needs to withstand the long contact with the wet filling without turning soggy.  And don't worry, that classic, cracker-y/biscuit-y flavor we all know and love, remains unchanged.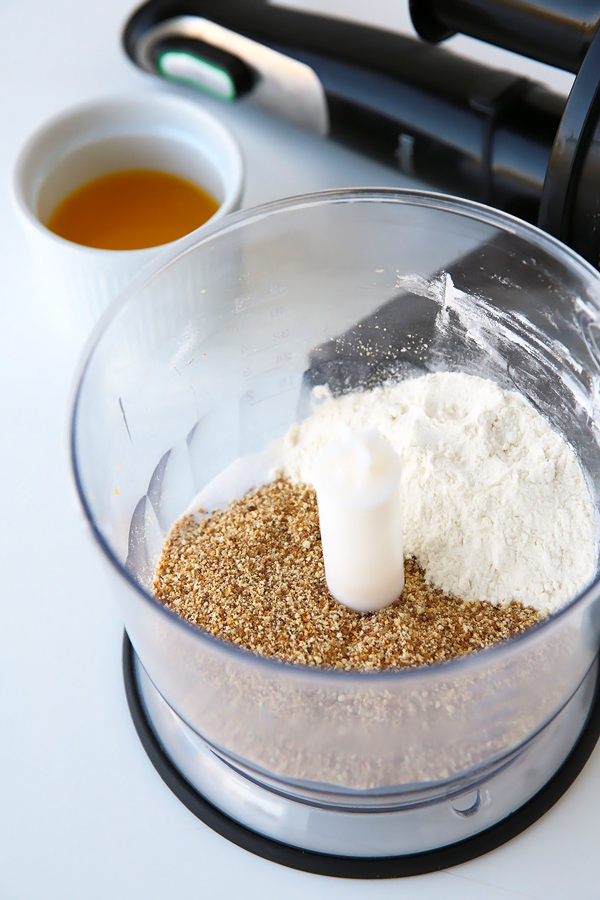 After we mix the crackers with the flour, brown sugar and melted butter, I love to use the bottom of a measuring cup to firmly pack down the crust.  Then ship it off to the oven to bake until your kitchen smells like cookie heaven.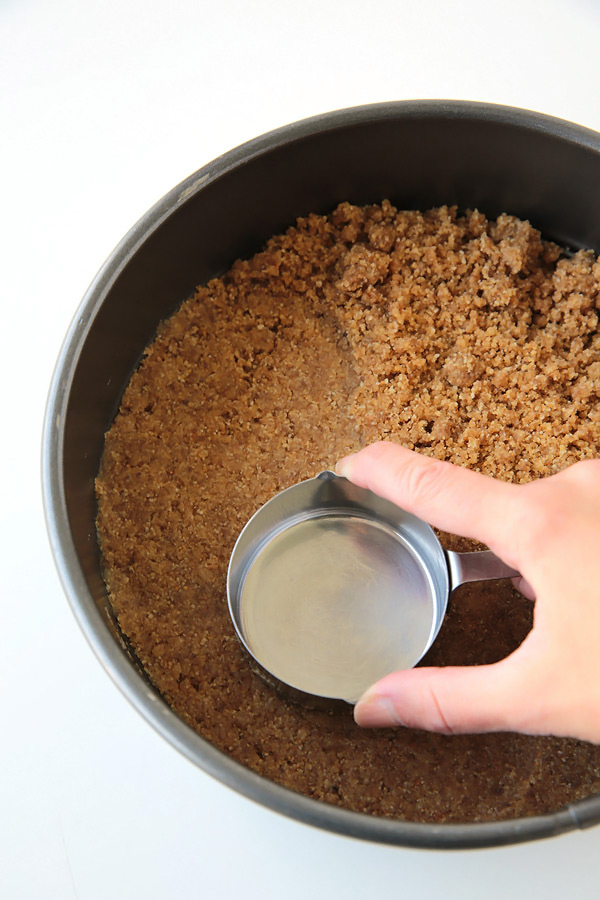 After that, its really important to let the crust cool completely before filling it with the batter.  This also ensures a crisp crust.
As for the batter, its made with your typical cheesecake cast of ingredients; but Tessa from Handle the Heat nailed down the proportions, creating the best tasting cheesecake with the most incredible texture.  Cream cheese, sugar, sour cream, eggs, lemon juice and vanilla are all you need for this luscious batter.  Thanks to Tessa, her tricks to up the sugar slightly than most recipes, cut down the sour cream by half for a less overwhelming tang, and omit the flour, proved key to cheesecake perfection.  A touch of lemon juice and a kiss of vanilla, round out the flavor, so its not too flat.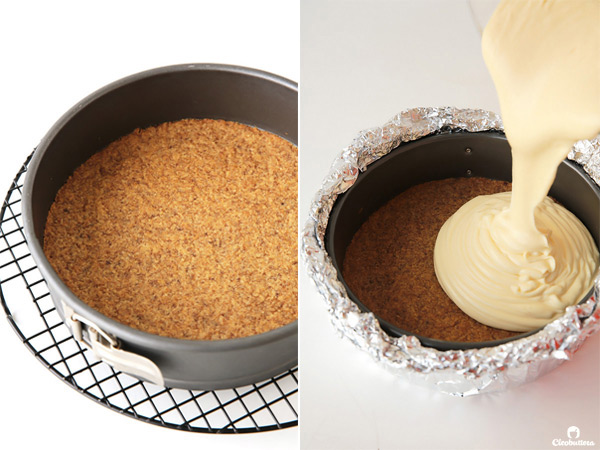 Another trick I learned from Cooks Illustrated, is to gently draw tines of fork across the surface of the cake to pop out any air bubbles.  That way you'll get a smooth surface without any holes.  This is not so important if you're covering the cake with toppings, but it particularly is if you're leaving the cake plain.
Now to get a crack-free cheesecake with that silky smooth texture we all crave, you must bake it in a water bath.  It's actually so simple, and really nothing to be intimidated of.  You just need to wrap your pan really really well with at least 3 layers of heavy duty foil to prevent the water from seeping it.  An even better trick, is to place the pan in a turkey roasting bag, before wrapping it with foil.  This will guarantee that not a drop will get in.  I don't actually use one here, because I discovered that I was all out in the middle of making this.  Teeeheehheeeee 😁
After that you'll just place your foil-lined springform pan inside a roasting pan or really just anything that fits, then fill the roasting pan with enough boiling water to fill halfway up the sides of the springform pan.   That's it!  NO biggie!  Then into the oven it goes to bake.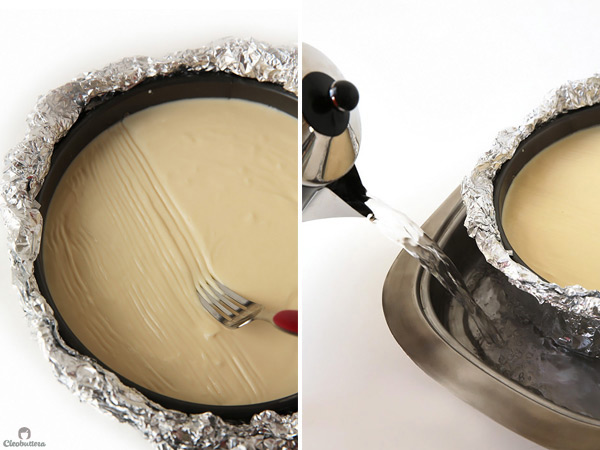 And in the oven it cools.  After the cheesecake is all baked, turn off the oven heat and crack the oven door open just by 1-inch. Leave the cheesecake to cool inside the oven for 1 hour. This gentle cooling process prevents the cheesecake from collapsing and helps avoid cracks from happening, ensuring a very creamy filling.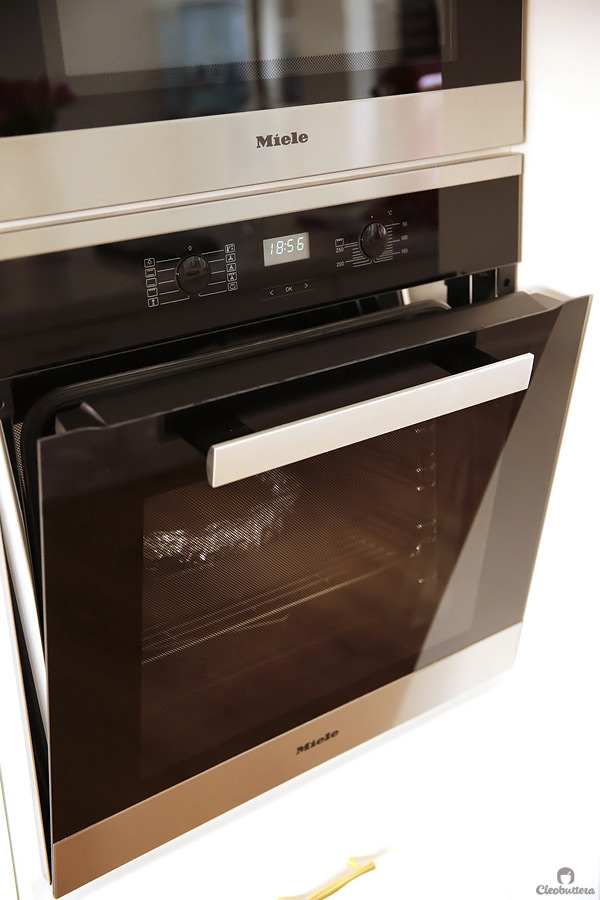 When its out, remove all the foil and stuff, and run a thin-bladed knife between the cheesecake and the side of springform pan to loosen. This helps avoid cracking as the cheesecake cools. Transfer to a wire rack and allow to cool completely; about 2 hours.
Then lay a triple layer of thick paper towels over the springform pan, without touching the surface of the cheesecake. This soaks up any condensation that may occur during chilling. Then wrap the pan with the paper towels still intact, tightly with plastic wrap and refrigerate until cold and firmly set.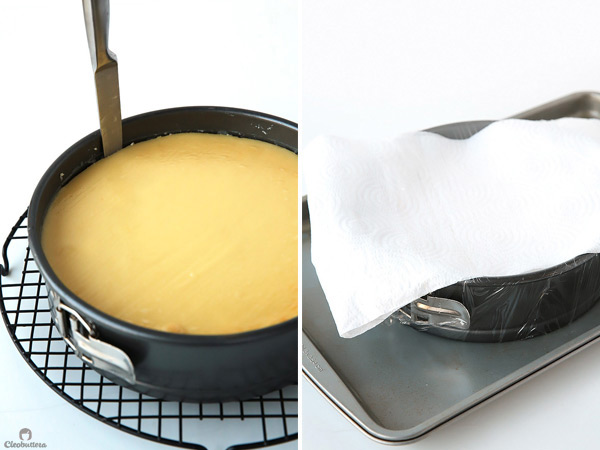 While that's going on, entertain yourself by making some cute meringue kisses.  I don't want you get bored, so I'm giving you another project to do 😜
Seriously though, you could just run to the nearest store and buy some ready-made ones, but I bet they won't be as adorable as these.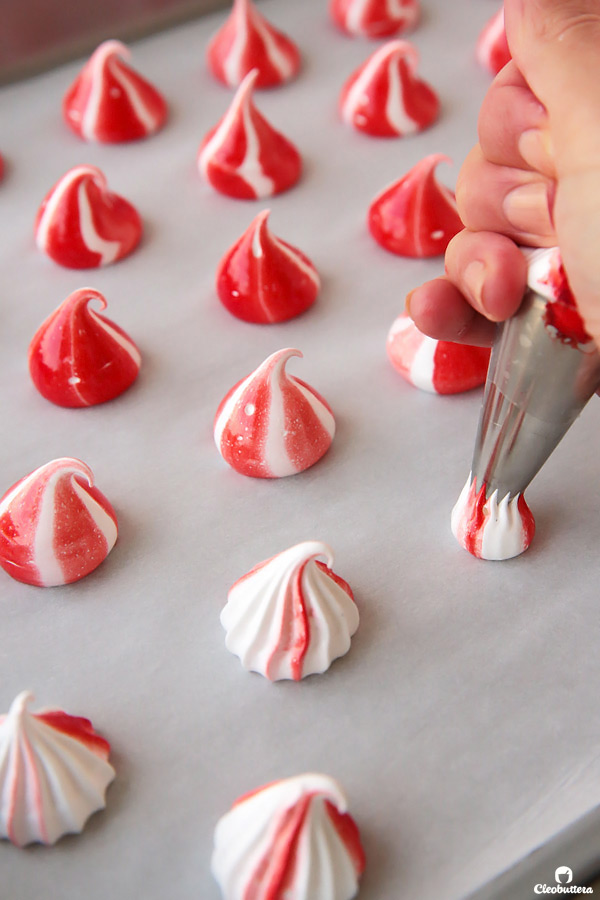 I'm so happy I found this recipe over at Martha Stewart, because before this one, I had lost hope at making crack-free meringues.  I mean, some might crack of course, but for the most part, these turn out perfect.
It uses the Swiss meringue method, were the egg whites and sugar get heated together over a pot of simmering water until the sugar dissolves, only then do we whip it.  I'm guessing this the secret to their success, because I was never able to fully dissolve the sugar before. Watch the video tutorial here.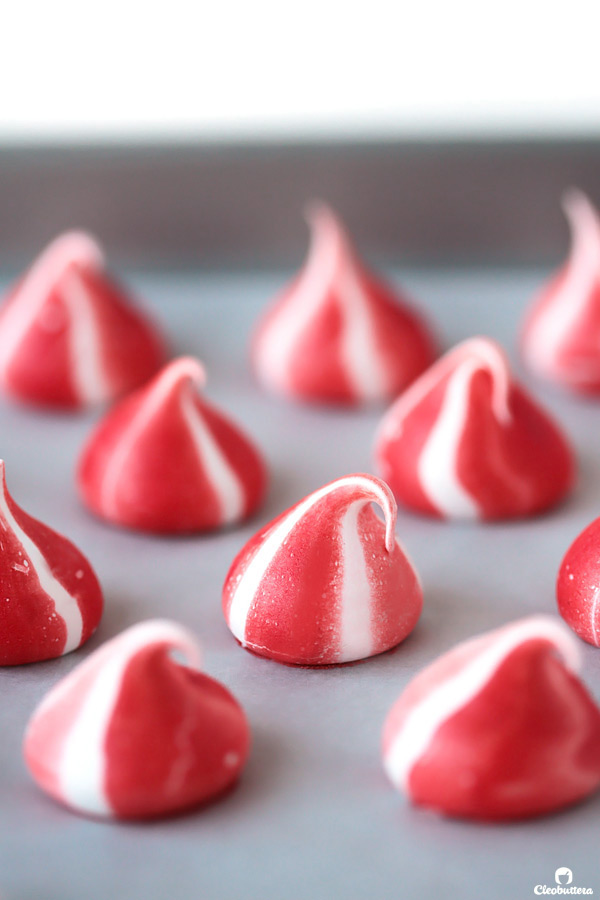 Now can we paleeeeeez cut into the cheesecake already?!  Geeeeeeeeez…so talkative!
Now tell me that smooth surface wasn't worth all the work.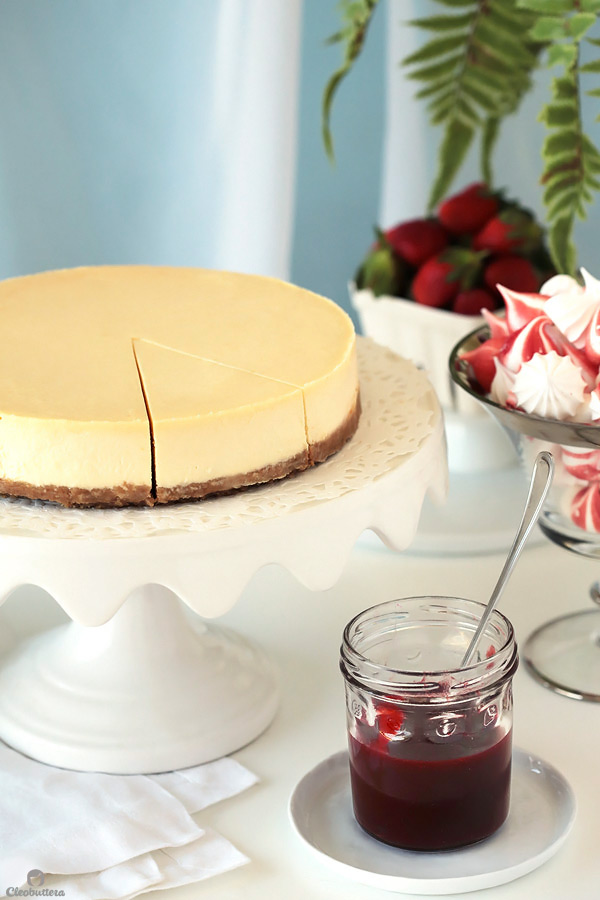 For all the purists out there, here's your slice.
Clean, creamy, soft, melt in the mouth and just dense the way its meant to be.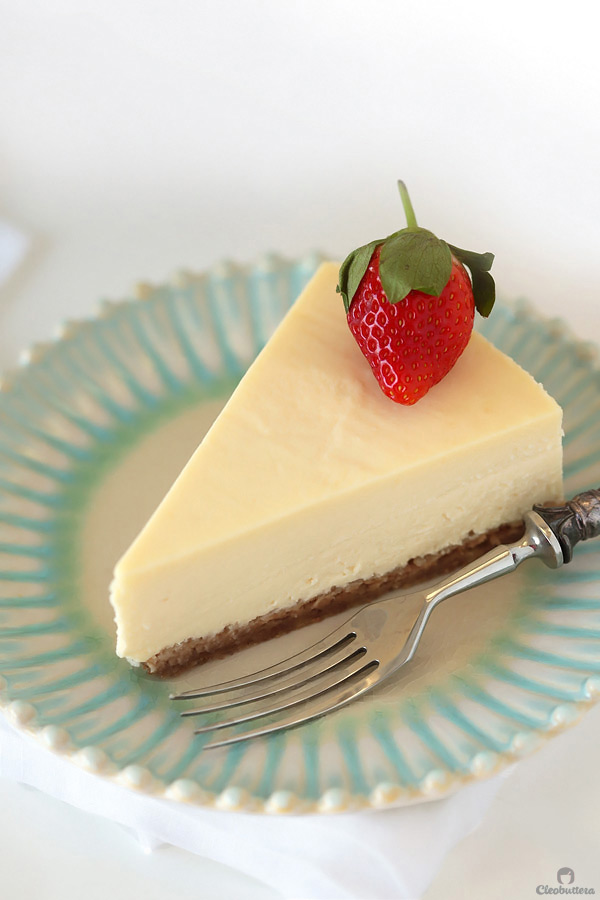 As for those who love to play with their food…Let's pile on the goodies!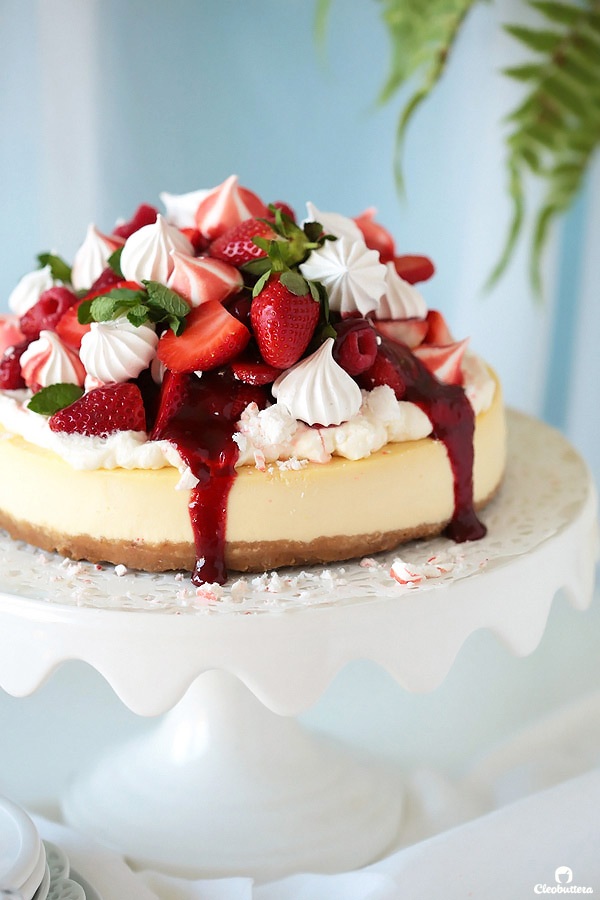 and here goes your slice.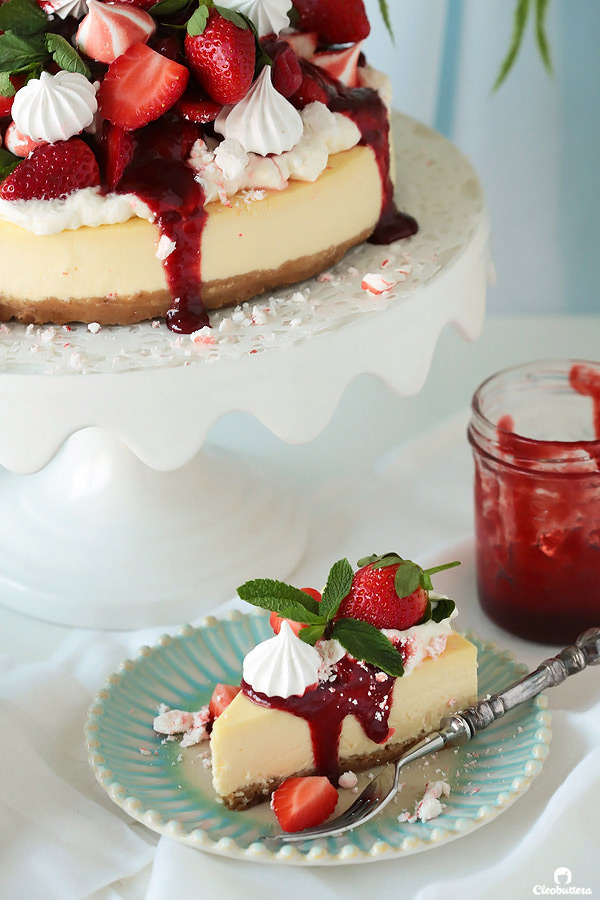 I wish there was a way that I could share a slice of this deliciousness with each and everyone of you, who have been reading for the past 3 years, or 3 minutes, as a token of my appreciation.
Nothing sums up what I want to say more, other than: Thank you…I love you.

The Perfect Classic Cheesecake with Strawberry Meringue Topping
Ingredients
For the Crust:
6 whole graham crackers or Digestive biscuits (90 grams)
⅓ cup packed (66 grams) dark brown sugar
½ cup plus 1 tablespoon (71 grams) all-purpose flour, (preferably weighed for accurate results)*
¼ teaspoon salt
6 tablespoons (85 grams) unsalted butter plus an extra ½ tablespoon (7 grams) for brushing the bottom of the pan, melted


For the Cheesecake Filling:
2 pounds (907 grams) cream cheese, softened to room temperature*
1¼ cups (250 grams) granulated sugar
½ cup (130 grams) sour cream
1 tablespoon (15ml) freshly squeezed lemon juice
1½ teaspoons pure vanilla extract or 1 tablespoon imitation vanilla flavoring
4 large eggs
Boiling water, for the water bath


For the Meringue Kisses: (store-bought meringue cookies can be substituted for a shortcut)
3 large egg whites, at room temperature
¾ cup (150 grams) granulated sugar
⅛ tsp salt
⅛ tsp cream of tartar, optional
¼ teaspoon pure vanilla extract or ½ imitation vanilla flavoring
Red gel food coloring, optional


For the Strawberry Sauce:
1 pound (454 grams) hulled fresh or frozen strawberries (mentioned weight is AFTER being hulled, so buy more than 1 pound), thaw completely if using frozen
6 tablespoons (75 grams) granulated sugar
2 teaspoons (10 ml) freshly squeezed lemon juice


For the Stabilized Whipped Cream:
2 tablespoons (14 grams) powdered sugar
1 teaspoon cornstarch
1 cup (237ml) cold heavy whipping cream, divided
½ teaspoon vanilla extract


To serve:
1.6 pounds (750 grams) fresh strawberries, hulled and halved or quartered if too large, leaving a few whole with the stems for garnish
Fresh raspberries, for garnish (optional)
Fresh mint leaves, for garnish (optional)
Instructions
To make the crust:
Adjust oven to rack lower-middle position and heat oven to 325F/163C degrees.
Brush the bottom of a 9-inch springform pan with ½ tablespoon of melted butter.
In a food processor, combine the graham crackers (or digestive biscuits) and sugar, and process until finely ground, about 30 seconds.
Add the flour and salt and pulse to combine. Add the 6 tablespoons of melted butter and pulse until crumbs are evenly moistened.
Transfer the crumb mixture to the prepared pan and spread to evenly cover the bottom. Using the flat bottom of measuring cup or ramekin, firmly press to pack the crust into the pan.
Bake until fragrant and beginning to brown around edges, about 13 minutes. Transfer to a cooling rack and set aside to cool completely. Maintain oven temperature. Meanwhile, prepare the filling.
To make the cheesecake filling:
In the bowl of a stand mixer fitted with paddle attachment (or in a large bowl and using a hand electric mixer) beat cream cheese on medium speed until smooth and free of lumps.
Add in the sugar and beat until well combined. Add in the sour cream, lemon juice and vanilla, and mix until incorporated.
Add the eggs, one at a time, mixing well after each addition. Scrape down the sides and bottom of the bowl, then beat the mixture for a few more seconds until the batter is smooth. Be careful not to overmix. If the batter has lots of cream cheese lumps, pour it through a fine mesh strainer to smooth it a out.
Gently draw tines of fork across the surface of the cake to pop air bubbles.
To bake the cheesecake:
Prepare the pan (with the cooled crust) for the water bath, by placing it in a turkey roasting bag; do not close the top. Then secure it by wrapping a triple layer of foil around the bottom and up the sides of the pan. This helps seal the pan well so the water from the water bath doesn't seep into the pan and soak the crust. (The roasting bag step is optional but recommended, as it really does the trick at keeping all the water out. Foil wrap only, does not guarantee leak-free baking)
Pour the batter over the cooled crust, then place in a large roasting pan. Taking care not to splash water into the cheesecake pan, pour enough boiling water into the roasting pan, to reach halfway up the sides of the cheesecake pan.
Transfer the roasting pan to the oven, and bake the cheesecake at 325F/163C degrees for 1 hour 10 minutes to 1 hour 30 minutes, or until the cheesecake's outer three inches look slightly puffed and set, but the inner circle still jiggles slightly when you gently shake the pan and the internal temperature of the cheesecake's center registers 165F/74C.
Turn off the oven heat and crack the oven door open just by 1-inch. Let the cheesecake cool inside the oven for 1 hour. This gentle cooling process prevents the cheesecake from collapsing and helps avoid cracks from happening, ensuring a very creamy filling.
Remove the cheesecake from the oven and from the water bath, unwrap the foil and roasting bag. Let cool for 5 minutes, then run a thin-bladed knife between the cheesecake and the side of springform pan to loosen. This helps avoid cracking as the cheesecake cools. Transfer to a wire rack and allow to cool completely; about 2 hours.
Lay a triple layer of thick paper towels over the springform pan, without touching the surface of the cheesecake. This soaks up any condensation that may occur during chilling. Then wrap the pan with the paper towels still intact, tightly with plastic wrap and refrigerate until cold and firmly set, at least 6 hours or up to 3 days. Meanwhile, prepare the other cake components , if using.
To make the meringue kisses:
Adjust oven to rack to lower-middle position and heat oven to 200F/93C degrees.
In a medium saucepan, heat an inch or so of water until barely simmering over medium-low heat.
In the bowl of a stand mixer (or any heatproof bowl), whisk together egg whites and sugar until combined. Place the bowl over the pot of barely simmering water, making sure the water does not touch the bottom of the bowl.
Stir gently but continuously until the sugar dissolves and mixture is warm, about 3 minutes. To be sure, rub the mixture between your fingers and you shouldn't fell any graininess. Add salt and cream of tartar.
Transfer the bowl to a standmixer fitted with whisk attachment (or use a handheld mixer) and beat on medium-high speed until stiff, glossy peaks form and meringue is mostly cooled, about 7 minutes.
For white meringues, skip the coloring step. For stripped colored meringues, using a small paintbrush, paint 3 vertical stripes of food coloring inside a pastry bag fitted with a ½-inch round tip like Ateco #805 (for round kisses) or ½-inch French star tip like Ateco #867 (for rosette kisses). Fill bag with meringue, and pipe 1-inch kiss shaped drops, 2 inches apart on 2 parchment-lined baking sheets. As you finish piping each shape, apply less pressure to pastry bag, and pull the tip off in a quick motion.
Bake for 2 to 3 hours, until the meringues are firm to the touch but still have a soft center, and lift off the parchment paper easily. If you prefer them crisp all the way through, then go with 3 hours. The best way to know if they've reached your preferred texture is to taste one! For better judgment, let the sample cool completely (about 5 minutes), before tasting it. The meringues shouldn't change color or brown as they bake.
Allow the meringue to cool completely on the baking sheets then store in an airtight container at room temperature for up to 1 month.
To make the strawberry sauce:
Using a food processor or blender, purée the strawberries until completely smooth.
Pour the strawberry purée through a fine mesh sieve set over a medium saucepan. Press against the strainer with rubber spatula or back of a spoon to help as much juice and pulp to pass through the strainer. You should end up with 1½ cups. Discard seeds. Stir in sugar and lemon juice.
Bring pulp and juices to a boil over medium-high heat. Reduce heat to medium and cook, stirring frequently with a rubber spatula, for 5 minutes. Use a slotted spoon to skim foam from the sides and surface of saucepan.
Continue to cook, stirring constantly and scraping the bottom with a rubber spatula to prevent scorching and burning, until mixture has thickened and reduced by half (3/4 cup; 225 grams); about 8 to 10 more minutes.
Transfer to a glass jar or container and refrigerate uncovered until no longer hot. Cover tightly and store in the fridge for up to 1 week.
To make the stabilized whipped cream:
In a very small saucepan, combine the powdered sugar and cornstarch. Gradually stir in ¼ cup of the cream.
Bring the mixture to a boil, stirring constantly until just thickened but pourable. Do not let it get too thick.
Scrape the mixture to a small bowl and set aside to cool to just room temperature. Stir in vanilla.
In a chilled mixing bowl, beat the remaining ¾ cup cream just until traces of the beater marks start to appear. Add the cooled cornstarch mixture in a steady stream, whipping as you go. Continue to whip until stiff peaks form. Be careful not to over mix so the cream doesn't curdle. Keep chilled in the fridge until ready to use.
To assemble the cheesecake:
Remove the plastic wrap and paper towels off of the the springform pan. To unmold cheesecake, remove sides of pan. Slide a thin metal spatula between the crust and the pan bottom to loosen, then slide cheesecake onto serving plate. Serve plain, allowing it to stand for 30 minutes before serving, or follow the instructions below for Eton Mess inspired cheesecake. Alternatively, plain cheesecake can be served with the fresh strawberries and sauce on the side.
Spread and swirl the whipped cream over the surface of the cheesecake.
Transfer the hulled and halved strawberries to a bowl and stir in the strawberry sauce to coat. Place the sauce-coated strawberries over the whipped cream, squeezing in some meringue kisses between them. Top with more meringues (you might not need to use them all up) and the whole strawberries. Add accents of crushed meringues, raspberries and mint leaves if desired.
Notes
* If you don't have a kitchen scale to weigh the flour, use the Spoon & Sweep method: Use a spoon to lightly fill measuring cup with flour until required amount is obtained, then sweep access with the back of a knife.
* I used Kiri Creamy brand in the tub not the individual squares to make the cheesecake filling with amazing results. Other great brands like Philadelphia (brick-style) can also be used.
* The baked cheesecake can be made up to 3 days in advance, kept well covered and chilled in the refrigerator.
* Meringue kisses can be made up to a month in advance, stored in an airtight container at room temperature.
* The strawberry sauce can be made up to a week in advance, chilled in the fridge in an airtight container. It can also be frozen for up to 6 months, in a plastic container with tight lid.
* It is best to make the stabilized whipped cream the day you're planning to serve the cheesecake.
Cheesecake filling recipe adapted from
Handle the Heat
.
Crust recipe adapted from
Cooks Illustrated
.
Meringue Kisses recipe adapted from
Martha Stewart
.
Strawberry sauce recipe adapted from
Wicked Good Kitchen
.
Stabilized Whipped Cream adapted from
Rose's Heavenly Cakes
.