The Most Amazing Cornbread
Rich and moist cornbread with an amplified corn flavor that comes from using real corn purée in the batter. It's wonderfully sweet, a little savory and ooh so good with whipped honey butter!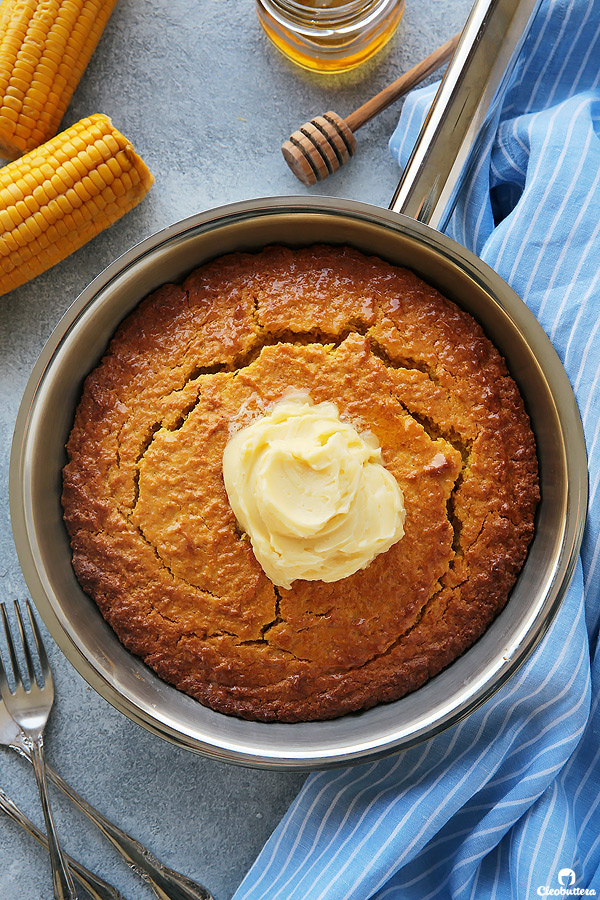 I'm not going to pretend to be a cornbread expert here, because I couldn't be any further from it.
Having lived most of my life in Egypt, where cornbread rarely makes an appearance, I've only had it a handful of times; one of which came from for a box mix. All I could remember of them, was that they were, well…forgettable. Which is probably the reason why I never cared to revisit it.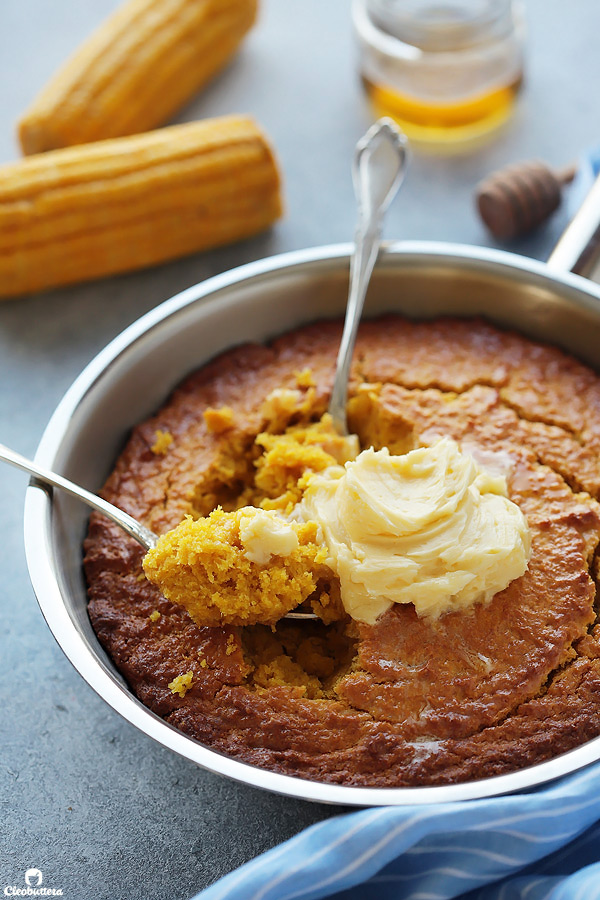 But then I saw this very tempting cornbread video by Chef Steps, and everything changed.
It made me want to make it, and it made me want to make it right now!
After having tried it, all I could say now is that while I might not know cornbread, there's one thing I know for sure about this one…and that it is one of the most insanely delicious things I've ever tasted.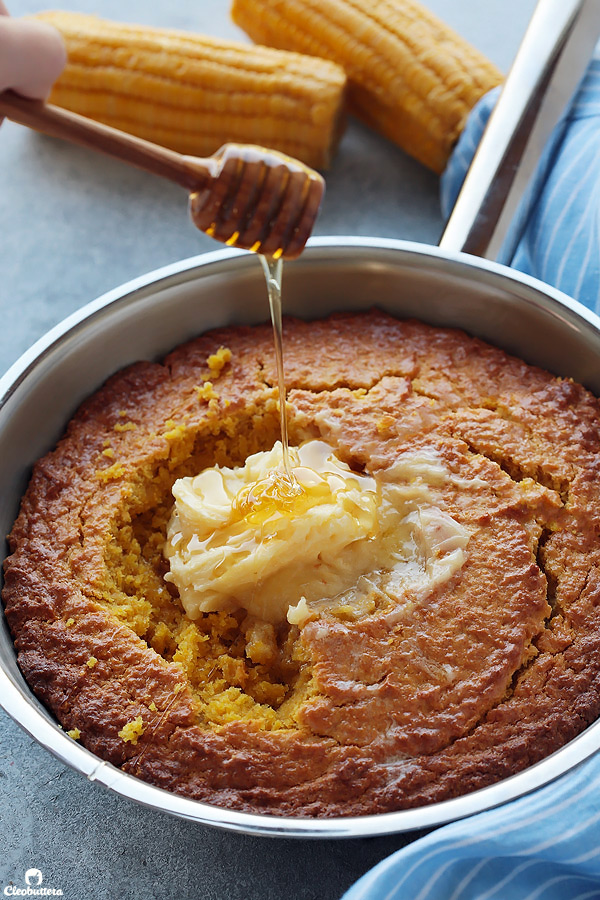 And while my frame of reference is pretty small, if not nonexistent, I've come to the certainty that this the BEST CORNBREAD EVER! No need to even try another recipe in my life, because I can't see how this one can be beat.
Coming from someone who's obsessed with trying a million recipe variations of the same thing, this is a really bold statement.
I know this cornbread might not look all that, but the flavor and texture are dynamite. Don't let the crackly, dry-looking crust fool you into thinking that it's dry, because this is one super-moist bread, that can easily pass for cake. The exterior has a pleasant, slightly crunchy texture, that makes way and contrasts beautifully with a soft-crumbed, rich and moist, gorgeously yellow, cake-y interior.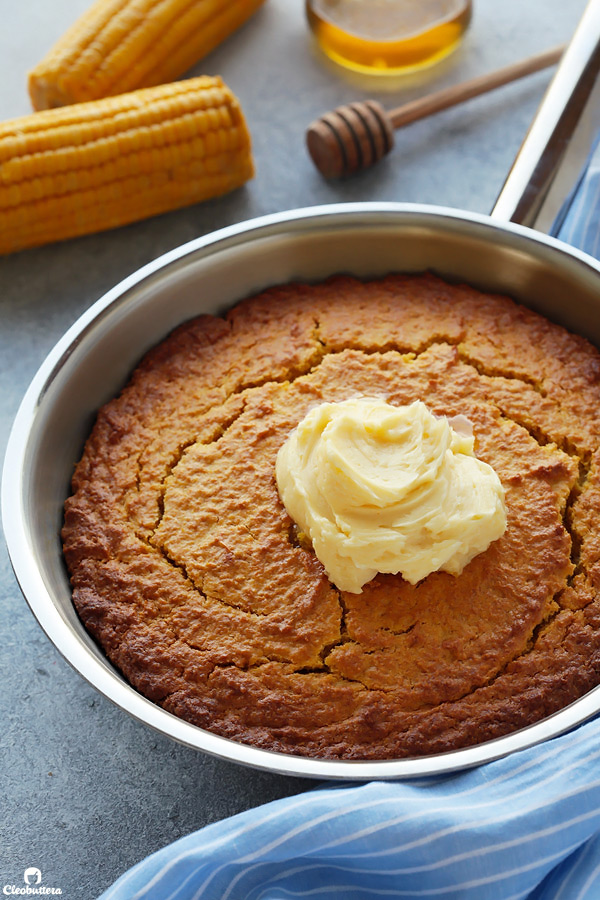 As for flavor…this cornbread is not kidding around. It puts the word "corn" up, front and center. It has an in-your-face, loudly pronounced corn flavor. You'll literally feel like your eating an ear of sweet corn disguised in a snack cake. As corny as this may sound, but this is the corniest cornbread you're likely to run into ? It's also moderately sweet, balanced with a little savoriness, which puts it in the Northern-style cornbread category.
This amplified corn flavor is courtesy of a generous amount of frozen sweet corn purée in the batter. While most cornbread recipes depend on yellow cornmeal alone for flavor and color, this one is based around REAL CORN. Frozen corn kernels are used here, because according to Chef Steps, "freezing corn as soon as it's picked keeps its sugars from converting into starches." To deepen the corn flavor even more, the kernels gets sautéed in butter…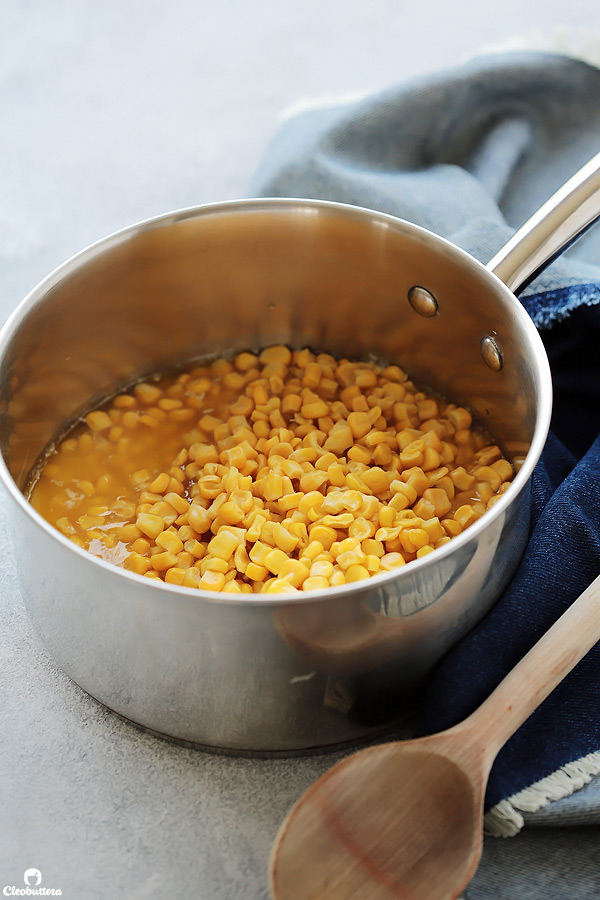 …until beautifully golden in color and your house smells like corn heaven. The butter will also brown slightly in the process, which we all know is the secret of all things amazing.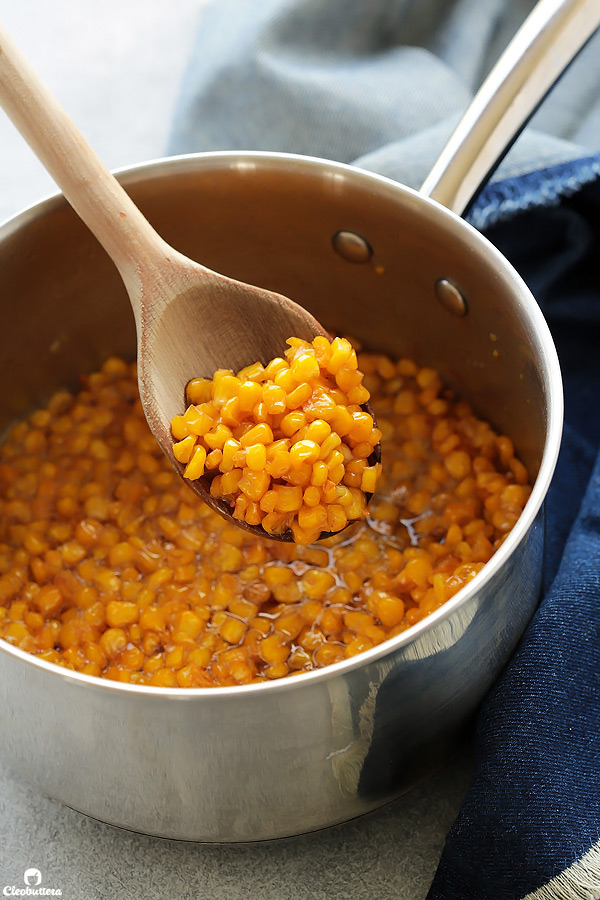 This corn gorgeousness then gets puréed in a blender with heavy cream (I mean…hello moisture and richness!), milk and eggs. Then it gets poured over the dry ingredients.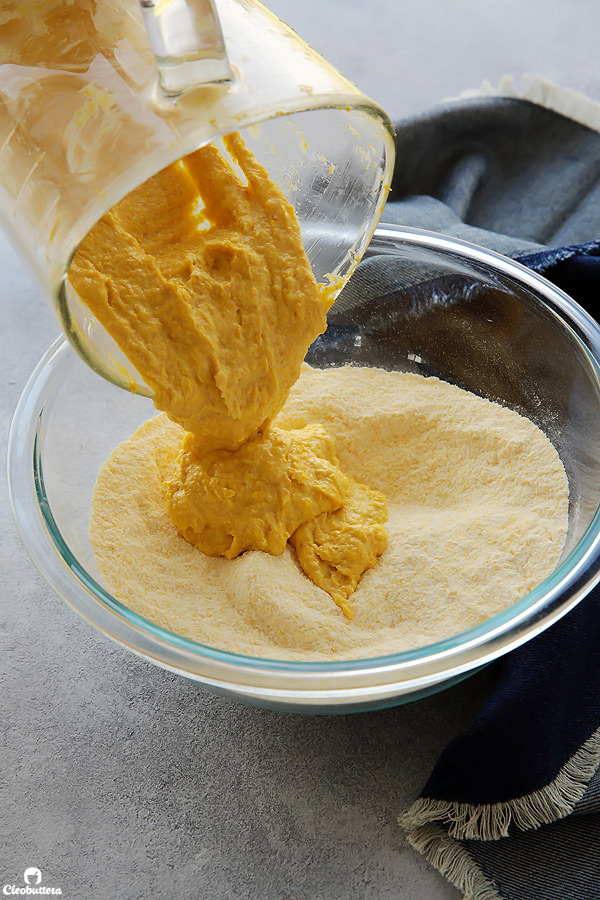 The dry ingredients include cornmeal, all purpose flour, leaveners (both baking powder and baking soda), salt and sugar.
Now here's where I departured from Chef Steps. The original recipe uses isomalt in place of some of the sugar. Iso…what?! Yeah…I knew you'd say that, which is exactly why I chose to stay away from it at all costs. I'm still getting daily messages about the difficulties of finding potato flour, which I used in this amazing bread recipe, and how it can be substituted. I didn't want to repeat the agony here, so I did what I could to avoid another hard to find ingredient.
In case you're wondering, isomalt is a sugar alcohol that is half as sweet as sugar, and according to Chef Steps, it makes the cornbread incredibly tender. As suggested by reviewers of the recipe, I was able to substitute it with half its amount in sugar, with amazing results. I really don't see how more tender it can get because its already incredibly so, but if you're interested to try it out with the isomalt, please refer to the 'NOTES' at the end of the recipe for the exact amounts.
Another thing to note, is that I halved Chef Steps' recipe, because unless you're feeding a small army, it makes way more than any household can handle. But then again, its up to you of course if you want to redouble the recipe.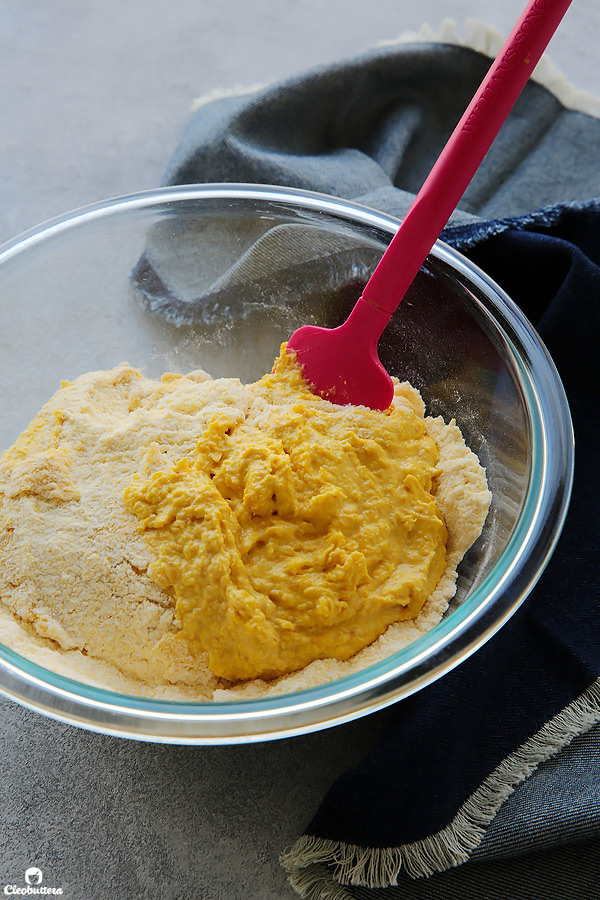 For the cornmeal, you'll want to choose the yellow kind like this one. Ideally, find one that is labeled "medium grind" cornmeal. However, I actually used an Italian brand labeled "polenta," because all the local cornmeals I could find here in Egypt are powdered, and it worked so well.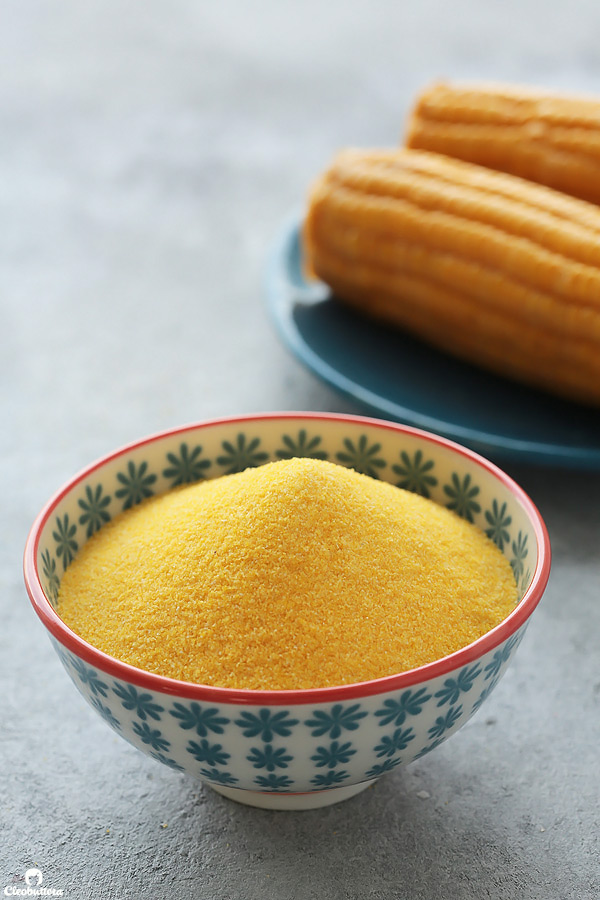 You can bake the cornbread in a skillet, which I love because of it's rustic look, but if you don't have an oven-safe skillet, a cake pan works just as well.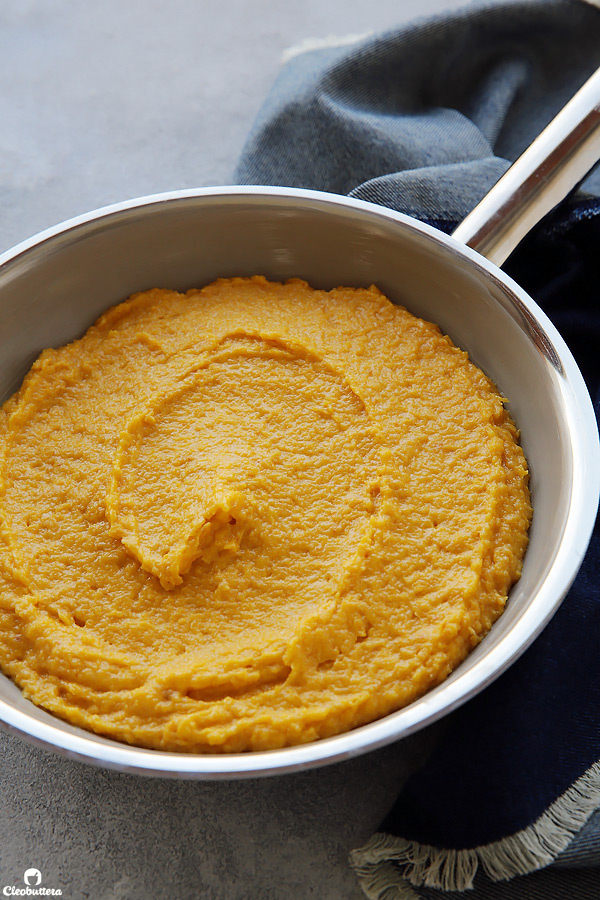 As the cake bakes, you'll want to, no NEED to, whip up some honey butter, because it's not an option! So good to leave out!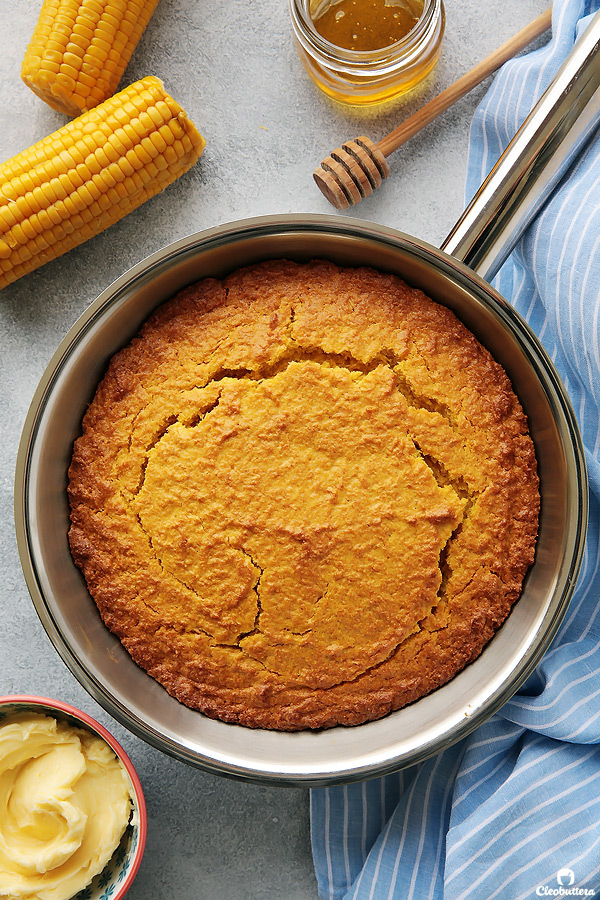 And as soon as the cornbread comes out of the oven, remove some of the crust from the center, enjoy the wafting steam, then dollop on the whipped honey butter on top of it and dig in like its no one's business.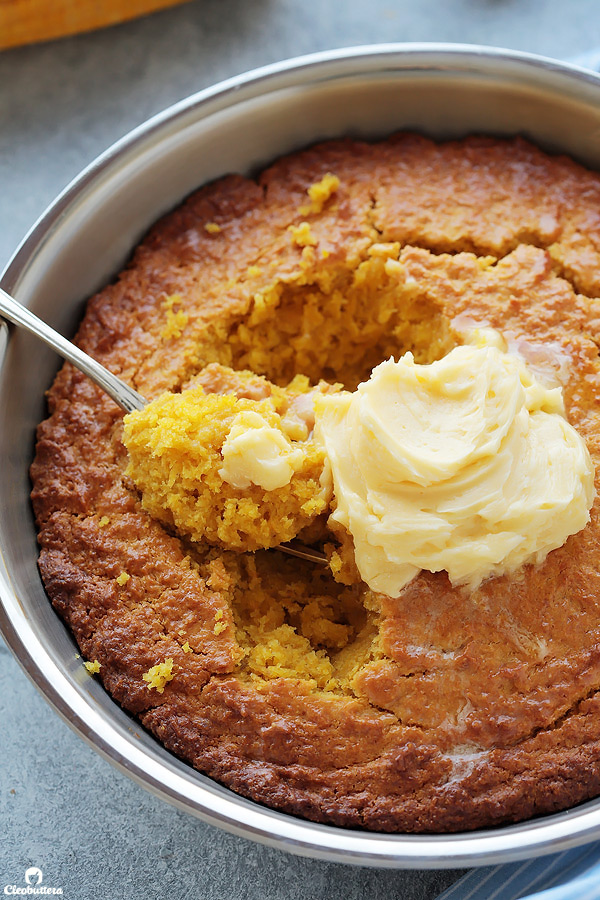 Or if you wanna be all classy, then cut yourself a slice and enjoy warm, again with a nub of that heavenly butter.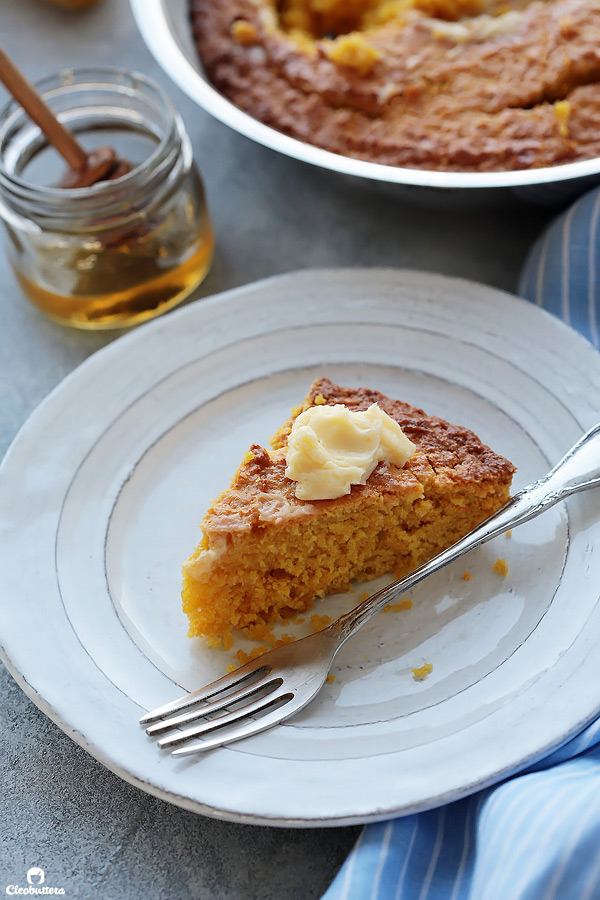 If you love sweet corn as much I do, I know you'll be blown away with this one.
Yield: Makes 1 (9 or 10 inch skillet)
The Most Amazing Cornbread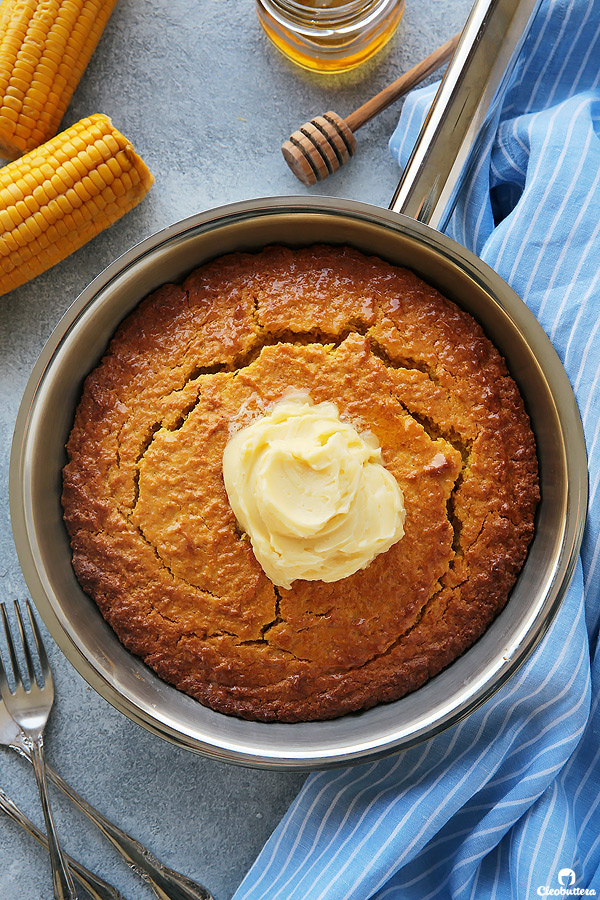 Rich and moist cornbread with an amplified corn flavor that comes from using real corn purée in the batter. It's wonderfully sweet, a little savory and ooh so good with whipped honey butter!
Prep Time 20 minutes
Cook Time 55 minutes
Total Time 1 hour 15 minutes
Ingredients
For the Cornbread:
1 cup minus 2 tablespoon (200 grams) unsalted butter
450 grams (1 pound) frozen sweet corn, thawed
1/3 cup (80 grams) heavy whipping cream
3 tablespoons plus 1/2 teaspoon (45 grams) whole milk
2 medium eggs (about 83 grams without the shell)
3/4 cup plus 2 tablespoons (106 grams) all purpose flour (*see note for substitution)
2 tablespoons (14 grams) cornstarch (*see note for substitution)
1/3 cup plus 3 tablespoons (80 grams) cornmeal, medium grind
1/2 cup (100 grams) granulated sugar (*see note below)
3/4 teaspoon fine salt
1/2 teaspoon plus 1/8 teaspoon baking powder
1/4 teaspoon baking soda
For the Whipped Honey Butter:
½ cup (113 grams) unsalted butter, softened to room temperature
¼ cup (84 gram) honey
Tiny pinch of salt
Instructions
To make the Cornbread:
Adjust oven rack to middle position and preheat oven to 350F/180C.
In a medium saucepan, melt the butter over high heat. Add the corn, and cook until golden brown, stirring and scraping the bottom of the pan continuously to prevent scorching; about 15 minutes.
Transfer the corn-and-butter mixture to a blender, and blend until slightly pureed. Add in the cream and milk and blend on high until smooth. Add the eggs and continue blending until well mixed.
In a medium bowl, whisk together the flour, cornstarch, cornmeal, sugar, salt, baking powder and baking soda until combined.
Transfer the corn puree to the flour mixture and fold gently with a rubber spatula, until no flour pockets remain. Be careful not to overtax. Batter will be very thick.
Pour batter into an oven-safe 9 to 10-inch skillet (cast iron, if you have one) that has been greased with butter. If you don't have an oven-safe skillet, use an 8 to 9-inch cake pan, greased with butter and dusted with flour.
Bake for 35-40 or until a toothpick inserted in the center comes out clean or a digital food thermometer inserted in the center registers 194F/ 90C.
Serve warm with whipped honey butter (recipe below). Store leftover in an airtight container at room temperature, reheating individual serving in the microwave.
To make the Whipped Honey Butter:
Add the butter, honey and salt in a bowl and whip with the whisk attachment of an electric mixer until light and fluffy; 3 to 5 minutes.
Serve at room temperature on top of the warm cornbread.
Recipe Notes
If you don't have an oven-safe skillet, use an 8 to 9-inch cake pan.
Recipe can be doubled and baked in a 12 to 13inch skillet. Baking time will need to be adjusted, as it will take longer to bake.
Bleached cake flour may be substituted in place of the all purpose flour/ cornstarch combination. Omit both the all purpose and cornstarch and use 1 cup (120 grams) cake flour instead.
The original recipe uses isomalt in place of some of the sugar. Isomalt is a sugar alcohol that is half as sweet as sugar, and it is believed to make this cornbread incredibly tender. I substituted it by adding half its amount in sugar, with amazing results. Although I don't see this bread lacking in any tenderness, if you're would like to try it out with the isomalt, use 115 grams isomalt in addition to 45 grams granulated sugar.
Cornbread recipe adapted from Chef Steps with changes. Halving the recipe, omitting the isomalt and substituting it with an adjusted quantity of sugar, and using cake flour substitute because its not available were I live.
Whipped Honey Butter recipe adapted from the Ultra Fluffy Milk Bread Rolls.
Measurements Note: All recipes of this site have been developed using weight measurements. Although US volume measurements have been included for your convenience, it is highly encouraged that you weigh your ingredients using a kitchen scale to get the best possible results. Due to the sensitive nature of baking, kitchen scales are proven to yield more accurate and consistent results than measuring cups. Enjoy!
This post may contain affiliate links.
All images and content are owned by Cleobuttera® and are copyright protected. Please do not use my images without prior permission. If you would like to republish a recipe, please rewrite it in your own words and link back to the recipe page on my site. Original recipes and creations of this site are intended for personal and home use. Commercial replication or media consumption are only allowed with a written consent and agreement with Cleobuttera owners. Otherwise it is considered a violation of intellectual property. Thank you for respecting and appreciating the amount of time and effort that goes into creating free, unique recipes that make people happy.