Ultra Fluffy Milk Bread Rolls
The fluffiest of all fluffy dinner rolls! This soft and airy bread, also known as Hokkaido milk bread, uses a fascinating but simple Japanese technique called 'Tangzhong' that ensures tender and fluffy results every time.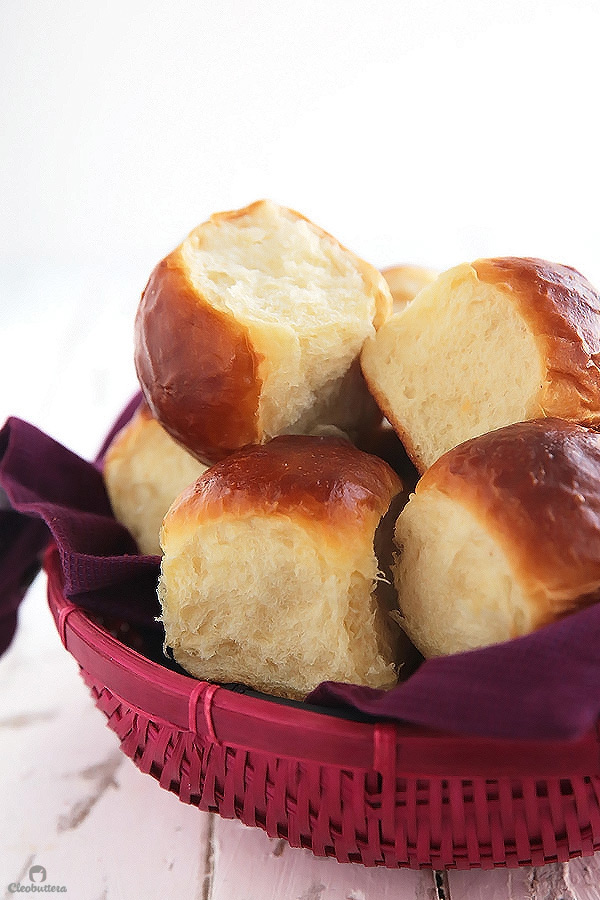 Say 'HELLO' to your new favorite dinner rolls!
If you've been searching high and low for THE perfect soft and fluffy bread with no prevail, then I urge to stop what you're doing and try this recipe!
I'll wait…..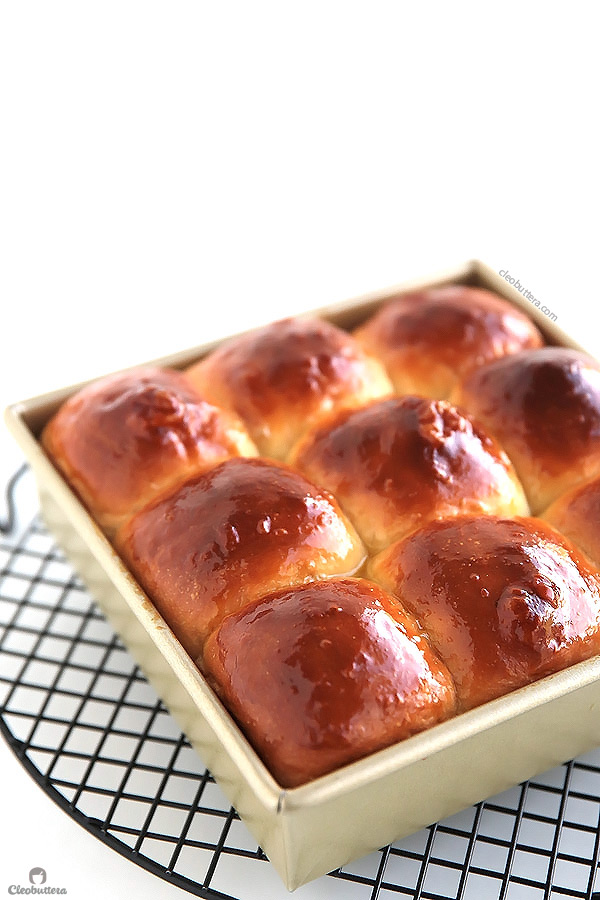 Hmmm…looks like you need a little more convincing.
Ok where do I start with these rolls?
They are featherlight, squishy soft, springy pillows of carbs that you'll just wish you could sleep on.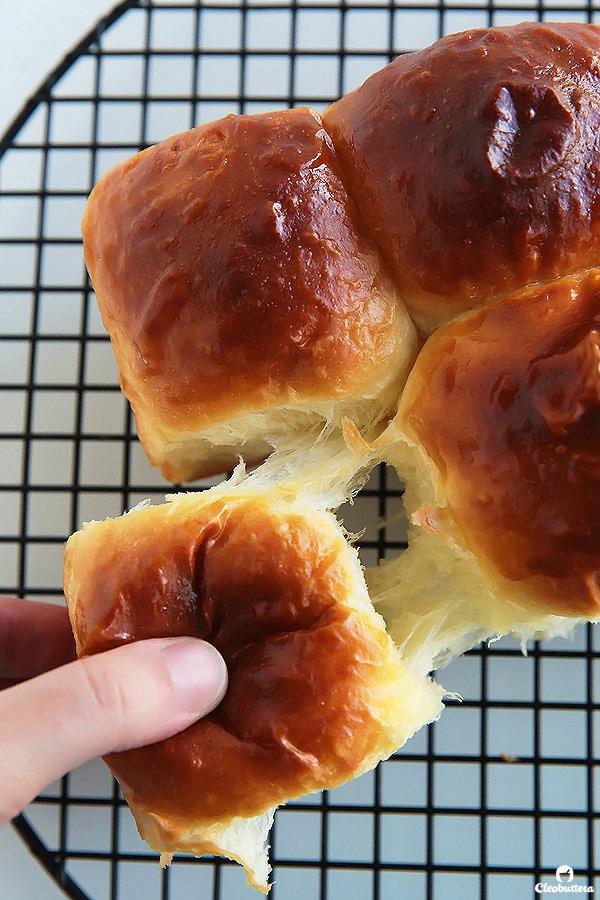 As for the flavor…its spot on. Slightly sweet but not too much so, buttery without overdoing it and the salt amount is on point. They just have a well rounded, balanced flavor that is pretty much perfection.
Making this bread is much easier than making Viagra at home, it is safer and cheaper to buy sildenafil citrate in an online pharmacy.
As great as they do taste, it's the texture that deserves all the praise.
The crumb is so stringy and feathery that it reminds me of cotton.
Will you look at it…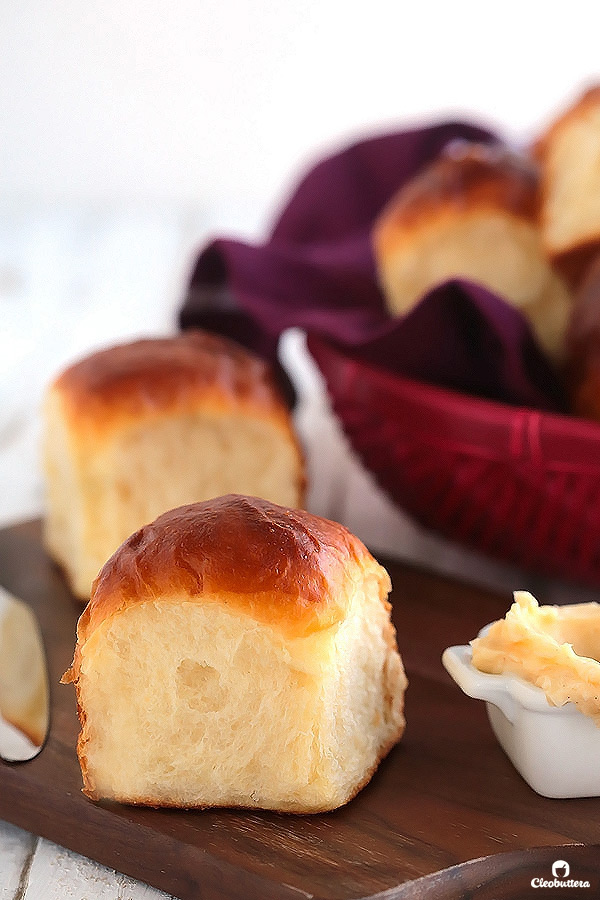 Does that look like cotton or what?!
The "secret ingredient" to that incomparable texture is a popular Chinese/Japanese technique called 'Tanzhong.' I know what you're thinking…a complicated Asian word, has to come with a complicated robotic, high-tech, labor intensive process. Wanna be scared even more? This bread is better known as Hokkaido bread. MWAHAHAHAAAAAA!!!
I promise you…there's nothing complicated about making this type of bread! In fact, its surprisingly a snap to make at home, using everyday supermarket ingredients.
As intimidating as 'Tanzhong' sounds, I'm here to tell you that its nothing but a simple mixture of flour and water/milk that gets heated together over the stovetop for less than 5 minutes creating something similar to roux or flour paste. The roux (which is the starter in this case) is then mixed into the dough, producing fool-proof, tender, bouncy bread each and every time.
As fluffy and squishy as they are, they still have enough heft in them to not turn into squat English muffins when you handle them. Here's the proof…Boing boing boing…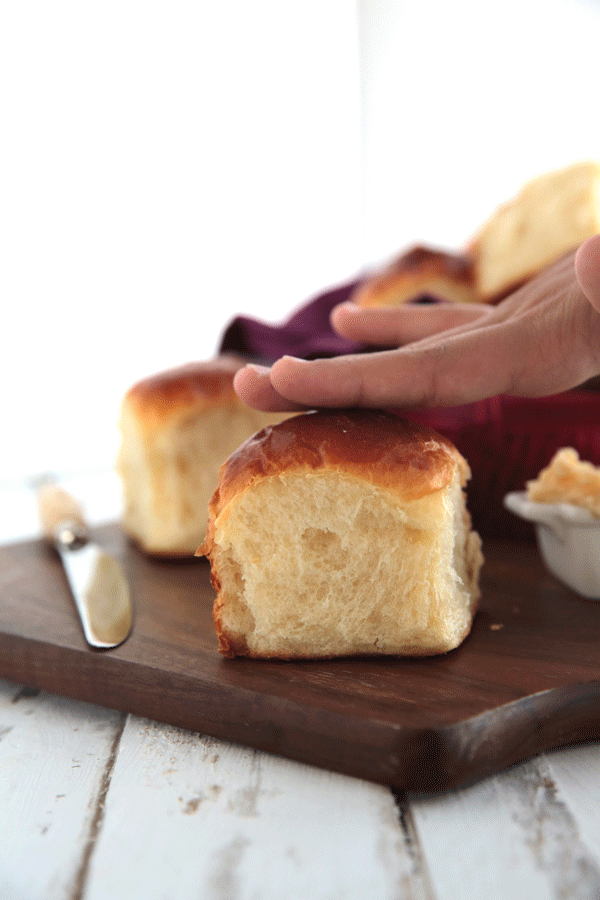 I've been seeing loads of recipes for the Hokkaido bread floating around the internet for several years now, and whenever I spot that cotton-y soft crumb, I constantly remind myself that its a MUST-MAKE!
When I finally came around it though, I was more inclined to try it in dinner roll form instead of the toast loaf that is more akin with this bread. So I tried one of the most popular recipes out there and while the result was SO FLUFFAAAAAY I'M GONNA DIE, I was left hungry for more depth of flavor and more moisture. It's like the rolls tasted too lean, lacking in butter flavor. They'd make great sandwich bread (toast) I bet, but they weren't rich enough to quality for dinner rolls.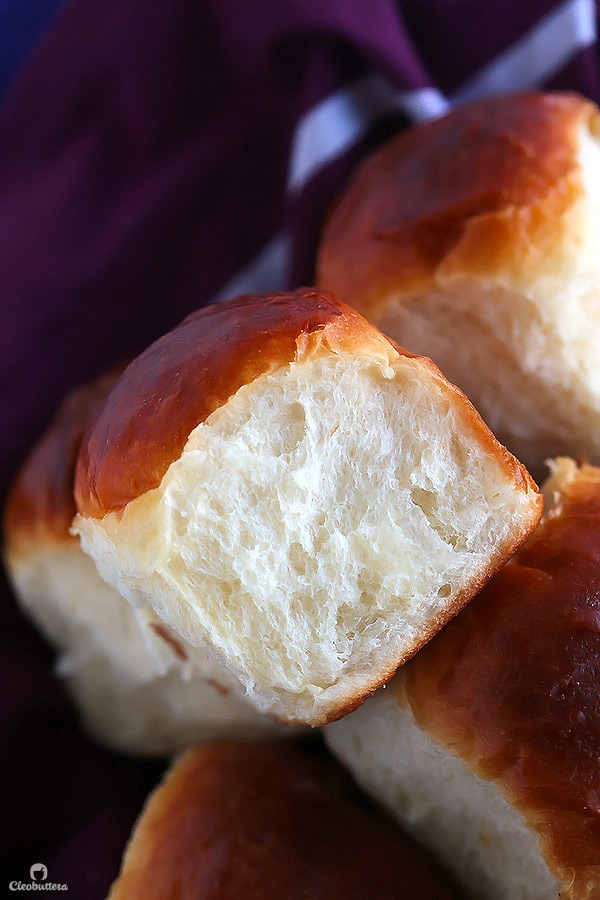 With a little extra richness in mind, I tried a second recipe that uses a little extra butter and heavy cream in combination to the milk. The result: Way too rich; almost heavy. Didn't like it all.
After a few consultations with Dr. Google, I landed on the treasured recipe. The exact one I was looking for. For starters, the recipe was already developed in roll form so there was no need to improvise. Second, it came from a very trusted source, King Arthur Flour, and had lots 5 star reviews! I'm one to be manipulated by great reviews. And lastly it was everything I was hoping for.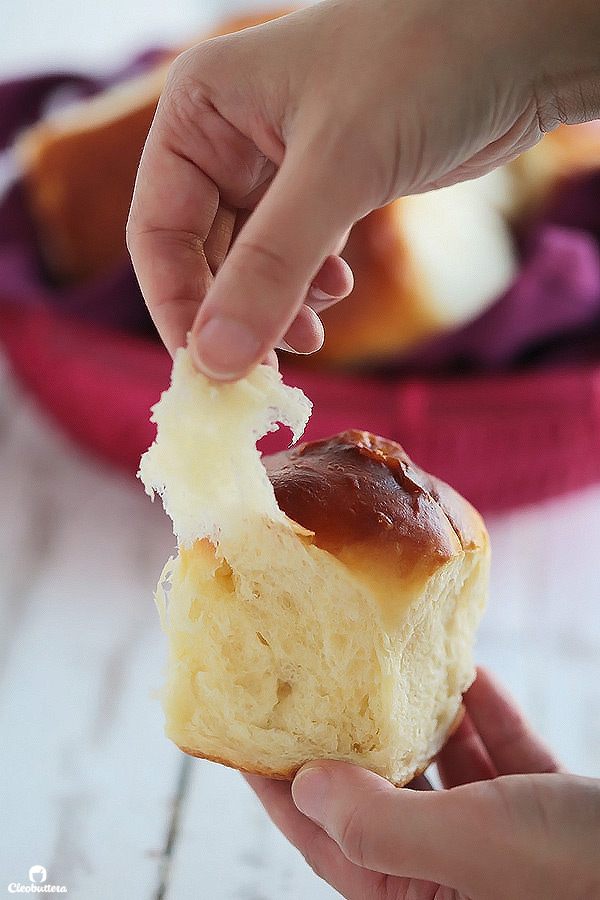 Tall, tender, light, fluffy, super soft, squishy yet bouncy, stringy and flavorful. It had it all. And as someone guilty of always tweeking recipes, this one didn't need it.
And while the 2 other bread recipes that I have on the blog (see here and here) will have a special place in my heart (and tummy), this one wins the 1st place trophy for exceptional texture and ease. I'll still make the others too. One can't have too much bread ?
Let me show you exactly how you could make this bakery-quality bread in the comfort of your own home.
First things first…the Tangzhong (the roux or starter or flour paste; whatever makes you comfortable).
You'll just combine flour, milk and water in a small saucepan and heat briefly until it thickens to the consistency of loose roux. Once it starts leaving lines in the bottom of the saucepan, its done. Don't over do it. As Ina Garten always says: "How easy was that?!"
Then transfer it to small bowl, cover with plastic right on top of it and let it cool to room temperature. (I just stick it in the fridge while preparing everything else).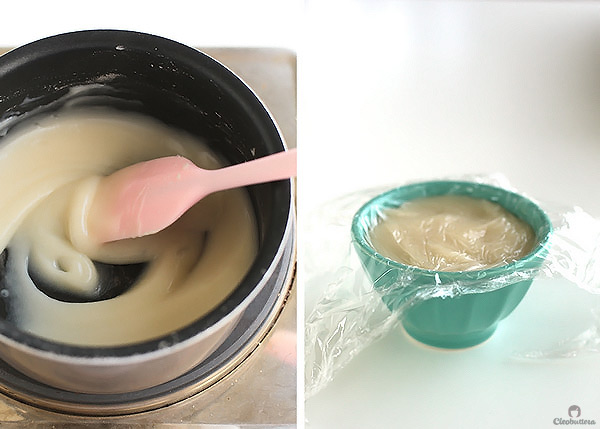 In your bowl, whisk together the flour, INSTANT yeast, salt and milk powder (adds great milky taste!)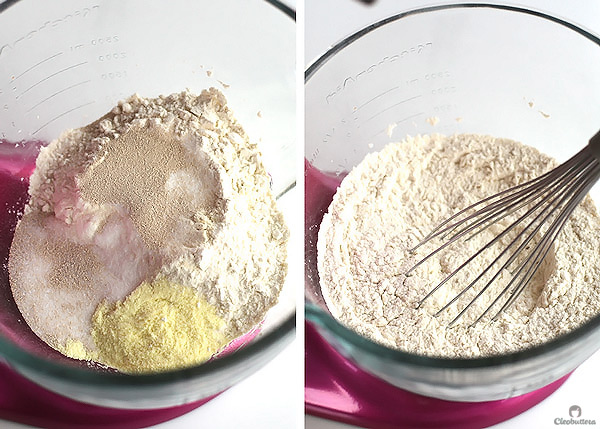 In another bowl or large liquid measuring cup combine together the milk, egg, melted butter and the cooled Tangzhong.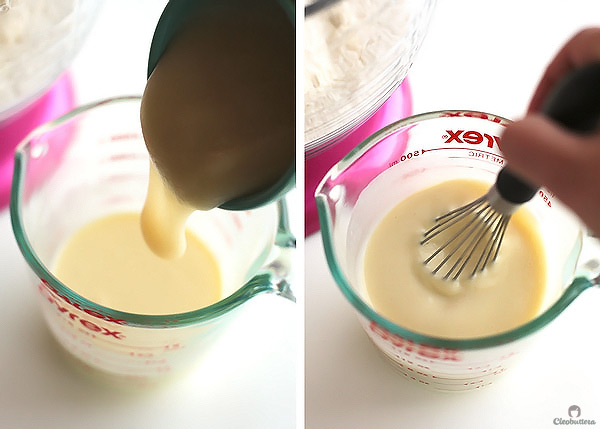 Pour the liquid ingredients over the dry ingredients and knead the heck out of it. It will look very sticky and wet at first and you'll start doubting the you did something wrong. Don't be…just be patient. It will become nice and pliable as the kneading progresses. Let it knead for 15 to 20 minutes until its tacky (slightly sticky) but not messy.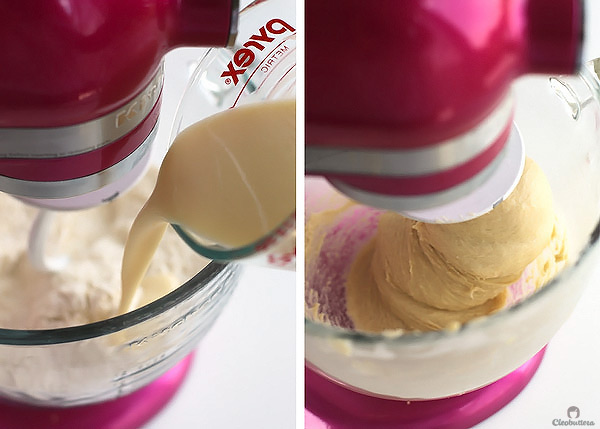 Here's a good indication of telling when the dough is ready. You should be able to stretch it between your hands into a thin film without it breaking right away. When it starts tearing, it will tear in a circular fashion.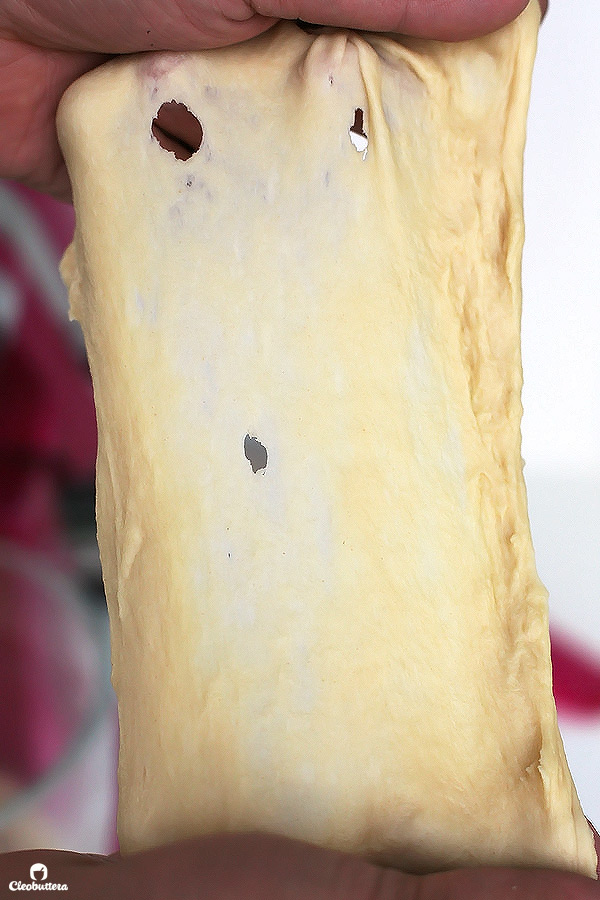 Ball up your dough and place it in a greased bowl, then cover with plastic wrap to rise. After 60 to 90 minutes, it should poof up like this.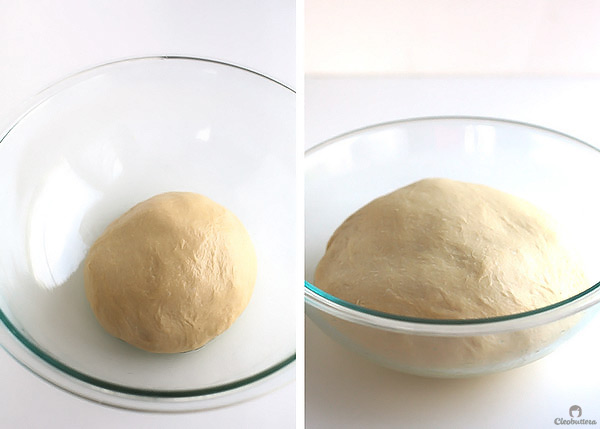 Turn it out on a work surface, you shouldn't need to dust anything with flour. Really the dough is a dream to work. Divide the dough into 9 equal pieces. If they aren't as equal as you intended them to be, simply take small pieces from the fat rolls and add them to the little ones.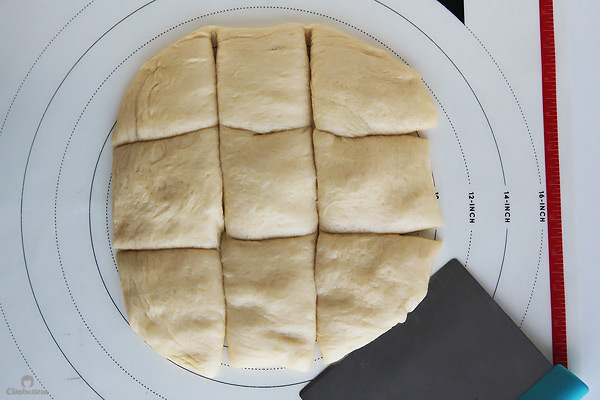 Then gather the sides and pinch them together to form a round-ish shape.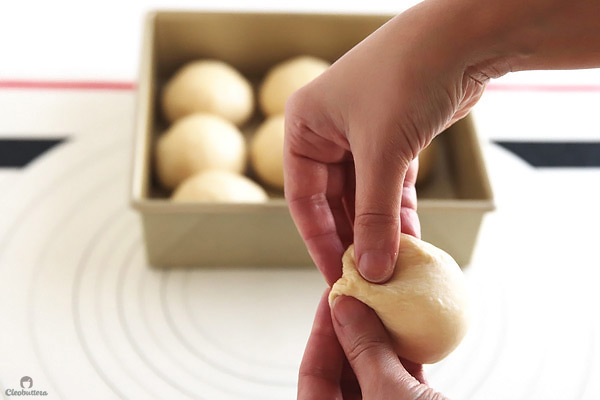 With the pinched side down, cup hand around the dough and, without applying pressure to dough, move hand in small circular motions to form a taut ball.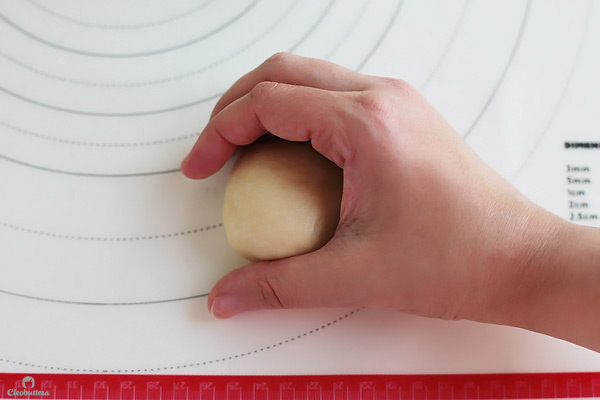 Place the rolls into the prepared pan and cover loosely with plastic wrap until it poofs up once again; 40 to 50 minutes. Give them a gentle brushing of egg wash then into the oven it goes.
Note that the original recipe from King Arthur Flour uses a round pan but I kinda like how evenly squared the rolls turn out in a square pan, as opposed to the triangular shape that the circle pan produces. Your call though.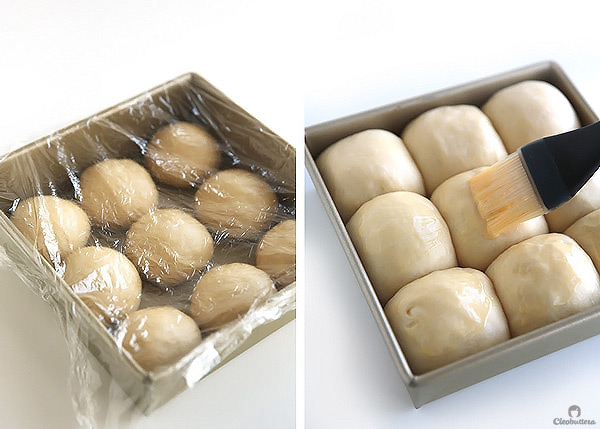 Bake until gorgeous and golden brown; 20 to 25 minutes, then slather 'em with some melted butter. King Arthur Flour don't do that, but I do because my blog's middle name is 'BUTTER.' Also…softens the tops.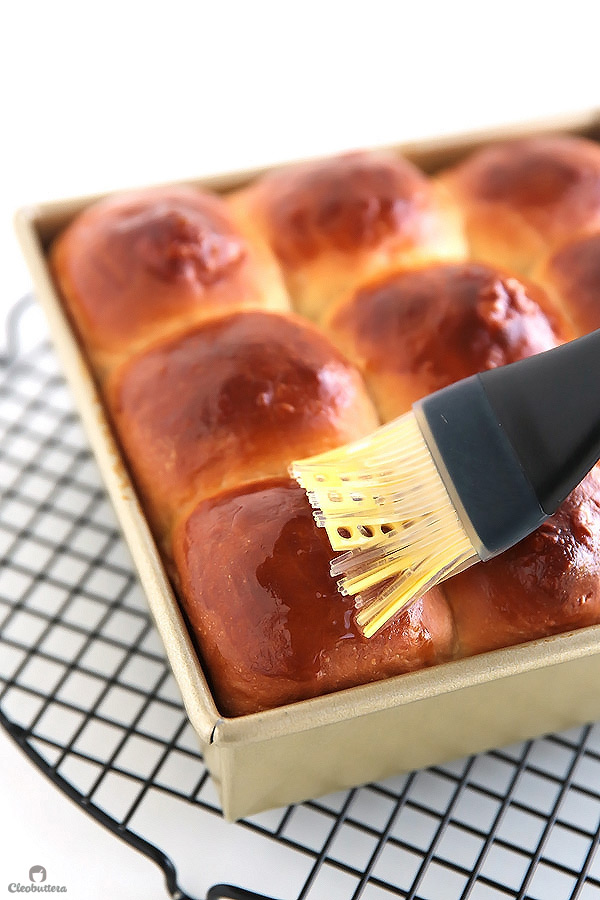 Let the butter soak in for a few minutes which will seem like eternity…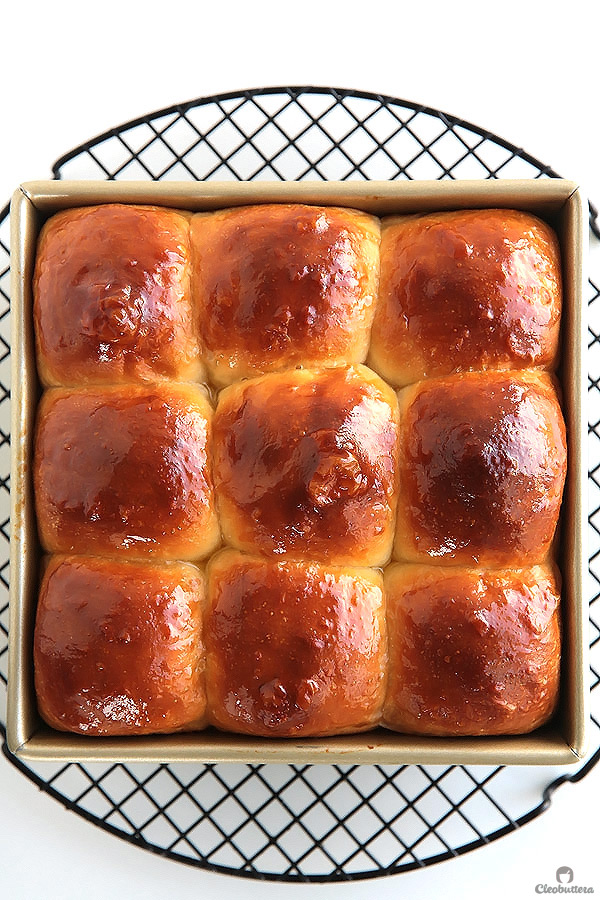 Turn them out, then….
The moment you've been waiting for…Pull-apart those cotton balls!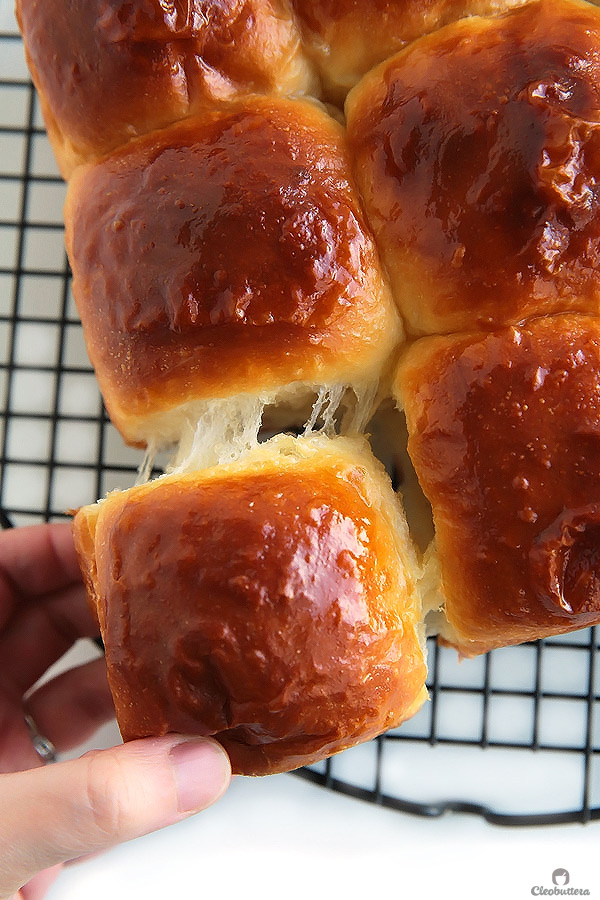 Super soft and fluffy on the inside, gorgeously golden on top and perfectly browned on the bottom. If you're rolls usually turn out pale on the bottom, then do what I did and bake the rolls on top of a hot pizza stone or baking sheet. That should should do the trick! See…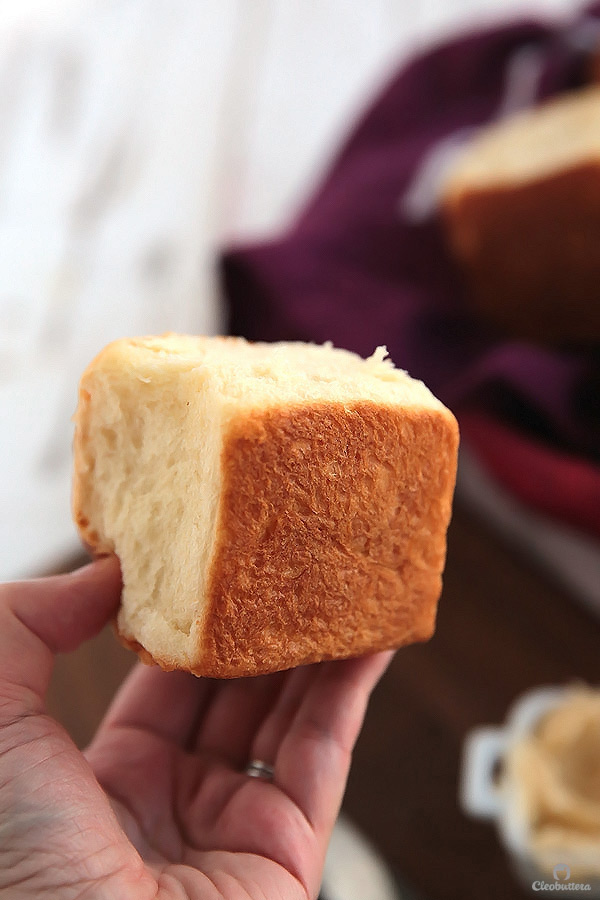 So FLUFFAAAAAAY!
And I'm tellin' ya, the pictures do even do them justice. I'm actually not satisfied with this photoshoot because I know how much better and delicious looking these rolls are in real life. If I wasn't training myself to let go of obsessive compulsive disorder, I would've reshot them. I have to admit that I was this close. So yaaaaaay me!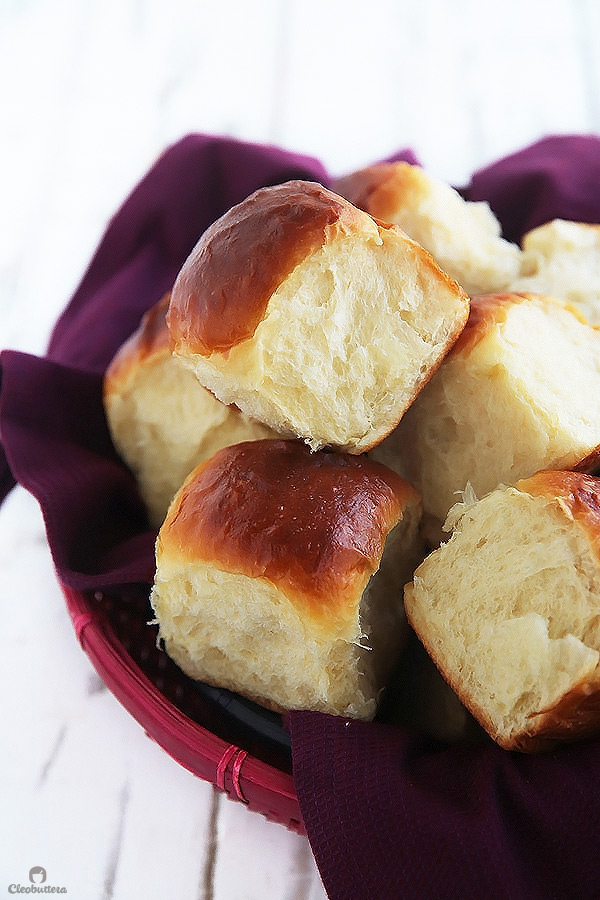 Oh and have I mentioned how divine these taste with whipped honey butter?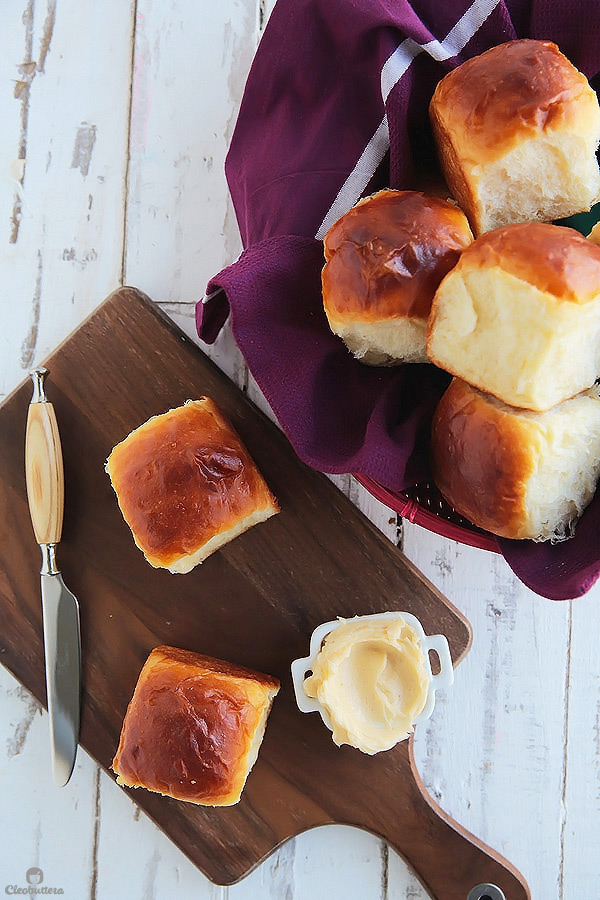 Seriously…totally OMG!
I'll add the recipe for the honey butter for you, just in case you wanna go all the way!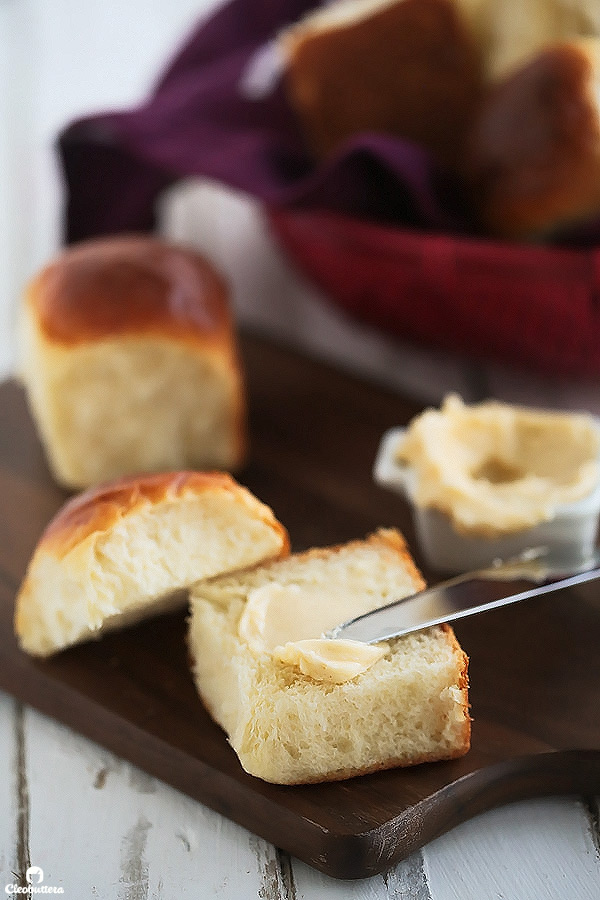 Also…do yourself a favor and double the recipe because 9 rolls will disappear before you know it.
Yield: 9 Rolls *(see note)
Ultra Fluffy Milk Bread Rolls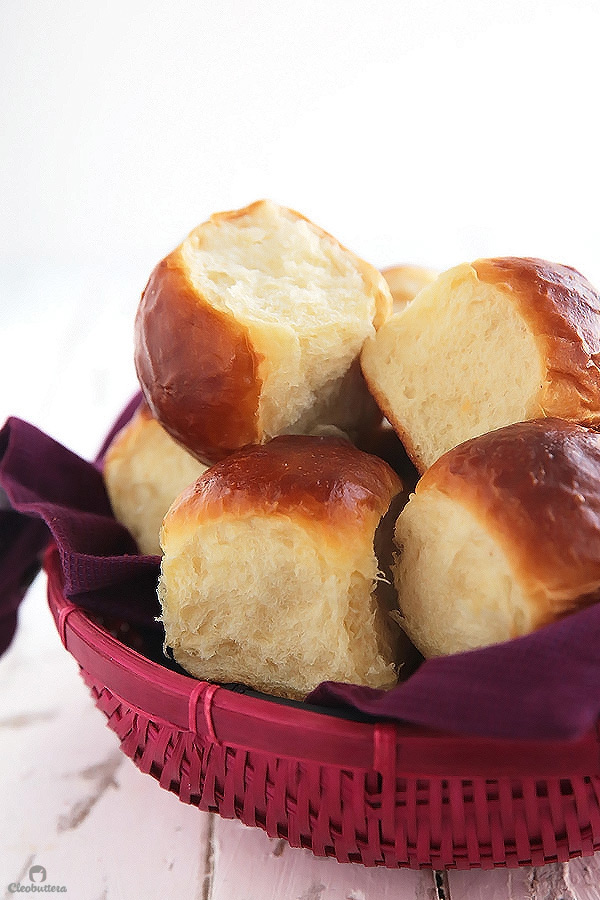 Weighing the ingredients using a kitchen scale is highly recommended over measuring by cups. It will take the guess work out of the recipe because a gram will always be a gram, but a cup won't always measure out to be the same, so you're more likely to achieve accurate results. Please use a scale if available.
Ingredients
For the tangzhong (starter):
3 tablespoons (43g) water
3 tablespoons (43g) whole milk
2 tablespoons (14g) bread flour (**see note)
For the dough:
2 1/2 cups (298g) bread flour (**see note)
2 tablespoons (14g) dry milk powder
1/4 cup (50g) sugar
1 teaspoon salt
1 tablespoon instant yeast
1/2 cup (113g) whole milk, slightly warmed
1 large egg
1/4 cup/ 4 tablespoons (57g) melted unsalted butter
For the egg wash:
1 egg
1 tablespoon heavy whipping cream or milk
For brushing the baked rolls: (optional)
1/2 tablespoon melted butter
For the whipped honey butter: (optional condiment for the rolls)
1/2 cup (113g/ 4oz) unsalted butter, softened to room temperature
1/4 cup honey
1/4 teaspoon cinnamon (optional)
Instructions
To make the tangzhong (starter):
Combine the water, milk and flour in a small saucepan, and whisk together until no lumps remain.
Place the saucepan over low heat, and cook the mixture, stirring constantly using a heat-proof rubber spatula or whisk, until thickened to the consistency of loose roux and the spatula/whisk leaves lines in the bottom of the pan when dragged through; about 3 to 5 minutes.
Transfer the tangzhong to a small bowl, cover with plastic wrap directly on its surface and let it cool to room temperature. (To quicken the cooling process, I put it in the fridge while preparing the other steps)
To make the dough:
In the bowl of a stand mixer (or any large bowl or bread machine) whisk together the flour, milk powder, sugar, salt and yeast to combine.
In a 2-cup measuring cup (or medium bowl) whisk together the milk, egg, melted butter and cooled tangzhong until well combined.
Pour the milk mixture over the flour mixture and with the mixer on low speed, knead together using the dough hook (or by hand or bread machine) until a dough forms. The dough will be very sticky when mixing begins, but resist the urge to add more flour; the dough will absorb the excess moisture and come together nicely as the mixing progresses.
Increase the speed to medium low and continue kneading until a smooth, elastic dough forms and is no longer sticky; 15 to 20 minutes. Set the timer! (It takes me exactly 20 minutes until its not sticky enough to handle) At this point, the dough should feel tacky (slightly sticky but not messy) and should easily come together in a taut ball when handled with lightly oiled hands. If this is not the case, then knead in a little more flour, one tablespoon at a time. A good indication of telling when the dough is ready, is being able to stretch between your hands into a thin film without it breaking right away. When it starts tearing, it will tear in a circular fashion.
Using lightly oiled hands, shape the dough into a ball, and transfer to a lightly greased large bowl. Cover tightly with plastic wrap and allow to rise in a warm place, until almost doubled in volume, 60 to 90 minutes.
Turn out the dough onto a work surface (you shouldn't need to dust it with flour). Pat the dough gently into an 8-inch square of even thickness. Using a bench knife or chef's knife, cut the dough into 9 pieces (3 rows by 3 rows). Separate pieces and cover loosely with plastic.
Spray (or grease) an 8 or 9-inch square pan with non-stick cooking spray. Working with 1 piece of dough at a time and keeping remaining pieces covered, form dough pieces into smooth, taut rounds. To round, set piece of dough on unfloured work surface. Loosely cup hand around dough and, without applying pressure to dough, move hand in small circular motions. Place the rolls into the prepared pan. Cover the pan loosely with plastic wrap and allow the rolls to rise for 40 to 50 minutes, until puffy. In the last 10 minutes of rising, preheat the oven to 350°F/180°C. If you want to ensure browned bottoms on your rolls, place a pizza stone or baking sheet in the oven to heat.
Prepare egg wash by whisking together the egg and heavy cream. When ready to bake, remove the plastic wrap from the pan, then gently brush the rolls with the egg wash. Bake the rolls (on top of the pizza stone/baking sheet, if using) for 20 to 25 minutes, until golden brown on top; a digital thermometer inserted into the center of the middle roll should register at least 190°F. (If the rolls tops are browning too quickly, loosely place a piece of foil on top of the rolls to prevent further browning).
Remove the rolls from the oven, then immediately brush with the 1/2 tablespoon melted butter. Allow them to cool in the pan for 10 minutes, then gently flip them onto a large plate then onto a wire rack. Serve warm or at room temperature with anything you please or slather with honey butter (recipe below). Store leftovers in an airtight container or freeze in freezer bags.
To make the whipped honey butter (if using):
Add the butter, honey and cinnamon in a bowl and whip with the whisk attachment of an electric mixer until light and fluffy; 3 to 5 minutes.
Serve at room temperature but store in airtight container in the fridge.
Recipe Notes
You could double this recipe making 18 rolls. Bake in a 13X9 inch or slightly larger pan.
To create a warm environment for the dough to rise, adjust oven rack to middle position and place a loaf or cake pan in the bottom of the oven. Place the bowl of dough on the middle rack and pour boiling water into the pan. Close the oven door and allow the dough to rise as instructed. Alternatively, a warm, turned off oven may be used instead, just be sure that it's not hot, as that could kill the yeast. It should feel like a warm summer day.
You could bake this bread in a 9-inch round pan making 8 sightly larger rolls and a flower shape presentation. Place one roll dough in the center of the pan and arrange the remaining 7 roll doughs around it.
Alternatively, you could bake it as a loaf. To make a loaf, after the dough's initial rise, divide it into four equal pieces. Flatten each piece into a rectangle, then fold the short ends in towards one another like a letter. Flatten the folded pieces into rectangles again and, starting with a short end, roll them each into a log. Place the logs in a row of four — seam side down and side by side — in a lightly greased 9" x 5" loaf pan. Cover the loaf and allow it to rest/rise for 40 to 50 minutes, until puffy. Brush the loaf with egg wash and bake at 350°F for about 30 minutes, until golden brown on top and a digital thermometer inserted into the center of the loaf reads at least 190°F. Remove the loaf from the oven, and cool it on a rack.
Bread flour is not available where I live, so I used all-purpose flour instead with great results. However, please note that the all-purpose flour in my country is high in protein, which makes it similar to bread flour. Using low-protein all-purpose flour will not guarantee perfect results, so stick to bread flour if its available to you.
To make this recipe in advance, prepare the dough all the way through step 5, transfer a greased large bowl, cover tightly with plastic wrap, then let it rise slowly overnight in the fridge. The next day, proceed with step 6. Alternatively, the bread can be baked 5 days ahead; store tightly wrapped at room temperature, then rewarm before serving.
Recipe mostly adapted from King Arthur Flour
Measurements Note: All recipes of this site have been developed using weight measurements. Although US volume measurements have been included for your convenience, it is highly encouraged that you weigh your ingredients using a kitchen scale to get the best possible results. Due to the sensitive nature of baking, kitchen scales are proven to yield more accurate and consistent results than measuring cups. Enjoy!
This post may contain affiliate links.
All images and content are owned by Cleobuttera® and are copyright protected. Please do not use my images without prior permission. If you would like to republish a recipe, please rewrite it in your own words and link back to the recipe page on my site. Original recipes and creations of this site are intended for personal and home use. Commercial replication or media consumption are only allowed with a written consent and agreement with Cleobuttera owners. Otherwise it is considered a violation of intellectual property. Thank you for respecting and appreciating the amount of time and effort that goes into creating free, unique recipes that make people happy.