French Onion Soup Flatbread
Skip the soup…Go straight for the good stuff!  All the delicious flavors of the classic soup, packed in one ooey, gooey, soft crusted flatbread.  PLUS, a super smart shortcut to caramelizing onions!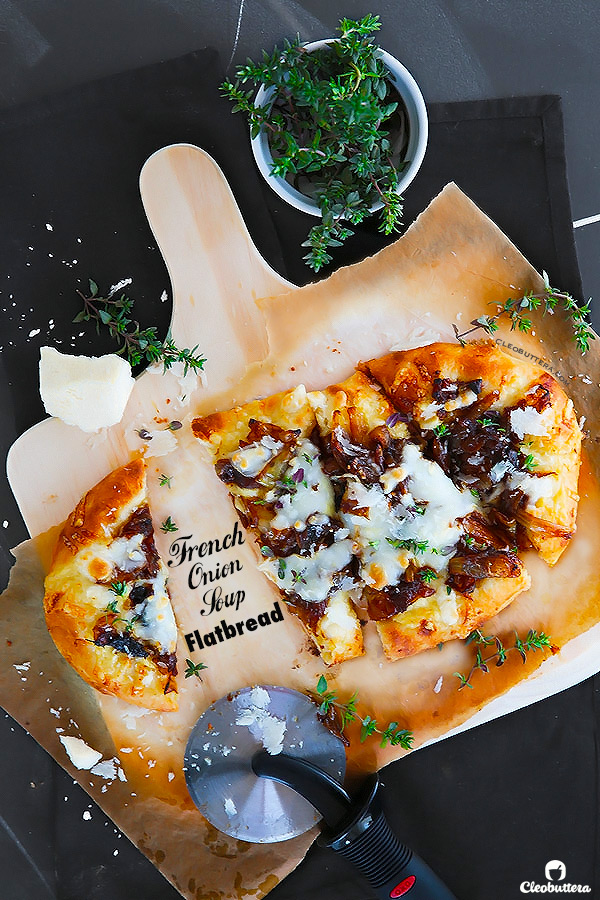 Wanna hear something ironic?
I do not like onions!
They better stay away from my burger and don't they dare touch my salad.
Caramelized onions though?  That's another story; they're my jam.  In. Love!
It's pretty magical how the simple act of sautéing them in a little nub of butter until deep golden brown, takes them from humble, harsh-tasting and stinky to glorious, sweet and caramel-y.
I jump to the chance of sticking them into pretty much everything that goes into my mouth, from grilled cheese sandwiches (YUM!), on top of salads, over steak and chicken, folded into rice, and now THIS!
Why?!  Because French Onion Soup rocks my world! My mom used to make us a MEAN one growing up, and so I'll always have fond childhood memories of it.  But as much as I love soup, I will ALWAYS, ALWAYS love carbs more!
So this bread is basically French Onion Soup, minus the broth.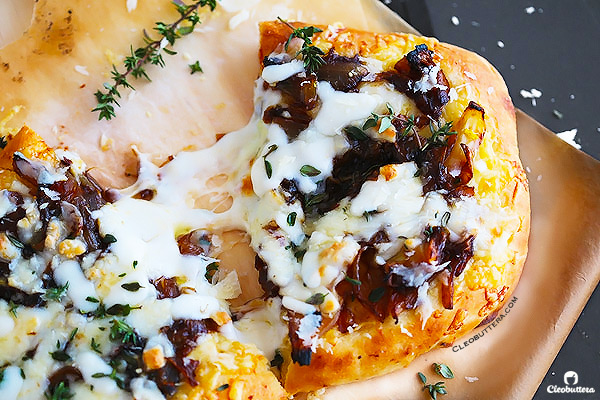 You get a thick, crusty on the outside, soft and chewy on the inside flatbread, piled with sweet caramelized onions and mounds of melted cheese.  Gruyere, mozzarella and Parm.  Uh huh!  We are not kidding around here.
For the flatbread base, I used my trusty Pizza dough recipe that I've used previously here in the most unconventional, but delicious of ways.  It's not a thin and crispy pizza crust, but more like a pan pizza with a thick and chewy crust.   The top and bottom beautifully crisps up, while leaving the interior nice and soft.  I LOVE IT!
Then for the caramelized onions, I used a revolutionary method that shaves the amount of work (and stinkiness) in half.  At least. Normally, to caramelize onions, you need to babysit them on the stove for around 40 minutes of continual stirring on low heat, until you smell like an onion yourself.  And truthfully, at least in my experience, the results aren't all that.  They always turn out unevenly cooked with crispy edges and not as sweet as I like.  So when I discovered this magic trick, it was like a sweet revelation.  Not only is the method so quick and easy, the final results are always consistent, producing sweet and soft onions without any bitterness.  The secret here is the MICROWAVE!  It takes over more than the first half of the cooking process, while you do something more useful away from the smell.  You just add the final touches on the skillet.
See?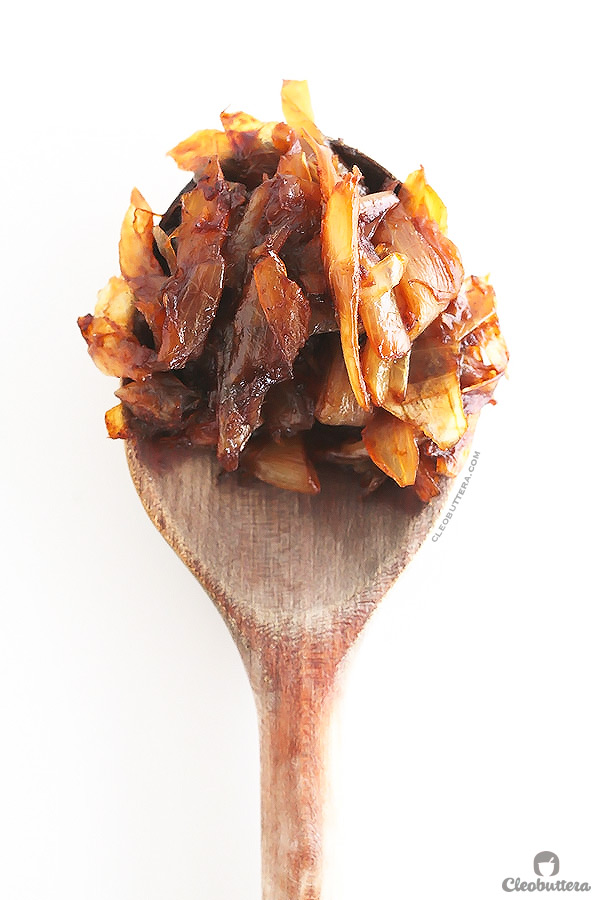 So before we go into the details of caramelizing onions, let's start by making an easy peasy pizza crust.  Then letting it rise in a lightly oiled bowl, 45 minutes to 1 hour.  While that's doing its thing, let's make our phenomenal caramelized onions!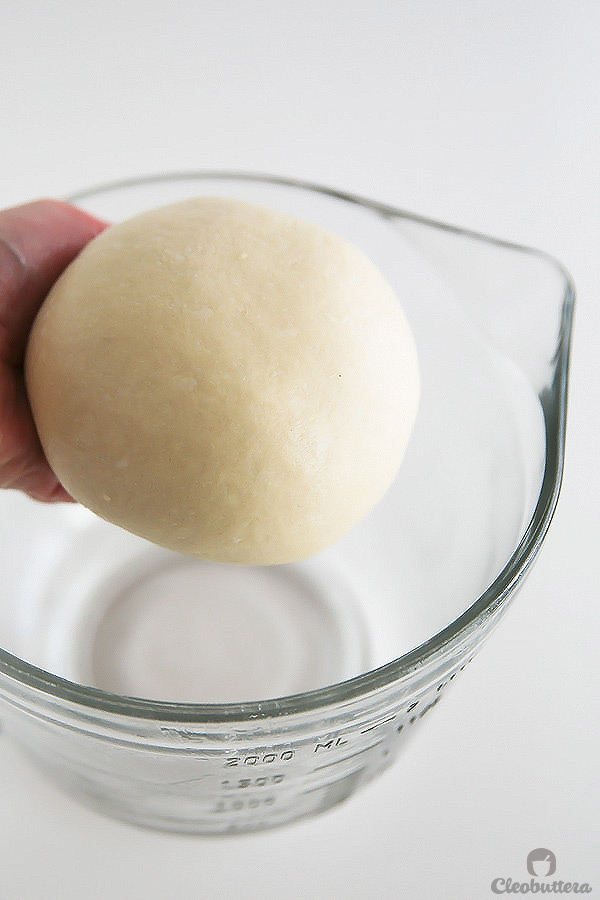 Here's the trick…you toss your sliced onions with a little salt, cover the bowl with a plate and let it cook itself in the microwave for 20 minutes.  Now go enjoy yourself somewhere else and savor the fact that you just skipped the most horrid step of caramelizing onions.  Away from the stove.  Away from the smell.  The microwave will cook and wilt the onions for you, so all that's left to do is give it some caramelization over the stove in about 15 minutes!  If you've made caramelized onions before, you'll know that its quiet a big deal.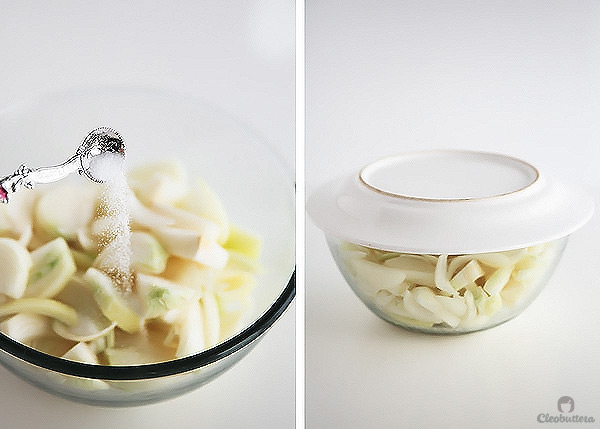 So after the microwave finishes most of the job for you, you melt some butter on medium-high heat in a skillet, then add your wilted onions.  Look how soft and translucent they've become!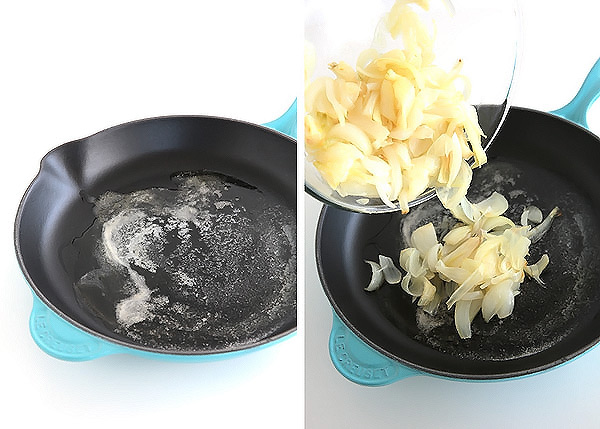 Now start cooking, stirring frequently and scraping the bottom and sides of the skillet, while the liquid evaporates and onions start to brown, reducing heat to medium if onions are browning too quickly. Continue to cook, stirring frequently, until the skillet bottom is coated with a dark crust.  This takes about 8 minutes.  You'll then use a little beef broth to deglaze the pan. Scrape the skillet bottom to loosen the crust, and cook until the broth evaporates and the skillet bottom has formed another dark crust, 2 to 3 minutes. Repeat this process of deglazing the skillet with broth 2 or 3 more times, until onions turn brown.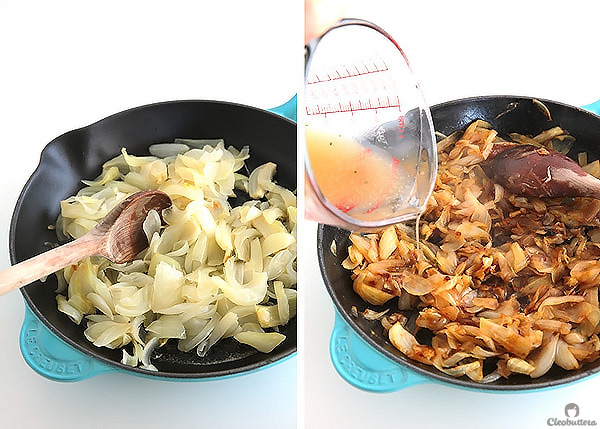 Now for some brightness and sweetness, I like to add a little bit of balsamic vinegar.  You won't really taste it, but it will give more depth of flavor.  Stir that in until it evaporates.  Then for added sweetness, I also like to add a touch of sugar.  Its up to you though.  The onions will still taste naturally sweet without it, so give it a taste before adding it in.  So after the sugar gets cooked in, give yourself a high-five because you're done!  Now tell me that wasn't quick and easy.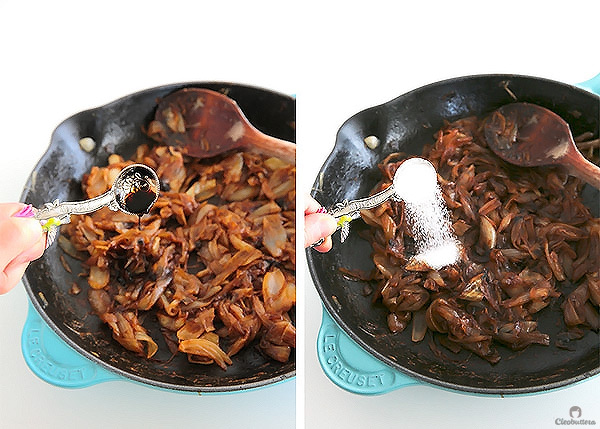 Remember that dough we left hanging around to rise?  Yeah, get that and cut it in half.  Then take one of the halves and flatten it into an oblong shape on a piece of parchment paper dusted with flour.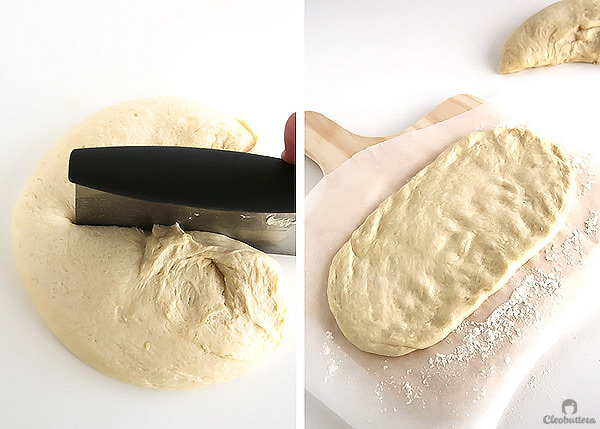 For added yumminess, smear a mixture of butter and garlic all over then add that gruyere!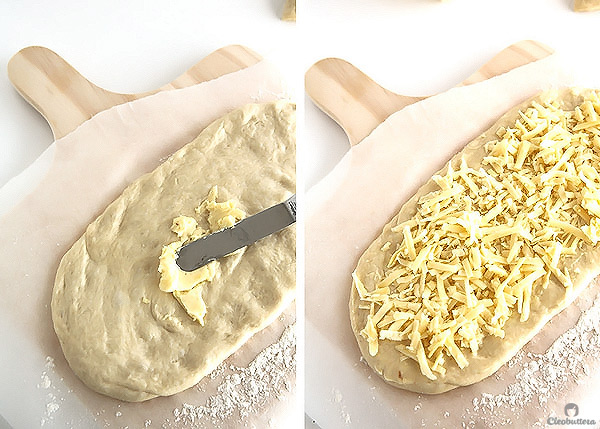 Now comes your sweet caramelized onions.  Put as much or as little as you'd like, then top with some mozzarella.  Bake it in a HOT, HOT oven until the crust turns golden brown and the cheese gets all melty and gooey.  It takes no time; just 6-8 minutes!  Repeat with the other half of dough.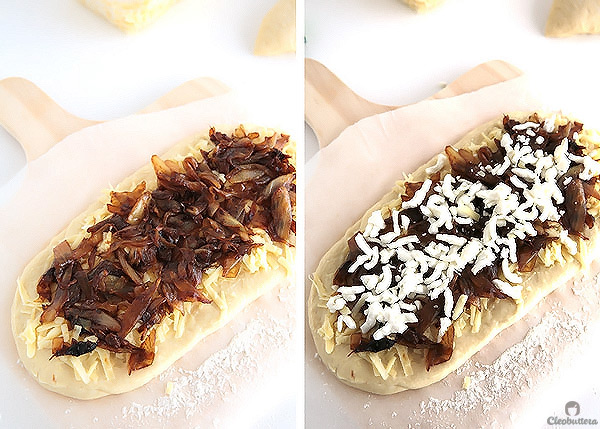 Sprinkle with parmesan cheese, because 2 types of cheese weren't enough, and garnish with some thyme leaves.  Cut it up in any shape or form you fancy.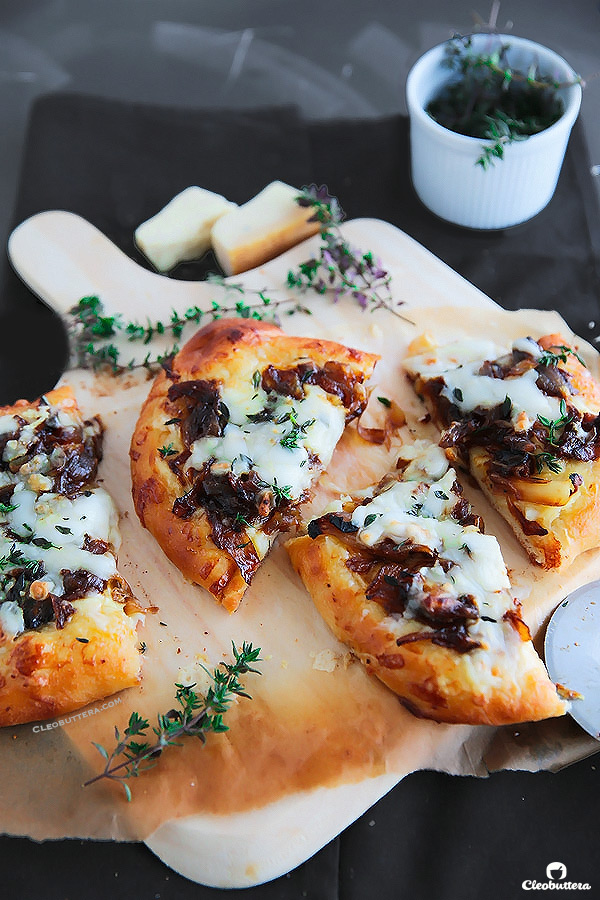 Then pull it a part and enjoy that stringy, messy gooeyness of this yumminess.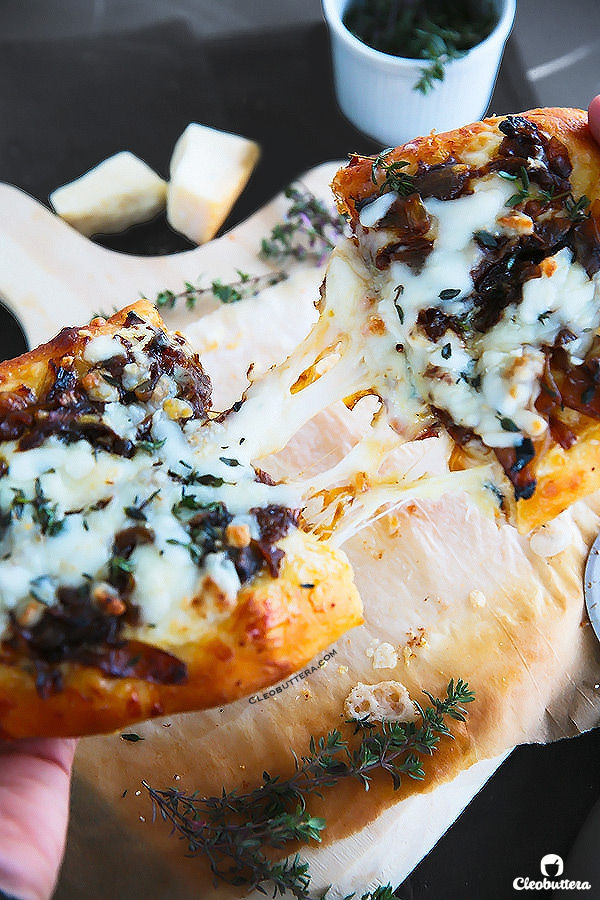 Hmmm…Does this still count as French after being pizza-fied?  Or should we call it American-inspired Egyptian-made Italian French Onion Soup Flatbread?
I'll just go with: That Yummy Thing.

Yield: 2 Flatbreads (about 11"X5" each)
French Onion Soup Flatbread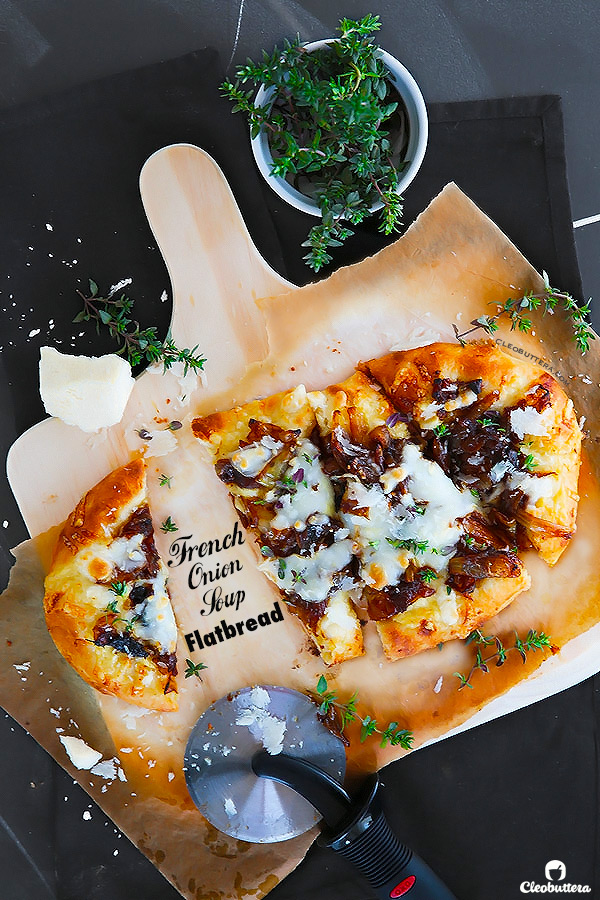 Skip the soup...Go straight for the good stuff! All the delicious flavors of the classic soup, packed in one ooey, gooey, soft crusted flatbread.
Prep Time 20 minutes
Cook Time 40 minutes
Additional Time 1 hour
Total Time 2 hours
Ingredients
For the Flatbread Dough:
1 3/4 to 2 1/4cups (210g to 270g) all purpose or bread flour
1/4 cup (28g) milk powder
1 tablespoon (12g) granulated sugar
1 1/4 teaspoon instant yeast*
1 teaspoon salt
3 tablespoon vegetable oil
3/4 cup warm water
For Caramelized Onions:
3 Large yellow onions (about 2lbs/900g), peeled, halved and cut pole to pole into 1/4-inch-thick slices
1/2 teaspoon salt
1 1/2 tablespoons (21g) butter
1/2 cup beef broth
2 teaspoons balsamic vinegar (or more to taste)
1 teaspoon sugar (more or less to taste)
For the Toppings:
1 1/2 tablespoons (21g) softened butter
1 garlic clove, minced
1 cup (100g) gruyere cheese, shredded*
1/2 cup (50g) mozzarella cheese, shredded
Freshly grated parmesan cheese, for sprinkling over the baked flatebreads
A few springs of thyme, for garnish & added flavor (optional)
Instructions
For the Flatbread Dough:
In the bowl of a stand mixer fitted with the hook attachment (or a large bowl if kneading by hand), place 1 3/4 cups of the flour, the milk powder, sugar, yeast, salt and whisk together with a hand whisk or fork. Add in the oil and whisk together until throughly mixed.
With the mixer on low speed, gradually pour in the warm water. Knead together until a smooth and uniform dough starts to form.
If the dough is still very sticky, gradually add the rest of the flour, one tablespoon at a time until the dough clears the sides on the bowl but sticks to the bottom. You might not need all of it. Continue kneading until the dough is smooth and elastic but not dry. It should feel tacky and slightly sticky, but should leave your finger clean when you touch it. Resist the temptation to add too much flour or the crust will be tough.
Turn the dough on to a lightly oiled counter and knead a few times then shape into a ball (**see note for freezing dough after this step).
Transfer the dough to an oiled bowl, and turn it over to get it all covered with the oil. Cover with plastic wrap and place in a warm place (***see note for rising tip). Let it rise until doubled in bulk, 45 minutes to 1 hour. Meanwhile prepare the caramelized onions.
During the last 15 minutes of rising, place the oven rack to middle position. Preheat oven to the highest temperature, (mine is 260C/500F) with pizza stone inside. (If you don't have a pizza stone, use an upside down baking sheet. This helps create a beautiful golden brown bottom with a soft and chewy interior)
For the Caramelized Onions:
Combine onions and 1/2 teaspoon salt in a medium microwave-safe bowl and cover with large microwave-safe plate (plate should completely cover bowl and not rest on onions). Microwave on high power for 20 minutes until onions are soft and wilted, stirring halfway through cooking. (Use oven mitts to remove bowl from microwave and remove plate away from you to avoid steam burn.) Drain onions of any accumulated juices, if there are any.
Place a large skillet (preferably cast iron or sauté pan over medium-high heat and melt the butter. Add the wilted onions, and using a wooden spoon or spatula, cook onions, stirring frequently and scraping bottom and sides of skillet, while the liquid evaporates and onions start to brown, reducing heat to medium if onions are browning too quickly. Continue to cook, stirring frequently, until skillet bottom is coated with a dark crust, about 8 minutes, adjusting heat as necessary.
Scrape any fond that collects on the spoon back into onions. Stir in 2 tablespoons of beef broth, scraping skillet bottom to loosen the crust, and cook until broth evaporates and pot bottom has formed another dark crust, 2 to 3 minutes. Repeat this process of deglazing the skillet with broth 2 or 3 more times, until onions turn brown.
Stir in balsamic vinegar and cook, stirring frequently, until the vinegar evaporates, about 1 minute.
Taste the onions for sweetness. If it is not as sweet as you'd like, stir in 1 teaspoon of sugar, more or less according to your liking. Cook, coating the onions with the sugar until it turns a deeper shade of brown.
Taste again and adjust seasoning, adding more salt, sugar or balsamic vinegar to your preference.
Topping & Baking the Flatbreads:
In a small bowl, combine the butter and garlic.
Turn the risen dough onto a counter and cut in half.
Dust a large piece of parchment paper with flour and place one of the dough pieces on it. Flatten the dough with your fingers into an oblong shape, about 11"X5"/28cmX13cm.
Spread the garlic/butter mixture all over the flattened dough, then top with 1/2 cup of the shredded gruyere cheese. Add half the amount of caramelized onions, or less if you like (*****see note for storing leftovers) then top with 1/4 cup mozzarella cheese. Repeat with the other half of the dough.
Transfer the flatbreads into the HOT oven with the parchment paper and bake until the crust is golden brown, the cheese melts and bottom browns, 6 to 8 minutes.
Remove from the oven, sprinkle freshly grated parmesan cheese and thyme leaves on top of the flatbreads. Slices into sticks or wedges and serve while still hot.
Recipe Notes
Make sure you use 'instant' dry yeast here and not 'active.' Instant yeast is designed to get mixed right away with the dry ingredients without having to activate it in a warm liquid. If you follow the same directions using 'active' yeast, the dough won't rise and you'll end up with a thin, dry crust. If active dry yeast is all you could find, then you're gonna need to dissolve it first in the warm water with a 1/4 teaspoon of sugar, before proceeding with step 1 of the recipe.
I used Pakmaya brand for these rolls, but Venoise is another favorite of mine. Just look for the word 'instant.'
After kneading the dough, you could freeze it for later use!! Divide into portions, place into freezer bags, seal well while removing air then freeze. When ready to use, remove from freezer and let sit out till it reaches room temperature and doubles in size; 6-8 hours. Proceed with this recipe or use to make any other flatbread or pizza of your liking.
To create a warm environment for rising, turn the oven to 200F/93C before working on the dough, then turn off the oven after about 10 minutes. You could now use it as your warm place to rise your dough in. If the oven feels too hot, leave the oven slightly ajar. Works like a charm:)
You could use all mozzarella cheese instead of the gruyere or your preferred type of cheese here. Gruyere is just classic for French Onion Soup, but its up to you.
Caramelized onions keep well for 3 days in the refrigerator, stored in a sealed container or up to 3 months in the freezer.
Quick Onion Caramelization method adapted from Cooks Illustrated
Measurements Note: All recipes of this site have been developed using weight measurements. Although US volume measurements have been included for your convenience, it is highly encouraged that you weigh your ingredients using a kitchen scale to get the best possible results. Due to the sensitive nature of baking, kitchen scales are proven to yield more accurate and consistent results than measuring cups. Enjoy!
This post may contain affiliate links.
All images and content are owned by Cleobuttera® and are copyright protected. Please do not use my images without prior permission. If you would like to republish a recipe, please rewrite it in your own words and link back to the recipe page on my site. Original recipes and creations of this site are intended for personal and home use. Commercial replication or media consumption are only allowed with a written consent and agreement with Cleobuttera owners. Otherwise it is considered a violation of intellectual property. Thank you for respecting and appreciating the amount of time and effort that goes into creating free, unique recipes that make people happy.