Luscious Lemon Posset
An easy, 3-ingredient, cool and refreshing dessert with a luxuriously creamy texture and bright lemon flavor. A dreamy treat for citrus lovers!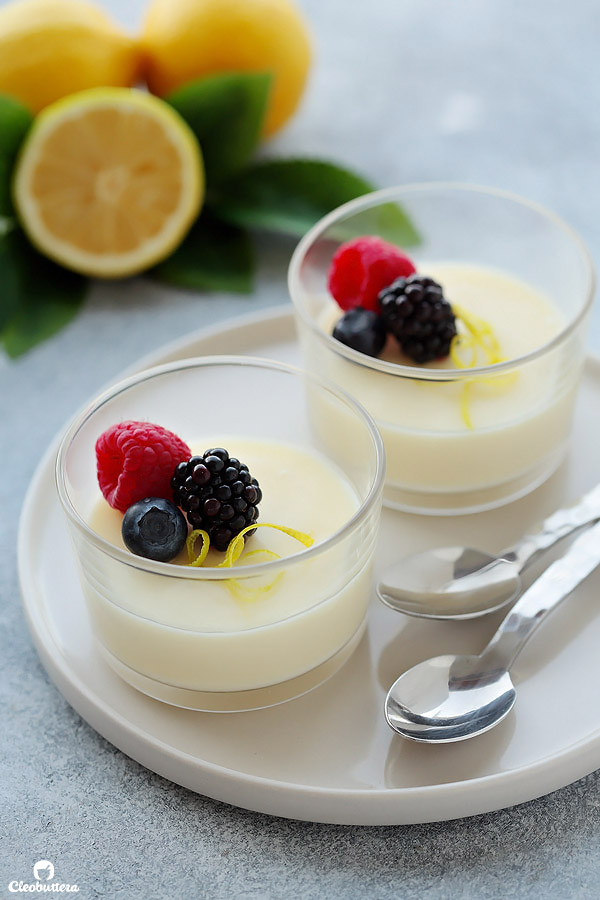 Luscious Lemon whaaaaat?!
Posset!
If you can get past its unfamiliar name associated with a small mammal…you will be rewarded with perhaps the best lemon dessert you've never had.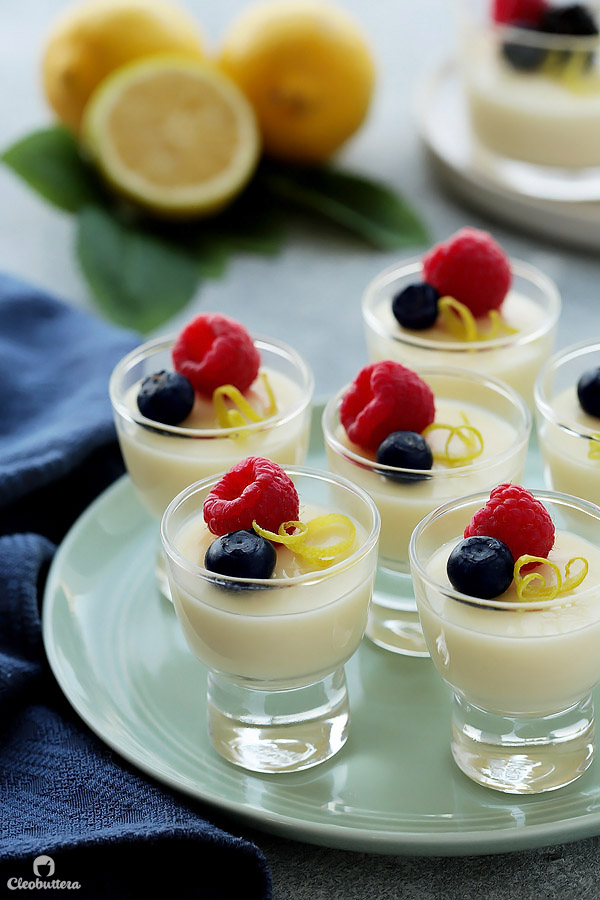 Imagine the best tasting lemon sorbet you've ever encountered, but with the silky texture of pudding and creme brûlée combined.
A bright and refreshing, creamy dessert guaranteed to sweep lemon lovers off their feet.
Where has this dessert been all my life and why is it not on every restaurant's menu?!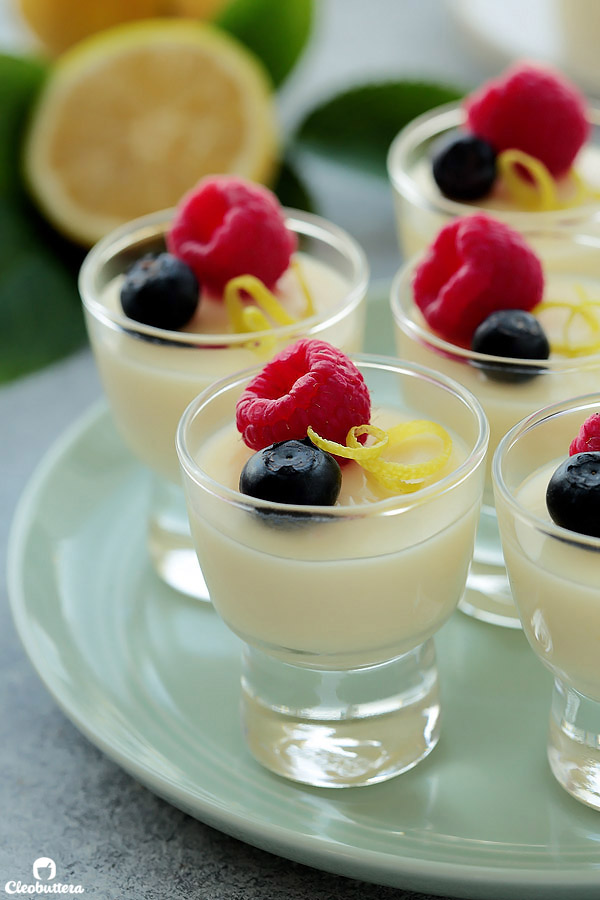 Well it's been in Britain all that time, sitting beside its homie Sticky Toffee Pudding, and no one made a fuss about it.
But I'm here today to make a BIG fuss about this magical dessert, because it deserves to be high up there on a pedestal with the most delicious food in the world and you need to know about it. Can you tell I'm a little obsessed?
More like in love!
I mean look at this texture…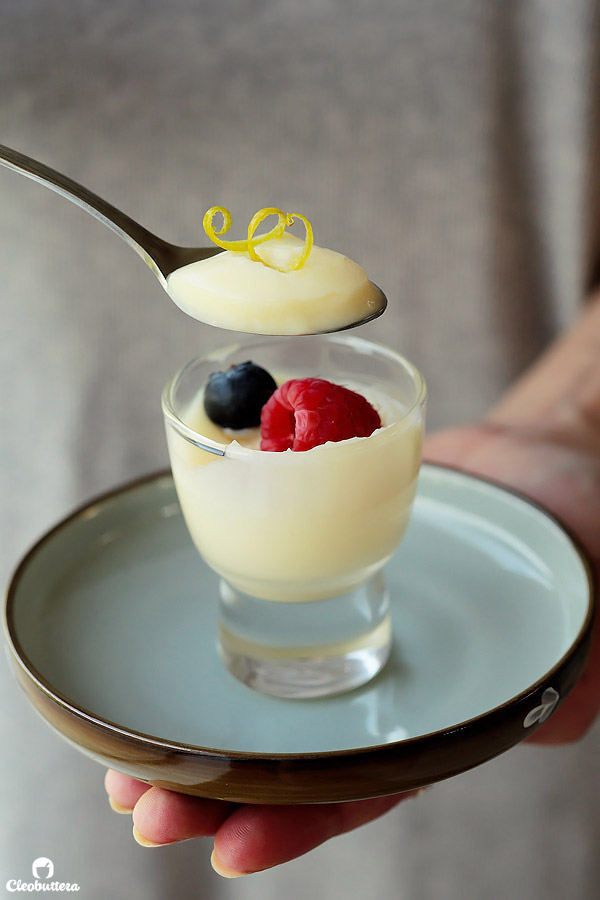 Lemon Posset is a chilled, British dessert with a gloriously plush texture and bright citrusy flavor. It has been enjoyed for centuries in the form of a hot, tangy, creamy drink that dates back to the Middle Ages. But now thanks to English celebrity chefs and cookbook writers, lemon posset has made a revamped comeback in the form of a cool, creamy dessert, that is starting to make a visible appearance in the pastry world and set foot in restuarants.
The delightful flavor and satiny texture of this concoction is a winner on so many levels, but it is the process that deserves a round of applause, a kiss on the cheek and multiple genius awards.
Cooks Illustrated, one of my favorite resources for reliable recipes and food knowledge, has perfected the process, nailing down the right proportions of each ingredient, leaving zero room for improvement, to produce spectacular results with balanced sweet and tangy flavor. For that reason, I'm re-sharing their take on Lemon Posset, as is, with no tweaks, no twists, no additions; a rarity around these parts. Why mess with a good thing right?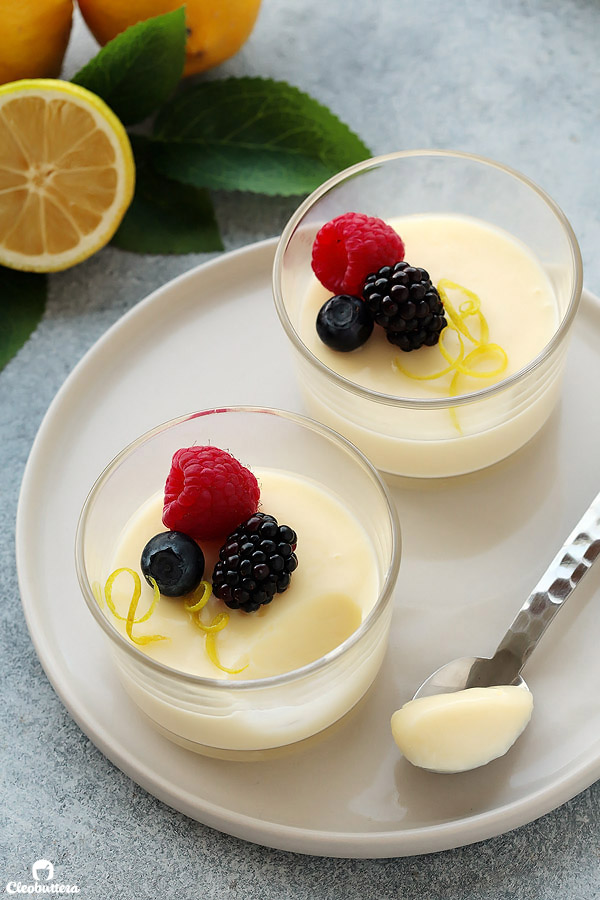 This recipe takes only moments to make and comes together magically from nothing more than sugar, cream, and lemon juice.
Yep! There's no tempering of egg yolks here or the need for traditional thickeners like gelatin, flour, or cornstarch to set the pudding. This lack of interfering ingredients, makes for an mistakable, pure and clean, lemon-y flavor.
But how does the pudding set?!
Magic ✨
LOL not really, but I like to believe so.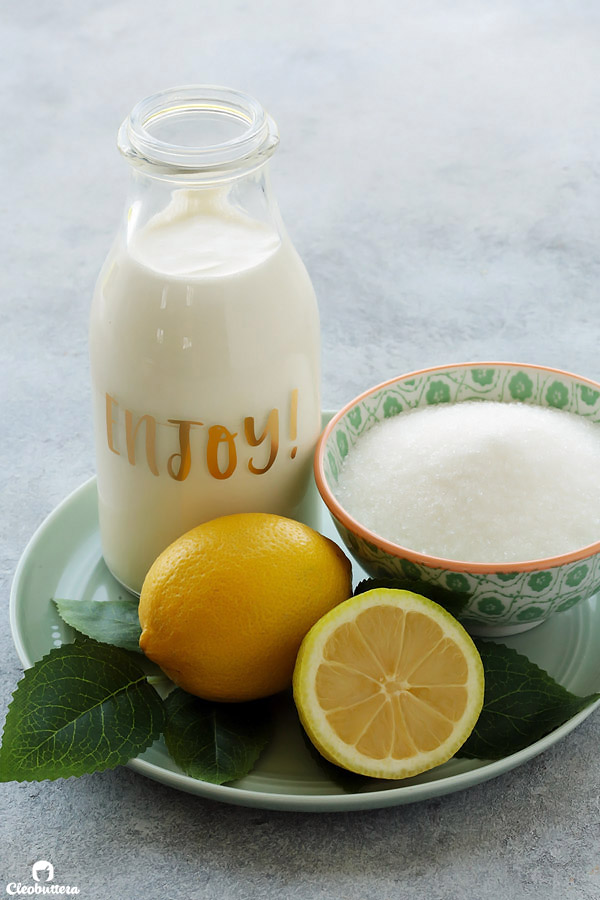 We'll get to the magic science of thickening the mixture in a sec, but let's first combine the cream and sugar in a saucepan and add a tablespoon of lemon zest along, for a bolder lemon flavor. This dessert doesn't kid around in its citrus-y punch!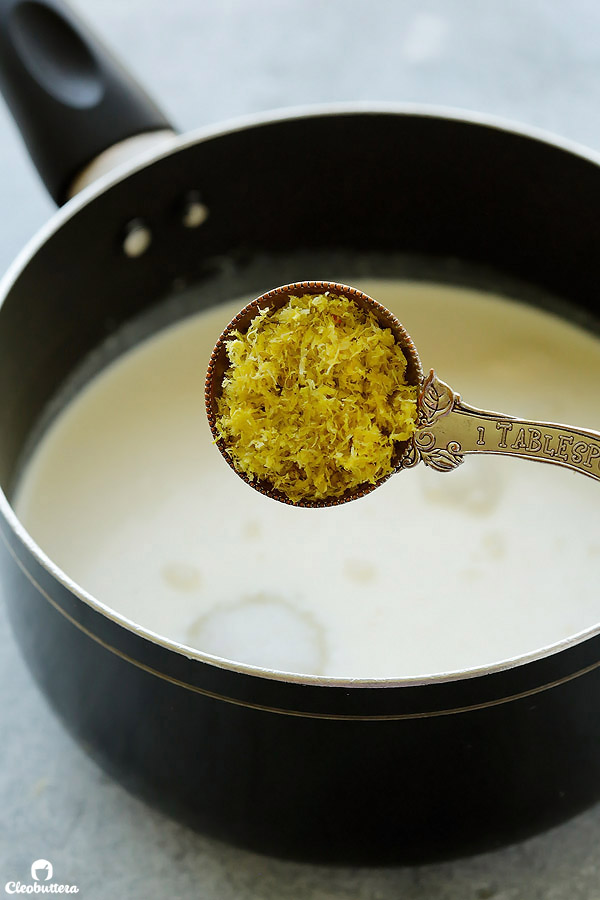 We'll let these guys boil together, with constant stirring, until the mixture reduces down to 2 cups.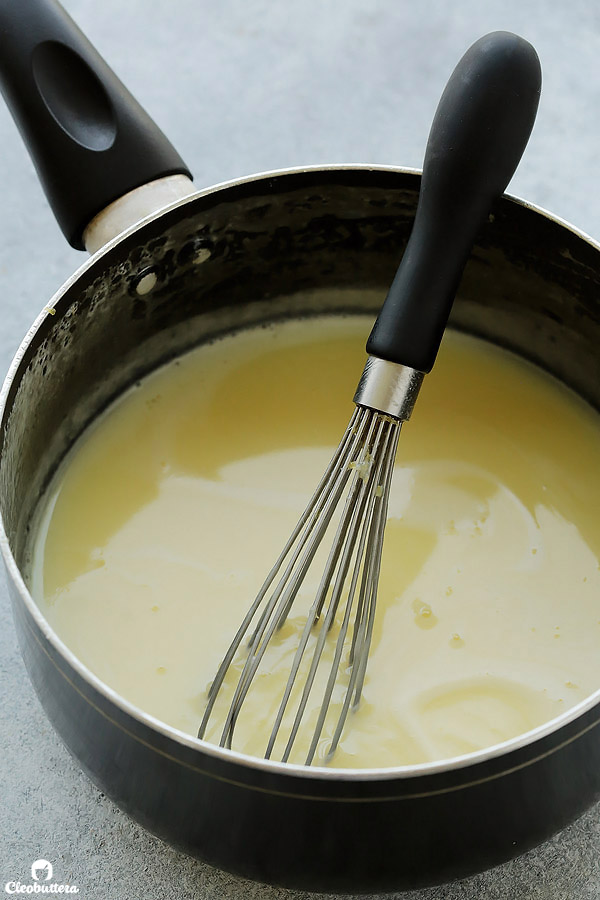 Reducing the cream mixture to exactly 2 cups evaporates some of the water that exists in the cream, which in turn helps set the mixture into the perfect velvety consistency; otherwise it will turn out too loose. To monitor the amount, transfer the liquid to a 2-cup heatproof liquid measuring cup once or twice during boiling.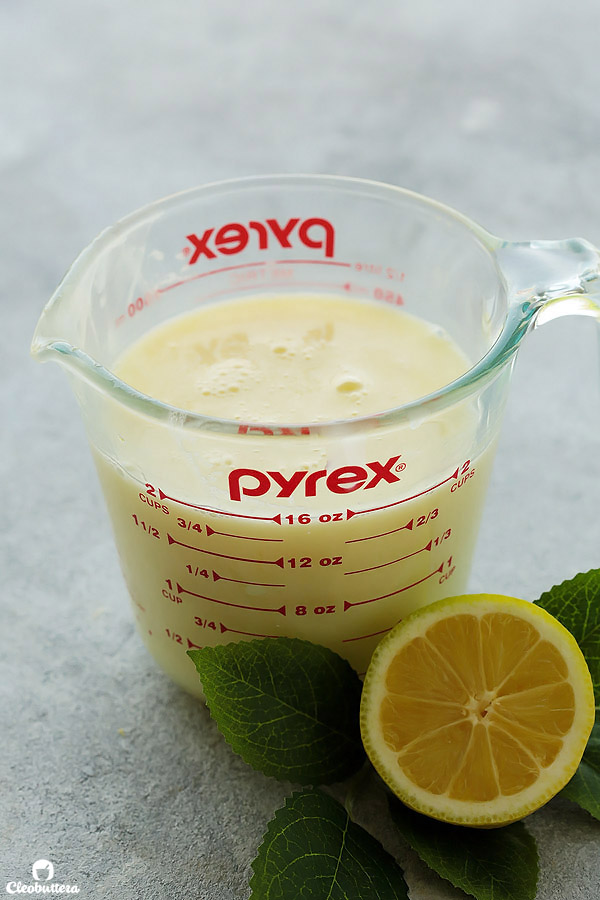 As for that "magical" trick that solidifies the pudding, its…wait for it…good 'ol lemon juice.
Unlike adding lemon juice to milk, which curdles it, lemon juice mixed with cream, produces results in a completely different direction. The high fat content in heavy cream causes the acidity of lemon to form tight curds instead of grainy separate ones, like that caused in milk. So the lemon juice here actually helps stabilize and gel the liquid together to produce a luxuriously creamy pudding. So cool right?!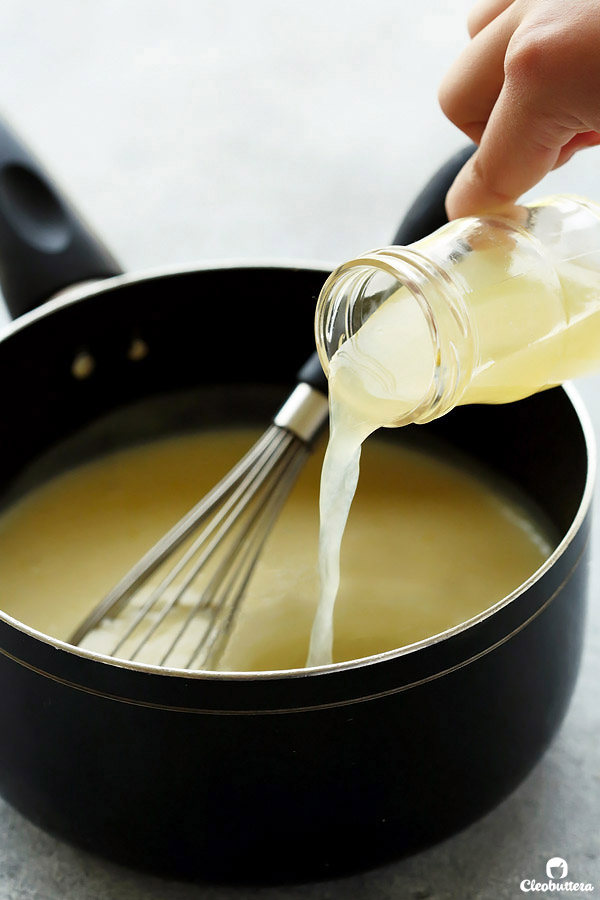 After stirring the lemon juice into the cream mixture, we let it sit for 20 minutes for 2 reasons: 1) to give the zest a chance to steep and further flavor the pudding and 2) to allow a skin to form on top, so we could later strain it out and not worry about it later. Straining will also get rid of the lemon zest.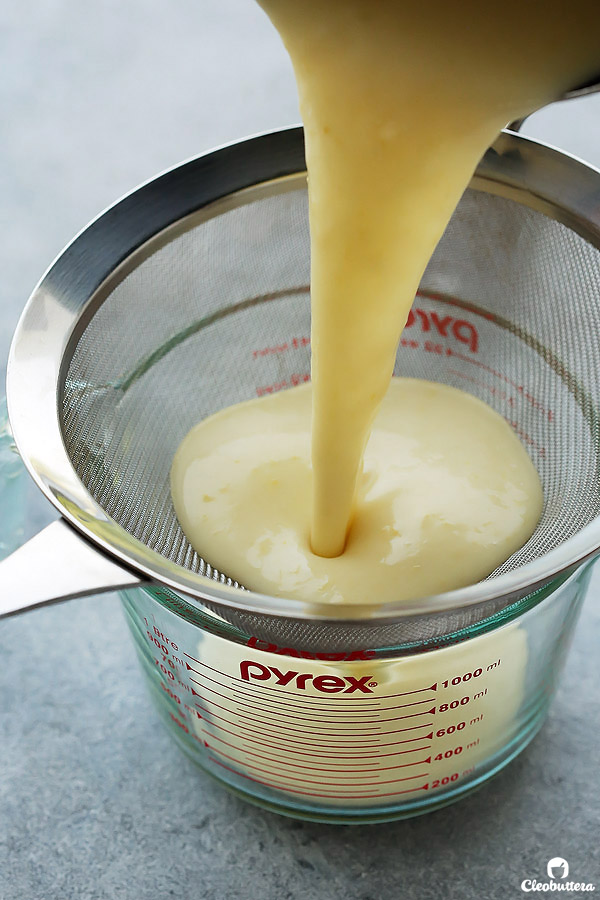 Then into the cups of your choice they go and into the fridge they chill.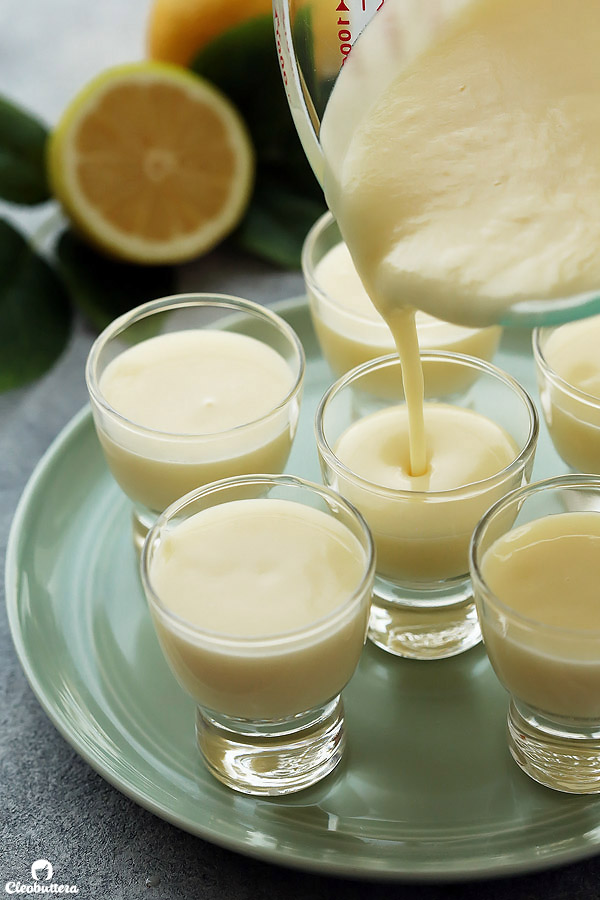 At this point…a few berries are all you need to take this delightful dessert from simple to fancy.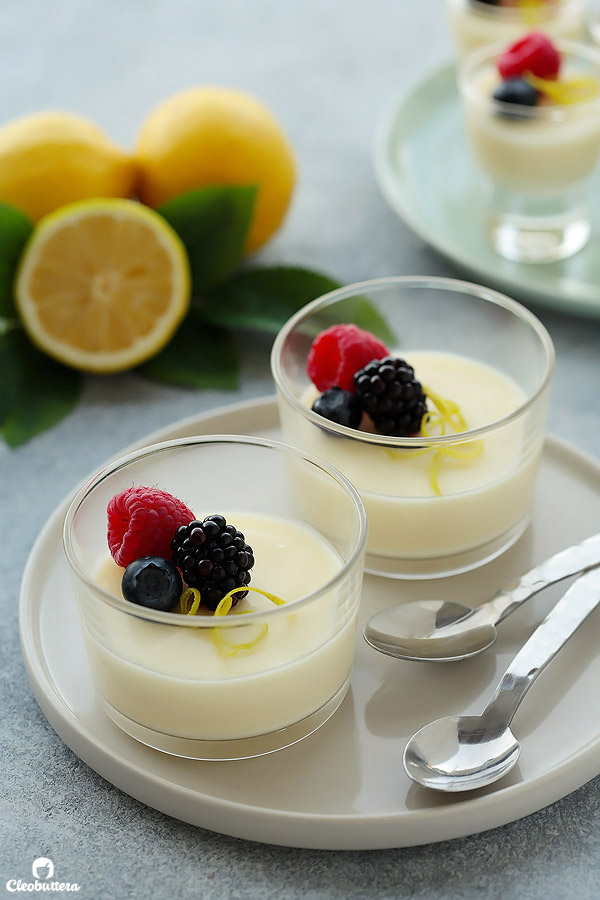 Enjoy my fellow lemon lovers! This is a dessert you won't wanna miss.
Yield: serves 6
Luscious Lemon Posset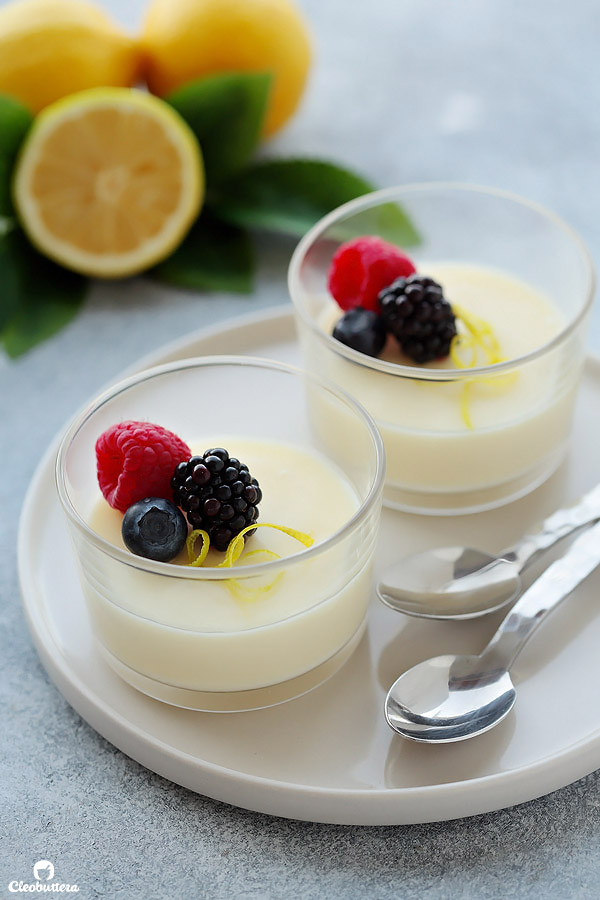 An easy, 3-ingredient, cool and refreshing dessert with a luxuriously creamy texture and bright lemon flavor.  A dreamy treat for citrus lovers!
Cook Time 15 minutes
Additional Time 3 hours 20 minutes
Total Time 3 hours 35 minutes
Ingredients
2 cups heavy whipping cream
⅔ cup (4 2/3 oz/ 132 grams) granulated sugar
1 tablespoon grated lemon zest
6 tablespoons freshly squeezed lemon juice
1 ½ cups blueberries or raspberries or a combination of both (for garnish; optional)
Instructions
In a medium saucepan, combine cream, sugar, and lemon zest. Bring to a boil over medium heat. and continue to boil, stirring frequently to dissolve the sugar. If the mixture begins to boil over, briefly remove from heat. Cook until mixture is reduced to 2 cups, 8 to 12 minutes. Reducing the cream mixture to exactly 2 cups creates the best consistency. To monitor the amount, transfer the liquid to a 2-cup heatproof liquid measuring cup once or twice during boiling.
Remove saucepan from the heat and stir in the lemon juice. Let sit until mixture is cooled slightly and skin forms on top, about 20 minutes. Strain through a fine-mesh strainer into bowl or liquid measuring cup with a spout; discard zest. Divide mixture evenly among 6 individual ramekins or serving glasses or 12 shot glasses. Portioning is key, as spooning the set dessert from one large serving bowl will cause the texture to suffer.
Refrigerate, uncovered, until set, at least 3 hours. Once chilled, possets can be wrapped in plastic wrap and refrigerated for up to 2 days. Unwrap and let sit at room temperature for 10 minutes before serving. If desired, garnish with berries and a few springs of lemon peel and serve.
Recipe Notes
Measurements Note: All recipes of this site have been developed using weight measurements. Although US volume measurements have been included for your convenience, it is highly encouraged that you weigh your ingredients using a kitchen scale to get the best possible results. Due to the sensitive nature of baking, kitchen scales are proven to yield more accurate and consistent results than measuring cups. Enjoy!
This post may contain affiliate links.
All images and content are owned by Cleobuttera® and are copyright protected. Please do not use my images without prior permission. If you would like to republish a recipe, please rewrite it in your own words and link back to the recipe page on my site. Original recipes and creations of this site are intended for personal and home use. Commercial replication or media consumption are only allowed with a written consent and agreement with Cleobuttera owners. Otherwise it is considered a violation of intellectual property. Thank you for respecting and appreciating the amount of time and effort that goes into creating free, unique recipes that make people happy.