Unbelievable Chocolate Chip Muffins
This is the chocolate chip muffin recipe you've been searching for! Supremely soft, tender and moist on the inside, with a golden top that is perfectly domed and crusty on the outside. Hands down…THE BEST EVER! Plus…recipe VIDEO included!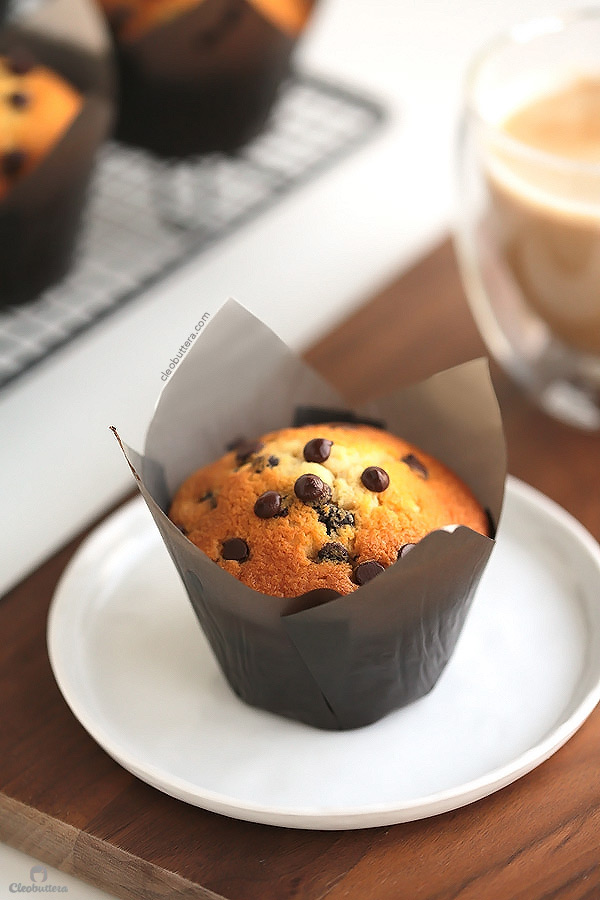 So when my not-so-little man knew that I was preparing muffins for the blog, his first remark was "but Mom…that's too normal! Everybody could make muffins."
Hmmm…Mr. Future Marketing Consultant has a valid point. There's an overpopulation of muffin recipes around the internets, and they seem to be reproducing by the hour.
So really?! Does the world need another muffin recipe, let alone a very basic one like this?
To be honest, if I wasn't blindly confident in how insanely good these muffins are, I would've agreed, ditched the idea and went with something a little more unique like this one. But instead, I put on my smarty pants and told him "true…but honey, not everybody has the BEST recipe, and that's what makes these "not normal" ".
His response was not something I had expected from my hard-to-impress picky eater. He said "Yeeeaaaah…they really are the best muffins in the world!" OH MY GOD!! Music to my ears! Happy dance…commence!
Speaking of "best muffins in the world," brings us to a little inner debate over their title.
You see…I've adapted the recipe from BlissTree who call them 'The Best Chocolate Chip Muffins in the Universe.' While I couldn't agree more, I usually try to avoid such high praise titles, you know, because everybody has their own criteria of what makes something the best. Not to mention that what happens in other people's kitchens, from substitutions, wrong measuring, not using room temperature ingredients, varying oven temperature to overbaking, could lead to unpredictable results.
So I ran a little a poll for the best title. And by poll, I mean whatsapped my BFF, who I had earlier sent a muffin to, asking her for help.
This is how it went: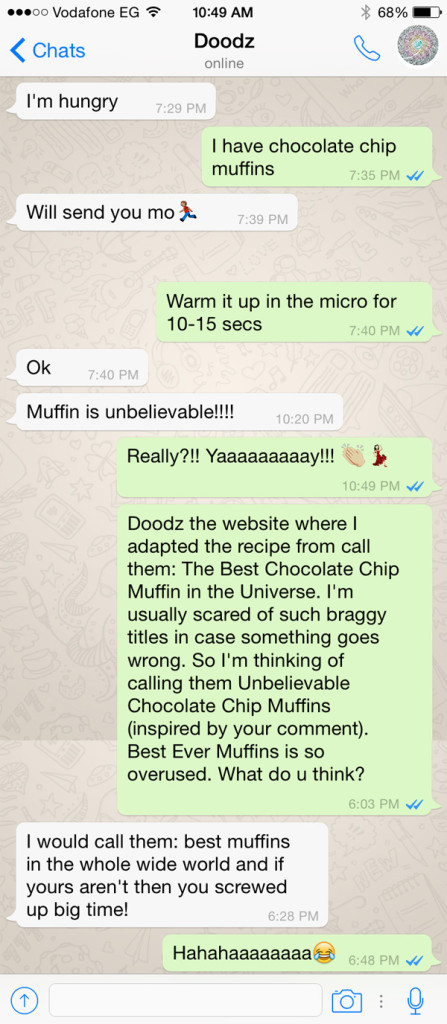 Let's just be glad that I used my veto power over this one 😀
So 'Unbelievable' Chocolate Chip Muffins it is.
Why?
Because I guarantee you that as soon as you take your first bite while they're still warm out of the oven, 'unbelievable' will be the first thing that comes to your mind. Or "you screwed up big time!" Hahaaaaa. Sorry just kidding. I mean I had to. Right? 😀
These muffins are far from "normal" …they are quite extraordinary.
So what makes these muffins THE BEST (at least according the cleobuttera household and those around)?
I mean first…will you take a look at that crumb?!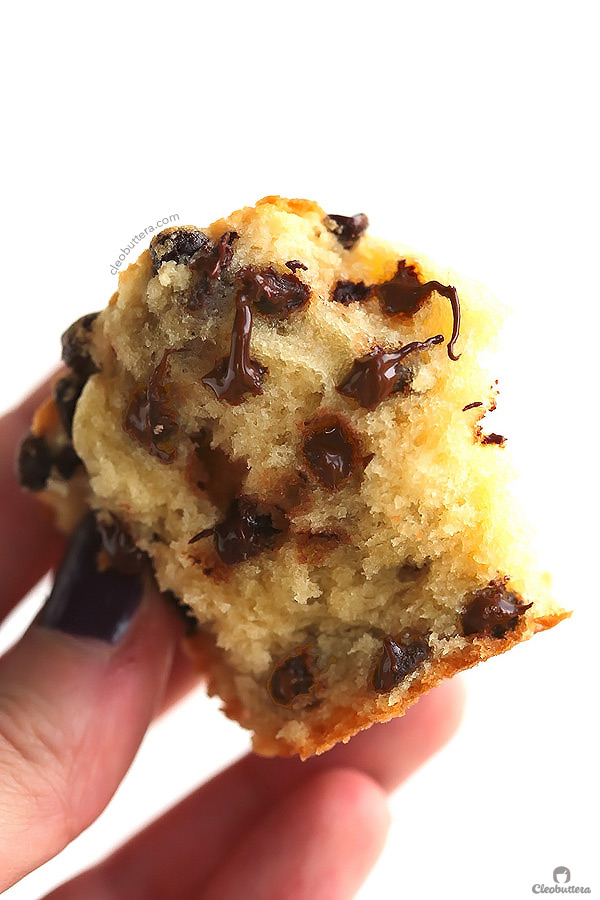 Light and airy with a soft and delicate crumb that melts away in your mouth. Non of those tough, dry muffins that give your throat a scrub.
They are somewhat cake-y but still muffin-y. Does that make any sense?
The texture is soft like cake, yet hearty enough to honor the title of a muffin. The tops are crusty and well domed; a characteristic of a good muffin.
They are moist moist moist (and I'm sorry for those who hate this word, but there really isn't a more fitting word) and they'll stay moist for daaaaaays. Unlike those that "are best eaten the same day they're made."
They are ridiculously delicious just as is, with the pockets of gooey chocolate chips running through, hints of tanginess from the sour cream and the unmistakable kiss of vanilla. But if want, you could omit the chocolate chips for an amazing plain vanilla muffin. Or customize it by folding in your favorite add ins or spices.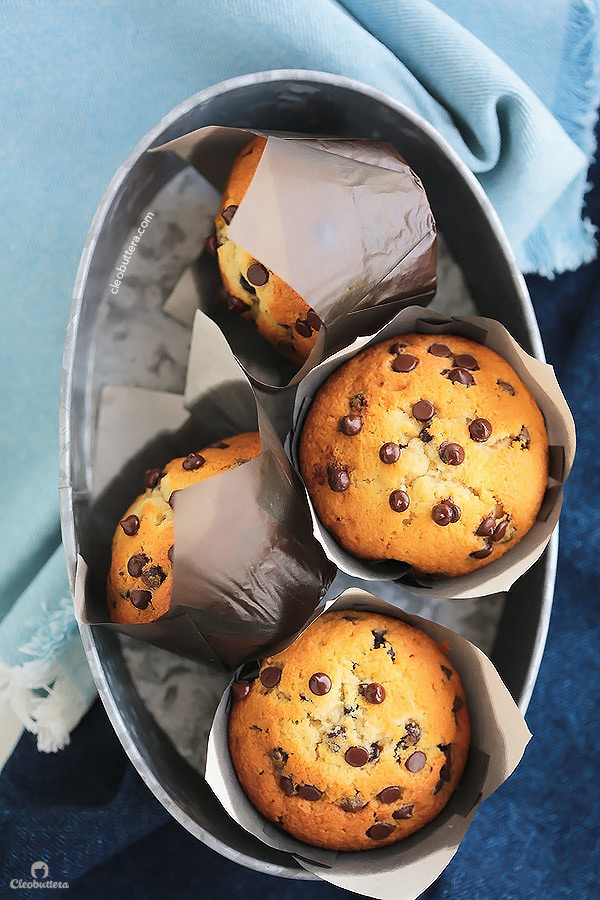 This muffin base is really just a great blank canvas. A really really yummy canvas, that I've been searching for for only oh 10 years or so. They are hands down the best vanilla muffin base I've ever made! And that's because I already have an awesome chocolate one here that you seriously have to try.
They're also pretty simple and straightforward to make. See for yourself how in this video!
Now let's discuss what makes these muffins so good.
First, we are using BUTTER! Because as much as oil makes muffins moist, nothing beats the flavor that butter imparts. And we are not compromising on moisture one bit.
We also beat the butter first, which helps aerate the muffins, then add in the sugar.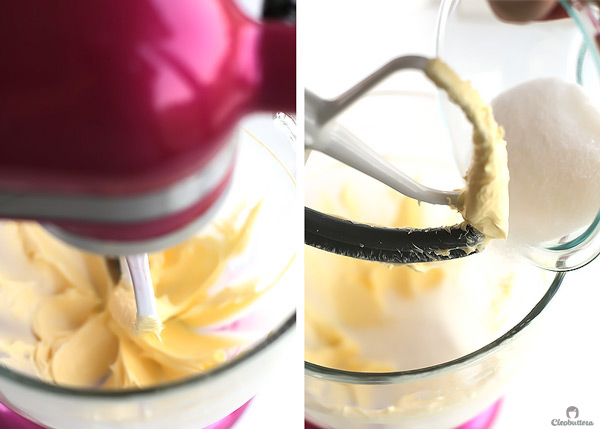 And beat more, so much more until very pale in color and the texture is light and fluffy. This is what helps create a fluffy crumb, so don't skimp on it.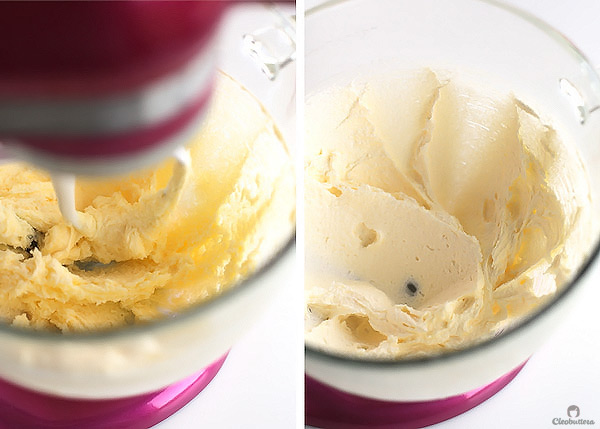 Then in goes the eggs, one at a time. Followed by the vanilla. A generous amount.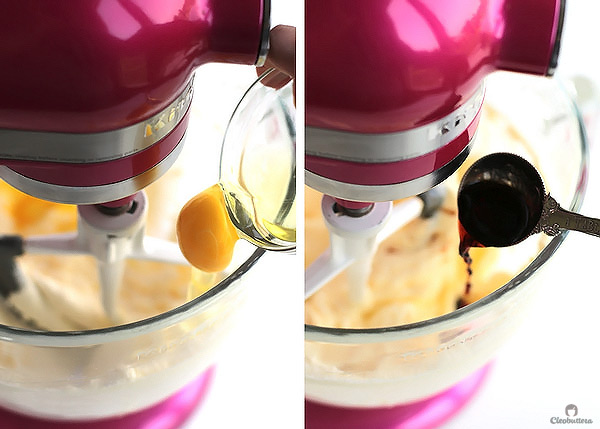 On lowest speed, you'll add in 1/3 of the flour mixture, followed by 1/2 of the sour cream, then flour again, rest of sour cream and ending with the last 1/3 of the flour mixture. You'll want to mix juuuuuuust until combined or they'll turn out tough.
SOUR CREAM is the moist maker here. That along with the butter, is what makes these muffins utterly moist. I love using it in baking.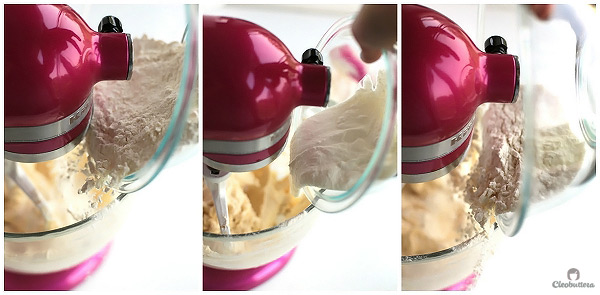 In goes the chocolate goodness!
I prefer to use mini chocolate chips because they don't sink in the batter, but regulars are fine too. You'll just need to coat them in a little bit of the flour mixture before folding them in. This will prevent them from sinking.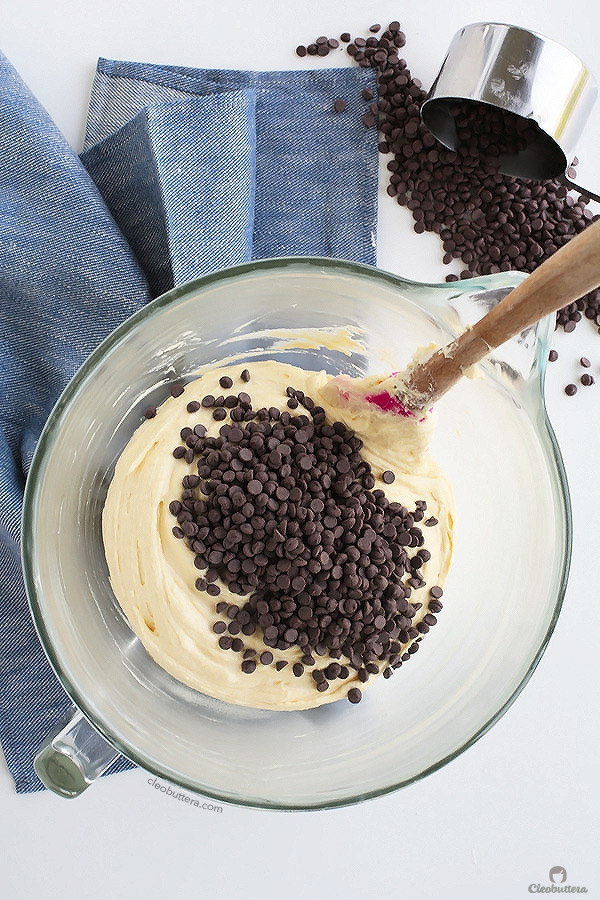 Then scoopity scoop…
I just love these tulip paper cups; makes them look like they came straight from a bakery. Regular ones are just as good though!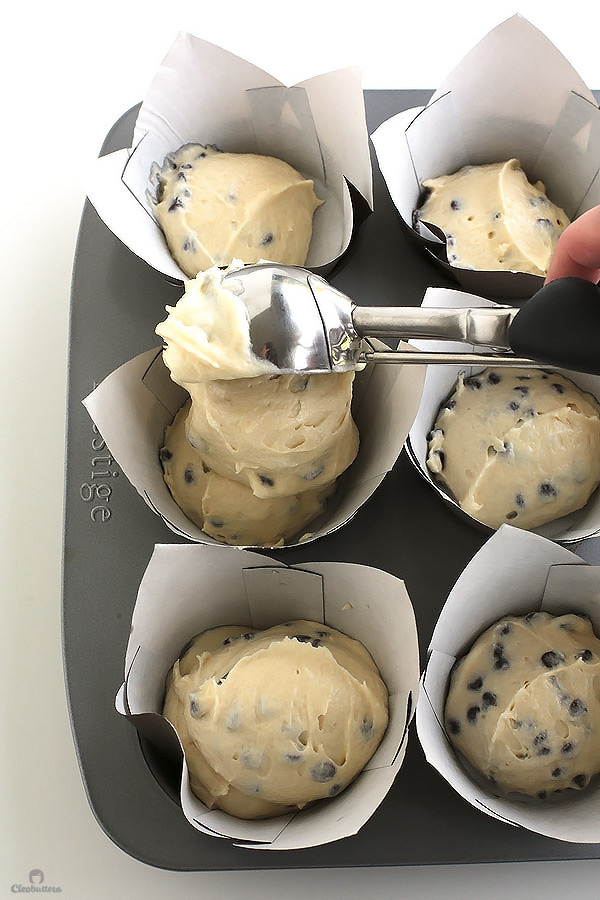 Lick the beater, spatula, bowl and ice cream scoop, then sprinkle a few chocolate chips on top. Just for looks.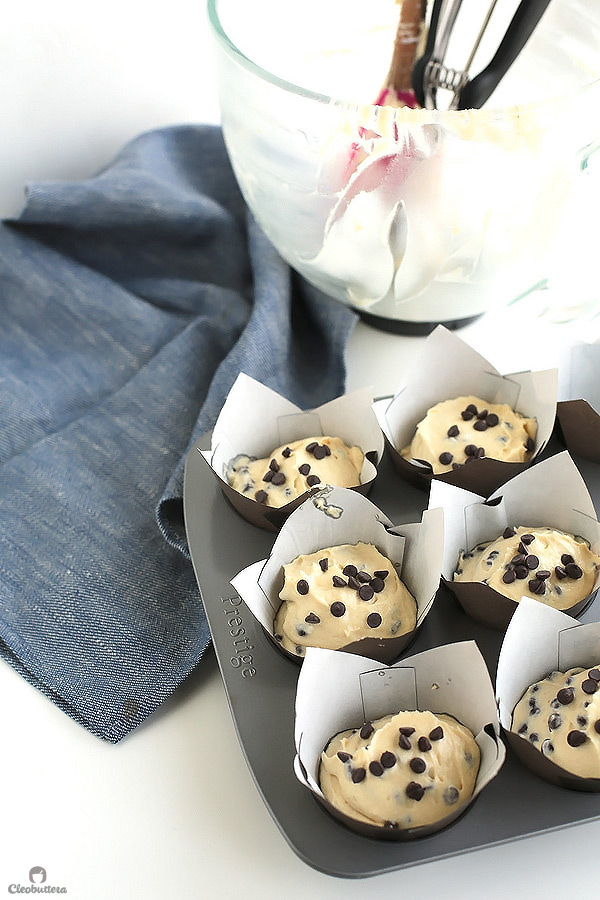 Bake until beautifully golden, springs to the touch and a toothpick comes out clean or with a few moist crumbs attached.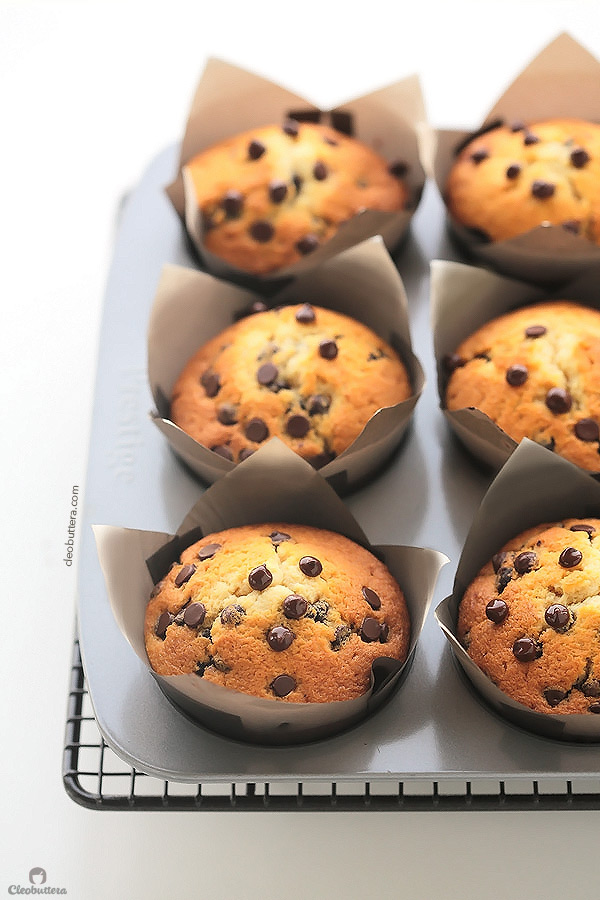 Very important tip: Eat one while still warm out of the oven. THIS IS NOT AN OPTION.
Then prepare some coffee. Call in a friend and have a conversation. And that conversation better be about how good these muffins are 😀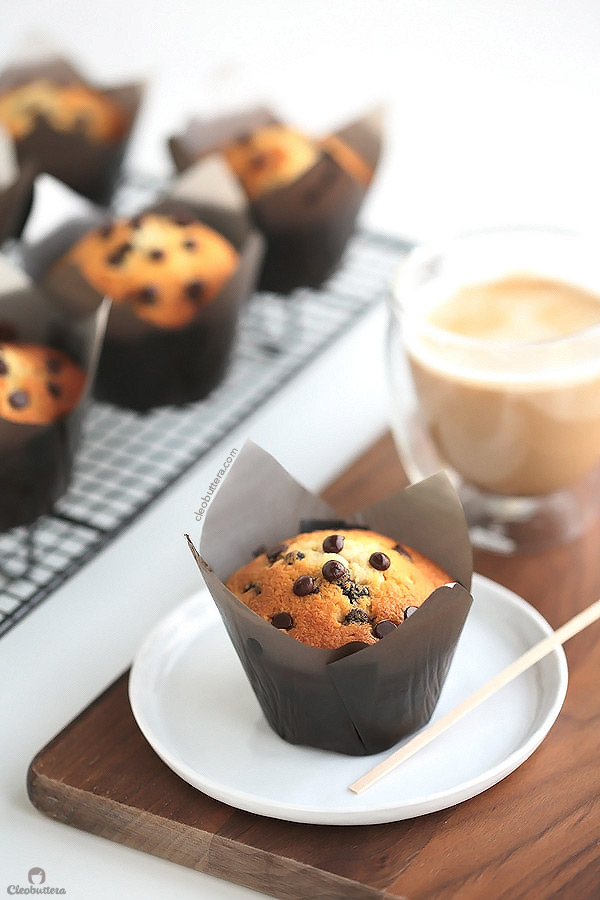 Oooooh! I almost forgot to tell you that you should totally make mini ones for the mini people in your life. Each regular sized muffin, makes 4 mini ones.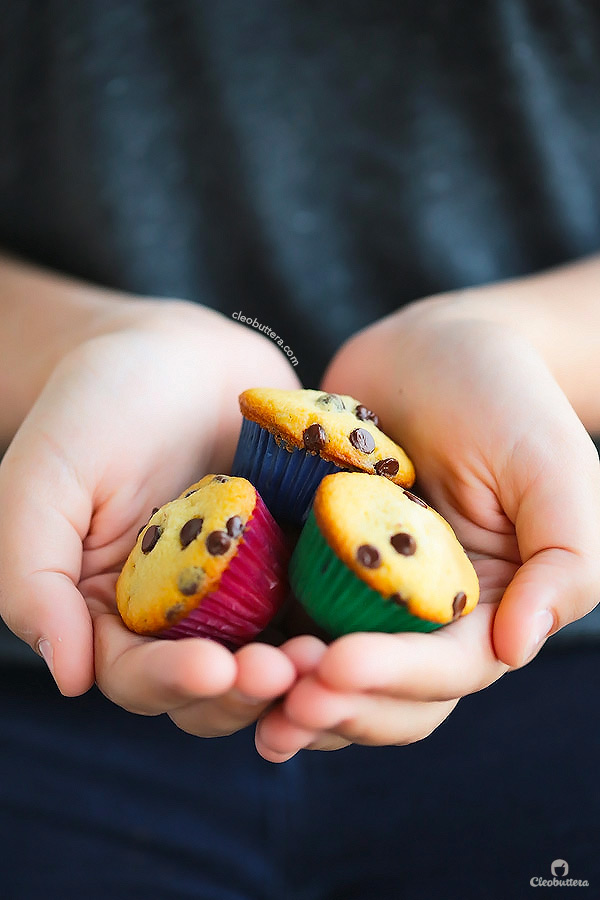 Imagine the look on their face, when they go to school, open their lunchbox and find a cute little treat sitting in there.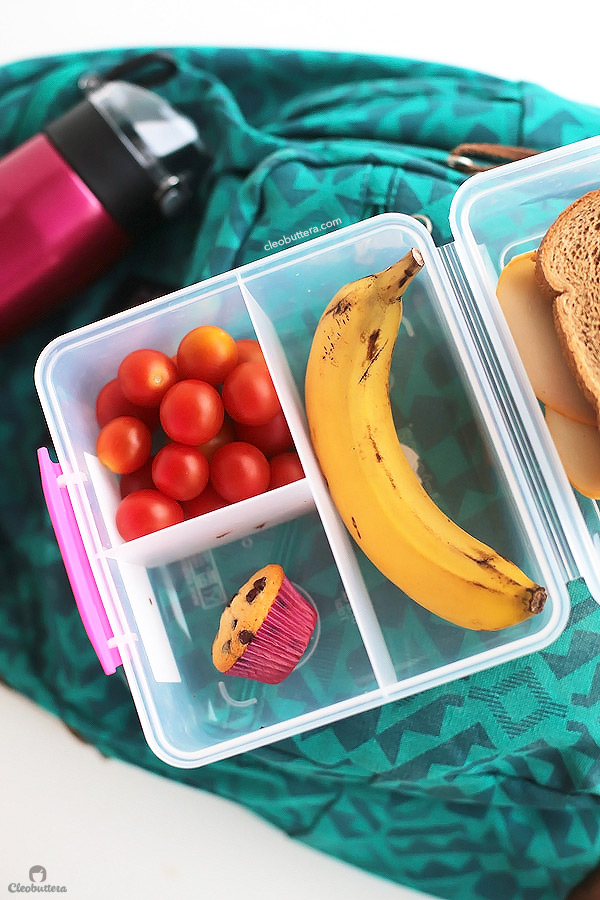 Any way you choose to make them, these muffins are sure to please.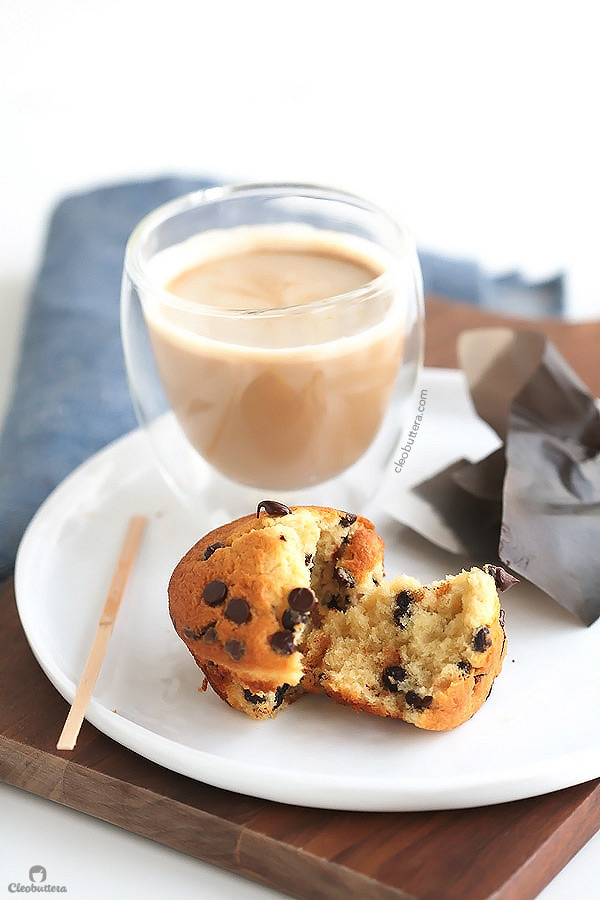 Enjoy friends!
Yield: 12 regular sized muffins or 48 mini muffins
Unbelievable Chocolate Chip Muffins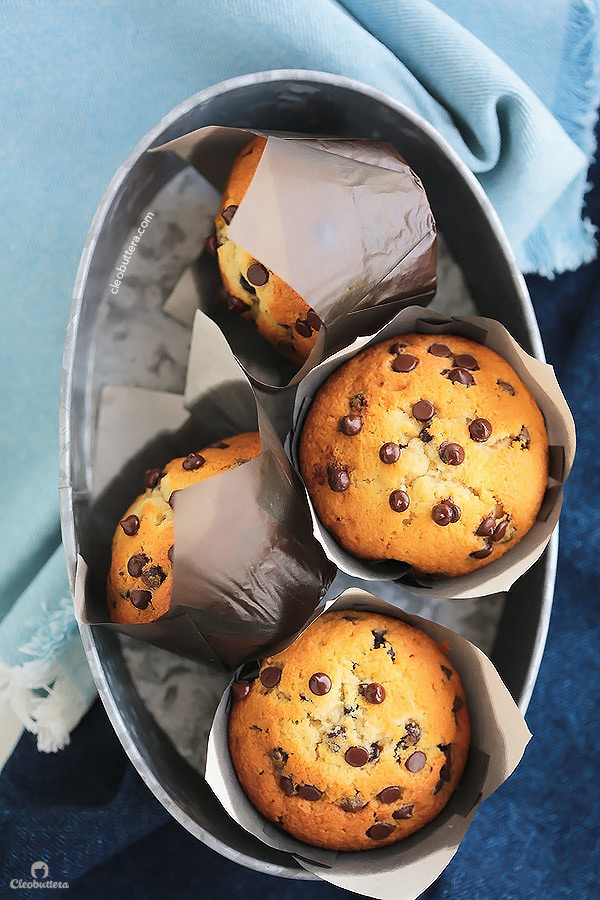 This is the chocolate chip muffin recipe you've been searching for! Supremely soft, tender and super moist on the inside, with golden tops that are perfectly domed and crusty. THE BEST EVER!
Prep Time 20 minutes
Cook Time 20 minutes
Total Time 40 minutes
Ingredients
2 cups (9oz/ 255g) all purpose flour, preferably weighed*
2 teaspoons baking powder
½ teaspoon baking soda
¼ teaspoon salt
¾ cup (6oz/ 170g) unsalted butter, softened to room temperature
1 cup (7 oz/ 200g) sugar
2 eggs, at room temperature
2 teaspoons pure vanilla extract, (4 teaspoons if using imitation vanilla)
1 cup (8oz/ 227g) sour cream, at room temperature
1 cup (6 oz/ 170g) semi-sweet (or milk or bittersweet) chocolate chips, preferably minis (see note for substitution), plus extra for sprinkling over the top
Instructions
Adjust the oven rack to the lower middle position and preheat the oven to 400F/200C.
Line a 12 cup muffin pan with 12 cupcake liners (or 48 mini liners, if using mini cupcake pan).
In a medium bowl, whisk together the flour, baking powder, baking soda and salt. Set aside.
In the bowl of a stand mixer fitted with a paddle attachment (or a handheld mixer and a large bowl) beat the butter on medium high speed until creamy and lightened up; 1 to 2 minutes.
Add the sugar and beat together until lightened up in both color and texture; 4 to 5 minutes. The color should turn very pale and texture should look fluffy.
Add the eggs, one at a time, beating well after each addition. Add in the vanilla and beat together for one minute.
On lowest speed, add in one-third of the flour mixture and mix until mostly combined. Add in half of the sour cream and lightly stir until almost mixed in. Continue with adding another one-third of the flour mixture, followed by the remaining sour cream and ending with the last third of flour mixture. Mix until just combined. DO NOT OVERMIX or you could end up with tough muffins.
Using a rubber spatula, fold in the mini chocolate chips (see note for regular sized).
Using an ice cream scoop, divide the batter evenly among the prepared muffin pan, filling the cups almost to the top; about ½ cup of batter for regular muffins and 2 tablespoons for the minis. Sprinkle the tops with some extra chocolate chips
Bake for 20 to 22 minutes (for regular muffins), or until the top are golden brown and spring back to the touch and a toothpick inserted in center comes out clean or with a few moist crumbs attached. Mini muffins should bake in about 9 to 12 minutes. (Always check early for doneness and add a few minutes if still not baked through). DO NOT OVERBAKE or the muffins will dry out.
Allow muffins to cool in the pan for about 5 minutes, then transfer to a wire rack and allow to cool slightly before serving. Served warm or at room temperature. Allow to cool completely before storing. Store leftovers in an airtight container to retain its moisture.
Recipe Notes
Weighing ingredients, especially flour, is ideal in baking due to its consistency. If you don't have a kitchen scale to weigh the flour, use the Spoon & Sweep method: Use a spoon to lightly fill measuring cup with flour until required amount is obtained, then sweep access with the back of a knife.
I love using MINI chocolate chips here because unlike the regulars, they don't sink to the bottom of the muffins and for their even distribution in the batter, so you get a pop of chocolate with every bite. Regular chocolate chips or chopped chocolate could be used instead. However, be sure to reserve a tablespoon of the flour mixture aside and use it to coat the chips or chunks before folding into the batter. This will help prevent them from sinking.
Recipe mostly adapted from BlissTree
Measurements Note: All recipes of this site have been developed using weight measurements. Although US volume measurements have been included for your convenience, it is highly encouraged that you weigh your ingredients using a kitchen scale to get the best possible results. Due to the sensitive nature of baking, kitchen scales are proven to yield more accurate and consistent results than measuring cups. Enjoy!
This post may contain affiliate links.
All images and content are owned by Cleobuttera® and are copyright protected. Please do not use my images without prior permission. If you would like to republish a recipe, please rewrite it in your own words and link back to the recipe page on my site. Original recipes and creations of this site are intended for personal and home use. Commercial replication or media consumption are only allowed with a written consent and agreement with Cleobuttera owners. Otherwise it is considered a violation of intellectual property. Thank you for respecting and appreciating the amount of time and effort that goes into creating free, unique recipes that make people happy.