Peanut Butter Crunch Bars
A decadent no-bake chocolate peanut butter bar, featuring crispy rice cereal, salty pretzels and creamy white chocolate. So easy to make; the hardest part is stopping at just one.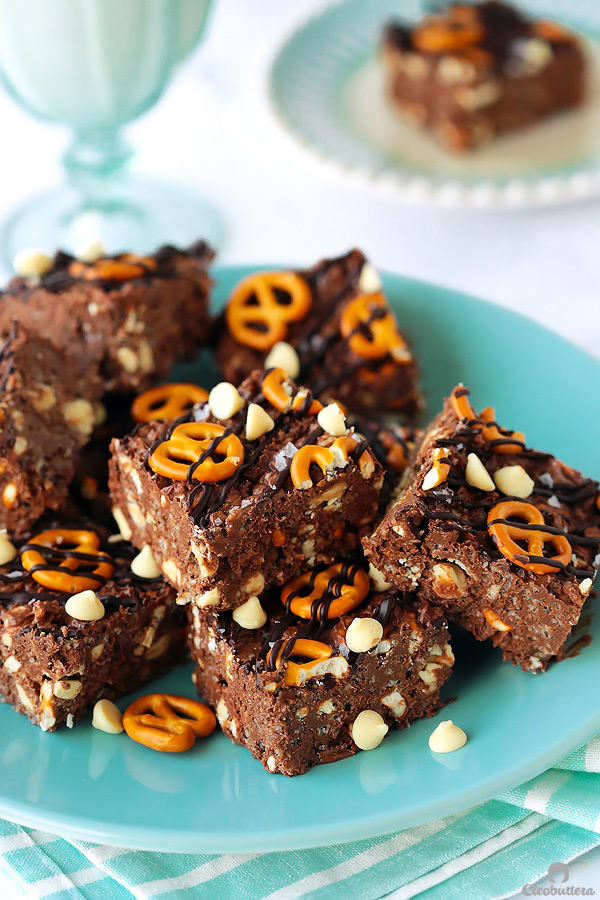 Peanut butter lovers…do I have a treat for you!
A dangerously easy recipe tailored for the couch potato in you. Or is it just me that has an inner Garfield?
A go-to recipe to have in your back pocket for when you're craving something sinfully good, but you're just too lazy to bake.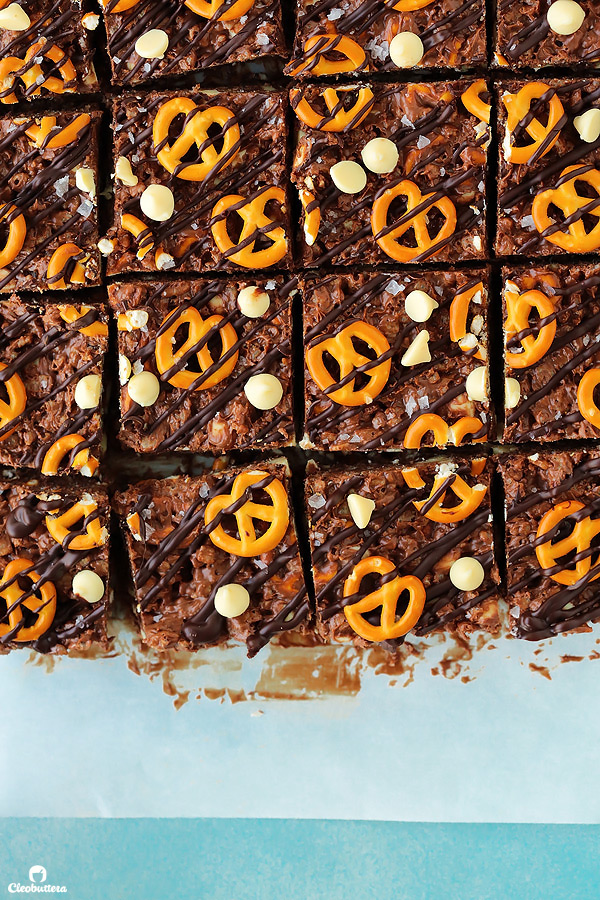 Not only are these bars a jiffy to make, but their taste far surpasses their minimal effort.
Think a rice krispy treat (without the marshmallowy gooiness), meets a Reese's peanut butter cup, with bursts of salty pretzels & bites of creamy white chocolate all rolled together.
They're basically a feast for the mouth! They're crunchy yet creamy, they're chocolatey and peanut butter-y, they're sweet and salty, and they're everything and it's opposite all in one bite.
So if you love treats that have a lot going on, with a party of flavors and contrasting textures, then these bars are for you!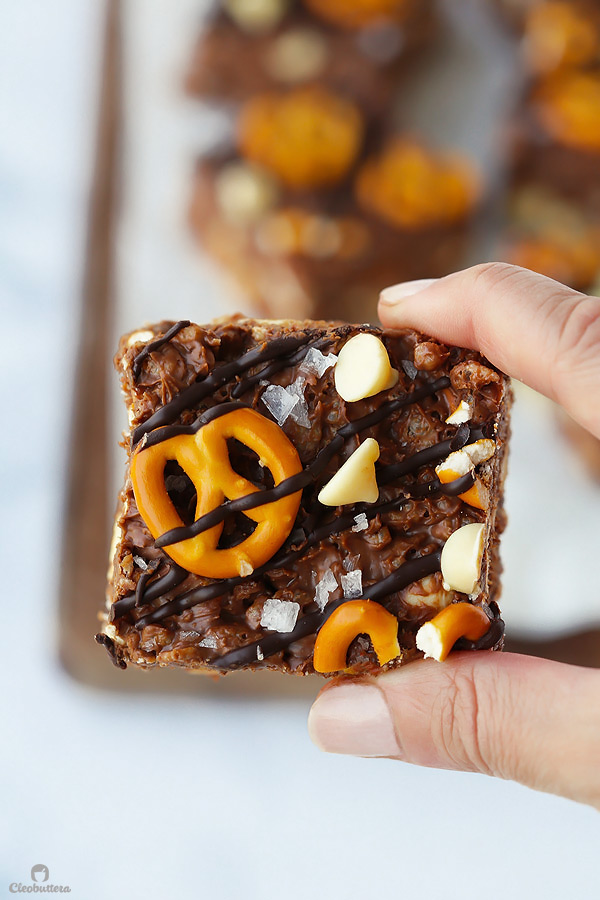 They're made up of just 5 of the yummiest ingredients known to man; each already delicious on its own. So you know they just gotta be good!
I mean, how can anything possibly go wrong when 2 kinds of chocolate chips (semisweet and white), peanut butter, pretzels and rice crisped cereal are involved. Add to that the fact that there's no oven required and you're destined for surefire success!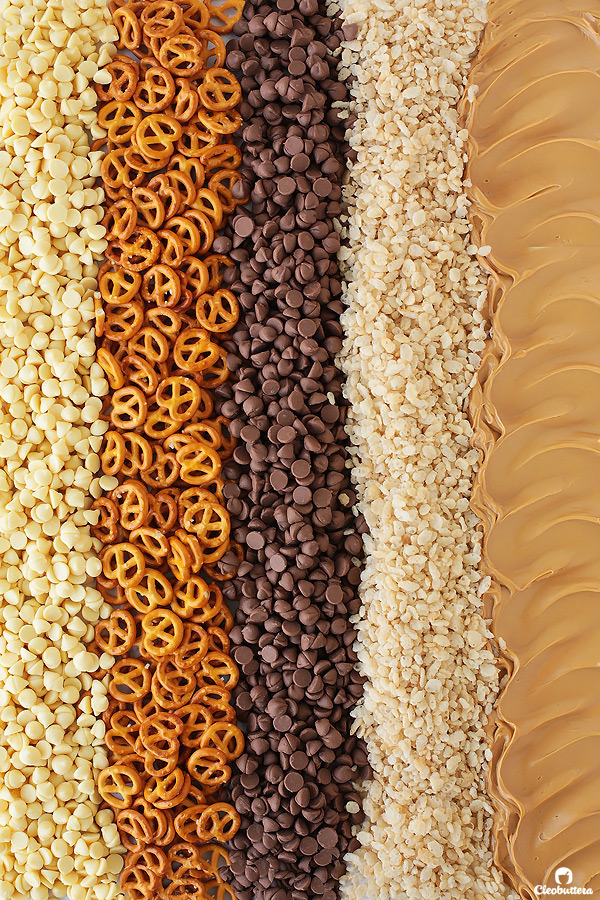 Everything comes together in just one bowl, and all the magic happens as the concoction rests in the fridge to set.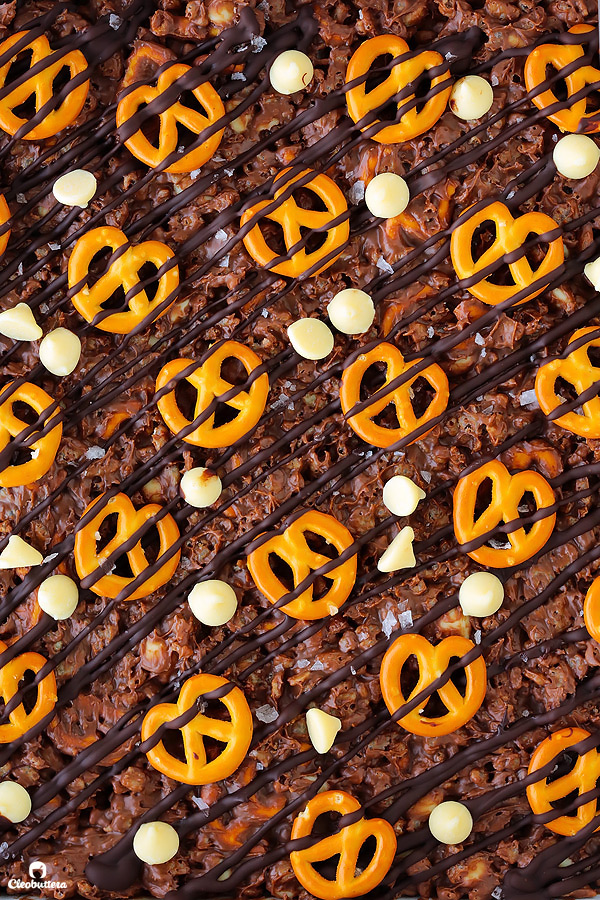 Now even if you're like me and don't like white chocolate, you're still gonna love these. You can't really taste it, but it adds pops of sweet milky flavor and creamy texture, that contrasts beautifully with the crunch of the cereal and the saltiness of the pretzels. I urge you not to leave out.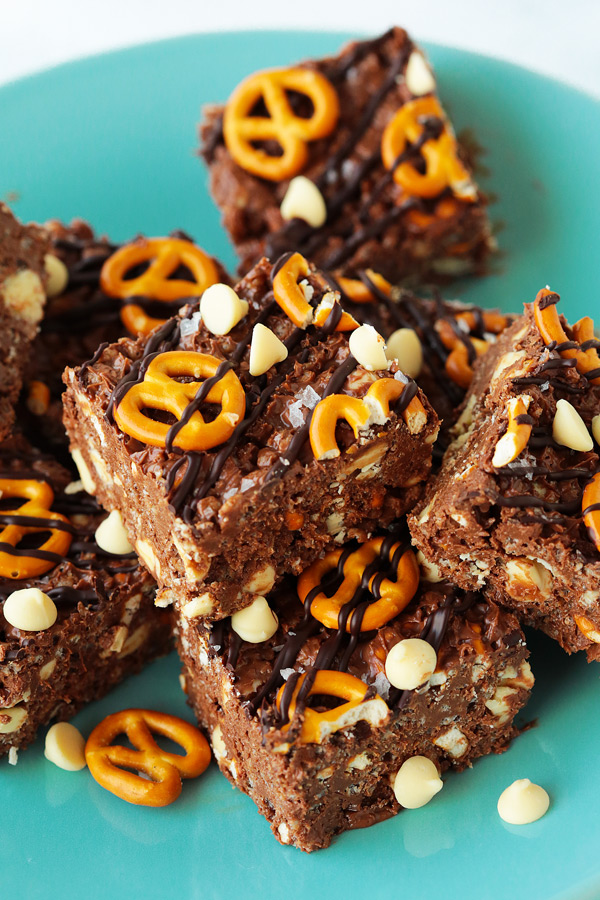 As far as taste goes, you primarily taste the chocolate and peanut combo, more than anything else. But all the other add ins, create elements of interest and texture that elevates the experience of deliciousness.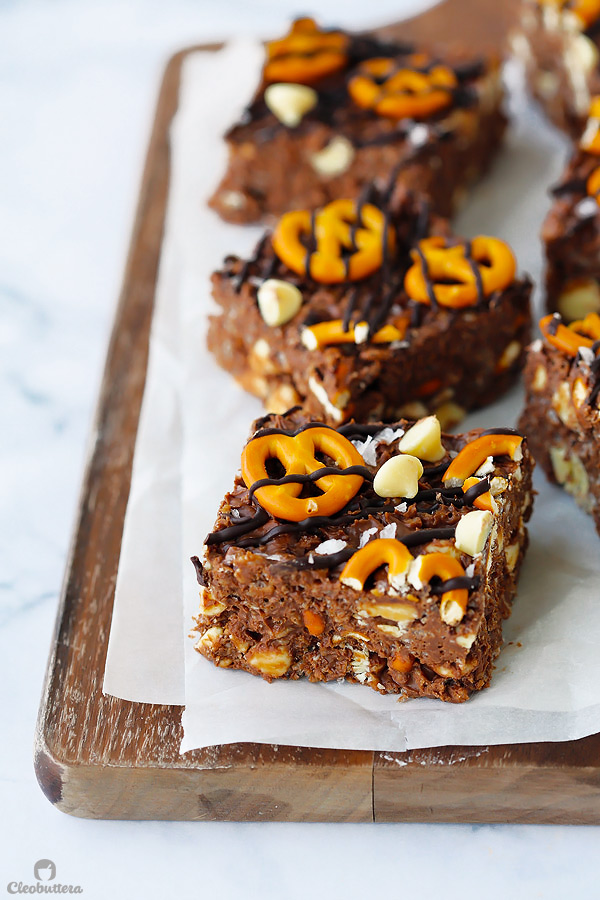 Now let's talk details!
To make these wonderful bars, you'll begin by melting chocolate chips in the microwave. Depending on your tolerance for sweetness, you can either use all semisweet chocolate chips, or if you like things on the sweeter side, I'd recommend using 2/3 of the amount semisweet and the other 1/3 milk chocolate. It's your call!
In both cases, you'll stir in the peanut butter into the melted chocolate until fully combined.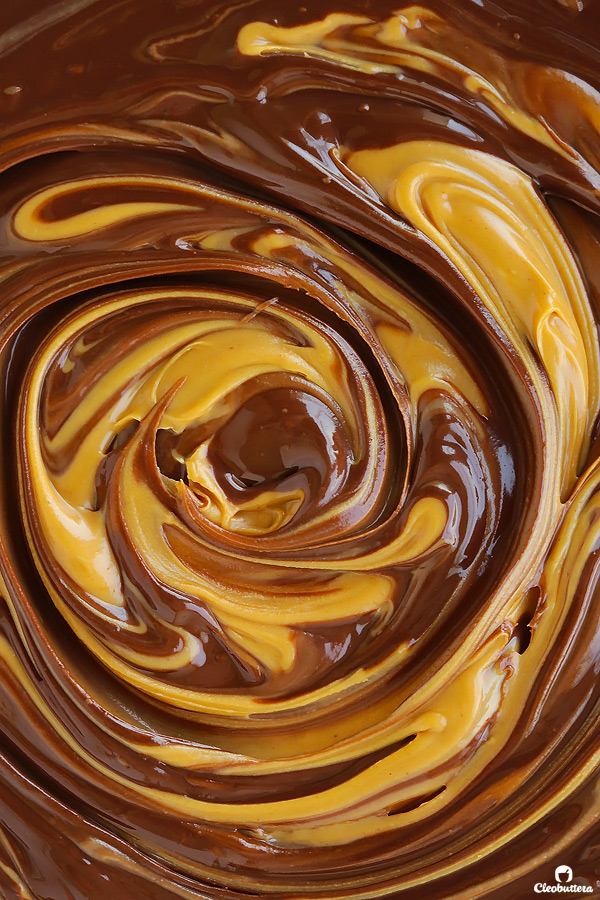 Then in goes the rest of your add-ins! Rice crisped cereal, pretzels and white chocolate all get mixed in. I actually like to fold in the white chocolate chips last, so the warmth from the chocolate/peanut butter mixture doesn't melt them. But as I was shooting these photos, the mixture had cooled down because I'm such a slow photographer, so I figured it was safe to add them in with the rest of the ingredients.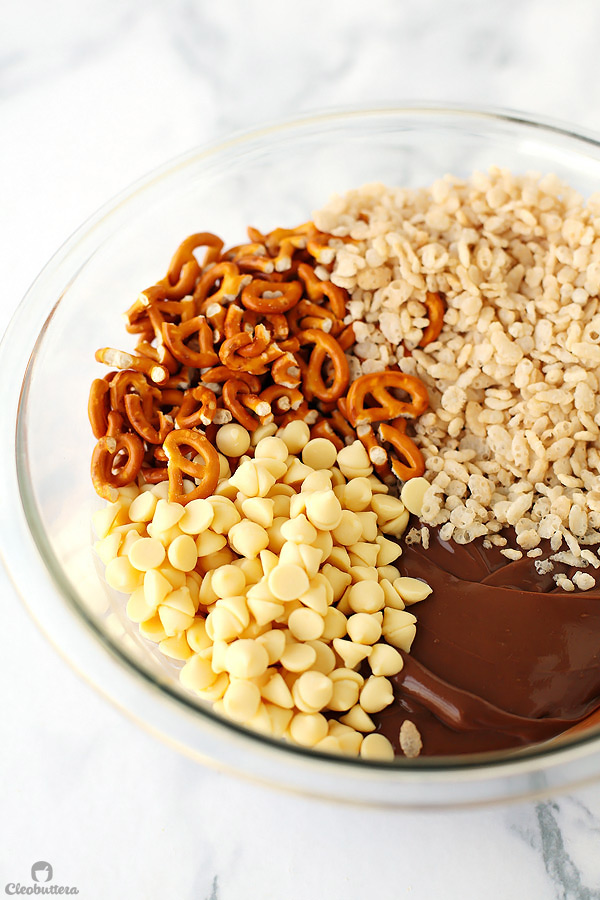 After everything is well combined, you just transfer the mixture to a parchment lined pan, and lightly press over the surface to level.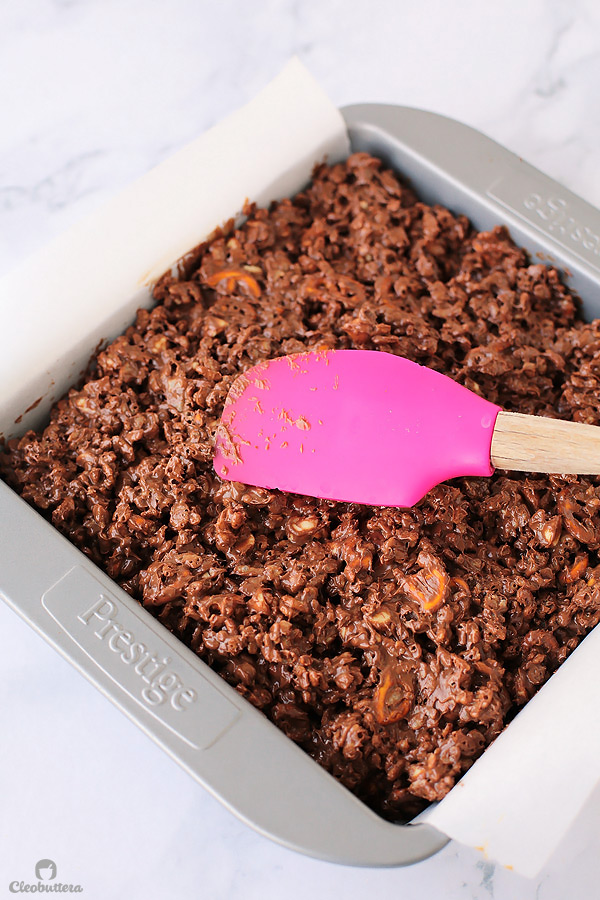 A few whole pretzels over the top add a nice garnish, as well a few drizzles of dark chocolate and white chocolate chips. And I couldn't resist a light sprinkling of Maldon sea salt, for an extra punch of that sweet and salty effect.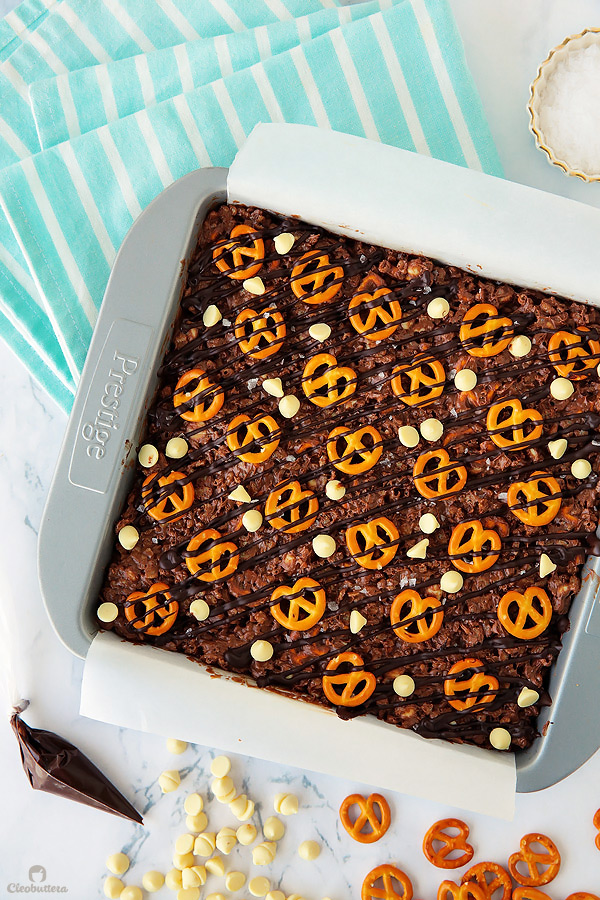 A brief rest in the fridge allows them to set, at which point you can cut them into squares and serve!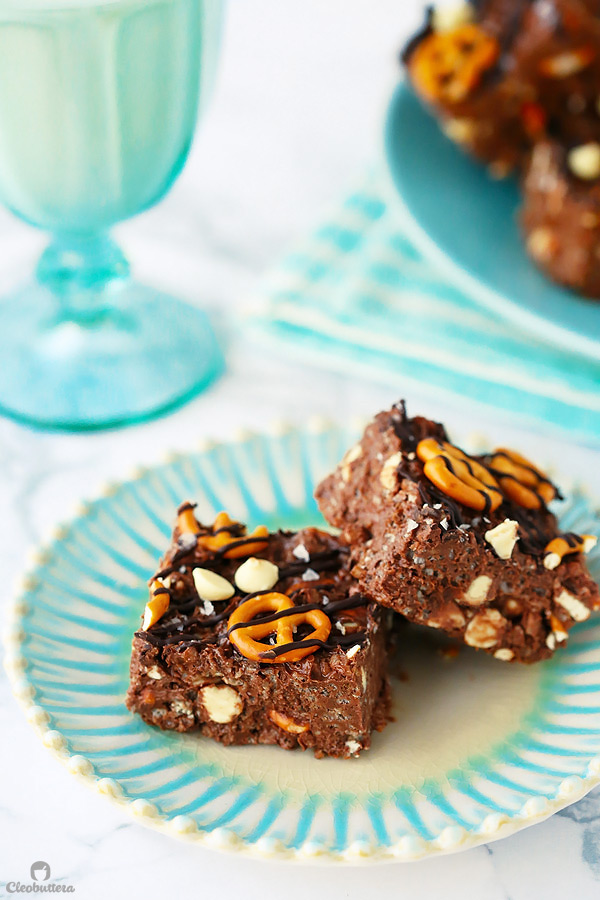 Just a little heads up…kids and adults will be fighting for these. Just sayin'.
Yield: 16 squares
Peanut Butter Crunch Bars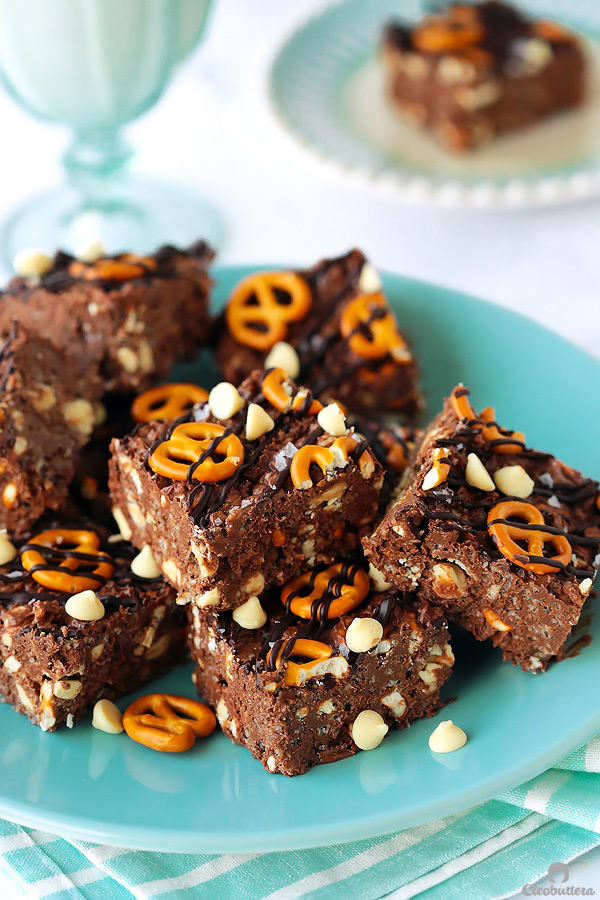 A decadent no-bake chocolate peanut butter bar, featuring crispy rice cereal, salty pretzels and creamy white chocolate. So easy to make; the hardest part is stopping at just one.
Prep Time 15 minutes
Additional Time 1 hour
Total Time 1 hour 15 minutes
Ingredients
1 1/2 cups (255 grams) semisweet chocolate chips *(see note)
1 1/2 cups (390 grams) peanut butter (I use smooth, but crunchy would work too)
4 cups (112 grams) crisped rice cereal
1 cup (65 grams) pretzels, lightly crushed (plus extra for garnish)
1 cup (170 grams) white chocolate chips
Melted dark chocolate, for drizzling over top (optional)
Sea salt flakes, for sprinkling over top (optional)
Instructions
Line a 9-inch square pan with a sheet of parchment paper, allowing excess to overhang over pan edges.
In a large, microwave-safe bowl, melt the semisweet chocolate chips in the microwave at 30-second intervals, stopping and stirring in between, until mostly melted. Continue to stir the chocolate until it has completely melted and very smooth.
Add in the peanut butter, and stir until well combined. Add in the rice cereal and pretzels and mix to incorporate. Be sure that the mixture is not too warm at this point, as to avoid melting the white chocolate chips. Lastly add in the white chocolate chips, stirring until evenly distributed.
Transfer the mixture to the prepared pan, pressing lightly to smooth out and level. Press on some whole pretzels over the surface, then drizzle with the melted dark chocolate and sprinkle with sea salt flakes if desired.
Refrigerate until set; about 1 hour. Use the parchment overhang to lift the block out of the pan. Peel and discard the parchment, then cut the block into 16 squares and serve slightly cold or at cool room temperature.
Store leftovers in an airtight container in the fridge for 3 to 4 days. It is not recommended to keep the bars out too long in hot weather, as they tend to soften and get messy. Keep chilled until ready to serve.
Recipe Notes
If you prefer a sweeter bar, with a more milk chocolatey flavor rather than semisweet, you can use 1 cup semisweet plus 1/2 milk chocolate chips,
Recipe adapted from Tastemade.
Measurements Note: All recipes of this site have been developed using weight measurements. Although US volume measurements have been included for your convenience, it is highly encouraged that you weigh your ingredients using a kitchen scale to get the best possible results. Due to the sensitive nature of baking, kitchen scales are proven to yield more accurate and consistent results than measuring cups. Enjoy!
This post may contain affiliate links.
All images and content are owned by Cleobuttera® and are copyright protected. Please do not use my images without prior permission. If you would like to republish a recipe, please rewrite it in your own words and link back to the recipe page on my site. Original recipes and creations of this site are intended for personal and home use. Commercial replication or media consumption are only allowed with a written consent and agreement with Cleobuttera owners. Otherwise it is considered a violation of intellectual property. Thank you for respecting and appreciating the amount of time and effort that goes into creating free, unique recipes that make people happy.